Return to the Home Decorating Forum
|
Post a Follow-Up
---
| | | |
| --- | --- | --- |
| Yellow paint looks very different on different walls, what to do | | |
Posted by
kitchen4us
(
My Page
) on
Wed, May 6, 09 at 23:33
I would like some feedback. So far we have bought 6 paint samples (1 tan, 2 green, 3 shades of yellow, all Dunn Edwards paint). At this point, we're leaning toward a neutral yellow, especially after placing some of our artwork against the different colors.

So here's the challenge. The latest yellows purchased were Dunn Edwards 'Flaxen' (looks a bit strong), and most recently 'Antique Lace.' Even with Antique Lace it looks quite yellow on the (main?) wall that we'll likely place the TV against, however the adjacent wall (90 degree turn) when painted the same yellow (primed wall first, then painted 2 coats, just like the other wall sample), the color is very, very faint, can hardly tell it's yellow. Has anyone else experienced this? I guess I would rather error on the side of one of the walls being faintly yellow rather than the main wall being too strong of a yellow. I have been so surprised, though, at the way the 2 walls look. Your feedback is appreciated.
---
Follow-Up Postings:
| | | |
| --- | --- | --- |
| RE: Yellow paint looks very different on different walls, what to | | |
My experience has been you aren't going to find a paint that will look the same color on all walls at all times of the day and night. This of course is due to lighting and what the paint is reflecting off of.

I guess the key is to make sure you do all four walls and then look at them day and night. Remember, once you get furnishings, etc. into the room, the paint will not be the primary focus. My new office is painted Nantucket Gray which is a very pretty color by day. At night, I'm not so crazy about it. I didn't have adequate lighting in the new house at the time the house was painted so I had to chose my colors using the similar lighting at my present house. I did pretty good on all my choices except for that one. Since I don't have the option to repaint I'm devising other ways to ensure it's not the focus and to use bright white lighting that will keep it as bright as possible.

I chose BM's Rich Cream which looks yellow, very pale, yet when the afternoon sun hits the laundry room, where it is also, it's a very, very bright yellow. That's OK though because bright yellow in the laundry room is a good thing. I don't get direct sunlight into the main living area where the RC is also, so I never have to worry about that room turning bright yellow.

As long as the color I chose looks good in all lighting, not necessarily the same in all lighting mind you, then I can live with it. Does that make sense?
---
| | | |
| --- | --- | --- |
| RE: Yellow paint looks very different on different walls, what to | | |
it is likely your lighting or reflections..or even what is near it..some items will pop out the color..
---
| | | |
| --- | --- | --- |
| RE: Yellow paint looks very different on different walls, what to | | |
Even though I love soft yellows, it always takes me awhile to get used to them. My BM Windham Cream is FINALLY calming down, in my mind, but at first I was sorry because it was sooo yellow.

You could paint the wall that's too yellow a Muslin type color and put the yellow on the other walls. It's nice to have an accent wall be a different color.
---
| | | |
| --- | --- | --- |
| RE: Yellow paint looks very different on different walls, what to | | |
Kitchen4us - I totally get your pain. I've been on this forum for about two months now trying to pick out yellows, tans and golds. I too have gone through 11 (yes 11) paint can samples, which has now made my home look like a giant "paint-by-number" project. Here is a picture of my foyer painted SW Tavern Tan (I was going for a very pale golden-tan).


As you can see, it has no gold or tan in it at all - it looks like a great big stick of butter! UGHHH!! Here's another angle:


It's definitely getting re-painted - I am not getting used to the color at all - YIKES!
---
| | | |
| --- | --- | --- |
| RE: Yellow paint looks very different on different walls, what to | | |
Kitchen4us - If you like the color(s), I'd just stick with it. We had some very well-heeled friends that bought a home in the Chicago suburbs where each of the room walls were intentionally painted slightly different hues from the other walls (in the same room). I would have never noticed it but it was pointed out to us.

I'd never do it myself, but this was a high-end home, so the homeowners would be able to pay someone to go through all 10,000 paint cans when something needed touching up. :) So go for it and don't worry that the color looks different depending on the light that falls on those particular walls!
---
| | | |
| --- | --- | --- |
| RE: Yellow paint looks very different on different walls, what to | | |
I went through different yellows for my kitchen...I thought Benjamin Moore's Windham Cream was the one but when I put it on found it too yellow, then tried Butter Cream, same result....finally went with Mannequin Cream and I love it..it's what I wanted ...a very soft soft yellow...I like it so much I'm doing our bedroom the same colour!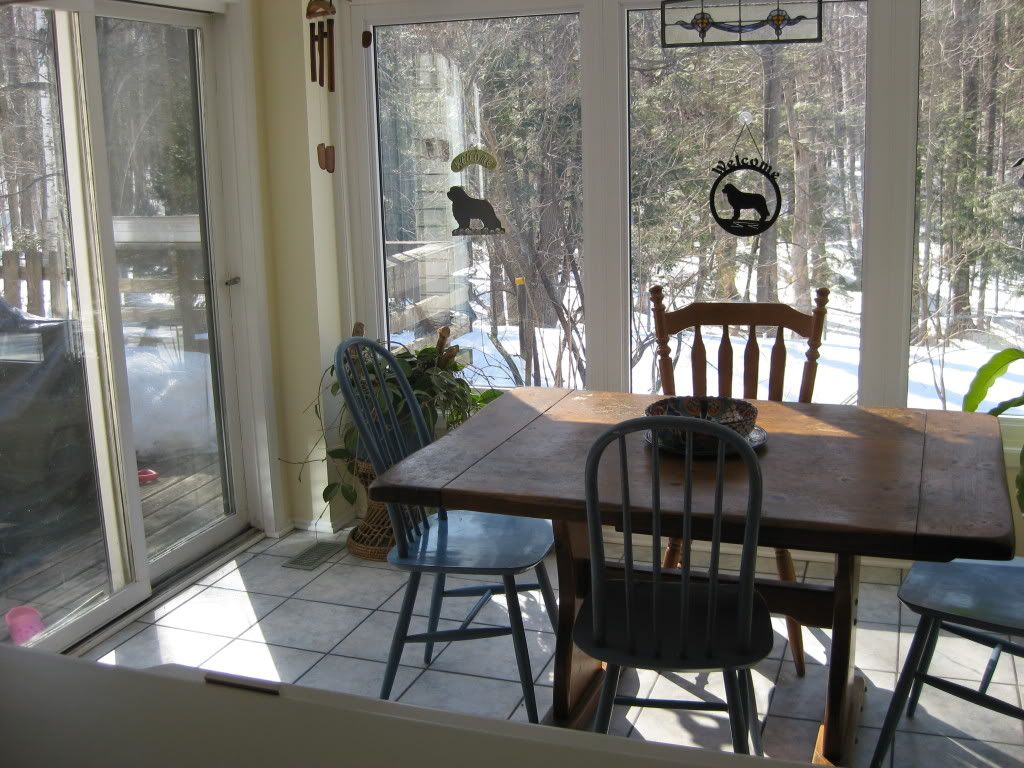 ---
| | | |
| --- | --- | --- |
| RE: Yellow paint looks very different on different walls, what to | | |
When we were building 5 yrs. ago , the paint looked alot stronger when no furniture was in it. Once we got in with furniture & drapes up, it toned down. It is probably just your lighting. Good luck with the painting! My rooms are SW Ivorie, Blonde, Restrained Gold & mannered gold if you wanna peek. They range in the yellows to golds. bonnie
Here is a link that might be useful: Bonnie's home
---
Post a Follow-Up
Please Note: Only registered members are able to post messages to this forum.
If you are a member, please log in.
If you aren't yet a member, join now!
---
Return to the Home Decorating Forum
Information about Posting
You must be logged in to post a message. Once you are logged in, a posting window will appear at the bottom of the messages. If you are not a member, please register for an account.
Please review our Rules of Play before posting.
Posting is a two-step process. Once you have composed your message, you will be taken to the preview page. You will then have a chance to review your post, make changes and upload photos.
After posting your message, you may need to refresh the forum page in order to see it.
Before posting copyrighted material, please read about Copyright and Fair Use.
We have a strict no-advertising policy!
If you would like to practice posting or uploading photos, please visit our Test forum.
If you need assistance, please Contact Us and we will be happy to help.

Learn more about in-text links on this page here