Return to the Home Decorating Forum
|
Post a Follow-Up
---
| | | |
| --- | --- | --- |
| Recommendations for cheap temporary floor in period home? | | |
Posted by
msfidget
(
My Page
) on
Thu, May 29, 08 at 23:26
I put this in the kitchens forum, but then realized that maybe home decorating is the place to ask for advice.

***
Long story short...we have to put a temporary kitchen in our home for now, but we're going to rip this kitchen out and add an addition with our dream kitchen, hopefully within a year.

So obviously we're doing this kitchen as cheaply as we can. Oak cabinets, laminate countertop (or Ikea butcherblock which I've read is very affordable)...but what to put on the floor?

The house was built in the early 1900s and we are restoring it as a period home. Even though this kitchen is just going to be temporary, I don't want it to look so ridiculous with the rest of our house (which is all the original hardwood).

The cheapest floor I can think of is vinyl. I was looking for a hex-tile-patterned vinyl or a B/W pinwheel-patterned vinyl, but haven't had any luck. I don't care for the fake stone or fake wood looks that seem to be popular, and solid vinyl/linoleum looks very modern and commercial to me. Does anyone have any recommendations as to what sort of vinyl I should use?

Thanks so much!
---
Follow-Up Postings:
| | | |
| --- | --- | --- |
| RE: Recommendations for cheap temporary floor in period home? | | |
What is on the floor right now and is there hardwood beneath it?
---
| | | |
| --- | --- | --- |
| RE: Recommendations for cheap temporary floor in period home? | | |
I was wondering the same thing, what's there now, and what's under it.
---
| | | |
| --- | --- | --- |
| RE: Recommendations for cheap temporary floor in period home? | | |
Home Depot sells TrafficMaster Allure, which is a vinyl product. I think this would be best for your situation because the vinyl attaches to it'self, not the floor. I don't know if you've ever pried up old vinyl, but it's a big job. There are several shades of wood planks and some that look like tile.

The only other thing I would recommend would be to float inexpensive laminate or engineered flooring over current floor. Again, it will come up very easily.
Here is a link that might be useful: Allure
---
| | | |
| --- | --- | --- |
| RE: Recommendations for cheap temporary floor in period home? | | |
Well, you discounted the "fake wood" vinyl, which would have been my recommendation for a temporary fix. Here is the Novalis vinyl wood plank (in "Golden Oak") in the bathroom of our home that's a similar age:
Can you use the original hardwood? Or is it missing/in such bad shape that you need to cover it with something? Another consideration is if your temporary kitchen is where your "dream" kitchen will be, or if you're in a different location - that can affect what you're willing to do to the subfloor, etc.
Assuming you need to cover whatever is there now, actual linoleum is reasonably period-appropriate. It would just be a matter of finding a pattern that you like. I'd skip trying to find one that looks like something else (hex tiles, etc) - sheet vinyl is sheet vinyl.
A large black-and-white alternating check pattern isn't necessarily historically appropriate, but it "reads" as classic enough to most people that it may work.
Have you visited the Old House forum here on GW? If you're looking for historical accuracy, you might get better insight there. Otherwise, I would just keep in mind that houses are meant to be lived in. Respect the age of your house, but remember the only reason it's still standing is that people have been willing to update it to meet their needs.
---
| | | |
| --- | --- | --- |
| RE: Recommendations for cheap temporary floor in period home? | | |
Black and white vinyl on the diagonal?
---
| | | |
| --- | --- | --- |
| RE: Recommendations for cheap temporary floor in period home? | | |
Have you thought about just painting the subflooring? That way there won't be anything that needs to be "ripped up" and wasted when you get your "real" floors.

Carrie
---
| | | |
| --- | --- | --- |
| RE: Recommendations for cheap temporary floor in period home? | | |
KGWLisa put down the most gorgeous floor of commercial VCT tiles in her Victorian's kitchen, looks just like period-appropriate $$$$ linoleum tile and cost way, way less. The tiles are something like 69 cents each! Although I have pictures of it on file I wouldn't post them without her permission; hopefully she will see this and post them. It is really something you should see! She has promised to design one for me when I get to do my kitchen. ;-)

I think this picture may have come from the Marmoleum site but it would be surprisingly easy to lay with an inexpensive product like VCT: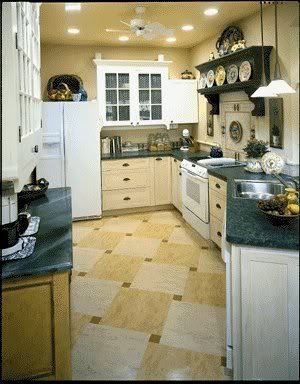 Just as an FYI, a b/w checkerboard floor is an absolute bear to take care of. Every bit of schmutz shows - it's even worse than a plain white floor!
---
| | | |
| --- | --- | --- |
| RE: Recommendations for cheap temporary floor in period home? | | |
I agree with Carrie. If it's possible I'd just paint the floor. I wouldn't do vinyl.

I wonder if you could get a linoleum rug made these days...

We did a period kitchen last year. If you don't have it already, pick up a copy of Bungalow Kitchens by Jane Powell.

Good luck!
---
| | | |
| --- | --- | --- |
| RE: Recommendations for cheap temporary floor in period home? | | |
I'll second Johnmari's suggestion: try to track down KGWLisa's kitchen. She used regular VCT tile, but the reason her floor looks so much more appropriate than others is due to two reasons. For one thing, it's not the obvious, high-maintenance (and, in most cases, inauthentic) black-&-white checkerboard, but a less contrasty combination whose colors actually relate to the decor of her kitchen.

The other thing that finishes her kitchen off so nicely is the wide border around the room, and the care with which she has laid out the pattern of the tiles. Most manuals say to find the center of the room, then start laying tiles from that point, to make sure that the inevitable partial tiles at the edges are balanced at each end of the room. To my mind, that's a lot less important than is making the pattern align at the most important entrance into the room. That, too, is another function of the border. You can widen it or narrow it to allow the line between the field & border to fall on a corner of the field tiles. Of course, in any room but the most perfectly symmetrical rooms, there's always going to be one corner or one side where there's a weird partial tile(s) or something that isn't the case in other places. Your job is to make sure that that area falLs in the back corner, or under the refrigerator or something, not in area that will get more attention.

At any rate, the keys to success in using a multicolor selection of tiles to suggest a period linoleum--and a plaid or tattersall design in close colors is another option besides a checkerboard--is taking plenty of time to lay out the design ahead of time.

Regards,
MAGNAVERDE.
---
| | | |
| --- | --- | --- |
| RE: Recommendations for cheap temporary floor in period home? | | |
Costco sells snap-together garage flooring, which I quite like in an industrial way. You don't even need to glue it down.
---
| | | |
| --- | --- | --- |
| RE: Recommendations for cheap temporary floor in period home? | | |
Thanks for all of the kind words. I did, indeed, use the cheapest of the cheap armstrong VCT tiles but I put it in as a permanent floor and not temporary. I did also put a TON of time into figuring out the floor and I didn't DIY and had a great installer who could actually make it happen. About half of the install cost was the cost of cutting and laying the border.

Here are some pictures. First my drawing: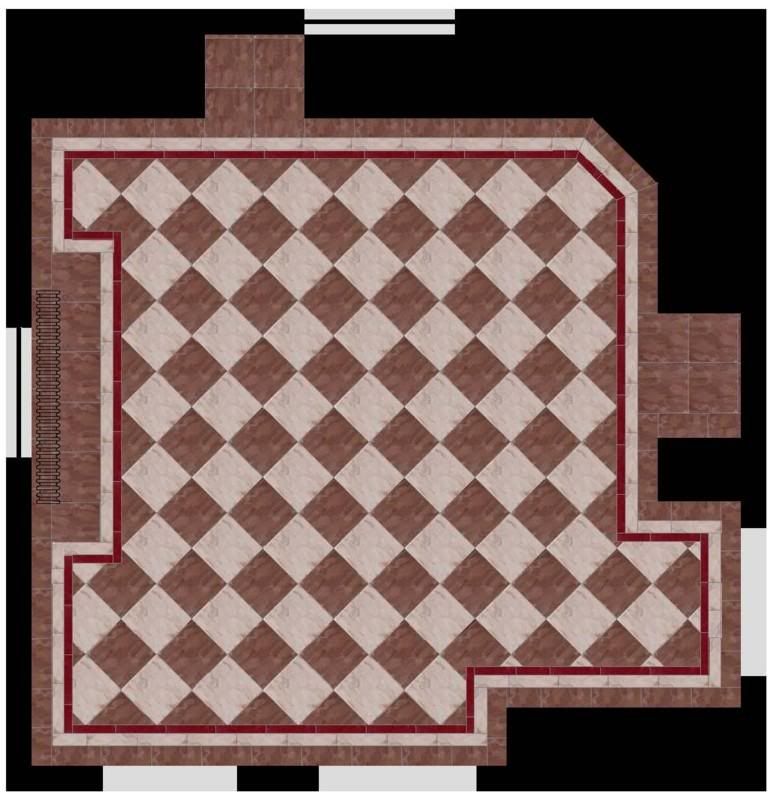 A couple of the floor: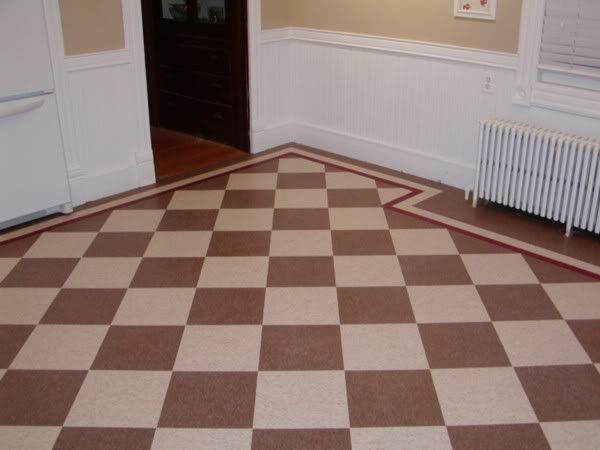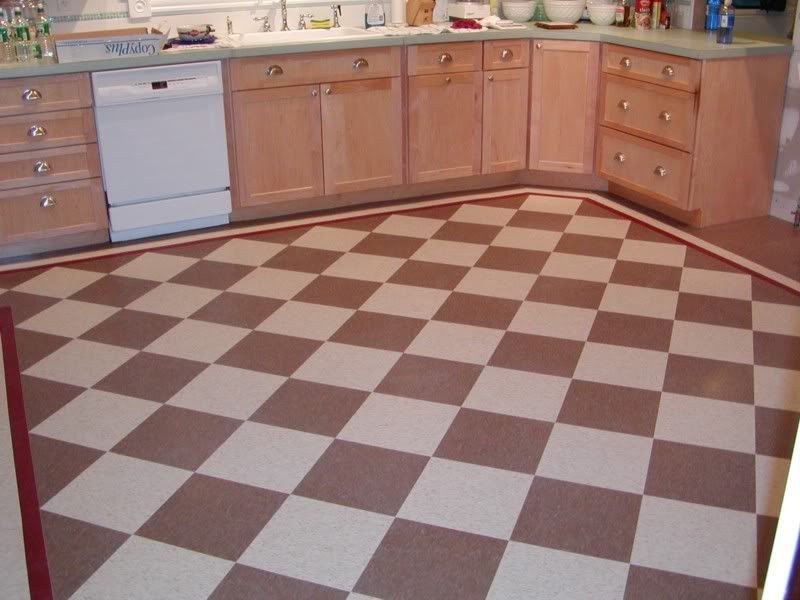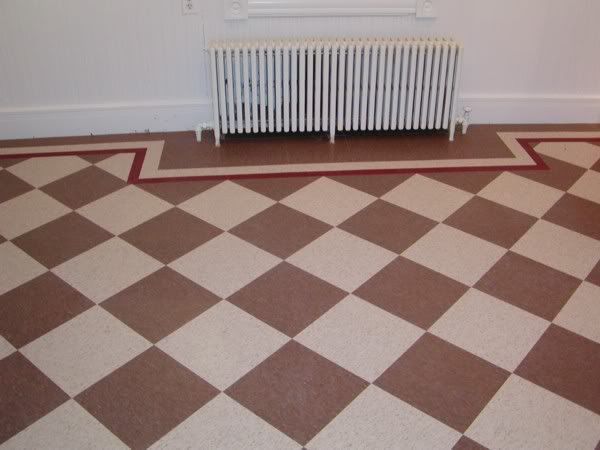 And here's a picture of the kitchen more or less all together showing some of the floor. The "theme" is a vintage coca cola theme showcasing some of my husband's nicer coca cola memorabilia and vintage ads, hence the color choice on the floor.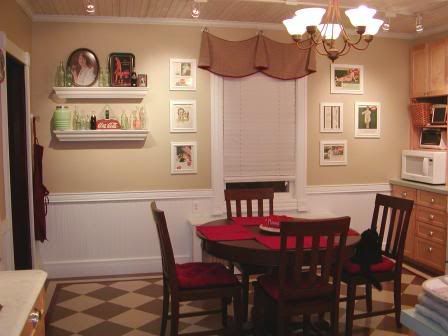 I highly recommend brown on brown for a "crud hiding" combination. I thought about cutting the 12x12's down to 9x9's but in the end decided no matter how good the installer that would make for a sloppier installation so I went with something slightly less authentic.
---
Post a Follow-Up
Please Note: Only registered members are able to post messages to this forum.
If you are a member, please log in.
If you aren't yet a member, join now!
---
Return to the Home Decorating Forum
Information about Posting
You must be logged in to post a message. Once you are logged in, a posting window will appear at the bottom of the messages. If you are not a member, please register for an account.
Please review our Rules of Play before posting.
Posting is a two-step process. Once you have composed your message, you will be taken to the preview page. You will then have a chance to review your post, make changes and upload photos.
After posting your message, you may need to refresh the forum page in order to see it.
Before posting copyrighted material, please read about Copyright and Fair Use.
We have a strict no-advertising policy!
If you would like to practice posting or uploading photos, please visit our Test forum.
If you need assistance, please Contact Us and we will be happy to help.

Learn more about in-text links on this page here