Return to the Home Decorating Forum
|
Post a Follow-Up
---
| | | |
| --- | --- | --- |
| I'm kinda liking these chairs | | |
Posted by
celticmoon
(
My Page
) on
Sat, May 26, 12 at 21:58
---
Follow-Up Postings:
| | | |
| --- | --- | --- |
| RE: I'm kinda liking these chairs | | |
I think they are a better fit style-wise,but they don't seem to be the comfy kind of chairs that the nephews would want to sit in to play video games with their uncle (I think that is why you said they were needed).

I was thinking about your brother's room. First, it is wonderful that you are there for him, giving him a place and wanting it to be right for HIM. He sounds like a dear man, and your love and concern shines through your planning.

Since you say he prefers to sleep most of the time in his recliner, what about not actually putting a bed in the room? Instead, a good futon with a great mattress could solve two issues - seating for the nephews when they hang out there, and a bed for your brother if he should decide that he wants to sleep in a bed rather than in the recliner.

Then, no chairs needed, and no bed taking up space that he likely won't use.
---
| | | |
| --- | --- | --- |
| RE: I'm kinda liking these chairs | | |
The visitors would be pretty rare - family lives a plane ride away. I wanted the option for guests to spend time in his space when they do visit. But it wouldn't be often, maybe a couple times a year.

Don't know if you saw my most recent layout.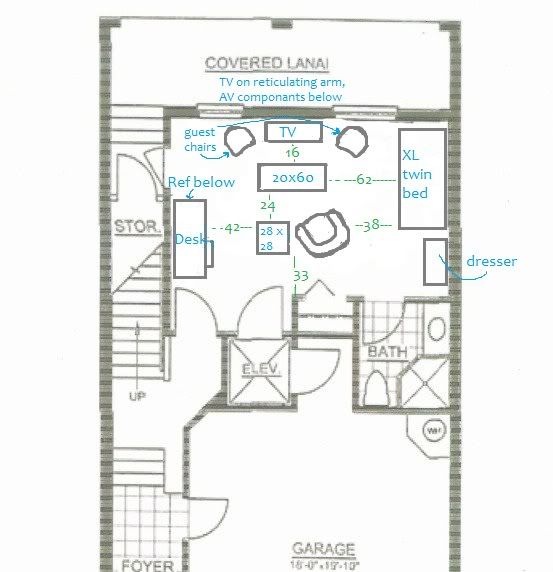 I was hopng you would weight in. Better?
---
| | | |
| --- | --- | --- |
| RE: I'm kinda liking these chairs | | |
I still like your other #2 original better
This version does offer a lot of visual symmetry, and de-emphasizes the bed.

But the TV viewer is facing outside, dealing with glare and squinting

It is a bad angle to watch the TV from the bed. Here the bed is that only, and not the daybed as in the original.

And sitting in the recliner, your brother now has his back to he door. This can be an unsettling sensation.
---
| | | |
| --- | --- | --- |
| RE: I'm kinda liking these chairs | | |
The original chairs look much more comfortable and well made than the green chairs, to me. I would stay with what you have.
---
| | | |
| --- | --- | --- |
| RE: I'm kinda liking these chairs | | |
The green pair with the arms the way they are, are a better place for putting arms and elbows. The other pair doesn't have any place for that. The other pair (beige) also, if you tend to slouch in a chair, your neck/head will be resting against the wood frame whereas in the green chair there won;t be that problem. Just a couple of things to consider. But having not sat in them it's hard to know.
---
| | | |
| --- | --- | --- |
| RE: I'm kinda liking these chairs | | |
I checked them out. They are very small and not comfortable, so I took a pass.

Back to plan A. Drag the others to my upholstery class and streamline them using a more casual and modern fabric. They will be literally 'occasional' chairs, so different comfort demand than a frequently used chair.

Thanks!
---
Post a Follow-Up
Please Note: Only registered members are able to post messages to this forum.
If you are a member, please log in.
If you aren't yet a member, join now!
---
Return to the Home Decorating Forum
Information about Posting
You must be logged in to post a message. Once you are logged in, a posting window will appear at the bottom of the messages. If you are not a member, please register for an account.
Please review our Rules of Play before posting.
Posting is a two-step process. Once you have composed your message, you will be taken to the preview page. You will then have a chance to review your post, make changes and upload photos.
After posting your message, you may need to refresh the forum page in order to see it.
Before posting copyrighted material, please read about Copyright and Fair Use.
We have a strict no-advertising policy!
If you would like to practice posting or uploading photos, please visit our Test forum.
If you need assistance, please Contact Us and we will be happy to help.

Learn more about in-text links on this page here