Return to the Home Decorating Forum
|
Post a Follow-Up
---
| | | |
| --- | --- | --- |
| Curtains on really short windows | | |
Posted by
fabb
(
My Page
) on
Wed, May 5, 10 at 21:21
We recently moved into a 1971-built bungalow that has 78" wide x 24" tall windows set 4 1/2 feet up from the floor (in all 3 bedrooms). I want to put floor length curtains up but will that look stupid?

Our large sleigh bed is under the window and I'm putting full length curtains there. I'm putting shorter curtains in the kids' room but I don't know how short. We added casing around the windows and it looks nice but now I don't know where to hang the curtains, how long to make them and how high the rod should go.

Oh and we have 8' ceilings.

Thanks for any help.
---
Follow-Up Postings:
| | | |
| --- | --- | --- |
| RE: Curtains on really short windows | | |
The bedrooms of my 1951 split-level have windows similar to those. The idea was that it gave you more options for furniture arrangement, because a bed or chest can go under a window.

I am only the second owner of my house. The original owners installed short pinch-pleat draperies on all the bedroom windows.

I don't care for the look, so I've given some thought to other treatments.

I found that I was happier with roman shades, and I'm using woven-woods in the two front bedrooms (fenestration is symmetrical on the outside) and the bathroom. I decided on also using valances (mounted high) in the MBR, with a single floor-length panel to fill a gap where one window is off-center in an alcove.

However, in the bedroom that I use as a home office, where neither privacy nor light control (it faces north) requires covering the window, I chose floor-length panels.

To my eye, floor-length panels look odd with high windows unless furniture fills the space between them under the window. In my home office, there's a lateral file cabinet. Your sleigh bed will fill the gap the same way. But where you don't want long panels, I think that a shade (possibly fabric) will be best.
---
| | | |
| --- | --- | --- |
| RE: Curtains on really short windows | | |
I have a window like that in my masterbedroom. I like it because the bed fits under it nicely. I just put shutters on mine.
---
| | | |
| --- | --- | --- |
| RE: Curtains on really short windows | | |
Thank you for the suggestions.

I need to put in shorter black out curtains in the kids' room as blinds and roman shades are out (strangulation hazard). Where should I end that curtain?

In the MBR, how high up should I put the curtain rod?

Thanks again.
---
| | | |
| --- | --- | --- |
| RE: Curtains on really short windows | | |
Cordless blackout shades are readily available and might also be an option. The one below can also be made to measure, for a better fit on a short window.

Although this kind of shade looks good with an inside mount, light blocking is better with outside mounting.
Here is a link that might be useful: JCP cordless cellular blackout shade
---
| | | |
| --- | --- | --- |
| RE: Curtains on really short windows | | |
Do you have an arrangement that allows for bookcases or a group of storage cubes under the windows? If you did that, you could put shades in the windows for privacy and to darken the room, and full length stationary curtain panels out to the sides, to create a whole composition.
---
| | | |
| --- | --- | --- |
| Curtains | | |
I can't do that in the kids' room or the office. Also, there is a screen in the windows which precludes shades inside (on one side at least) and I really don't like blinds outside window frames. Also, I forgot to mention that these windows will be replaced with taller ones eventually (24" to 48").

I think I'll install the curtain rod about 4" down from the ceiling in the MBR and office. The kids' room needs the short curtain so I don't know where to start there. I'll try to post a pic today too.
---
| | | |
| --- | --- | --- |
| RE: Curtains on really short windows | | |
We have similar windows throughout most of our home. In my kids' bedrooms, I chose to use short curtain panels becuase I didn't want them to be able to readily reach them to hang on them or get them dirty. Pottery Barn Kids used to make their corduroy panels in a 44" length and I found 4 on clearance that matched DS's quilt from there perfectly. They are relatively opaque and provide good light control combined with a shade.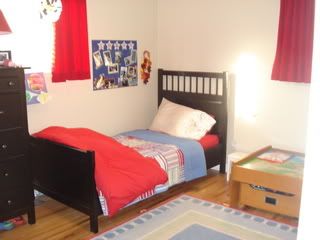 I've been really happy with the cordless cellular shades that I bought from Select Blinds. I compared pricing and they seemed to be the best value. We got light filtering for our kitchen, but in the basement media room we bought room darkening and they work really well. I bought the 2" wood blinds in the kids rooms before I really knew about the hazards. The cords are cut very short and DS knows NOT to touch them ever. DD is still in her crib, but when she moves out, I will probably replace them with cordless cellular or shutters. I like the look of the wood blinds but they make me too nervous.
---
| | | |
| --- | --- | --- |
| RE: Curtains on really short windows | | |
Did you ever find curtains for the window? I came across your post because I have a similar problem. I've got two wide, short windows in my bedroom. They're both about 24" tall and 84" wide. I'm trying to find blackout curtains for them because I'm a really light sleeper and the sunlight starts waking me up in the morning around 6:30.
---
Post a Follow-Up
Please Note: Only registered members are able to post messages to this forum.
If you are a member, please log in.
If you aren't yet a member, join now!
---
Return to the Home Decorating Forum
Information about Posting
You must be logged in to post a message. Once you are logged in, a posting window will appear at the bottom of the messages. If you are not a member, please register for an account.
Please review our Rules of Play before posting.
Posting is a two-step process. Once you have composed your message, you will be taken to the preview page. You will then have a chance to review your post, make changes and upload photos.
After posting your message, you may need to refresh the forum page in order to see it.
Before posting copyrighted material, please read about Copyright and Fair Use.
We have a strict no-advertising policy!
If you would like to practice posting or uploading photos, please visit our Test forum.
If you need assistance, please Contact Us and we will be happy to help.

Learn more about in-text links on this page here