Return to the Home Decorating Forum
|
Post a Follow-Up
---
| | | |
| --- | --- | --- |
| Colour suggestions for a spare room/office? | | |
Posted by
Silverlilly
(
My Page
) on
Wed, May 2, 12 at 20:53
I'm stumped here. The rest of our house is blues and yellows (BM palladian blue, BM vellum and a lighter shade of that, and BM butter cream in the hallways which is more beigy) - lots of blues and yellows but I wanted something other than beige everywhere. But I'm stumped for this one room...it's a north room with one east window. Never been painted in 105 years! It had an eerie feeling when we first moved in - so we need to make it feel "happier" and renewed...any ideas? I thought of BM Revere Pewter because it looks cozy, but I worry it will be dull...not stuck on BM - it's just that I have their decks at home.
---
Follow-Up Postings:
| | | |
| --- | --- | --- |
| RE: Colour suggestions for a spare room/office? | | |
How about something in the very soft terra-cotta/peach family? My3dogs painted a guest room in this range of color and it radiates coziness and cheerfulness. Our kitchen also faces north with an east window. We painted it what I thought of as soft terra-cotta, but I think it would be called a very pale peach. It has just enough yellow-orange to take it out of the pink family and is not at all obtrusive. It looks good with greens, yellows, creams, browns, aqua/teal, even lavender/purple. A versatile color as long as you stay away from red.
---
| | | |
| --- | --- | --- |
| RE: Colour suggestions for a spare room/office? | | |
I painted a lot of my house in BM wilmington tan and powell buff and always get compliments on the colors I selected. GF painted her family room in BM caramel corn with off white trim and it looks fab.
---
| | | |
| --- | --- | --- |
| RE: Colour suggestions for a spare room/office? | | |
Sable ca, Thank-you! I do love that guest room done in BM Ansonia Peach. Depending on the time of day, the color takes on very different looks. Those are east windows that Jenny is looking out of. The hall that the room is off is painted BM Wythe Blue, and seeing the two colors in one glance is wonderful.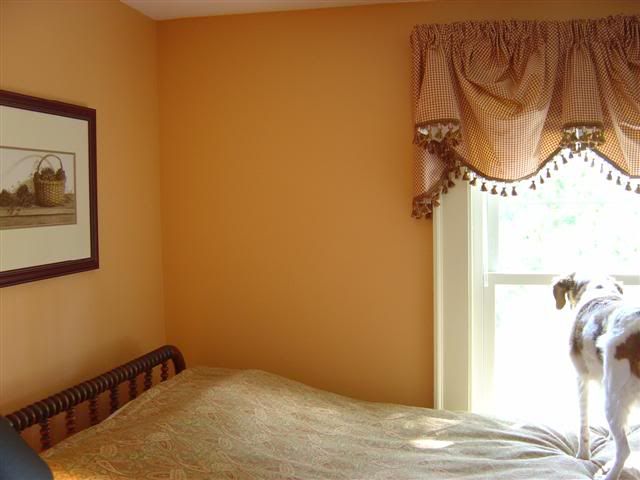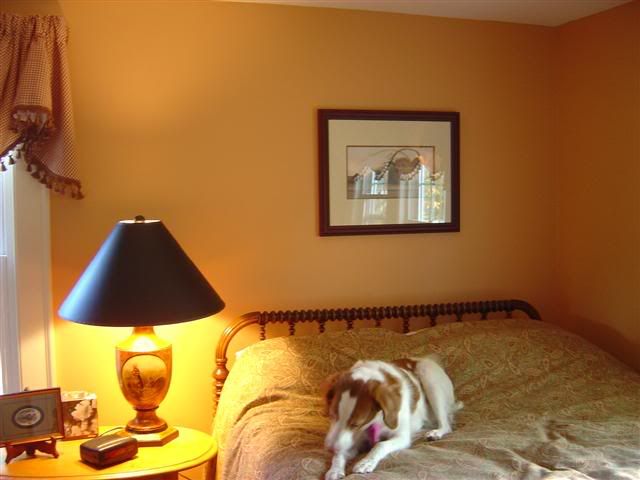 ---
Post a Follow-Up
Please Note: Only registered members are able to post messages to this forum.
If you are a member, please log in.
If you aren't yet a member, join now!
---
Return to the Home Decorating Forum
Information about Posting
You must be logged in to post a message. Once you are logged in, a posting window will appear at the bottom of the messages. If you are not a member, please register for an account.
Please review our Rules of Play before posting.
Posting is a two-step process. Once you have composed your message, you will be taken to the preview page. You will then have a chance to review your post, make changes and upload photos.
After posting your message, you may need to refresh the forum page in order to see it.
Before posting copyrighted material, please read about Copyright and Fair Use.
We have a strict no-advertising policy!
If you would like to practice posting or uploading photos, please visit our Test forum.
If you need assistance, please Contact Us and we will be happy to help.

Learn more about in-text links on this page here