Return to the Home Decorating & Design Forum
|
Post a Follow-Up
---
| | | |
| --- | --- | --- |
| Blank slate bathroom - ideas? | | |
Posted by
mtnrdredux
(
My Page
) on
Sun, May 4, 14 at 20:30
We added two new bathrooms on the third floor of our summer house. This one will probably be used by my son.

The rough layout is below.

Here are the givens:
Wood floors, painted white
White walls
White fixtures
Rujuvenation white Mendenhall Medicine Cabinet
Deco et cie lights, see below)
Ann Sacks 2.5"x19" white tile, hung staggered and vertically to look like the wood floor
A Kohler Brockway sink, ie:
Questions:
What color would you paint the underside of the sink bowl? What kind of rug would you use? Maybe a Dash and Albert?
It is a window less bath.
---
Follow-Up Postings:
| | | |
| --- | --- | --- |
| RE: Blank slate bathroom - ideas? | | |
patina it to look rusty. I love that light fixture, I had something similar at the back of the house I last lived in from the 40's. antiqued and all.
---
| | | |
| --- | --- | --- |
| RE: Blank slate bathroom - ideas? | | |
I have had this Houzz photo with the bottom of a similar sink painted lime green saved for quite a while. Seems summery to me?
Here is a link that might be useful: Green sink
---
| | | |
| --- | --- | --- |
| RE: Blank slate bathroom - ideas? | | |
I was thinking a teal, or an ocean blue.
---
| | | |
| --- | --- | --- |
| RE: Blank slate bathroom - ideas? | | |
I like black as in your inspiration picture. Then add accents that come from the rug you choose.
I think you should relocate your toilet so that it is next to the shower and do a vanity/linen along the sink wall. You need more room in front of your toilet.
---
| | | |
| --- | --- | --- |
| RE: Blank slate bathroom - ideas? | | |
Karenseb,
Ignore the dimensions, I couldn't find the final plans on my laptop. It is built already and there were infrastructure reasons for the layout. I also particularly wanted to have the long view of the sink when you came in.

Tibbrix, I was too, but then I have those colors in all the rooms on the first floor and also in our MBR suite ... I never know when it's continuity and when it is repetitive!

Thanks, Detroit, glad to know the design has good roots. Hmm, simulated rust? Sounds hard to do.

Crl, Yes, I was thinking maybe a vibrant green (maybe more lime than that one), with navy and white ... but wasn't sure.

ANyone besides D&A a good source for a striped runner?
---
| | | |
| --- | --- | --- |
| RE: Blank slate bathroom - ideas? | | |
| | | |
| --- | --- | --- |
| RE: Blank slate bathroom - ideas? | | |
Mtn I recently out a Brockway in the kids bath at the beach house. Painted the bottom in Brazilian blue (I think) and went with a softer blue on the walls. Be sure to use an acrylic paint on the sink bottom or look into getting it powder coated. We chose Chicago faucet fixtures instead of the Kohler b/c wanted to match the shower fixture chrome.

If you have no natural light I think a white bath with a charcoal grey under sink would work well. You could also look into putting a sonotube in there.

Love the light you chose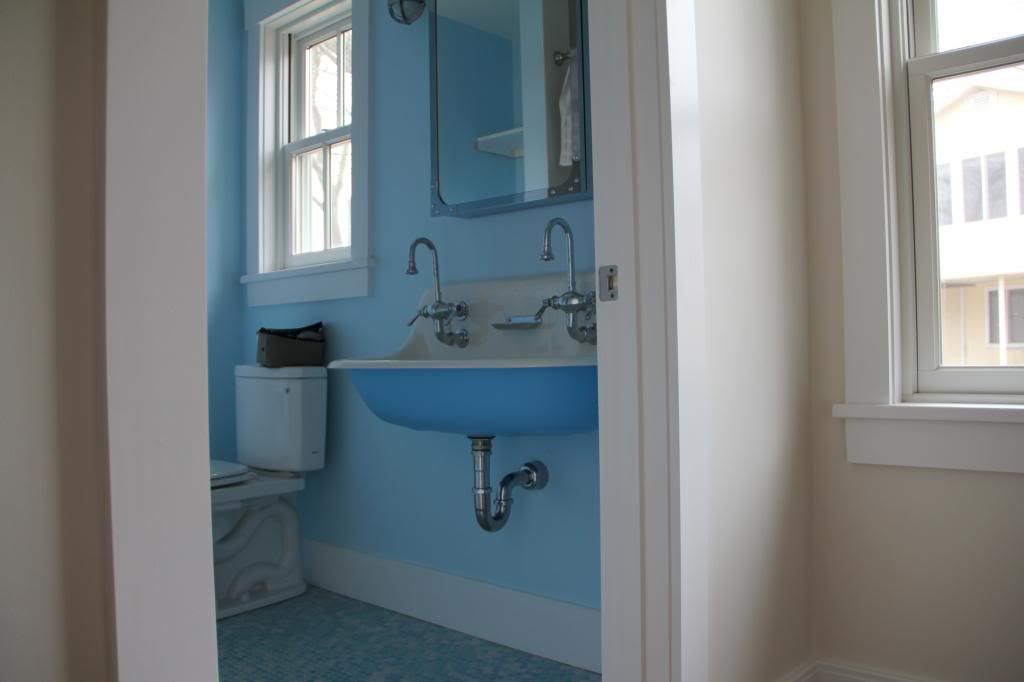 This post was edited by zeitgast on Mon, May 5, 14 at 0:20
---
| | | |
| --- | --- | --- |
| RE: Blank slate bathroom - ideas? | | |
How about a bold red, or a cherry red?
---
| | | |
| --- | --- | --- |
| RE: Blank slate bathroom - ideas? | | |
I would first find a runner you and DS like and go from there.
---
| | | |
| --- | --- | --- |
| RE: Blank slate bathroom - ideas? | | |
What's your son's favorite color?

It's so neutral, right now you can go in any direction he likes...
---
| | | |
| --- | --- | --- |
| RE: Blank slate bathroom - ideas? | | |
| | | |
| --- | --- | --- |
| RE: Blank slate bathroom - ideas? | | |
Teacats,
I like that rug; anyone know how D&A indoor outdoor rugs feel on the tootsies? I was thinking blue and white rug, wild color sink ... but maybe it makes more sense to make the sink navy and switch up the accent color (im such a color wimp).

Annie, He'd like to see some shade of green somewhere. Just asked him this am, and was surprised he had an opinion. At 8am on the way to school on a Monday, no less!

Tibbrix, red white and navy could be fun!

Zeitgast, THX. Your BA looks great! Love it with the floor. Its such a fun sink, I was happy to find a way to use it. Did you powder coat or go acrylic? We have two vintage tubs we are using in some of the other bathrooms in the beachhouse. We were going to powder coat the exterior, but to my surprise, there are not infinite color options. So we are going acrylic.

Forboystoo, I am such a patina nut, but I have to remind myself that the beachhouse is not so much the place for it. Funny enough, my primary home is patina and rust and deshabille. This house is more formal, partly due to the panelling. I have a good friend who loves rusty things and is teasingly called a "Rustafarian".
---
| | | |
| --- | --- | --- |
| RE: Blank slate bathroom - ideas? | | |
I would prefer to see black, white and kelly green, but if you want to do navy, you can still mix in green with it....

D&A runner
---
| | | |
| --- | --- | --- |
| RE: Blank slate bathroom - ideas? | | |
mtn you are right the powder coat colors are limited. We went with paint mostly b/c the painter was on-site the day the finished plumbing was.

I made a mistake on the paint-- I looked back at my notes and saw that the painter actually suggested an oil-based alkyd paint in semi-gloss which came out great. Not as smooth or as durable as powder coating but you can pick any color you want and you can change it should you decide on a different color scheme down the road.

One thing I found with this sink is that the faucets spray water all over the place esp if you run it wide open. I am going to try to change out the sprayer nozzle for aerators because our little boys are going to flood the place if I don't!

Finally, I also went with a medicine cabinet (maybe should have been wider) and added built-in shelving opposite the toilet due to the inherent storage trade-off. Hard to tell from your posted plan if that is a linen closet next to the shower. Think about open shelving if it is-- easier to access.
---
| | | |
| --- | --- | --- |
| RE: Blank slate bathroom - ideas? | | |
I like everything you have picked out...but careful with a white floor....pretty, but it will show every speck. I had a white floor in our powder room and was so glad when it was gone.
---
| | | |
| --- | --- | --- |
| RE: Blank slate bathroom - ideas? | | |
Zeitgast,
Thanks for the paint info. I don't recall what my GC said about it so I will follow up. I was thinking of a wood shelf above the sink.

Annie, I do like d&a, such fun colors!

Joanie, Yes, well the girls attic suite and both 3rd floor BA, AND my kitchen, will have white floors. I understand that in summer, finding maids can be tricky. I may rue the day!
---
| | | |
| --- | --- | --- |
| RE: Blank slate bathroom - ideas? | | |
You could paint it Nickel to match the light fixture. That way you can easily change the colors scheme. Plus it's kind of a guy color.
---
Post a Follow-Up
Please Note: Only registered members are able to post messages to this forum.
If you are a member, please log in.
If you aren't yet a member, join now!
---
Return to the Home Decorating & Design Forum
Information about Posting
You must be logged in to post a message. Once you are logged in, a posting window will appear at the bottom of the messages. If you are not a member, please register for an account.
Please review our Rules of Play before posting.
Posting is a two-step process. Once you have composed your message, you will be taken to the preview page. You will then have a chance to review your post, make changes and upload photos.
After posting your message, you may need to refresh the forum page in order to see it.
Before posting copyrighted material, please read about Copyright and Fair Use.
We have a strict no-advertising policy!
If you would like to practice posting or uploading photos, please visit our Test forum.
If you need assistance, please Contact Us and we will be happy to help.

Learn more about in-text links on this page here