Return to the Home Decorating Forum
|
Post a Follow-Up
---
| | | |
| --- | --- | --- |
| vintage green bathroom tile | | |
Posted by
happy2bme
(
My Page
) on
Thu, May 22, 08 at 20:20
We are moving into a older colonial over the summer. The main hall bath that 2 of my girls will share has vintage green tile in the shower and half way up the wall, the floor is octagon white and green. The tile is in great shape, just needs re grouting. The green is a fresh green color. My problem, what color to paint the plaster above the tile? I do not want to go too cutsey because at somepoint company would use this bathroom. Anyone have any color combos to make this full bath a little more "wow" and a lot less potterybarn kids? Thank you for your help!
---
Follow-Up Postings:
| | | |
| --- | --- | --- |
| RE: vintage green bathroom tile | | |
Happy, I just redid a bathroom with green tile. I don't know if it is the same color as yours, but it was put in every home in this development back in the 60's. I was in a real dilemma as nothing seemed to work. I stayed away from anything green as there was no way to match it, or even blend it. I painted the walls BM Montgomery White, then got rust and salmon towels and found this awesome fabric with which to make a roman shade. It has the exact green, wall color and towel colors. I love the results! This pic is really dark, but it will give you an idea. I would not try to match the green. Go a different direction.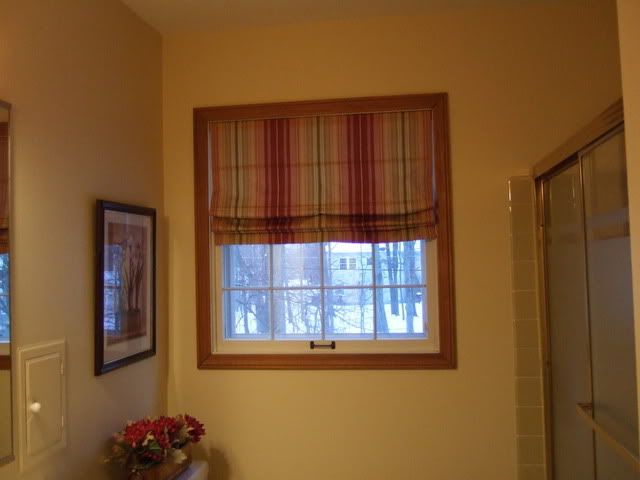 ---
| | | |
| --- | --- | --- |
| RE: vintage green bathroom tile | | |
I like it!!! I never thought of your color choices with the rust and salmon. I so dont want to try to match the greens...
---
| | | |
| --- | --- | --- |
| RE: vintage green bathroom tile | | |
Glad of could be of some help. Here is another pic showing the towels I chose. It was definitely with the help of people on this board that I went that direction. I just kept looking at these green tiles and kept thinking green.
I originally brought home burgundy towels and they were just too cool with the green, so those went back. It was really the fabric that tied everything together. I really like how it turned out. It was originally a dark burgundy color which didn't work with the woodwork or the tile.
---
| | | |
| --- | --- | --- |
| RE: vintage green bathroom tile | | |
I think black and white could be very snappy, too. If your girls are older, this might appeal to them. MY 14 y.o. is very into B&W for the bedroom and bath right now. PB has some great zebra towels. You could put a black rug on the floor. White walls. A modern riff on the classic vintage black & white + color bathroom.
---
| | | |
| --- | --- | --- |
| RE: vintage green bathroom tile ---- | | |
Navy could be another good choice. Navy and cream. Just pull some of the green from the tile somewhere else in the room.
---
| | | |
| --- | --- | --- |
| RE: vintage green bathroom tile | | |
amysrq- great idea for black and white, but we have that theme going on in the vintage bath that is in my oldests new room (back in the day it was the maids room) so she is in the room over the garage with her own bath which has black tile half way up the wall with black and white tile floor. I did see a pic in a magazine with BIG black and white paisley wallpaper accented with hot pink towel and decor with a white shower curtain that was monogramed in black.
no green- nice idea never thought of that either for the bath, funny i had a color combo like that in a guest room, moss green walls and navy blue toile spread and plates on the walls with blue accents. Ive got to check the navy with this particular green in this bath
---
Post a Follow-Up
Please Note: Only registered members are able to post messages to this forum.
If you are a member, please log in.
If you aren't yet a member, join now!
---
Return to the Home Decorating Forum
Information about Posting
You must be logged in to post a message. Once you are logged in, a posting window will appear at the bottom of the messages. If you are not a member, please register for an account.
Please review our Rules of Play before posting.
Posting is a two-step process. Once you have composed your message, you will be taken to the preview page. You will then have a chance to review your post, make changes and upload photos.
After posting your message, you may need to refresh the forum page in order to see it.
Before posting copyrighted material, please read about Copyright and Fair Use.
We have a strict no-advertising policy!
If you would like to practice posting or uploading photos, please visit our Test forum.
If you need assistance, please Contact Us and we will be happy to help.

Learn more about in-text links on this page here