Return to the Home Decorating Forum
|
Post a Follow-Up
---
| | | |
| --- | --- | --- |
| Fiberglass doors vs. wood, pros and cons? | | |
Posted by
alizacf
(
My Page
) on
Tue, May 1, 12 at 19:21
We are replacing our front doors and considering stained fiberglass doors. When I visited the showroom I tested the door by gently scraping it with my fingernail, the finish was easily scratched off. I am wondering if this was just poorly finished or is indicative of fiberglass doors in general? Am I better off with a stained wood door in terms of durability of finish?
---
Follow-Up Postings:
| | | |
| --- | --- | --- |
| RE: Fiberglass doors vs. wood, pros and cons? | | |
We looked at wood-simulated fiberglass doors the other day. I wasn't impressed. I'd rather the upkeep of wood.
---
| | | |
| --- | --- | --- |
| RE: Fiberglass doors vs. wood, pros and cons? | | |
The fiberglass doors are much more energy efficient than wood which is why we chose to go with fiberglass. There are different qualities of pre-stained fiberglass doors. There are some that the color is throughout the fiberglass. I'd look further before you decide.
Here is a link that might be useful: Door comparison
---
| | | |
| --- | --- | --- |
| RE: Fiberglass doors vs. wood, pros and cons? | | |
We had a stained fiberglass door in our last home (front door). It was beautiful and the finish held up quite well for some time. However, the front of the house got several hours of strong afternoon sun and after a few years, the door started looking a bit "faded" and slightly warped.

In this house, with our brick and trim, we decided we wanted a painted door and opted for a metal door with leaded glass insert and sidelights.

tina
---
| | | |
| --- | --- | --- |
| RE: Fiberglass doors vs. wood, pros and cons? | | |
In our last house, we had several fiberglass doors. The painter did a great job of staining them. In fact, you couldn't really tell they weren't wood unless you knew. None of them got direct sunlight, so I can't address the problem of fading.

Now in the new home, we purchased a VERY expensive door (8' fiberglass, craftsman style, with leaded glass), and the painters did a horrible job of finishing it. We had them re-do it, and it wasn't any better. I've concluded that he had never done a fiberglass door before, and tried to stain it with oil stain. You MUST use gel stain to get professional results. Many of the manufacturers sell their own staining kits.

If the finishing is done correctly, with the correct products, you will get a beautiful long lasting finish on fiberglass. If not, you won't be satisfied.
---
| | | |
| --- | --- | --- |
| RE: Fiberglass doors vs. wood, pros and cons? | | |
I guess living in the South, I feel like I wanted the authenticity of wood even if it meant more upkeep. But I went into our build thinking we'd have a painted door. Then I went hunting for doors. After looking and feeling and knocking on them wood won out. I just didn't like the way fiberglass felt or sounded when I knocked on it at all. Wood felt more solid and natural and (to me) has a natural beauty that can't be duplicated. Yes, I know I'll have to restain more often than I would have to repaint a fiberglass door. But I'm ok with that. I've seen some fabulous painted front doors. I surprised myself by liking wood more actually.
---
| | | |
| --- | --- | --- |
| RE: Fiberglass doors vs. wood, pros and cons? | | |
Our 93 year old stained real wood front door is holding up like a champ. It's a west facing door, although we have a deep front porch.

In the 7+ yrs that it's been OUR door, I've washed it thoroughly once and applied 2 more coats of marine varnish. The stain is well preserved under marine varnish.
---
| | | |
| --- | --- | --- |
| RE: Fiberglass doors vs. wood, pros and cons? | | |
Our front door is fiberglass and I hate it, I'd much rather have wood, like the original wood doors on the back of the house and the kitchen. It's on my "to replace" list, extra upkeep or no. I don't like the way the door feels or sounds or looks.
---
| | | |
| --- | --- | --- |
| RE: Fiberglass doors vs. wood, pros and cons? | | |
jmc01, I'm so glad to hear that. Our house faces west. That afternoon sun is harsh. Our previous home faced west but had almost no porch overhang at all. I'm pretty sure the door that was there was just finished with whatever the door company uses. Our builder is planning to use marine varnish on ours. Plus we have a nice deep porch on this house. That gives me a bit of hope that I won't have to refinish quite that often!
---
| | | |
| --- | --- | --- |
| RE: Fiberglass doors vs. wood, pros and cons? | | |
We have a wood door (mahogany) -- house faces East so it gets full afternoon sun -- no porch over-hang.

The door is trashed! It is warped, and peeling.

The houses on my street with fiberglass doors look 100% better.
---
| | | |
| --- | --- | --- |
| RE: Fiberglass doors vs. wood, pros and cons? | | |
babs, my hubby and I have often talked/wished that we'd have gone with eral wood because we are both wood lovers. Nothing can beat the look and feel of real wood. We have too many other things to finish in our home first before we make the final decision. The problem is we just have a gingerbread screen door so no extra help there for the winter cold and the summer heat. We do have a covered porch though and the house faces south east so no bitter cold winter winds.
---
| | | |
| --- | --- | --- |
| RE: Fiberglass doors vs. wood, pros and cons? | | |
When we replaced our door we wanted wood originally too but living in an area that has very cold winters made the fiberglass door seem like a better choice for us. We got it in white and I had every intention of painting it but ended up liking it as it was. It has a decorative glass and has held up very well, so far so good!
---
| | | |
| --- | --- | --- |
| RE: Fiberglass doors vs. wood, pros and cons? | | |
My 1937 Cape Cod in southern Maine has all wood doors. The front door is original, and was painted on both sides when I bought the house in 1986. In 2008, I stripped the paint from the inside, and stained it. I had a good opportunity to go over every inch of that door, and it was perfect, despite the house facing west and it getting afternoon sun and plenty of snow over the years. It has never sagged and it has no rot. I love that 75 year old door, with its original hardware.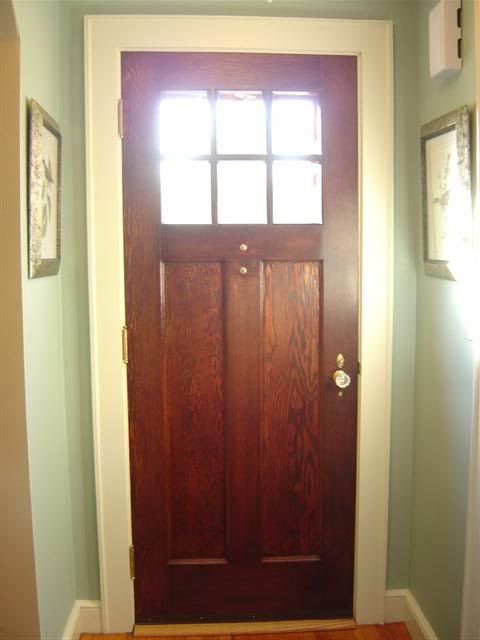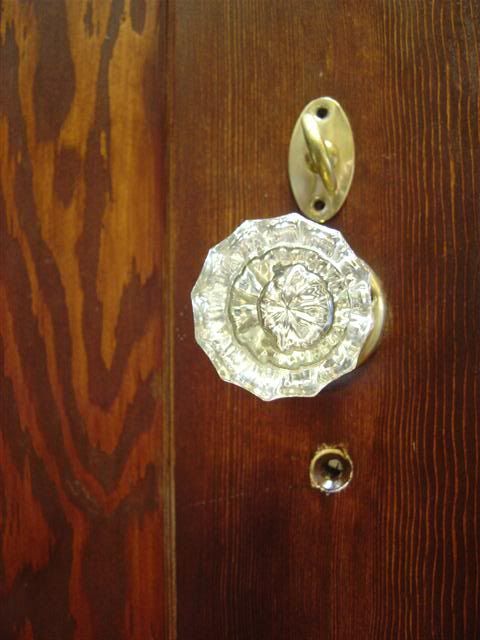 I don't have any closeups of the exterior, but it's protected by a wood storm door.
---
| | | |
| --- | --- | --- |
| RE: Fiberglass doors vs. wood, pros and cons? | | |
Like previously mentioned fiberglass doors come in different quality just like everything else. You can buy a lumber yard grade door and it comes unfinished and often with poor energy ratings.

One company that makes top notch doors is ProVia Door out of OH. They have several wood grain textures that really look like real wood. Their doors are prefinished from the factory which allows for a better finishing than most on site finishes. The doors even have a composite material for the jambs and guaranteed not to rot and they come with a security plate in the jamb.

I ended up not getting a ProVia f/g door only because they didn't have the glass package I wanted. The door I went with has an okay oak texture but not as real as the ProVia door. I finished it in my home and I've not had any trouble with the stain scratching off. It's a whole lot more efficient than the previous steel door so it's fine for me.
---
| | | |
| --- | --- | --- |
| RE: Fiberglass doors vs. wood, pros and cons? | | |
We have fiberglass for our patio french doors. They are mid-grade. They came primed and I painted them. The wood french doors were not doing well. Those were not original to the house and were a replacement for sliding glass doors by PO's.

Pella also has fiberglass. ALthough their fiberglass were more expensive, the Pella wood were even more expensive.

So, yes, I agree, it varies.

I love our front door which is wood. No plans to replace. It still looks great at nearly 50. I just painted the interior black.
---
| | | |
| --- | --- | --- |
| RE: Fiberglass doors vs. wood, pros and cons? | | |
I really wanted to replace my 85 year old wood door with wood again but the orginal was in such bad disrepair my husband was against it. We have a southern exposure front door and I did not like having the storm door when trying to get in the house with young children so wood was not a great option when we went to replace it. Having wanted wood I must say that I am very happy with my stained fiberglass door. It does not flake and the stain has held up wonderfully and people who visit are truly shocked when I tell them it is not real. It is a Pella custom order and they did the finish for us. It was very expensive, twice as much as our marble counters to give a ball park, but there are tax credits sometimes to offset some of the expense and we are saving heat with the better efficiency,
so in the long run it helps pay for its self.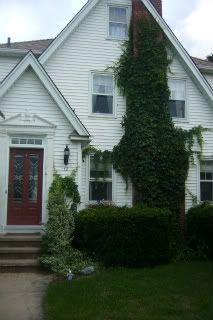 ---
| | | |
| --- | --- | --- |
| RE: Fiberglass doors vs. wood, pros and cons? | | |
Very timely discussion for me as I am looking for a replacement for my 20 year old metal doors. 15 years ago I took them to the auto body paint shop and had them painted. They used a deglosser so the paint would have a flat finish. They still look new...except where the kitties have destroyed the rubber in the door jambs.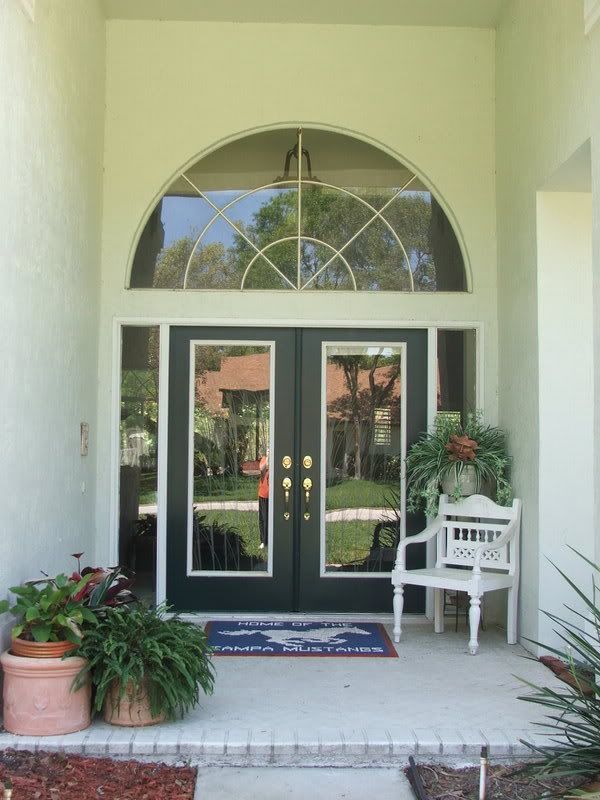 ---
| | | |
| --- | --- | --- |
| RE: Fiberglass doors vs. wood, pros and cons? | | |
As a builder, I've always used quality insulated steel doors and have been very satisfied. For this reno of a home I built, the buyer want to switch to double 30" wood slabs, no lites. I think they might be happier with stained wood grained fg over the long term due to the insulation value. Waiting for a final decision.

Insulated steel door to be replaced by double wood doors. Cast-stone surround will also
be used to improve appearance.
---
| | | |
| --- | --- | --- |
| RE: Fiberglass doors vs. wood, pros and cons? | | |
I have a Pella fiberglass entry door, installed 6 years ago. I would disagree that using gel stain is the best way to go, in fact I wouldn't recommend that at all. It looked beautiful when I finished but required varnish every 6 months. Even then it failed miserably this spring. Don't do that, there is a better way.

Fortunately, or not, my door delaminated this past month. Fortunately because I was about to strip it and start over again. As it is, Pella provided me a free replacement slab since it is warranted for 10 year. This time I'm using Sikkens Cetol Door and Window stain which does not use a polyurethene varnish topcoat. I found out about it from my neighbor who had the same problems as I with a gel stained/varnished entry door - chipping and peeling varnish. He redid his four years ago with this Sikkens stain and it looks great even now, with no further attention. Sikkens does recommend reapplying one coat after 3 or 4 years but that beats varnishing every six months plus it doesn't chip away like spar varnish.

Use Sikkens Door and Window stain instead of gel stain and varnish, seriously. It comes in four or five colors but you won't find it at HD or Lowes - go to their web site and find a paint dealer in your area.
Here is a link that might be useful: Sikkens Door and Window stain
---
| | | |
| --- | --- | --- |
| RE: Fiberglass doors vs. wood, pros and cons? | | |
The way that my parent's home is situated makes the front door so hot you can't touch it when it's sunny. She likes the look of wood, but with shrinkage and other problems they went with fiberglass. Also, there isn't much of an overhang over her door. There isn't a real porch or anything.

It looks really good. If you didn't know it, you'd think it was wood. My parents got just the basic door, stained on both side from provia. It was about 4k, which I think is pretty salty. But, she doesn't have the money constraints like we do. :) She has specific tastes, so we looked at a million doors. Therma tru was another one that was recommended on this site. We looked at those, but you have to actually stain it yourself or restain it every other year. I can't remember. The provia door has color that runs throughout the fiberglass and it has a lifetime warranty. If you're lazy like us, make sure to ask if you'll have to keep up the door with stain (pella, therma-tru, etc all did). Provia was the only one that you didn't have to do so from what I remember. The price is high, but I found out it's the top of the line. You know, kinda like how marvin is with windows. Just the price you have to pay. :(
Good luck!
Kim
---
| | | |
| --- | --- | --- |
| RE: Fiberglass doors vs. wood, pros and cons? | | |
I just looked at their site. She bought the signet door. I just saw that they have a lesser price door in fiberglass. You might check those out as the price might make them worthwhile.
Kim
---
Post a Follow-Up
Please Note: Only registered members are able to post messages to this forum.
If you are a member, please log in.
If you aren't yet a member, join now!
---
Return to the Home Decorating Forum
Information about Posting
You must be logged in to post a message. Once you are logged in, a posting window will appear at the bottom of the messages. If you are not a member, please register for an account.
Please review our Rules of Play before posting.
Posting is a two-step process. Once you have composed your message, you will be taken to the preview page. You will then have a chance to review your post, make changes and upload photos.
After posting your message, you may need to refresh the forum page in order to see it.
Before posting copyrighted material, please read about Copyright and Fair Use.
We have a strict no-advertising policy!
If you would like to practice posting or uploading photos, please visit our Test forum.
If you need assistance, please Contact Us and we will be happy to help.

Learn more about in-text links on this page here