Return to the Home Decorating Forum
|
Post a Follow-Up
---
| | | |
| --- | --- | --- |
| Where do you put your coffee pot? | | |
Posted by
oakleyok
(
My Page
) on
Wed, May 20, 09 at 19:18
I know I sound anal, but this has been bugging me since our new kitchen was built. Where do I want the coffee pot? lol.

First, I'm going to have to use a vinyl placemat to put it on because we are constantly dripping coffee in the area.

I have a hutch with an outlet I could use for the "coffee station", but that's not what I want from the hutch.

It's too bad they don't make coffee pots in color besides red, black, white and silver. And I wish they didn't stick out like a sore thumb!

Anyone have a nice place for a coffee pot where it doesn't stick out & you can show me a picture? Also, would a vinyl placemat hurt granite over time?
---
Follow-Up Postings:
| | | |
| --- | --- | --- |
| RE: Where do you put your coffee pot? | | |
We have a little "pass through" between our kitchen and (informal) dining room. It's basically a 4' galley-type set up with cabinets and counters on both sides. One side was designed to be like a bar, with glass cabinets on top and a tiny bar sink in the counter. But instead of a "drinks bar" we use it as a "coffee bar." So the coffeemaker is on the counter (with a cork-bottom placemat under it) along w/ the sugar bowl and our vitamins, the coffee mugs are stored in the cabinet over it, and the coffee and tea are stored in the cabinet under it. I think one of the most important things to consider is making sure the coffeemaker is near a sink. Also, I bet if you look hard enough, you'd find one in a color. I searched high and low for a toaster that wasn't stainless steel or black, and finally I found a copper one, which I loooove.
---
| | | |
| --- | --- | --- |
| RE: Where do you put your coffee pot? | | |
I've been searching for a year for a colored coffee pot. I actually found one in pale yellow, a perfect match. Ordered it, then found out the color had been discontinued. I'm actually thinking of going back to using an old fashioned Percolator.

Is cork better for the granite than vinyl?
---
| | | |
| --- | --- | --- |
| RE: Where do you put your coffee pot? | | |
I have my black coffee pot on a piece of black granite on the kitchen counter in this rental house. In the corner upper cabinet I keep the coffee and coffee cups.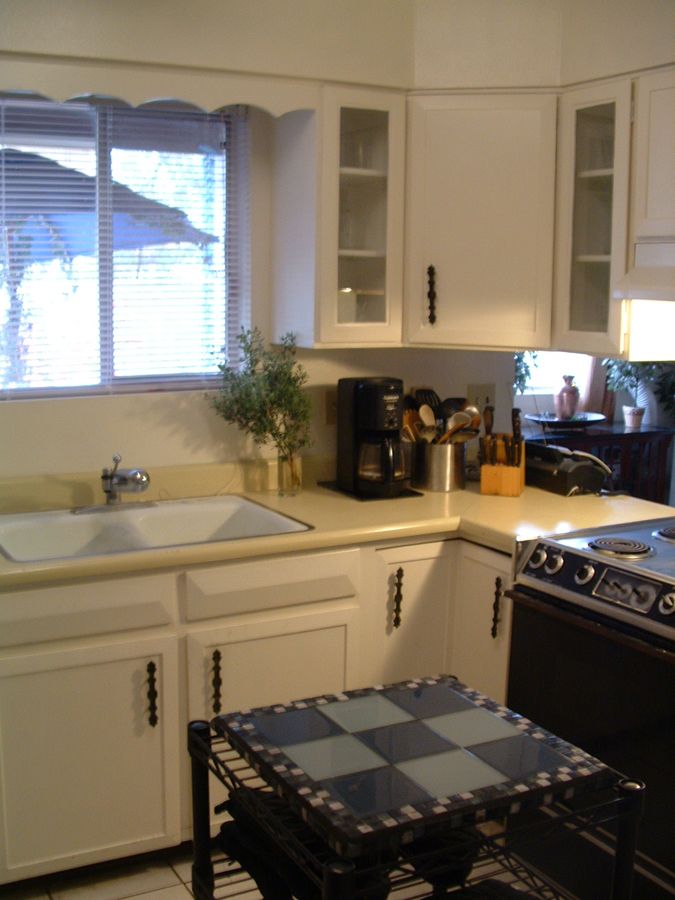 ---
| | | |
| --- | --- | --- |
| RE: Where do you put your coffee pot? | | |
Why do you need something under the coffeemaker? Granite wipes up like any other countertop surface. Mine is close to the sink and all coffee supplies are in the cabinet above the pot.

As for "sticking out like a sore thumb" ... it's a kitchen, not a showplace ... don't be afraid to use it, lol!
---
| | | |
| --- | --- | --- |
| Placemat | | |
three, I like the idea of the plant next to the pot! That's a pretty area you have there.

Natal, we have hard water and over time it will show on the granite in the coffee area if I don't catch it. Plus we make such a mess when we're zombies in the morning. lol. I've seen placemats under the pots before and I like the look.

In my new "farm/vintage" kitchen, it will stick out like a sore thumb, that's why I'm considering getting a percolator, even though they're silver, the style is vintage. We used one years ago and I remember liking them. Now that I remember, I also liked the sound of coffee brewing!
---
| | | |
| --- | --- | --- |
| RE: Where do you put your coffee pot? | | |
I have a small Russell Hobbes coffeemaker -- which sits on a side counter. Finally bought a coffeemaker because it was a mere $11 at Big Lots! LOL! :)

BUT I also have an electric perculator -- and used one for years -- and it lives in the cupboard just below the coffeemaker -- on standby!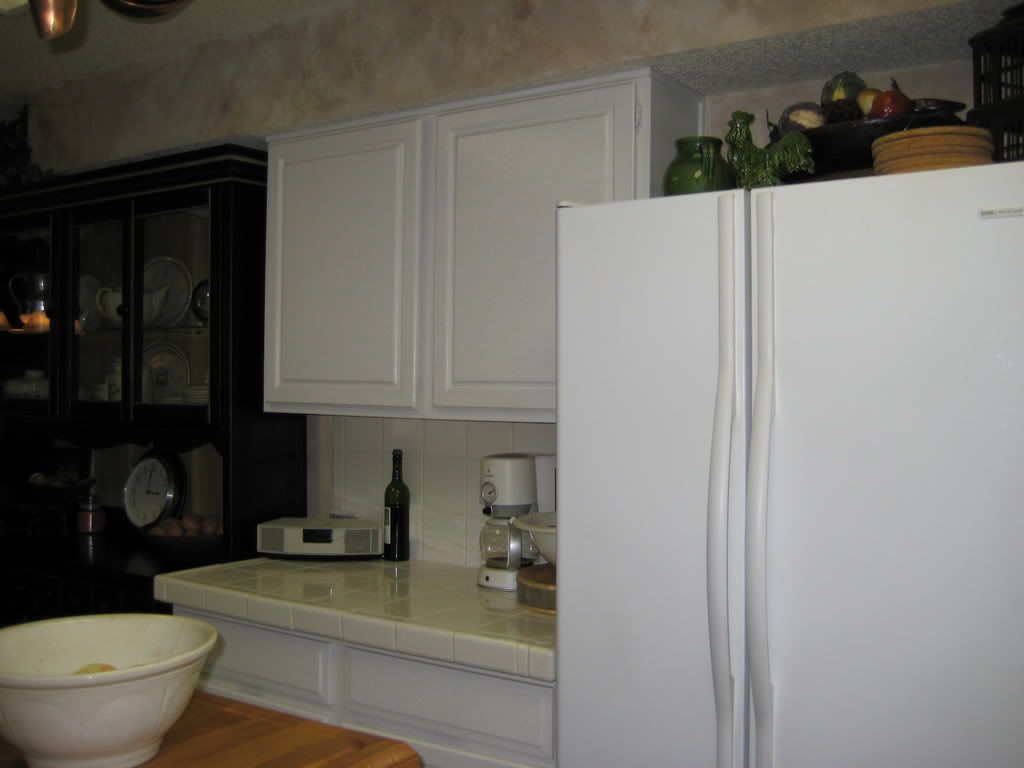 Jan at Rosemary Cottage
---
| | | |
| --- | --- | --- |
| RE: Where do you put your coffee pot? | | |
Maybe I'm strange but I keep my coffee maker on the counter top. It's a kitchen and people drink coffee in the A.M.
---
| | | |
| --- | --- | --- |
| RE: Where do you put your coffee pot? | | |
I'm weird that way, too, newdawn. :)
---
| | | |
| --- | --- | --- |
| RE: Where do you put your coffee pot? | | |
My DH is the only coffee drinker in our home and his coffee messes used to drive me nutty. Our house has a counter like Teacats next to the frige, so when we moved in, we decided that would be his "coffee station". We keep the coffee pot there, with a couple of glass canisters, 1 for sugar and the other for tea. A bread box for his goodies and he (we) love(s) it. He loves having his own spot in the kitchen and I love not having to clean up his coffee messes! It works for us!
---
| | | |
| --- | --- | --- |
| RE: Where do you put your coffee pot? | | |
My 9 year old percolator (wedding gift from mom) is still perking away and it lives out in the open on my kitchen countertop, unfortunately. I wish I had a nice coffee station but we make do by keeping all the coffee extras (mugs, filters, coffee) in the kitchen cabinet just above the coffee pot.
---
| | | |
| --- | --- | --- |
| RE: Where do you put your coffee pot? | | |
In our new kitchen (new as of November 2007), I have our coffee maker on the counter to the right of our cooktop. Above it is the cab that holds the coffee grinder, coffee beans, tea bags, sugar, etc. It works for us.
Lynn

---
| | | |
| --- | --- | --- |
| RE: Where do you put your coffee pot? | | |
Hi Oakleyok,

I too seem to be pretty anal about things and their placement, no matter what room of the house.

Coffee maker(s)---because my elderly parents who live with us, hate our coffee so we have TWO complete set-ups.

But no matter how many set-ups, I HAVE to have the coffee maker as close to the filtered (PUR) faucet as possible (Almost like ThreeDgrad's set-up but instead of a utensil holder and knives, it's a second coffee maker with a round tray between them).

Makes no sense to me to fill the carafe and carry it across the kitchen, dripping little water drops on the floor, just to get over to a counter on the opposite side of the kitchen to pour the water into the coffee maker.
Then back-track with extra steps to make it to the paper towel holder to get paper towel to wipe up my water dribble trail.
It's bad enough making coffee half-asleep and getting all the water into the water holder and not half of it on the counter! :)

Cups,saucers mugs, spoons, powdered creamers, flavored creamers, sweet n low bottled liquid, etc are all in the cupboard above the coffee makers.

Not completely true.....My Dad added those lazy susan bearings to the bottom of a nice, round, ORB-colored metal tray and when we have company we set the creamers, sugars and coffee flavorings in nice lidded stoneware bowls on that spinning tray and spoons in an oblong, ceramic candy dish.

It's a small area (with 2 coffee makers,of course it's a bit cramped) so the spinning tray really helps with easy access to the coffee goodies and looks nice enough for guests.

Of course I'm just as anal about the so-precious-to-me Tea Pot kettle in TerraCotta (did I mention how much I love terracotta anything?) that is set up on the other side of the sink with it's own accessories; hot mitt, colored/lidded jars with different flavor tea bags, tea cups and mugs,spoons, etc.in the top drawer of that counter top.

All this to say, I really don't care what's 'IN' or if it is placed correctly for the masses. Heck, at this point in my life I don't even care if it matches...as long as I have one that works! :)

For me, the more efficiently placed, the less steps and action I have to take to get something readied, the better.
When it comes to placement of things in my home, I haven't figured out yet if I'm extremely efficient, extremely anal or extremely lazy. *big grin*

OT:
ThreeDGrad; saw your tiled top next to your washer/dryer in another thread....again, you never cease to amaze and inspire me!!!
If I could afford to fly you to my home for one day, just one single day!....with your ideas, your creativity and my very limited budget, I know I'd end up with the home I've been seeing in my dreams for years.
---
| | | |
| --- | --- | --- |
| RE: Where do you put your coffee pot? | | |
Thank you so very much Amity!!!

Amity, do your coffee makers have timers on them so that you can make coffee the night before and have it turn on and ready for you in the morning? That might make life easier for you.
---
| | | |
| --- | --- | --- |
| RE: Where do you put your coffee pot? | | |
Amity, love the story!

Right now it's temporarily on a wood cutting board next to the sink. I woke up at 5, dh made the coffe, and there is a black puddle sitting under the pot! lol

I'm really liking the idea of a perculator!

And this topic brings me back to the same question I've had for years. Why don't appliance and coffee maker companies offer COLOR? Sometimes I wish it were the 70s again so we'd actually have colors to choose from.
---
| | | |
| --- | --- | --- |
| RE: Where do you put your coffee pot? | | |
On the counter--we LOVE coffee..
Have always used a perculator..Farberware--a minute, a cup..hard to beat it...we have several sizes--have the URN for large groups...hightly recommend..
Susan
---
| | | |
| --- | --- | --- |
| RE: Where do you put your coffee pot? | | |
I also have my coffeepot on my counter-- no special arrangement, it is convenient to the water and cups.

I am not the neatest person but I dont really have a coffee mess. Perhaps it is because I have a capresso coffee maker with built in bean storage and burr grinder. All I have to do is empty grounds, fill with water and then pour the coffee. It's black which works fine in my kitchen with dark countertops and black appliances... but I choose my coffeepots based on the quality of the brew not my decor.
---
| | | |
| --- | --- | --- |
| RE: Where do you put your coffee pot? | | |
I don't see that your coffee pot will stick out - afterall, granite itself isn't particularly a vintage/farm look. Like someone stated above, the coffee pot is what it is. I like Eileen's set-up - if you feel you must have something under the pot, I would keep your cutting board or something similar to that rather than a vinyl placemat. One of the pluses of granite is it's ease to clean up, etc. I personally wouldn't have anything under the pot.

Oh, to answer your original question, our coffeepot stays in a cabinet below the counter where it is used. Hubby and I are not coffee drinkers so it only comes out for guests.
---
| | | |
| --- | --- | --- |
| RE: Where do you put your coffee pot? | | |
All I did was google yellow coffee maker and a list popped up. This link was the first.

With granite, all you have to do is wipe the counter down, once a day, when you do your dishes. If you insist on something, Homegoods sells some large, lipped plastic trays.
Here is a link that might be useful: yellow
---
| | | |
| --- | --- | --- |
| RE: Where do you put your coffee pot? | | |
Mine is on the counter between the sink and the eating area. Close enough to the water and to the table. I keep the coffee supplies in the cupboard below.
---
| | | |
| --- | --- | --- |
| RE: Where do you put your coffee pot? | | |
Parma, that coffee maker is gorgeous! We bought a new one when our kitchen was finished. If we hadn't I'd love that yellow one! I'm a sucker for pale yellow.
Lynn
---
| | | |
| --- | --- | --- |
| RE: Where do you put your coffee pot? | | |
That same site had the Hamilton Beach coffee maker in green and in blue as well as the yellow.
---
| | | |
| --- | --- | --- |
| RE: Where do you put your coffee pot? | | |
That's the same coffee maker I ordered from the same website. Go back and look at it again. It says Not Sold. It was discontinued last year and why they still have it on their site I don't know.

There is not a yellow coffee pot to be had. :(
---
| | | |
| --- | --- | --- |
| RE: Where do you put your coffee pot? | | |
I smiled just when I read your subject. Coffee is a big deal to me so I highlight my coffee area. I'm not home and this is the best pic I have of the area. It's down at the end of the room under the microwave complete with espresso machine, coffee grinder, and single server coffee maker. The cabinets above have the cups and coffee supplies. Oh and there's a sign on the left end standing on an easel announcing that the coffee is served all day!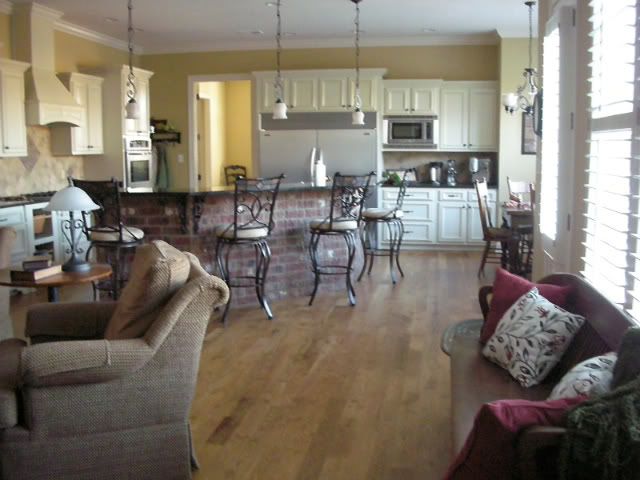 ---
| | | |
| --- | --- | --- |
| RE: coffee pot | | |
Mimi, I like your set-up! I drink black coffee all day, so it's huge to me too. lol. I did find a VERY yellow coffee maker, but it's too yellow for me. I'm such a picky person when it comes to color.
---
| | | |
| --- | --- | --- |
| Blue one | | |
I found the blue Hamilton Beach coffee maker on ebay.
Here is a link that might be useful: Blue coffee maker
---
| | | |
| --- | --- | --- |
| RE: blue coffee maker | | |
oakleyok...Hamilton beach has an ultramarine (dark blue) coffee maker. Not sure what color you're looking for,
---
| | | |
| --- | --- | --- |
| RE: Blue | | |
Mimi, I'm pretty sure that one is discontinued also. :( But I don't think blue would look good in my kitchen unless it's a light blue.

Paula Deen has some really pretty enamelware perculators, but they're for camping or a stove top. Darn. I love enamelware and wish she'd whip some up with electricity running to them! lol
---
| | | |
| --- | --- | --- |
| RE: Where do you put your coffee pot? | | |
JC Penney has a yellow coffee maker on sale for $29.99.
Take a look.

http://www3.jcpenney.com/jcp/X6.aspx?deptid=57089&catid=58058&grptyp=PRD&itemid=15775df&dep=Housewares&pcat=Kitchen+Electrics&cat=Coffee&refpagename=X2%252Easpx&refdeptid=57089&refcatid=57089&cmAMS_T=X2&cmAMS_C=C1&CmCatId=57089

I don't know how to just do a "link".

Peachie
---
| | | |
| --- | --- | --- |
| RE: Where do you put your coffee pot? | | |
We keep one of our coffee pots (4 cup) very close to the sink and the above cabinet has all of our beverage paraphernalia. Various coffees, teas, cocoa, coffee filters, coffee press, sugar bowl, creamer, etc. Our second coffee pot (12 cups) is kept in another location for when we have company.
---
| | | |
| --- | --- | --- |
| RE: Where do you put your coffee pot? | | |
Gosh, I had forgotten about all the paraphenalia required for standard coffeemakers. I really like that the built in grinder and bean storage (though it is limited) really saves a lot of mess. I have had both the capresso and the cuisinart-- I much prefer the capresso because it uses a burr grinder and it seperates the ground coffee from the steam making clean up very simple. I have been using the capresso for over 5 years though so there may be something else comparable on the market now-- there was not when I first switched to capresso.

The capresso also keeps my coffee at a good temp-- very importnt to me.
---
| | | |
| --- | --- | --- |
| RE: Where do you put your coffee pot? | | |
I have a black coffee maker sitting directly on my white tile counter. If there is a drip or two, I wipe 'em up and they're gone. Coffee isn't the messiest thing I have to deal with in the kitchen.

I'm with the folks who say, it's a kitchen, it's where coffee comes from. Who staggers to the kitchen before the sun's up, needing a cup o' joe to come to life and says, that coffee maker just doesn't look right? They're too busy coming back to life and savoring the coffee.
---
| | | |
| --- | --- | --- |
| RE: Where do you put your coffee pot? | | |
If you do not like a coffee maker sitting out on the counter taking up space all the time, you could always go with a microwave coffee maker and keep it in the cupboard when not in use. They make great coffee percolator style.

I have a ten cup microwave coffee maker in a nice Chocolate color. It's plastic and lightweight. Just rinse it and put it away when done.

Guest are amazed when they see it and always want one for their kitchen. I discovered microwave coffee makers when I was at a gathering at someones house and saw one being used. I was amazed. I bought one. I love it.

Here is a link to a smaller version:
Here is a link that might be useful: Microwave Coffee Maker
---
| | | |
| --- | --- | --- |
| RE: Where do you put your coffee pot? | | |
I don't drink coffee and DH occassionally drinks it on the weekends so we don't need it sitting on the counter 24/7. I don't like much on my counters anyway. I put ours (a small 4-cup machine) in the lazy susan cabinet along with all our other smaller appliances. It's easy to grab and out of the way.
---
| | | |
| --- | --- | --- |
| RE: Where do you put your coffee pot? | | |
My coffeemaker is at the end of the counter, next to the sink. It's the perfect spot---it's close enough to the sink that the pull-out faucet reaches (so I don't have to fill the pot with water and pour from it), there's no cabinet above to get damaged by steam, that area of the counter isn't useful for anything else, and it's out of the way of all other kitchen activities. I keep coffeemugs and filters in the top drawer under the coffeemaker. And I keep the can of coffee right on the counter (horrors!).

We have hard water, too, so I've always had something under the coffeemaker and something in front of it to catch drips. For under the coffeemaker, I chose a glass cutting board. It lets the granite show through, won't be damaged by hot water or coffee stains, and is very easy to clean. In front of the coffeemaker, I use a plastic placemat, which I change every month or so to a different design. Some of them have a clear background, and more than one person has been fooled into thinking that there's a design right in the granite. I've found that the placemat in front of the coffeemaker helps to reduce the "noise" of setting a coffee mug and spoon on the counter.

This photo is a few years old. We have a different coffeemaker now, and we keep the coffee on the other side of the coffeemaker, but you get the idea.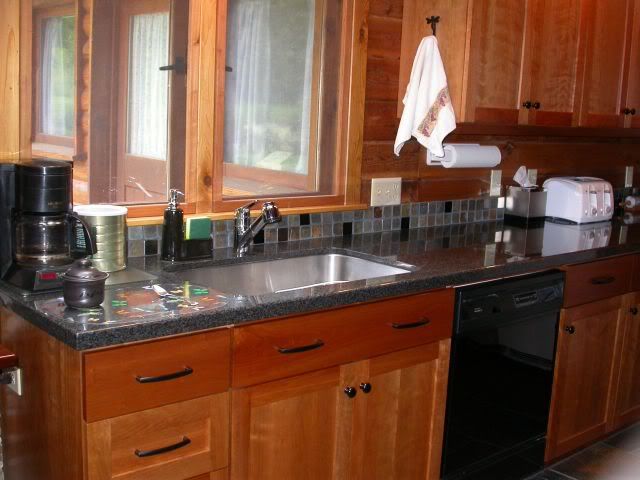 ---
| | | |
| --- | --- | --- |
| RE: Where do you put your coffee pot? | | |
I might have been a slave to my kids, but not to a kitchen and I love my kitchen and what makes it a gathering place is coffee and good conversation, company of friends. I love my company, my kitchen and coffee and have several coffee and latte/cafe makers, coffee presses, coffee grinders, coffee pots, and I put them where they are convenient for my family and friends, our gathering place.

I grew up as the child of a divorced woman who worked hard to own restaurants, a garden nursery, fishbait shops, a fishing lake, fruit arbors, who supported herself and her family (children, parents and occasionally siblings and neighbors) with whatever it took, and I know how important coffee and its devices are to our way of life. Businessmen, churchworkers, attorneys, judges and millworkers gathered in those small restaurants in that small town to discuss business over coffee and the pot often left leaks on the tables and leaks on aprons and many dishclothes were required to keep it clean, but it was the one common denominator in running the community from a community cafe. Should my mother have worried about those drips of coffee or the business of this little mill town where important decisions were made over a fresh cup of a java? The trial of the Dowdy boy who killed his family, the trial of the Janor man who killed the sheriff, the trial of old man Wilborn who was a CPA and found a way to beat the tax system until he was caught and whether or not he would go to jail on a confession or the man who worked as a postman and stole the money from the envelopes of the elderly to keep his wife's home decorated and her clothes perfect or old man Woodhead who burst into his lawyer's office and shot him dead in cold blood because he thought he was having sex with his wife to pay her legal fees. I lived in a town similar to the one from which "To Kill a Mockingbird" was the subject. All that was discussed over coffee. It was important then and the outcome is still important to many today because some of those trials are in lawbooks that determine our fate to this time. I could do without a new kitchen but I could never do without coffee. Give me an IV of coffee when I am in my final days.

Don't embarrass your granite by suggesting that vinyl is more capable of handling a few drips of coffee than granite which has been around thousands of years. ;-)
---
| | | |
| --- | --- | --- |
| RE: Where do you put your coffee pot? | | |
I planned ahead when we designed the kitchen in our current home. I don't drink coffee myself, but my hubby does so we had to have a place for it with easy access. I wanted a furniture look so it only made sense to add outlets inside the bottom cabinets that set at counter level for the coffee maker and toast. They are each in their own cabinets.


As you can see we made the whole area as a drink station.
---
| | | |
| --- | --- | --- |
| RE: Where do you put your coffee pot? | | |
Uxorial, you get it! Someone finally gets it! LOL. People who don't have hard water have no idea what I'm talking about. It's not just coffee, it's the hard water residue left behind if I happen to miss some dripped coffee. Even granite doesn't like hard water. ;)

Funny about the glass cutting board because last night that's what I finally decided to get for the pot to sit on.

I also think a coffee pot looks nice sitting on something. Now if I can find just the right cutting board. I have a glass cutting board I bought and never figured out why people would even consider cutting something on them. The noise it makes raises the hair on my arms!
---
| | | |
| --- | --- | --- |
| RE: Where do you put your coffee pot? | | |
I actually bought my glass cutting board to use under the coffeemaker, not as a cutting board. At the time, I lived in a different house that had ceramic tile countertops. I didn't want the grout to get stained with coffee, so I bought the glass cutting board.

I hate cutting on glass cutting boards, too! I think they're pretty hard on your knives, in addition to being noisy and just not user-friendly.

Oh, and yeah, the hard water. It doesn't "hurt" the granite, but every couple months I have to scrape around my faucet with a razor blade to get the crusty stuff off.
---
| | | |
| --- | --- | --- |
| RE: Where do you put your coffee pot? | | |
I have a Bodum french press. I think it is pretty. :) I use a stainless steel tea kettle to heat the water and when it isn't in use, it sits on a black trivet that matches our utensil holder. I have a glass jar with splenda in it and a vintage glass syrup container that holds my creamer. It all sits to the right of my stove, except for the tea kettle, that sits in the middle of the stove.
---
| | | |
| --- | --- | --- |
| RE: Where do you put your coffee pot? | | |
Was I supposed to have a coffee pot? Oops.
---
| | | |
| --- | --- | --- |
| RE: Where do you put your coffee pot? | | |
Have a water softner installed, that will take care of hard water. We have had one in every house we've lived in.
---
| | | |
| --- | --- | --- |
| RE: Where do you put your coffee pot? | | |
How about a piece of your granite to set your coffeemaker on, which is what many people do with their leftover granite or use it for hot plates for setting hot corning ware, etc.
---
Post a Follow-Up
Please Note: Only registered members are able to post messages to this forum.
If you are a member, please log in.
If you aren't yet a member, join now!
---
Return to the Home Decorating Forum
Information about Posting
You must be logged in to post a message. Once you are logged in, a posting window will appear at the bottom of the messages. If you are not a member, please register for an account.
Please review our Rules of Play before posting.
Posting is a two-step process. Once you have composed your message, you will be taken to the preview page. You will then have a chance to review your post, make changes and upload photos.
After posting your message, you may need to refresh the forum page in order to see it.
Before posting copyrighted material, please read about Copyright and Fair Use.
We have a strict no-advertising policy!
If you would like to practice posting or uploading photos, please visit our Test forum.
If you need assistance, please Contact Us and we will be happy to help.

Learn more about in-text links on this page here