Return to the Home Decorating Forum
|
Post a Follow-Up
---
| | | |
| --- | --- | --- |
| new appliance color advice | | |
Posted by
nccmama
(
My Page
) on
Mon, May 11, 09 at 18:52
I went appliance shopping today and was shocked to see almost nothing but stainless steel. I commented this to the salesperson, and he said that in his store, which is in a more upscale area of town, they pretty much only sell stainless steel, or sometimes black, but the only people that ever buy white are for rentals. I don't consider myself to be particularly "trendy", and I firmly believe that you should surround yourself with the things that you love, regardless of what others think. But, the problem is that I don't especially love any certain appliance color. I don't dream of stainless or black or white or any color. So, I'm in a dillema as to what color to go with. My current appliances are basic builders-grade white. I need a new fridge, dishwasher, and over the range microwave, so this would seem to be a good time to change colors, if that is what I want to do. My stove/oven is a counter top gas stove (white with grey burners), and the oven is a built in directly below (also white), so that does give me a bit of a problem. I don't want to replace these now, since they work fine. But, I thought that I could probably replace the grey burner grates with black to tie it in a little better.

My kitchen decor is dark sagey green walls, tan tile floor, light maple cabinets, greyish formica counter tops (someday would LOVE to change it out for stone), kitchen table is black legs/wood top, black wrought iron chairs, black painted hutch near table, white porceline sink w/ oil rubbed bronze faucet, oil rubbed bronze door knobs and cabinet knobs, and light fixtures. But, the trim in the whole house is white enamel, including a prominent door to the pantry in the corner of the kitchen.

So, does anyone have any guidance besides to just pick whatever color most suits my fancy and not care if I'm in style or not? I know that many people just love stainless steel, but I don't think that it would go here because of all the oil rubbed bronze. I prefer the look of old iron to sleek, modern stainless. So, that pretty much leaves my with white or black. Any thoughts? Is black just as trendy as stainless steel? Is white really timeless, or for the area I'm in, would it just scream either, "original builder model" or "rental property"? Help!
---
Follow-Up Postings:
| | | |
| --- | --- | --- |
| RE: new appliance color advice | | |
It sounds to me like white is the color for your appliances! I think stainless steel is the Harvest Gold of the 1990's and 2000's.
---
| | | |
| --- | --- | --- |
| RE: new appliance color advice | | |
I have oil rubbed bronze faucet, pulls, and light fixtures in our recent kitchen remodel and I did stainless steel appliances and hanging racks. In my opinion, it works fine together. Your kitchen sounds a bit like mine, with sagey walls, wood cabs, white trim, and ORB fixtures. I don't have a better picture yet as we're not done will all the details, but this might give you an idea. Many of the SS appliances have some degree of black trim, which breaks it up a bit. I could have done all black appliances I suppose, but that just seems like a big hulking chunk or a dark void to me.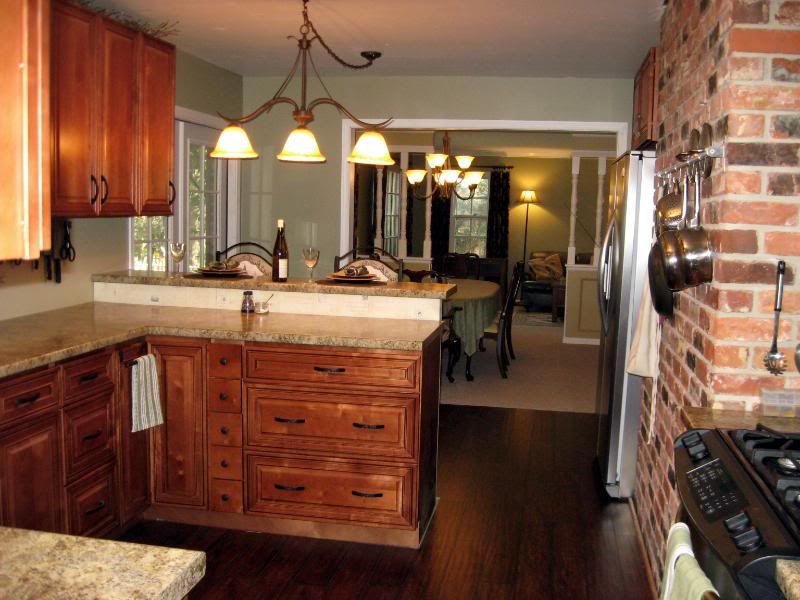 I think the difference with stainless over other "trends" is that it is really quite neutral and has been around forever, in one form or another, even in kitchens. If you don't like it though, then certainly get something else. I felt the same way about granite counters; it seemed "everyone" was getting them, but I didn't want the hassle or expense. I'm thrilled with my laminate and everyone that sees it loves it. Very few people are going to notice, let alone comment, on one element of your kitchen if it looks good and works well as a whole.
---
| | | |
| --- | --- | --- |
| RE: new appliance color advice | | |
equest17, love your kitchen and stone wall with the beautiful stainless steel refrigerator that does not have the black water on the door but a matching stainless water feature that is so pretty. Thanks for sharing.
---
| | | |
| --- | --- | --- |
| RE: new appliance color advice | | |
I agree that granite & stainless Steel are trendy. I think neutrals like white or black may be timeless.....? But equest17 proves a point....she purchased "fake" granite counters to get the IN look when she didn't want granite. She saved the expense, but went with the trend anyway!

If you want the latest look....fake or real.....you buy granite! White, black or stainless appliances go with it all!!! Get white if you already have white....
---
| | | |
| --- | --- | --- |
| RE: new appliance color advice | | |
White to me screams "outdated" "builder's grade" and "rental" definitely. Depends if you're going to resell or stick around awhile. If this is your forever house , who cares what others think and get what you love!

I also have to agree with those that said stainless isn't a 'fad'. It's very neutral and has been around forever.
---
| | | |
| --- | --- | --- |
| RE: new appliance color advice | | |
I have had all stainless and now a mix. I have to tell you that if you find fingerprints and smeary messes to be timeless, then go for the SS! ;-) I upgraded to stainless in a house I am selling and remember why I didn't want it in my new house. It is such a PITA to clean.

I don't really like white appliances unless they are part of a white kitchen. But, because you have the cooktop and oven in white, you are kind of stuck. I don't think I'd like to see a mix of black and white. Is there any possibility that you might replace the cooktop/oven in the next few years or are you prepared to hold on to them long-term? I think I'd make that the deciding factor.
---
| | | |
| --- | --- | --- |
| RE: new appliance color advice | | |
I would not mix and match appliance colors. That would look worse than anything unless it was done with some logic - but if you are keeping some of your white appliances I'd go with new white ones. That is IMO the biggest advantage to white - you don't need to go out and purchase all new appliances in order to replace one.

I love it when people make generalizations about how crappy your "x,y and z" will be if you use "a,b and c". My kitchen has vinyl (vct) floors, white appliances, laminate counters. Maybe you all have seen far more creative builder grade homes than I have because my kitchen looks nothing like any builder grade kitchen I've ever seen. Nor does it look like any rental I've ever seen. It looks warm and homey and just vintage in feeling enough to fit into my 120 year old house without being period.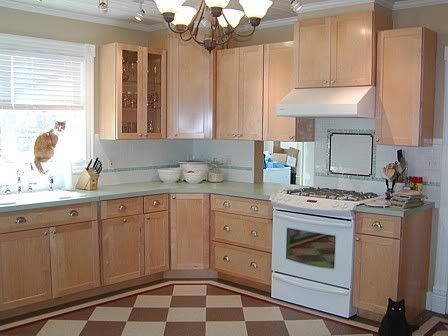 ---
| | | |
| --- | --- | --- |
| RE: new appliance color advice | | |
White to me screams "outdated" "builder's grade" and "rental" definitely"
If done with taste, white is classic and timeless. Take a look at some of the homes in Country Living, Southern Living, and the like. White is not "cheap" by any means, and can actually enhance the other elements in the kitchen. (Discliamer: I don't have white appliances.) I think your statement is unenlightened and uninformed.
---
| | | |
| --- | --- | --- |
| RE: I should have said... | | |
...Discliamer: I don't have white appliances, but given the choice between stainless and white, I'd take white ;o)
---
| | | |
| --- | --- | --- |
| RE: new appliance color advice | | |
I have the easy clean SS and have no problems with fingerprints, dirt, and grease (at least, not any more than you'd expect to deal with in a kitchen ;-)

I think kgwlisa has a good point; any one piece can look great or awful depending on how you use it. Her kitchen is beautiful and classic. I picked items that were functional, reasonably priced, and attractive to me. I think those basic principles are always stylish and never trendy. I had a terrible struggle with the granite counters because we had the money for them and they really are pretty, but I just didn't feel the NEED for them. I think I assumed it was the thing to do but never really felt comfortable with it. When we finally realized that we really would be happy with the laminate (that I picked because it was pretty, not because it looked like granite ;-) it was such a relief to let go of the weight of doing what I was "suppose" to do and getting what felt right.

If the appliance store had an equal number of all appliance colors and the salesperson hadn't made a silly comment about white being for rentals, what do you think you would have chosen? You'd be amazed at the huge number of people who don't visit decorating sites or even know what the latest trend is, so why try to squeeze your taste into a tiny box to match a very small proportion of the American public?
---
| | | |
| --- | --- | --- |
| RE: new appliance color advice | | |
My house doesn't have the antique appeal of a nice older home like so many of the ones in magazines, so I can't rely on white just being classic as part of an obviously newer remodel of an older home. I used to live in the mountains of upstate NY and was always drawn to the houses with history, but hoped to remodel it to make it my own. But, alas, we moved to North Texas before buying a house in NY, and now I am in an 11 year old cookie cutter builder grade home in a North Texas suburb. It is nice, don't get me wrong, and I feel very blessed to have a home at all. But, I live in a very "trendy" upscale area, and yet, my neighborhood is definitely on the lower end of the home price curve, which suits me just fine since a huge mortgage payment was not on my list of things that I wanted in a home. It is a lovely home in a good, clean, safe area with excellent schools. BUT, the homes around me in surrounding neighborhoods cost 3-10X as much, and they ALL have SS, either originally from the builder (newer home than mine) or have been "updated" with SS appliances for no other reason than to "update". My kids go to school with these kids, and so when my daughter found out that we were thinking of replacing our refrigerator, she excitedly asked "Can we get one of those cool grey ones? Nobody has white anymore, Mom." Of course, this has potential to be a lesson in not following the Jones' and all that, and believe me, in general, our family does not fret over being in style or having the latest and greatest of everything. BUT, I also don't want to invest a few thousand dollars into something that just looks cheap, even if it wasn't. I know that I would know that it wasn't, but.... If I am going to live in a low end home because a house is just a house and a home is what you make of it, then I would like my home to not look just like it did when I bought it 10 years ago when it was filled with barebones builder grade everything, from the colonial blue pleated shades to the thin, builder's grade carpeting. We have since installed wood floors, wrought iron balusters, fabric roman shades, etc., but have not done much to the kitchen. I would just like my kitchen to look a bit nicer than it did 10 years ago, yet, I don't want to succumb to a possibly passing fad, even if a lot of people think that it will last forever.

So, I am leaning toward staying with white. My stove and oven work fine, so I can't justify spending money just to change a color (though I still would like to change out the grey grates for black, since they always look so dirty!) Certainly, the stove and oven would break within 10 years, I would imagine, and I could match them then, but by then, the new fridge, etc. would probably need replacing, too. I didn't really like SS when it first came out (too cold, etc.), but now that it is EVERYWHERE, I think I have gotten used to it and do see it as somewhat of a neutral. But, the fingerprint issue is huge, since keeping my kitchen clean is difficult with my current white. SS, or worse, black, would probably make my life more difficult.

I plan to get a french door fridge, so maybe that will eliminate some of the "confusion" over whether it looks cheap or original to the house. Thanks for all the input! You guys are great!
---
| | | |
| --- | --- | --- |
| RE: new appliance color advice | | |
I have white appliances- they are approximately 8-10 years old. I honestly never cared for stainless. Previously, we had black.(and before that- white). I do feel like I have to convince myself that I did the right thing for me by getting white. I do live in a pretty pricey area, and most kitchens have stainless..
I think kgli... kitchen looks great with the white appliances by the way.
I don't think stainless will be dated, but I do think the "current-ness" or "must have -ness" of it will fade somewhat.
Stainless, black and white are really pretty classic and neutral so they will be around for a long time. I happen to like the clean white for appliances.
---
| | | |
| --- | --- | --- |
| RE: new appliance color advice | | |
I also think Stainless is a few years away from being outdated. I am hoping they bring out oil rubbed bronze appliances. That's what I want. YOU HEAR THAT APPLIANCE COMPANIES???! Be cutting edge. Oil rubbed bronze!
---
| | | |
| --- | --- | --- |
| RE: new appliance color advice | | |
I have dark cherry wood cabinets, fake granite laminate countertops, beige flooring, and red walls in my kitchen and I went with white appliances because I love them.
Stainless steel was too cold and industrial for me, and black was too dark with all the other dark features in the room.
So many people told me the white would look outdated and that I should do black or stainless. The white looks awesome! It lightens up the kitchen and provides a contrast- plus it gives one air of traditionalism to the room.
I haven't regretted my decision to choose white.
---
| | | |
| --- | --- | --- |
| RE: new appliance color advice | | |
I think stainless is a timeless neutral along with white and black. Get what you prefer, but for resale definitely stainless is perceived as an upgrade.

gamecock43- I believe Jenn-Air has carried oil rubbed bronze appliances for over a year! Now you can have your dream!
---
| | | |
| --- | --- | --- |
| RE: new appliance color advice | | |
I think you can mix some..
I have white appliances with black fronts on the stove and dishwasher. I also have the laminate that looks like granite. I love my kitchen!
I did learn about the color thing in a hard way. Had the gold of the 80's and when it started dying I had no idea what to do so bought the white fridg. When did my kitchen over added the black fronts and white appliances. You know you can always buy white!
Did the wrong thing in a bathroom makeover when we were young and dumb as well...bought sand colored sink, toilet and tub...I will never do that again!
Karen L
---
| | | |
| --- | --- | --- |
| RE: new appliance color advice | | |
Nccmama, how depressing that they only have one choice. When I bought my dishwasher, my last kitchen appliance, they tried really hard to talk me into SS. I hate SS. Had it once and don't want it ever again. My favorite color? Almond. That's what I have. I guess if one of mine breaks down I'll buy a white one and spray paint it almond. Good luck to you!
---
| | | |
| --- | --- | --- |
| RE: new appliance color advice | | |
Thank you all for the advice. I decided to atay with white, so I bought a new OTR microwave, DW, and french door fridge from Lowe's. But, as it turns out, we all hate the french door fridge because of the layout of the interior. DH complains every time he opens the door! Lowe's actually has an excellent return policy and said that I could still exchange them, if I am unhappy with it for any reason. So, here I am again second guessing my color decision again---if we decide to change out our fridge, should we change colors afterall? Is it a second chance to get it right? After living with the new fridge, which is directly visible from the rest of the house, I realize just how stark and bright the new white appliances are these days. The door to the kitchen pantry is painted white to match the trim in the rest of the house, and this door is very near the refrigerator---another reason in my decision to stick with white, or at least not go with black. But, while my old white textured fridge pretty much matched the white of the pantry door, the new one is quite harshly white, which is not really the feel that I want for my kitchen. Sigh...I can't believe that I am still fretting about this. But, I am really reconsidering black, although i do worry about smudges. But, on the other hand, both my dog and my cat have black fur, so at least that would blend in! :-)
---
| | | |
| --- | --- | --- |
| RE: new appliance color advice | | |
kwglisa, I really like your kitchen.
---
| | | |
| --- | --- | --- |
| RE: new appliance color advice | | |
A white kitchen is always my first choice with either stainless appliances or white appliances. My new condo has a white kitchen and my house before that had a white kitchen and if I were looking to buy again, I would always be swayed by the house with the white kitchen.
---
Post a Follow-Up
Please Note: Only registered members are able to post messages to this forum.
If you are a member, please log in.
If you aren't yet a member, join now!
---
Return to the Home Decorating Forum
Information about Posting
You must be logged in to post a message. Once you are logged in, a posting window will appear at the bottom of the messages. If you are not a member, please register for an account.
Please review our Rules of Play before posting.
Posting is a two-step process. Once you have composed your message, you will be taken to the preview page. You will then have a chance to review your post, make changes and upload photos.
After posting your message, you may need to refresh the forum page in order to see it.
Before posting copyrighted material, please read about Copyright and Fair Use.
We have a strict no-advertising policy!
If you would like to practice posting or uploading photos, please visit our Test forum.
If you need assistance, please Contact Us and we will be happy to help.

Learn more about in-text links on this page here