Return to the Home Decorating Forum
|
Post a Follow-Up
---
| | | |
| --- | --- | --- |
| How do you feel about vinyl flooring? | | |
Posted by
kismet08
(
My Page
) on
Wed, May 26, 10 at 17:27
I know this could technically go on the flooring forum, but this one moves way faster, has higher visibility and a greater chance that I actually get a reply. I haven't been on here in fo-evva. Life, gets in the way for me. A lot. LOL

I know a while back there was a lengthy thread about how vinyl flooring gets a bad rap. I think the GW gnomes must have ate it, because I couldn't find it.

Right now, our house has some pretty ugly sheet vinyl in the kitchen, dining, hallway, laundry, half bath...well, pretty much the back half of my main floor. We want to change it and have been thinking about what to do for a couple of years.

I would love hardwood floors. I'd either have to match the hardwood in my entryway, or pull it out too, not too bad, considering that it's all of about 80 sq ft. BUT, there's always a but, it causes serious problems in the kitchen with respect to clearance for the appliances. If I put in hardwood, I'd have to remove the cabinets and then put them back in, uppers and lowers. I'm not fundamentally opposed, but DH doesn't think we should DIY that one. I think we could do it, but he thinks we might destroy the cabinets and open up a whole new sack of cats. Basically, its' a project that escalates quickly in terms of money and time. Soo..seriously, I have a point...

We were in the flooring place last week, trying to come up with a plan. Incredibly patient sales girl suggests luxury vinyl tile. We've brought home samples, and I have to say, if I didn't know that they were vinyl, I'd never believe they were. They have texture and color variation similar to porcelain. Only they do feel a little plastic. You'd have to physically get down and rub your hand across it though. We can get them grouted to look even more like tile if we want. They are easier on the feet than real tile. They also can be installed on top of our existing sheet vinyl, saving us some prep work.

So I guess, I'd like opinions or feelings on vinyl. Does anybody have these luxury vinyl tiles? Would it be better to just spend a bit more and get real tile? will people thumb their nose to it? I know lots of people have a stigma with "faux". Thoughts?
---
Follow-Up Postings:
| | | |
| --- | --- | --- |
| RE: How do you feel about vinyl flooring? | | |
I was with you right up to the "They also can be installed on top of our existing sheet vinyl, saving us some prep work." part. I've seen the porcelain look-a-likes and agree some of them are very nice looking. The part about using real grout seems to be a joke (why on earth would you put a non flexible material in the joints of a flexible one - that's asking for trouble) and I'd never install one floor over another.
---
| | | |
| --- | --- | --- |
| RE: How do you feel about vinyl flooring? | | |
I love sheet vinyl floors but every time we've priced them out they were way more than other flooring types. Plus we couldn't diy. Vinyl tiles, not so much. I had them in my last bath and they did catch dirt and such on the edges. It was much harder to keep clean than sheet vinyl.

I'm with dlm2000, I would never install over another flooring material. If you go to the manufacturer's website they usually list the installation instructions and I would bet your sales girl got it wrong.

How about putting wood floors everywhere except for the kitchen. Switch it to the vinyl tiles or porcelain tiles or whatever.
---
| | | |
| --- | --- | --- |
| RE: How do you feel about vinyl flooring? | | |
I just replaced my sheet vinyl in my kitchen with Nafco by Tarkett Permastone. It's a vinyl tile with "spheres of ceramic" in it. It has grout built in on 2 sides so there aren't a lot of seams. So far I like it and it's easy to clean. We hired someone to do it as we aren't handy.
I've had ceramic and hardwoods in previous kitchens and I won't go those routes again.
---
| | | |
| --- | --- | --- |
| RE: How do you feel about vinyl flooring? | | |
You do not have to remove your cabinets to have wood floors, only the appliances, as you will put the flooring under them. You can have the counter top raised. I had solid hardwood installed on top of my old vinyl in my kitchen and DR 10 years ago. The installers butted it up to the cabinets, then the counter guy raised the counter to the appropriate height, no problem. It's perfect. I've forgotten how much higher, but either 3/4 of an inch or an inch and a half, whatever the thickness of the wood floor was.

If your vinyl is asbestos you cannot remove it without special equipment, and if you cannot prove that it is not asbestos, no qualified contractor will remove it. As long as it is intact, is is not necessary. Don't try to remove it yourself - asbestos exposure can kill you years later. There is a very expensive way to remove asbestos, but since it isn't necessary, why do it?

Oh, in case you're wondering how wood in the kitchen holds up, it holds up beautifully! Mine is ten years old and as fine as it ever was with only an occasional cleaning. I have a big family and cook a heck of a lot. Wood is easy on the eyes, the feet and legs, and the maintenance schedule! I love it.

---
| | | |
| --- | --- | --- |
| RE: How do you feel about vinyl flooring? | | |
If a product works for you, then use it. I would. People have all kinds of hang ups about things they won't have in their houses. That doesn't affect what you do in your house.

I have heard that vinyl can be layered over other surfaces, so the sales woman may have been speaking correctly.
---
| | | |
| --- | --- | --- |
| RE: How do you feel about vinyl flooring? | | |
yeah I've also heard that vinal can be layered. I've never heard of grouting it though. I know you're asking about vinyl but I'll just throw this out there anyways in case it can help, but have you considered cork at all? That may be another option, it's easy to walk on, durable, green and it's become very affordable too.
---
| | | |
| --- | --- | --- |
| RE: How do you feel about vinyl flooring? | | |
Let me clarify a couple of things too, for my situation specifically. The two products we brought samples home of are Congoleum Duraceramic, which says in the installation literature that it can be placed over a single layer of existing non-cushioned resilient flooring (what I have) and Mannington Adura, which says you can do it, but it's not the best for durability. Both manufacturers recommend their own subfloor, which the tile is adhered to - and then they float that product over your existing flooring, as long as it meets the criteria and is properly prepared. What that may mean is, it would be more cost effective to just pull up my existing sheet vinyl anyway, since I foresee product and prep costs adding to the installation. I'm not concerned with asbestos as my home is only 11 years old. They also have to use the manufacturer provided acrylic grout specific to their products. I'm guessing this grout works more with the pliability of a vinyl tile.

I concede, that while my countertop could probably be raised to accomodate the hardwood, my uppers would still have to be raised - or my frig will not fit. It's probably not that big a deal, since I don't have that many cabinets, but it's worth considering.

I would love to just do a few areas one way, and leave the rest as wood - but I have absolutely NO good breaks/transition points, save the half bath and laundry room, which is probably why it's all the same sheet vinyl to begin with. If I did hardwood, it would be everywhere except the laundry I think.

With 5 kids and two dogs, going with what I want is probably not practical anyway. *sigh* Right now, I'm leaning toward this Duraceramic product that looks like tile. THey have some fake wood that looks pretty realistic, but then I'd have to tear out my real wood, since they would adjoin.

Hey Bedelia, that Nafco floor, are those individual tiles, or planks?
---
| | | |
| --- | --- | --- |
| RE: How do you feel about vinyl flooring? | | |
We also have the Nafco vinyl tiles. Like both the look and feel of them.
They were already installed in the kitchen when we bought this house. Couple of years later, we decided to replace the carpet in the front hall and foyer (installed by the PO - can't imagine why) with the same vinyl tile. Had a contractor do that work & he told us that the tile in the kitchen had been installed over previous tile. Would never have known if not the contractor.
---
| | | |
| --- | --- | --- |
| RE: How do you feel about vinyl flooring? | | |
I've also heard and seen vinyl placed over other vinyl/flooring.I've seen them do it on HGTV also.They just say to offset it,and not to line it up exactly with the existing tile,and also start with a clean floor,wash it and rinse it well and let dry completely.

One of these days i'll do that here in my sewing room as the tile here now is Asbestos and there is no way i'm going to try and remove that.It's just such an overwhelming job as i have to move all the stuff here in this room that also serves as my computor room also.

DH has some very nice tile in his office that he put down a few years ago,peel and stick,and when you look at it you'd think it was ceramic,nice texturey floor.

Do what works for you and what you can afford.
Let us see what you do.
Kathi
---
| | | |
| --- | --- | --- |
| RE: How do you feel about vinyl flooring? | | |
Yes, mine are individual tiles, and were layed over sheet vinyl. The only problems we ran into were the transitions to the hardwoods in the adjoining rooms. But we figured that out. You can see it at nafco.com

I looked at duraceramic also, but it was out of our budget.
---
| | | |
| --- | --- | --- |
| RE: How do you feel about vinyl flooring? | | |
I have Duraceramic in my back hallway. It's laid over concrete. It is more comfortable underfoot than ceramic because there is a slight give. I think it looks great. however it doesn't get all that much traffic, so I can't tell you how it would do in a really high traffic area.

As far as cost, I'd say it was about as expensive installed as ceramic tile.
---
| | | |
| --- | --- | --- |
| RE: How do you feel about vinyl flooring? | | |
search duraceramic on the flooring forum and read reviews on it first. I remember some really bad ones... I had it on my list to look at until i read that thread!

can those of you with this nafco tile post pics of it? is it easy to clean?

I've also read and heard that you can put vinyl over vinyl - as long as the existing vinyl is in good condition. if it has rips and holes in it you'll have problems...

vinyl will be much easier on your feet, legs and back than regular tile. I'm thinking of putting vinyl down in many rooms and then just using an area rug in the rooms.

there are some vinyl tiles that have grout to use to seal where they join.

I think I have a pic of a neat way to merge different flooring. I'll see if i can find it. it was on the flooring forum I think.
---
| | | |
| --- | --- | --- |
| RE: How do you feel about vinyl flooring? | | |
Another Nafco/Domco vinyl floor tile owner, and we're going on 10 years! The stuff wears like iron, is easy to maintain, holds it's sheen and is incredibly comfortable on the feet and legs. We installed in over plywood/luan subflooring. I wouldn't recommend laying it over existing flooring for a few reasons and the biggest being that it *could* void the warranty.
Our cousins installed Nafco/Domco flooring in their kitchen and foyer a few years ago because they wanted to replace the builder's grade flooring in their PUD home, and after seeing how ours looked and wore up close and personal, they loved it. They also recommended it to a few of their neighbors and friends.
Personally, I would not have ceramic tile in a kitchen simply because I spend waaay too much time in it and ceramic tile would not only wreak havoc on my feet and legs (I go barefoot), but it's very unforgiving on dropped items, of which I have some cherished ones.

This photo was taken within the past year and you can see how nice it still looks after almost 10 years (this summer will be the 10th year)...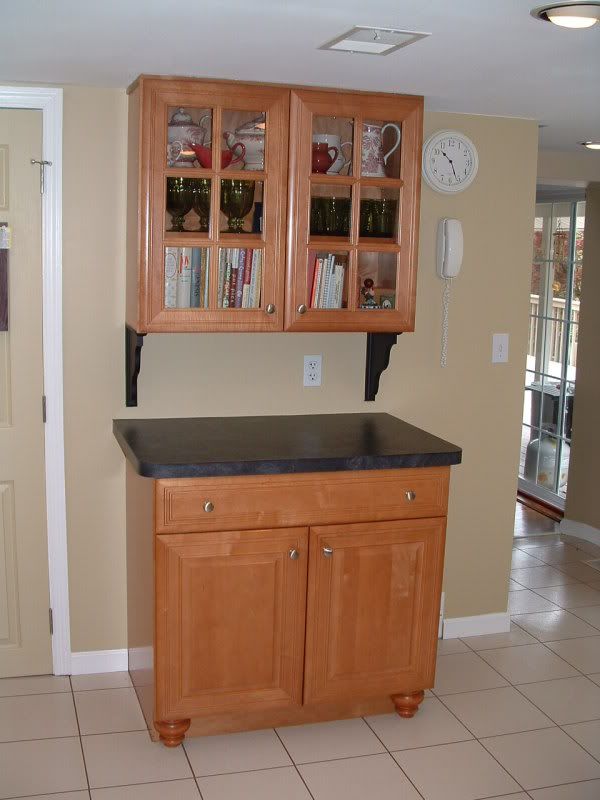 ---
| | | |
| --- | --- | --- |
| RE: How do you feel about vinyl flooring? | | |
We installed sheet vinyl in our kitchen/dining area that looks just like hardwood. Everyone thinks it's really wood. It was VERY expensive, but well worth it. It holds up to our dogs, cats and my messy DH. We've got HW floors throughout the rest of the house.
---
| | | |
| --- | --- | --- |
| RE: How do you feel about vinyl flooring? | | |
We put duraplank solid vinyl planks in our basement...and I LOVE it. Easy to care for, warm underfoot...and when we've had a couple of water issues (sinks upstairs overflowing/a window well filling with water and running into the basement) it has performed as advertised.

And people think it's wood until I tell them otherwise.

Only have an "in process" picture:

My only regret is that I let the contractor talk me out of removing my old tiles. I should have taken them out...we've had a couple of "pops" where the old tiles underneath let loose. My handyman came and fixed them. I called him after the contractor ignored my calls...but that's about the contractor, not the product.
Oh, and the stuff isn't cheap. It was $7/square installed.
---
| | | |
| --- | --- | --- |
| RE: How do you feel about vinyl flooring? | | |
Another luxury vinyl manufacturer is Amtico. Some of their stuff is gorgeous!
---
| | | |
| --- | --- | --- |
| RE: How do you feel about vinyl flooring? | | |
mrsmary - your flooring looks great! did you put grout on it or is that part of the design in the tiles?
---
| | | |
| --- | --- | --- |
| hardwood vinyl | | |
pesky1 - I copied out your floor once - still have it and will look for something like it. Do you know the name of it and / or the brand? I really like your floor!
---
| | | |
| --- | --- | --- |
| RE: How do you feel about vinyl flooring? | | |
Have had sheet vinyl put in over other well laid and in good condition sheet vinyl, and it looks great, feel better (2 layers of 'cushion') and there was no question of warranty problems as the store did the installation.
---
| | | |
| --- | --- | --- |
| RE: How do you feel about vinyl flooring? | | |
I can't speak to the vinyl flooring, but ceramic tiles get VERY cold in the winter. Our home has it throughout the kitchen/family room, and hallways. It was here when we bought the house. I didn't love how it looked, but since the house was only a year old, we couldn't justify ripping it out. After being here 7yrs, I would never put it in another home.
Good luck with your choice!
---
| | | |
| --- | --- | --- |
| my waffle house, where indecision is king! | | |
Thanks for all the great opinions guys! Keep 'em comin'. I agree on cost! It's so funny that people hear "vinyl" and immediately think "cheap". Today's vinyl apparently is definitely just as pricey.

I'm encouraged at least by the good experiences some of you have had with similar products. I do have a concern about the hardness of real tile, and the coldness as well, since I live in WI.

Desertsteph - I read that thread too, and it really seemed to be a love/hate thing with the product. It seemed there were some people who really had a bad experience and that's scary. But, I will say, the more research I do on any floor product (to the point that I'm dizzy) you will find that. I'm starting to think that's it's a crap shoot.

The Nafco stuff looks like it's made by Tarkett. The other flooring I was leaning heavily toward is the Tarkett Fiberfloor. It's a heavy sheet vinyl type product that can be installed as a floating floor (or full spread glue down). I found a really pretty pattern that I like in that, but then I read somewhere on a review that someone who had a lot of seams, which I would have, had some issues. It scared me away from it. But, I might look at it again and just consider the glue down method. It would depend on how it comes out cost wise.

The Fiberfloor I really like is featured in a GWer Tisker's kitchen. You can click the link below and then click on her photostream to see better pics. I love her cottage kitchen!
Here is a link that might be useful: Tisker's kitchen
---
| | | |
| --- | --- | --- |
| RE: How do you feel about vinyl flooring? | | |
desertsteph ~ The grout lines are part of the tile construction. At the time, we wanted the look of ceramic tiles. The tiles are dry-back and are installed with special adhesive. Since 10 years have (almost) passed I have to say I'm ready for a change but the darn flooring won't die LOL. I can't see replacing it because of that...it would be expensive, at least to me. Re-laminating counters is one thing because it's inexpensive, but flooring is another thing altogether.
---
| | | |
| --- | --- | --- |
| RE: How do you feel about vinyl flooring? | | |
I laid vinyl in my dining room at the end of February and am very happy with it, it's not a premium product but I'm thinking of doing the rest of the living spaces in it because it's so durable and easy to clean with dogs and kids in the house. People are surprised when I tell them what it is, so it must look pretty good to others :)
My budget didn't allow for much of anything, so I got Trafficmaster Allure at Lowe's. It's a floating floor so really easy to lay. I'd certainly use the premium stuff after this experience.
---
| | | |
| --- | --- | --- |
| RE: How do you feel about vinyl flooring? | | |
We have those click together laminate flooring blocks that look like cobblestones. We went w/ that b/c we had to have a floating floor over our heating system; couldn't use anything that glues down.

I was resistant and agreed to that only b/c there really was no other way. Now I am completely sold. I really love the laminate flooring. It's very easy to clean up and I know it can be replaced relatively easily. It's very durable except that I have to be careful around the sink and stove area, but that's not a terminal problem.

When I bought the house, it had vinyl tiles in it w/ grout lines built in. I came to hate it. It was white and the grout never, ever, ever looked anything but just plain dirty. Another reason for me going w/ the flooring choice. It does not show the dirt.

As far as going over another layer, it depends on the quality of the sublayer. If there are any smoothness issues, then those may come through and you could (not necessarily will) have a hard time w/ warranty. Just a thought.
---
| | | |
| --- | --- | --- |
| RE: How do you feel about vinyl flooring? | | |
I have all kinds of laminate and vinyl flooring thoughout my house. Easy on my poor aching feet, easy to clean and great with the animals.

My favorite is Marmoleum, which is a natural "vinyl" product. It comes in sheets and squares. Great stuff! The installer said he's never installed Marmoleum in a residential setting, he usually installed it in school cafeteria's where is was supposed to be good for 30 years.

So 30 years in that setting = how many years in my kitchen? LOL! It's great with the radiant heat in the floor too.
---
| | | |
| --- | --- | --- |
| RE: How do you feel about vinyl flooring? | | |
We installed a high-end vinyl floor almost 2 years ago and I love it. It's great on the feet and easy to clean. It looks like tile and most people think it is the real thing. Some actually touch it

I don't care for real tile on the floor since it's so hard on the feet and back.

Many people on the kitchen forum gave me negative input about getting vinyl with granite counters, but I didn't listen and happy that I didn't.

Mannington StainMaster Floor:

---
| | | |
| --- | --- | --- |
| RE: How do you feel about vinyl flooring? | | |
I am another poster with a granite counter and a vinyl floor. Mine is also a Mannington but it is the Pompeii Series. It has a mat finish and great texture to it. It is installed over another premium flooring that we had put in 18 years ago. I have 3 dogs and this floor always looks clean. I love it. The picture really doesn't do it justice.
---
| | | |
| --- | --- | --- |
| RE: How do you feel about vinyl flooring? | | |
I recently got a fiberglass floor. I think it was a Mannington product. I LOVE LOVE LOVE it. It is cushy and easy on the feet. It is the only room I will go barefoot in!

It went over existing vinyl. They were going to float it, but because it needed 2 seams, they decided at the last minute to glue it. I think the issue of installing over existing flooring depends on the existing. Some can, some can't.

And this particular color/pattern doesn;t show dirt at all. I have to force myself to wash it now and then based on how long its been!

Some people really think it is tile.

I considered duraceramic, but seemed not worth the trouble/cost. I hate cold hard tile and cleaning grout. I didn't want hardwood because of trying to match adjacent dining room and also the dog is always coming in with wet feet and dirt and crap. I felt vinyl (fiberglass) was the most practical.
---
| | | |
| --- | --- | --- |
| RE: Mannington | | |
| | | |
| --- | --- | --- |
| Great thread! | | |
kismet, which brand luxury vinyl tile did you see that you liked?
I'm thinking of replacing the carpet (dust magnet) in the bedrooms with sheet vinyl--Armstrong Urban Settings collection in the color called *Gray Flannel* and place an area rug under part of the beds like someone mentioned above. Ease of cleaning is the greatest factor.
---
| | | |
| --- | --- | --- |
| RE: How do you feel about vinyl flooring? | | |
If we go with the vinyl tile it will probably be the DuraCeramic. It's a Congoleum product. The guy doing the measuring for the estimate just left. Likely biased a bit, but he did say he really likes it the best of the vinyl tile they carry. He said its the most durable of the vinyl tiles. We went through all our dilemmas with the poor guy. He is writing up estimates for both hardwood installation and the duraceramic.

We went to Lumber Liquidators also, and are considering doing hardwood through them. I doubt we would install it ourself though, since it's so much space.

Debi2006, your kitchen is really similar to mine, even down to the cabinet tone. Is that the Adura tiles?
---
| | | |
| --- | --- | --- |
| RE: How do you feel about vinyl flooring? | | |
I like vinyl. When I had my home built I had to use the same pattern in the kitchen and all my bathrooms, which was fine with me cause I am an annoying matchy-matchy person. I did have a limited choice so chose something rather muted that didn't stand out. I like vinyl, it is easy to stand on...not as cold as tile (which I have in my front entry way) and I am not a wood person.
---
| | | |
| --- | --- | --- |
| RE: How do you feel about vinyl flooring? | | |
I put ceramic floor in my kitchen and unfortunately I didn't get the best grade of tile which would have been porcelain I guess. Not happy with it and it's a huge undertaking to change it. I had looked at vinyl and now wish I would have considered it more.

Alex9179 - your table/chairs are beautiful and if you don't mind would love to know where you got them!
---
| | | |
| --- | --- | --- |
| RE: How do you feel about vinyl flooring? | | |
Post a Follow-Up
Please Note: Only registered members are able to post messages to this forum.
If you are a member, please log in.
If you aren't yet a member, join now!
---
Return to the Home Decorating Forum
Information about Posting
You must be logged in to post a message. Once you are logged in, a posting window will appear at the bottom of the messages. If you are not a member, please register for an account.
Please review our Rules of Play before posting.
Posting is a two-step process. Once you have composed your message, you will be taken to the preview page. You will then have a chance to review your post, make changes and upload photos.
After posting your message, you may need to refresh the forum page in order to see it.
Before posting copyrighted material, please read about Copyright and Fair Use.
We have a strict no-advertising policy!
If you would like to practice posting or uploading photos, please visit our Test forum.
If you need assistance, please Contact Us and we will be happy to help.

Learn more about in-text links on this page here