Return to the Home Decorating & Design Forum
|
Post a Follow-Up
---
| | | |
| --- | --- | --- |
| painting ceiling color of walls? | | |
Posted by
Skyangel23
(
My Page
) on
Mon, May 12, 14 at 16:12
Hi,
We are building, and painting starts this week. It doesn't cost any more money to paint the ceilings the same color as the walls, or just the white that is the same as trim/doors. I was thinking of maybe doing the master bathroom vaulted ceiling and walls the same misty blue. Are there any other rooms that I would want to do this? I always read on blogs and such about not forgetting the "fifth wall", but I don't know how that translates to real life. No one I know has ceilings anything but white. Has anyone done this with any rooms and how did it turn out?
---
Follow-Up Postings:
| | | |
| --- | --- | --- |
| RE: painting ceiling color of walls? | | |
I think it depends on the height of the ceiling, the paint color and the size of the room.
---
| | | |
| --- | --- | --- |
| RE: painting ceiling color of walls? | | |
Generally I have been happiest with ceilings that are a lighter version of the wall color. But it does depend on the color and the room.
---
| | | |
| --- | --- | --- |
| RE: painting ceiling color of walls? | | |
I like color on my ceilings and in fact only have one white ceiling in the house...in my craft room.

I have a LR open to a DR so I put the DR wall color on the ceiling in the LR so they coordinate. They foyer is open to the LR so I took the LR wall color and put it on the ceiling in the foyer. I have an aubergine accent wall in the LR so I put that same color on the coffered ceiling between the LR and DR. In the study, it's a smaller room with a high ceiling, so to visually bring the ceiling down, I painted it a dark color.

In my bedroom, I originally had walls and ceiling the same color, but they will look different as the light hits them differently.

It really makes the rooms feel warmer to have the ceilings painted a color.
---
| | | |
| --- | --- | --- |
| RE: painting ceiling color of walls? | | |
10 ft. flat ceilings except for the vaulted ceiling in the master bathroom. Girls' room misty soft pink, boys' room muted apple green, master bathroom pale gray-blue. Probably similar color for master bedroom, just darker or lighter on the same scale. Dining room deep slate gray/blue. Main living areas are a greige very similar to Sherwin Williams Requisite Gray, called PPG Silver Dollar.
The following picture is not of my house, but of the main living area paint color:
---
| | | |
| --- | --- | --- |
| RE: painting ceiling color of walls? | | |
Here is the color I'm looking for for master bedroom and bathroom.

Right now options would be same color as the walls only, since it doesn't cost more. The builder charges for every paint color change, so I don't want to experiment w/ different ceiling colors right now, only the wall color. I could go back later and add lighter/darker shades to the ceilings if I wanted to.

AnnieDeighnaugh, do you have some pictures you could add, or direct me where to find some? Your house sounds lovely!
---
| | | |
| --- | --- | --- |
| RE: painting ceiling color of walls? | | |
I did it in a lower level guest bedroom-walkout level, above ground on two sides including the bedroom with two windows. I used Ben Moore guilford green (I think that was the one I chose-green, sometimes a grey green, sometimes not). The ceiling is an 8' height. The ceiling usually looks lighter than the walls even though it isn't. I like it. In other rooms, I think I would choose a different color such as a blue ceiling. I have also seen pink and yellow ceilings that worked beautifully. If you like drama, someone here has also done black! It looked amazing. Depending on your wall color, I think painting ceilings the same or a complementary color as the walls is a terrific idea.

Most of our rooms are painted the same color as our crown, but in flat rather than semi-gloss.
---
| | | |
| --- | --- | --- |
| RE: painting ceiling color of walls? | | |
All my ceilings are painted the color of the walls, a warm tan. I'm in Austin, and have looked at many model homes and it seems to be what all the builders are doing. IMO, in spite of hating trends, it is current, and an hoping it isn't just a trend! DD has a media room(high ceilings)painted Eggplant, and even though it's dark, is very pretty. I wouldn't recommend a smallish room with dark walls/ ceiling.
---
| | | |
| --- | --- | --- |
| RE: painting ceiling color of walls? | | |
I painted my bathroom several years ago. I don't remember the paint color name, but it's sort of a reddish-brown. The ceiling is tan.

Last summer I painted my kitchen/living room/dining room BM Putnam Ivory, and the ceilings BM Elephant Tusk (creamy tan and lighter cream). I'm really happy with the way it turned out. In a small hallway the ceiling is the same color as the walls.
---
| | | |
| --- | --- | --- |
| RE: painting ceiling color of walls? | | |
When we first had this house built 18 years ago I chose to have the ceilings painted a pale blue. None of the walls were blue but the ceilings looked like the sky and I loved that look.

Eight years ago when we repainted I had the 20' cathedral ceiling in the LR painted a few shades lighter than the walls and wish it was darker. Two of the bedrooms with cathedral ceilings (not as tall as the LR, probably about 14') are painted the same colors as the walls. One is a sage green, the other spice beige. Both are mid-tone colors and I am very happy with that choice. In another bedroom the 8' ceiling is painted the same color as the walls -it's a pale sage green which I also like. My house is due for repainting but I am very happy with the colors so have put off this huge and expensive project.

However, and I think this is important - I like things that are different and I love color. It's not for those who prefers what everyone else has, likes neutral, and is reluctant to try new things.

I will definitely do it again.
---
| | | |
| --- | --- | --- |
| RE: painting ceiling color of walls? | | |
For the colors and rooms you are describing, I would likely choose to go with the wall color on the ceiling rather than the white trim color.
---
| | | |
| --- | --- | --- |
| RE: painting ceiling color of walls? | | |
Aside from my master bedroom and en suite bath, all my walls are SW Antique White, a warm french vanilla. Initially I was afraid to paint the ceilings (9 ft.) anything but white, so I had the painter do that in all the bedrooms and baths. It looks okay. However, my living room, dining room and kitchen open into one another, plus there's a hallway that pierces the wall of my vaulted living room. For all that space I have the ceiling painted the same as the walls and I love it. Note: I am afraid of color, esp. on the walls, so it's not like I'm a risk-taker. :) At various times of the day the ceiling will appear lighter or darker than the walls. It's a very organic look. I think I really safe bet is to do 25% or 50% of your wall color on the ceilings.
---
| | | |
| --- | --- | --- |
| RE: painting ceiling color of walls? | | |
I'm sure others are sick of seeing pics of my house as I've posted them so often, but since you asked, skyangel, here are a couple.

Library/LR: ceiling color same as wall color in DR

Open to the DR Ceiling in barrel vault painted light blue

Aubergine accent wall in library behind sofa

Painted same color on the ceiling in the enfilade between the two rooms

Darker ceiling in the study to bring it down in the tall narrow space

Wall color in library went on the ceiling in the foyer

---
| | | |
| --- | --- | --- |
| RE: painting ceiling color of walls? | | |
You mention your daughters room is pink, so I have posted a photo of my grand daughters room with pink walls and green ceiling in her nursery.
---
| | | |
| --- | --- | --- |
| RE: painting ceiling color of walls? | | |
Annie, LOVE your home and would enjoy more photos!

Lyban, the nursery is perfect--the pop of color above the window treatment is just right.

Skyangel, years ago I painted a guest bedroom magnolia green and on a whim poured some into the white ceiling paint--loved the effect so that when we built our retirement home almost every room's ceiling is the color of the walls--and I love color.

Once the decor is in the obvious colored ceiling seems to recede, but as mentioned, you have to like color!

Last year I finally had the air vents and recessed can rings painted, as well, my builder never came back to finish, my husband didn't get it done before he died, but luckily my boyfriend is a contractor and his men came out and painted and it made a huge difference. I did leave the speakers white because I didn't want paint to affect the sound.

Plans are to paint my closet walls and ceiling the same as the dressing room--Ellen Kennon Terracotta Sand and Gustavian Gray. I've had the paint a year but need to clean out to the closet first.

Sometimes a white ceiling is perfect, the good thing is it is only paint!

Good luck.

Painted blue ceiling before: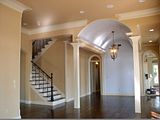 Painted blue ceiling after: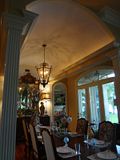 Black painted ceiling: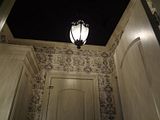 Lavender painted ceiling: (dog messed up pillows this morning, he is looking guilty here)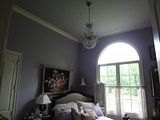 This post was edited by demifloyd on Tue, May 13, 14 at 13:11
---
| | | |
| --- | --- | --- |
| RE: painting ceiling color of walls? | | |
Skyangel23 did you decide? I really cannot add much to what has been so well said by the previous posters. There is a great deal to consider from mood to lighting...and whether or not there will be any crown molding ...and of course the cost.

IMHO Choose the option you like most today and since it is as they say "merely paint" you can change up at a later time.

Good luck, and I do hope you love your final results.
---
| | | |
| --- | --- | --- |
| RE: painting ceiling color of walls? | | |
most of my ceilings are painted a color too, rather than white... i definitely think bathrooms, esp with vaulted ceilings and/or no crown look best if the ceiling is the same as the walls..... when there is crown or a tray, etc, it is easier being more creative!!
---
| | | |
| --- | --- | --- |
| RE: painting ceiling color of walls? | | |
Thank you, everyone, for the responses, and the pictures, Annie, lyban, and demifloyd.

I love that little girls' room, lyban, such a great pallet and details.

Annie, I personally hadn't seen your home so thank you for posting. It is unique and lovely.

Demifloyd, I love your painted ceilings in every picture, especially the first one. And that dark ceiling in the bathroom is gorgeous!

From reading here and looking at as many pictures as I can, I think that I am drawn to painted ceilings that are emphasized with crown molding, and if the color is more bold/darker, that a lighter shade of the wall color is on the ceiling.

In our case, we plan to do crown molding eventually but it will be DIY so it might be awhile. The bathroom will be a fairly saturated blue, so I am wary of putting that much blue in one room if we did the ceiling too. :-) If it was a more muted/neutral, I think I might have done it. Since cost is a factor right now, I think we will do traditional white ceiling as it doesn't cost any extra.

BUT, when we do crown molding, this post has inspired me to want to do some bedrooms/bathrooms w/ the wall color on the ceilings, but probably at 50% strength.

Thank you so much for sharing your lovely homes.
---
Post a Follow-Up
Please Note: Only registered members are able to post messages to this forum.
If you are a member, please log in.
If you aren't yet a member, join now!
---
Return to the Home Decorating & Design Forum
Information about Posting
You must be logged in to post a message. Once you are logged in, a posting window will appear at the bottom of the messages. If you are not a member, please register for an account.
Please review our Rules of Play before posting.
Posting is a two-step process. Once you have composed your message, you will be taken to the preview page. You will then have a chance to review your post, make changes and upload photos.
After posting your message, you may need to refresh the forum page in order to see it.
Before posting copyrighted material, please read about Copyright and Fair Use.
We have a strict no-advertising policy!
If you would like to practice posting or uploading photos, please visit our Test forum.
If you need assistance, please Contact Us and we will be happy to help.

Learn more about in-text links on this page here