Return to the Home Decorating Forum
|
Post a Follow-Up
---
| | | |
| --- | --- | --- |
| What color walls for this avocado bathroom? | | |
Posted by
equest17
(
My Page
) on
Mon, May 11, 09 at 15:29
Iím coming along with most of the updating and remodeling in all the other rooms of our 70ís house, but the guest bath has been neglected. I was waiting for inspiration to strike, usually in the form of a fabric I love, but it has been slow in coming. The fixtures are avocado green, but the shade actually isnít bad. Itís dated, but everything is in good shape and given the money weíve spend elsewhere, theyíll have to stay green, at least for now. The bath is a shared guest room/hall bath for the upstairs (it has two doors, one opening into the guest bedroom and one to the hall). The guest room has a black iron bed and black/dark red comforter (JCPenney Cleo set), and beige walls. The hall is mostly beige and neutral tones.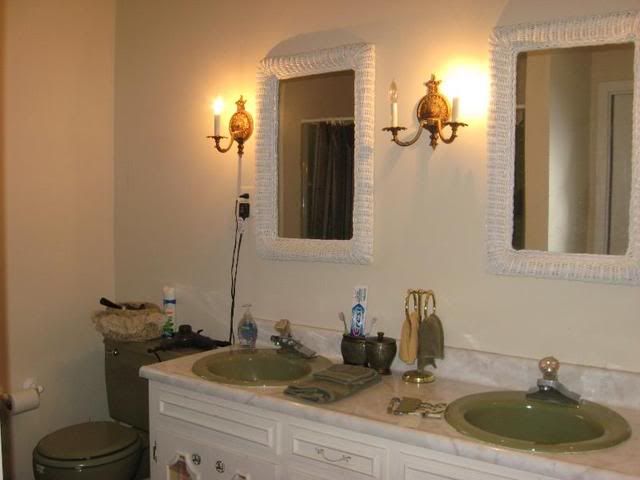 Working with that, I felt a scheme with soft olive green, black, and beige would be a good blend for the bathroom. I found some affordable fabric I like and some inexpensive pulls and lights. My tentative plan is to make a shower curtain and window valance with the two fabrics (green diamond sample shown in the last photos as a wide band across the top, Indienne shown below for the rest), paint the vanity black with brushed nickel pulls, update the sinks with more contemporary brushed nickel faucets, use plain black wood frames for the mirrors, and replace the sconces with the Thomas ones below (itís hard to tell in the photo, but the metal finish is a flat charcoal black and the shades are a perfect bronzy olive that works with the Indienne). Some of the items are left over from other projects and the others are about the only thing in my budget, so Iím pretty committed to the above elements (although if there are glaring problems Iím open to hearing about it ;-)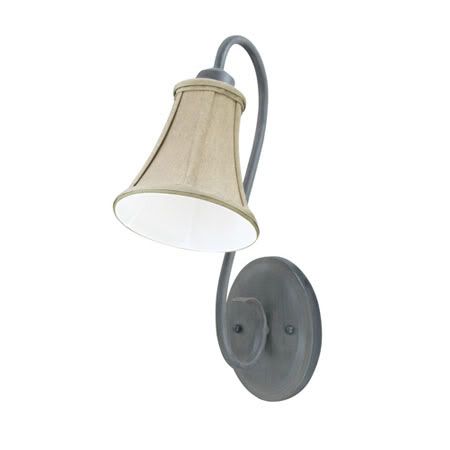 My problem is, what color paint for the walls? I generally like color and rarely use really neutral paint, so Iím inexperienced at picking those shades (the beige hall and guest room were painted by the PO). Iím leaning toward SW Ecru or Harmonic Tan since Muslin (top of the same card) seems the exact match to the background color in the Indienne fabric. I think a beige or tan with slightly green undertones would work best, but Iím not sure. I considered BM Flowering Herbs, but it might be too green. Someone said greens in a bathroom make people look sickly. I also want to avoid an unappealing greenish brown that might remind people of a bathroom for another reason!
Here are the elements all together; the first photo is with flash and the second is without; neither is exactly accurate as to color, itís somewhere in between. Ecru is on the left and top of the two photos, Flowering Herbs on the right and bottom. Iím not certain about either of them, so any input or alternate paint suggestions would be great.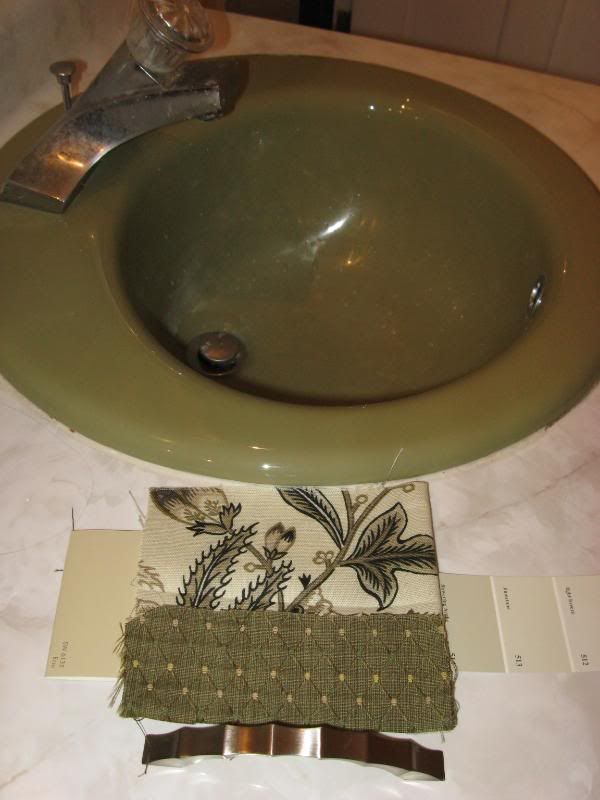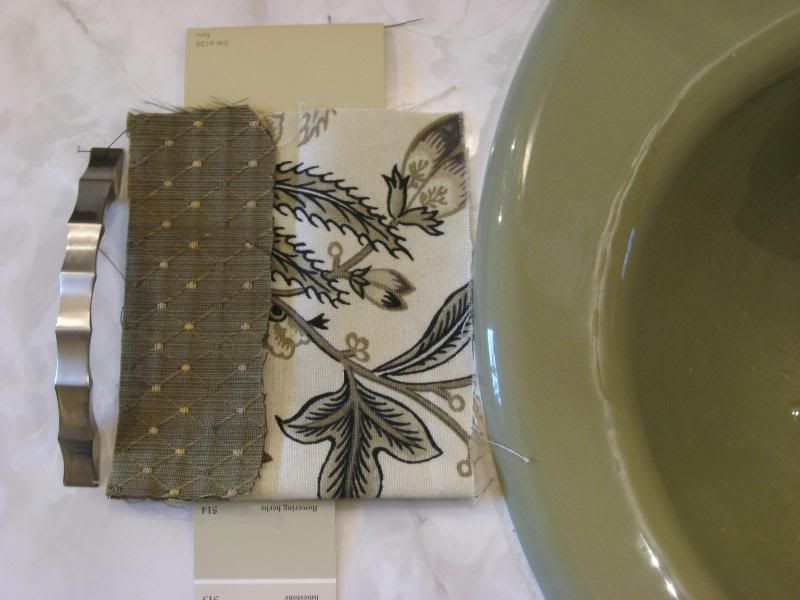 ---
Follow-Up Postings:
| | | |
| --- | --- | --- |
| RE: What color walls for this avocado bathroom? | | |
I think you are on the right track with the fabrics - in my experience, the best way to blend in a color that can't be changed is to use more of it, so that it becomes part of the background rather than the foreground.
---
| | | |
| --- | --- | --- |
| RE: What color walls for this avocado bathroom? | | |
I think the selections you picked are going to look very nice in here. As far as paint I think I like the Ecru better than Flowering Herbs. Ecru looks like it has more of a yellow/brown undertone. I'm assuming you're planning on using SW paints? I think a BM color that might look nice would be Yorkshire Tan. Using the easyrgb website it converts to the SW colors: Sponge, Croquet Tan, Sesame, and Birdbath.
---
| | | |
| --- | --- | --- |
| RE: What color walls for this avocado bathroom? | | |
What wonderful choices you've made to go with the avocado! Somehow the avocado fixtures don't seem dated anymore. The ecru looks best to my eye.
---
| | | |
| --- | --- | --- |
| RE: What color walls for this avocado bathroom? | | |
I love the elements you've picked. I lean toward Flowering Herbs but imagine the best way for you to determine which you like is to paint large swatches of both on your walls. I agree that the green porcelain is actually a very pleasant color and, with the other additions you have planned, will not look dated. Good luck and let us know what you decide.
---
| | | |
| --- | --- | --- |
| RE: What color walls for this avocado bathroom? | | |
I'm so glad you all think the elements will work! I usually get a flash of inspiration and everything comes together, but this was more a case of some ideas growing on me.

Okmoreh, I was thinking green at first for the walls, as it's one of my favorite colors. However, I've used it several other places in my home, and I had the concern of whether it would be an appealing bathroom color. The guest room has wine colored curtains to coordinate with the Cleo set, and although I like red and green together at times, I didn't think it would flow very well in this case.

Shee, I like BM and SW paints equally, so I'd consider either paint deck. I like the sample quarts from SW, so unless the BM color is available in the color preview pot, I'm less likely to try it. I'll take a look at Yorkshire Tan; does it have green undertones or strictly neutral?

I'm going to start on the vanity tomorrow, so I'll try to pick up some sample paints and get some color on the wall. I'll probably start with Ecru, as that seems to be the favorite right now.
---
| | | |
| --- | --- | --- |
| RE: What color walls for this avocado bathroom? | | |
Love your fabric selection. A simple box or inverted pleat straight valance will allow the beautiful Indienne pattern to shine.

The shape of your new drawer pulls seems similar to the existing mirror frames. If so, maybe you can just try painting the frames black, either soft, deep charcoal or true black, whichever you choose for the cabinet. If you still don't like them, then buy new.

As long as that's not an electrical cord from the far left sconce, I'd also be tempted to try painting the existing sconces and adding shades unless you already have the Thomas sconces on hand. If that is a cord, have someone with know-how hard wire it behind the drywall. A very simple project that will enhance whatever sconces you use.

I'd also have fun by getting some simple petal shaped pulls to echo the fabric for the cabinet doors in the same finish as the drawer pulls. Can't tell what's going on with the door cut-outs, but you can easily rework them if you so choose.

I like the Ecru much better also. Green is just not flattering for most and not good at all when applying makeup.

Maybe add a couple of prints to the right of the window for visual interest and to balance out the pattern from the shower curtain and valance. Good luck and please post your afters. I'm sure it will be great.
---
| | | |
| --- | --- | --- |
| RE: What color walls for this avocado bathroom? | | |
Oh, I didn't mean to suggest green for the walls, only that the green in the print fabric helps to blend the avocado fixtures in. On my monitor, the ecru paint sample looks better but the way things look on the monitor may not be the way they look in the room.
---
| | | |
| --- | --- | --- |
| RE: What color walls for this avocado bathroom? | | |
I don't post here much, mostly lurk, but I had to say I love your fabric & accessory choices. For a minute, you made me wish I had an avacado tub & sink. :)

I also like the Ecru.
---
| | | |
| --- | --- | --- |
| RE: What color walls for this avocado bathroom? | | |
I used the SW Ecru in my old house, because everything else I tried just didn't work for me. All the trendy colors looked ugly. I used Country House Toile in red for my shower curtain and window treatment, bought a vintage crystal light fixture and deep cream towels. When we put the house up for sale a year later, the lady who bought it begged for me to leave everything. It came out pretty. I think yours will too!

Red
---
| | | |
| --- | --- | --- |
| RE: What color walls for this avocado bathroom? | | |
I would do the flowering herbs for the walls. I think you need a definite green tone, or all that the bathroom will have that is strongly green will once again be the sinks, toilet and tub.

I LOVE the avocado, by the way. I am likely one of the only people in the world that wish it would come back.

Please don't be afraid of green in a bathroom. Our bathroom is a dark moss green and is NOT an issue for applying makeup, nor does it make people look ill.

Love the fabric choices and your plan. Will you try to replace the counter or is that staying in the marblized laminate? You might be surprised at how inexpensively you could get another laminate counter.
---
| | | |
| --- | --- | --- |
| RE: What color walls for this avocado bathroom? | | |
I'm so glad I posted; all these lovely comments are getting me really excited now about this makeover! I was half afraid everyone was going to say it would never look right and to tear out all the green fixtures.

Redbazel, how green did your Ecru look? That whole strip seems to have a good bit of green undertone, especially Harmonic Tan. I can't decide which to try first. I've seen some photos of both that look just plain beige and others that have a lot more green. Anyone else have experience with either Ecru or Harmonic Tan?

Les, I'm thinking about countertop ideas. There is a local laminate shop that is really inexpensive that we've used before. There are so many choices, I thought I'd get the fabric and paint part done first and then see what direction I wanted to go. This shop even has all the premium Wilsonart and Formica finishes very reasonably priced, so if you have any suggestions I'd love to hear them. I'm glad to know green walls can work in a bathroom; if the green-toned tans don't work for me, I'll look more at the true greens. I do like Flowering Herbs; I'm just not sure it is the right green.
---
| | | |
| --- | --- | --- |
| RE: What color walls for this avocado bathroom? | | |
Your selections are ideal, and I think they will all pull the bathroom together in the most attractive way. When I look at the color swatches, the Ecru appeals to me more than the Flowering Herbs, for some reason the Ecru seems warmer. That would be my choice! Would love to see photos when you get it all done.
---
| | | |
| --- | --- | --- |
| RE: What color walls for this avocado bathroom? | | |
I like your choices-great fabrics!

If you wanted to get really daring, what about a soft (but dark) charcoal gray on the walls, and using the cream/ecru on the vanity and the mirror frames?
---
| | | |
| --- | --- | --- |
| RE: What color walls for this avocado bathroom? | | |
You have good taste--I remember seeing some pics of yours :) I love the fabric! I do like the ecru, too. Another color I think would work is bm crown point sand...it's light but with a definite green undertone. Someone else suggested yorkshire tan, and I think that would look great too. It would give you some contrast with the vanity.
---
| | | |
| --- | --- | --- |
| RE: What color walls for this avocado bathroom? | | |
Wow, that's going to be one gorgeous bathroom when you're done. I think the Ecru is perfect.

Red - Do you have a picture of your old bathroom. It sounds gorgeous.

Laurie
---
| | | |
| --- | --- | --- |
| RE: What color walls for this avocado bathroom? | | |
I too have a avocado bathroom that I am working on.
I have the green fixtures with white tile with grey specks on the wallswith the green bull nose. I painted my walls the same green as the bullnose and it made the green bull nose just disapear. I used a white cotton shower curtain that goes to the floor. This hides the tub. On the window I used a black and white toile topper. I replaced my toliet with white. I have a white vanity with the green sink. I want to replace the vanity top and sink. My floor is green mosic tiles. Some are coming up so I do need to replace the floor. I don't know if I want to look for a dark grey, slate or cement color for floor or just go with the so many traveltines beiges and browns that are out there. I can use the white vanity and change the top to a dark or black top with a white sink. I could also change the top to some beige or brown with a white sink and paint the vanity a dark brown or black. It seems like just little changes help a lot. I was leaning toward the greys and blacks but after seeing your browns I am now rethinking. Do you like the the grey, black or the browns with the green?
---
| | | |
| --- | --- | --- |
| RE: What color walls for this avocado bathroom? | | |
Yorkshire Tan does have green in it. Another one to maybe look at is BM Northampton Putty. I know they do have a sample in the Northampton. I'm not 100% sure about the Yorkshire.

Here's some pics.

These are Mldao's
Yorkshire Tan


Northampton Putty

I still think the Ercu would look nice!
---
| | | |
| --- | --- | --- |
| RE: What color walls for this avocado bathroom? | | |
I love the fabric choices you picked, I think you nailed it. The only thing I would do differently would be to keep the existing sconces and put fabulous shades on them- I love those!
---
| | | |
| --- | --- | --- |
| RE: What color walls for this avocado bathroom? | | |
First thing you have to do is stop calling it "avocado"! LOL -- don't you know that olive green is the trendy new color???

Seriously, though, I love the choices you're making.

"It's not a flaw, it's a feature!!!"
---
| | | |
| --- | --- | --- |
| RE: What color walls for this avocado bathroom? | | |
Equ

Love your choices, love that fabric, Agree with les - a new laminate - your palette is warm & the counter is cold


Wilson laminate
It's hard to choose as I can't see the whole palette at one time here's some ideas
6218 Creme Quarstone
3526 Travertine
I like the idea of Ecru for wall color

? what is surrounding the cast iron tub?
---
| | | |
| --- | --- | --- |
| RE: What color walls for this avocado bathroom? | | |
Thanks for more great ideas. I went to get a sample of Ecru today but the paint lady really recommended the Harmonic Tan, one step darker. I liked it too, so I got a sample quart of that to start with.

I haven't ordered the sconces yet; I know I like the style since I have several of the same line in other rooms of the house. Just adding lampshades to the current sconces would be cheaper, though, and I know a little lighting store that has the small clip-on shades on sale. Would you paint the sconces black? My drawer pulls are brushed nickel, but I've yet to find a paint that replicates that look very well.

I'm with you mclarke! Green has always been one of my favorite colors, and olive in particular. I wasn't even born yet when the avocado/harvest gold trend was alive, so there is no reason for me to have a bad association ;-) As far as I'm concerned, I can pretend it is just the latest thing!

Thanks for the laminate ideas jejvtr. I think I will have to do something about the counter; the white marble look would be too much contrast against the black vanity. I'll see if I can pick up some of the sample chips you mentioned. The tub is a one piece acrylic unit with integrated shower surround, if that was what you were asking.
---
Post a Follow-Up
Please Note: Only registered members are able to post messages to this forum.
If you are a member, please log in.
If you aren't yet a member, join now!
---
Return to the Home Decorating Forum
Information about Posting
You must be logged in to post a message. Once you are logged in, a posting window will appear at the bottom of the messages. If you are not a member, please register for an account.
Please review our Rules of Play before posting.
Posting is a two-step process. Once you have composed your message, you will be taken to the preview page. You will then have a chance to review your post, make changes and upload photos.
After posting your message, you may need to refresh the forum page in order to see it.
Before posting copyrighted material, please read about Copyright and Fair Use.
We have a strict no-advertising policy!
If you would like to practice posting or uploading photos, please visit our Test forum.
If you need assistance, please Contact Us and we will be happy to help.

Learn more about in-text links on this page here