Return to the Home Decorating & Design Forum
|
Post a Follow-Up
---
| | | |
| --- | --- | --- |
| Please help with curb appeal for this new house... | | |
Posted by
Kathi67
(
My Page
) on
Fri, May 30, 14 at 14:09
My house was completed in August and now it's time to add some type of landscaping / curb appeal to the house. I live in Arkansas and my house faces South. There is sun in the front where I want to start.

Can someone please help with this project?

Any suggestions are greatly appreciated. :)

Thank You....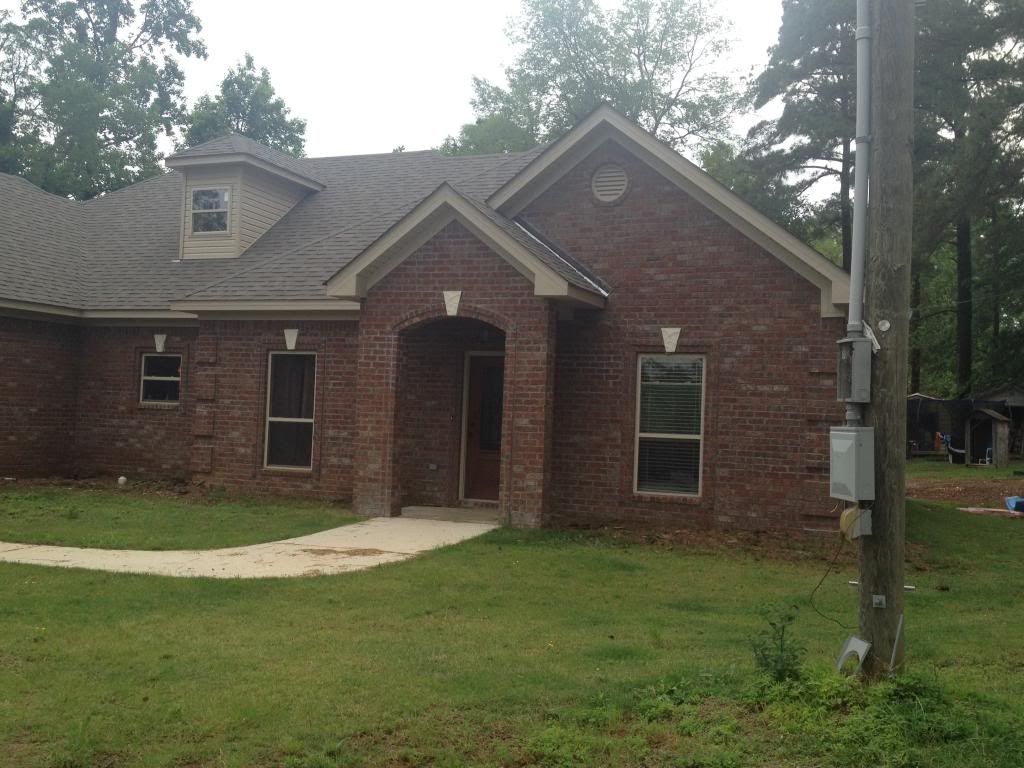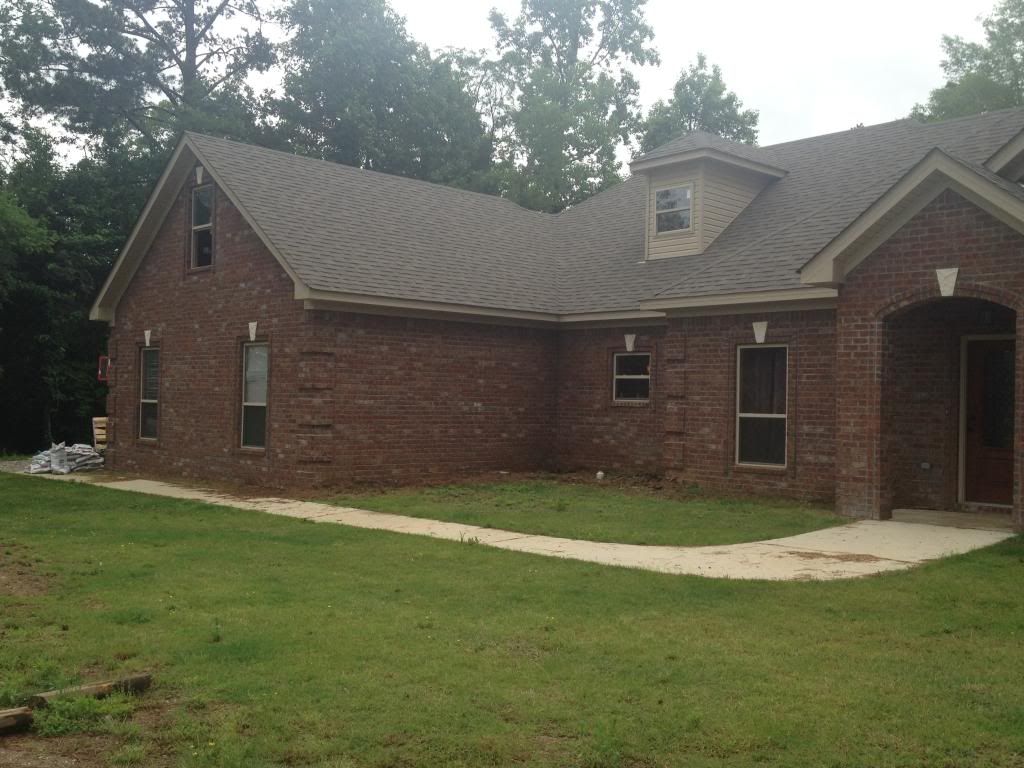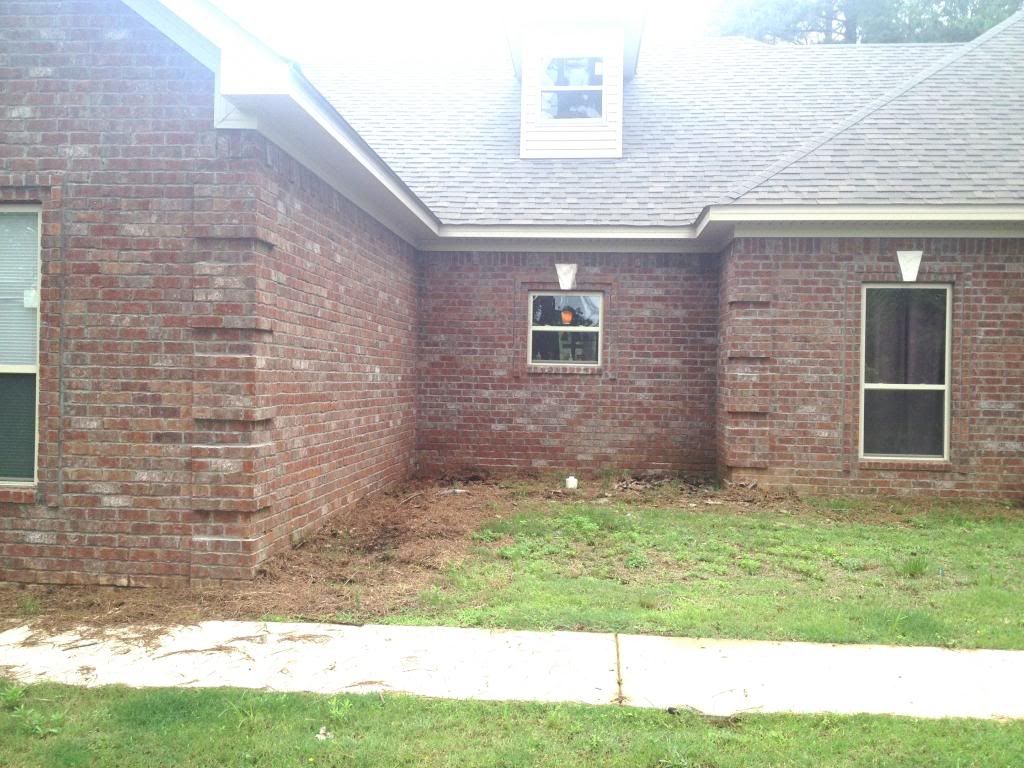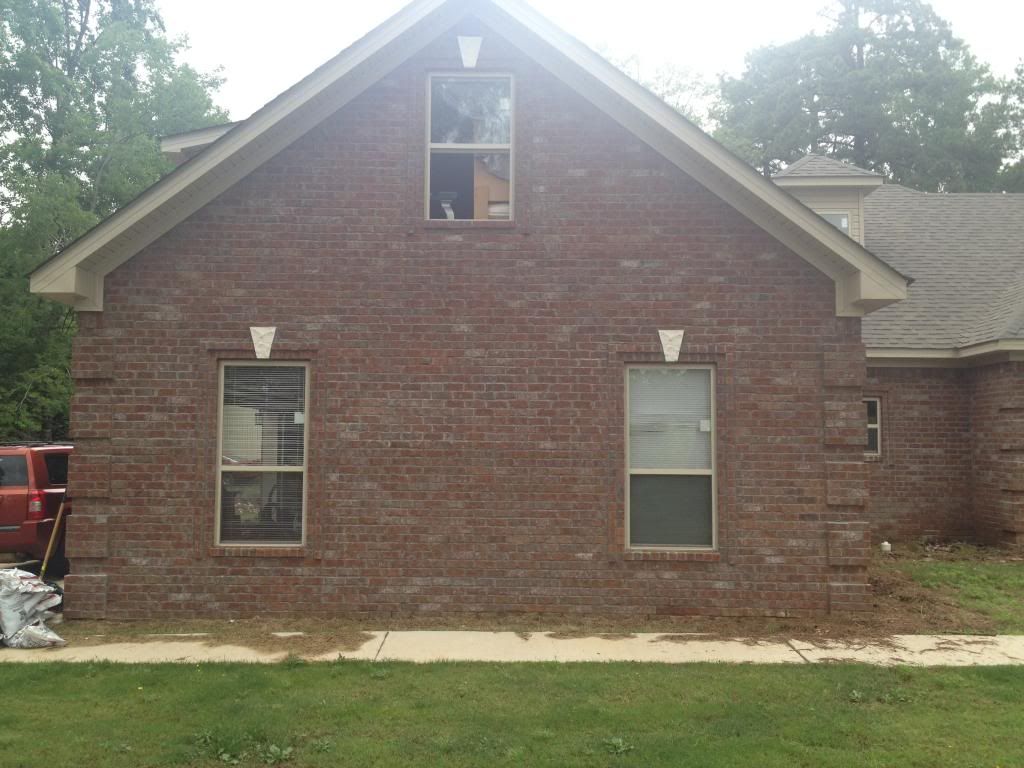 ---
Follow-Up Postings:
| | | |
| --- | --- | --- |
| RE: Please help with curb appeal for this new house... | | |
I am sure you will get help here, but also go to the Gardening Forum side and post over in landscaping.
---
| | | |
| --- | --- | --- |
| RE: Please help with curb appeal for this new house... | | |
Let's see:

1)Drainage -- I don't see any downspouts from your gutters (especially on the corners on your new pretty house) -- you may want to check on those ....

2)On the left-hand side of the front door: Plant a Japanese maple in front of the small window. Bring that garden out as close as possible to the curve of the walkway. Add a couple of larger rocks or boulders -- and work smaller beds around them. Closer to the doorway -- add rosemary, thyme and lavender ....

b)On the right-hand side of the front door: Add a fountain in front of the window ..... and add a garden that curves around that corner of the house.

c)Utility pole: Add a garden around the pole -- think of tall fountain grasses and a couple of good-sized rocks or boulders .....

d)Far left-hand side: Between the two windows -- add a much taller bush -- with smaller rocks and bushes and grasses ....

e)In spaces with really good sunlight: Remember to add herbs like rosemary, lavender, thyme (so many types!) and oregano .....
---
| | | |
| --- | --- | --- |
| RE: Please help with curb appeal for this new house... | | |
Just some suggestions. Green (NOT hunter green) shutters, urns with plants, boxwood at walk way & blooming crape myrtle in courtyard area with a trellis and climbing flowering roses between garage windows.
---
| | | |
| --- | --- | --- |
| RE: Please help with curb appeal for this new house... | | |
Kathi,
I don't live in Arkansas, in your zone, but , what are your gardening skills?
Do you have a watering system in your lawn?
Would you use a hose?
What is the soil like? Is it orange? is it sandy? Is is brown and holds together when you make a ball out of it?
Mabey you should go to a local nursery that is privately owned, and take a pic, and ask what plants grow well in your area.
If it has a southern exposure, it probably gets full sun most of the day. Be sure to tell the plant people that.
What do you like?
Take a trip to a nursery and see what you like, and ask for suggestions.
On that wall, the big one with the 2 windows, on your way to driveway, I would either plant a nice full sun vine on a beautiful terrace, or plant a nice tall conifer there that grows tall and thin, like an Italian cypress.
Congrats, by the way, the home is beautiful!
---
| | | |
| --- | --- | --- |
| RE: Please help with curb appeal for this new house... | | |
take baby steps, if you are doing this on your own. Will you have shutters? If so I see board and batten would look cool in a mossy green that blends with the landscape. Not a blue green. A dark navy might look cool if you go with regular shutters. But try to find wider shutters if you can. I think once your shutters ar up you might be able to visualize things better. I am not one to paint shutters that blend with the brick. I prefer a contrast color make sure you dont plant shrubs or trees too close to house. Decide for sure if you want low maintenance shrubs (evergreen or deciduous?) Im kind of seeing lots of azaleas there right now or the home run variety of knock out roses. those are the ones with the true red color with a bit of yellow in center. You cant kill them and they make a wonderful look against the brick. Im in zone 5 in Mo. so i assume you are too but maybe borderline 6? And for sure a nice ornamental tree with some large rocks for appeal. Would you want to do an American Holly in the middle of the LHS on the street side of the sidewalk thats against your home?. Maybe put the holly on a berm with some rocks and lower plants or shrubs Good luck Its such a pretty house!
This post was edited by oopsie913 on Fri, Jun 6, 14 at 12:22
---
| | | |
| --- | --- | --- |
| RE: Please help with curb appeal for this new house... | | |
Please go to see your master gardeners in your area at your county extension office. Every county has one. Their advice is what you need.

I was trying to find your weep holes but cannot and I would make sure from the contractor before doing any garden work that there are adequate weep holes and that they are not covered up so when your landscape materials are added, the weep holes are not covered up or you will have wet, molded floors and possibly house when you get a big rain.

Many contractors are not putting downspouts on houses with roofs like yours nowadays but I would suggest you ask your contractor about that. We added downspouts to ours because the water dumped on our guests at the door based on the way the rain fell off the roof. Also, one neighbor had termites in her house between the seams when we had a big pouring rain over several days and the roof did not push it off quickly enough, so ask about that.

Your best bet is to let the county extension and master gardeners help you. They can work with a good landscape gardening center in your area after the contractor has taken care of the above-noted items. Once they have tested your soil, they can make planting recommendations.

As far as the house, I believe you have quoins and Greek keys. I do not have shutters on my house because it has Greek keys and qoins but I think it is fine to add shutters if you wish.

I don't think I would paint anything lime green color. Your house has a classic look and it looks to me on my monitor as if your brick has some reddish brick and some bluish grey brick in it. I think I would choose colors in the brick for my paint colors.

I do think vines are beautiful on houses like yours but if your husband is anything like mine, when the ivy started discoloring the brick, he cut it down. So, just get some professional advice from the county agent regarding soil. If he knows a person who is very experienced in landscaping who is also a master gardener, take his/her advice and always insist they work with a local nursery. Two local nurseries in my area have in-house landscape architects as assistant managers, so if you have a landscape architect, he will have worked with his college's architecture department and can blend the plantings with the architecture of your home.
This post was edited by patricia43 on Fri, Jun 6, 14 at 11:42
---
| | | |
| --- | --- | --- |
| RE: Please help with curb appeal for this new house... | | |
P.S. You live in the south so you know you have to have at least one white crepe myrtle, a snowball viburnum, some azaleas and oak leaf hydrangea. LOL. I am kidding but these are beautiful and usually are part of the landscape design in the south.
---
| | | |
| --- | --- | --- |
| RE: Please help with curb appeal for this new house... | | |
Thank you for all of your great recommendations. I plan on putting some type of stained shutters up. Stained the same color as the front door.

I also plan on putting gutters on the house, hopefully before fall.

I am very disappointed in how close my contractor placed the sidewalk to the house. I wish I could re-do it in some way.

Do you have a watering system in your lawn? Right now I will be watering with a water hose and eventually have a sprinkler system installed.
What is the soil like? I don't have very good soil right now. Mostly rock. I am having some top soil delivered.

Please keep coming with the drawings and suggestions.

Thank You So Much
---
| | | |
| --- | --- | --- |
| RE: Please help with curb appeal for this new house... | | |
I love your home! It might not cost too much to repour the closest part of that walkway to curve further from the house. I'd surely check into it - it will be much easier now than in the future.
---
Post a Follow-Up
Please Note: Only registered members are able to post messages to this forum.
If you are a member, please log in.
If you aren't yet a member, join now!
---
Return to the Home Decorating & Design Forum
Information about Posting
You must be logged in to post a message. Once you are logged in, a posting window will appear at the bottom of the messages. If you are not a member, please register for an account.
Please review our Rules of Play before posting.
Posting is a two-step process. Once you have composed your message, you will be taken to the preview page. You will then have a chance to review your post, make changes and upload photos.
After posting your message, you may need to refresh the forum page in order to see it.
Before posting copyrighted material, please read about Copyright and Fair Use.
We have a strict no-advertising policy!
If you would like to practice posting or uploading photos, please visit our Test forum.
If you need assistance, please Contact Us and we will be happy to help.

Learn more about in-text links on this page here