Return to the Home Decorating Forum
|
Post a Follow-Up
---
| | | |
| --- | --- | --- |
| Ugly bifold closet doors | | |
Posted by
black-thumb
(
My Page
) on
Sat, May 7, 11 at 13:38
Hi all I need some suggestions on what to do with these closet doors. All the closets are like this and I am not sure what to do with them design wise. The one pictured is 8'tall and 67" wide.

Do they even sell bifold doors this tall? I know I don't want sliding doors because the back and forth drives me nuts. I don't mind bifold doors these are just very ugly.

Is there anything that can be done to these existing doors to maybe break them up a little and add a little style. I wish they were even on each side at least then I could add some molding but they aren't and they go all the way to the ceiling. I plan on painting the walls surrounding the ones pictured a deep taupe color.

Thanks!
.
---
Follow-Up Postings:
| | | |
| --- | --- | --- |
| RE: Ugly bifold closet doors | | |
We had some closet doors like yours but the top was like shutters (slatted) and the bottom was solid. Not sure if you can get them that tall however
---
| | | |
| --- | --- | --- |
| RE: Ugly bifold closet doors | | |
You could paint them the same color as the wall to blend them into the wall. You could stencil them or wallpaper them to make a feature wall. You can also change out the hardware and stabilize the center to make them swing open like two regular doors if you have the room for it.
---
| | | |
| --- | --- | --- |
| RE: Ugly bifold closet doors | | |
I would paint them the same color as the wall or slightly lighter or darker and use a higher sheen on the doors and door surround. Switch out the knobs for some pretty handles.
---
| | | |
| --- | --- | --- |
| RE: Ugly bifold closet doors | | |
I would paint the doors and surrounding trim the wall color. Make them blend in. Paint the knob too.
---
| | | |
| --- | --- | --- |
| RE: Ugly bifold closet doors | | |
I don't know if this would work because of the center folds, but it might.
http://granvillehouse.blogspot.com/2009/08/beadboard-wallpaper-cabinets-tutorial.html
---
| | | |
| --- | --- | --- |
| RE: Ugly bifold closet doors | | |
You can add molding to them. Kind of like f doing paneling on the wall. Since they fold to the inside it shouldn't matter if it stick out some. You just need to make sure they are far enough in from the sides to clear the sides when open.
---
| | | |
| --- | --- | --- |
| RE: Ugly bifold closet doors | | |
Thanks for all the input. I have painted them before and they look better but still rather blah.

Chickadee2 and Lyfia

I love both of your ideas and thanks for the link. I am going to do a search at my local Home Depot and Lowes for that wallpaper. I might try and combine both of your ideas some how.

I like the idea of using a slightly darker or lighter shade than the color on the walls too and of course changing the knobs.

I wish I had the space to have them open like regular doors but there isn't enough clearance on the right side.

Thanks for all the great ideas, I now have some hope! :)
---
| | | |
| --- | --- | --- |
| RE: Ugly bifold closet doors | | |
We have the paneled bifold doors. I like the way they look. More like a door. Would you consider replacing yours?
---
| | | |
| --- | --- | --- |
| RE: Ugly bifold closet doors | | |
Ellendi

I saw some paneled doors online and I really liked those too. I think it might be hard to find ones that are 8" tall though. I considered adding a panel across the top and then putting in shorter bifold doors but then it would be hard to reach the things on the top two shelves. It really is much easier with the 8" door. They are just so blah looking and do zero for the decor. I bet yours look great. :)
---
| | | |
| --- | --- | --- |
| RE: Ugly bifold closet doors | | |
I would just leave them alone as for color, unless you want to make them stand out. And for sure put some really cool knobs or hardware on them.
---
| | | |
| --- | --- | --- |
| RE: Ugly bifold closet doors | | |
Paint them and the molding to match the walls and make them invisible.
---
| | | |
| --- | --- | --- |
| RE: Ugly bifold closet doors | | |
You could do wood molding, wallpaper, decoupage, paint, stencil, wood appliques, or any combination of that.
Remember, if you can draw it full scale, you can transfer the pattern to the doors and paint. If you can draw it on your computer, you can email the file and the final dimensions you want to a Staples near you (call their print shop) and they'll print it out for you at whatever size you like. Or, you can project artwork onto the wall/doors, then trace around it with a pencil. Michaels sells the projectors.
OR
Claudesw, one of our members here did this to her hollow core doors with a little wood trim:

OR
Take them down and replace them with curtains.
OR
Take them down and replace them with doors you like better.
---
| | | |
| --- | --- | --- |
| RE: Ugly bifold closet doors | | |
check the bldg stores for 8' high doors. might not show them online.

you could do the panels with wood trim and put patterned wallpaper inserts in the 'paneled' areas. or not.

I'm struggling with doors now myself. didn't like the sliding doors on my pantry so took them off. now don't know what to put up there unless a bi-fold door. ugh. i've been watching CL in case something comes up. lots of doors on there, just nothing I can use yet.
---
| | | |
| --- | --- | --- |
| RE: Ugly bifold closet doors | | |
I love the idea of replacing them with curtains. The fabric ideas are endless.
---
| | | |
| --- | --- | --- |
| RE: Ugly bifold closet doors | | |
I think I am really liking the idea of using wood trim and wallpaper inside. I think it will give them character and add to the space.

I really like these two styles.
.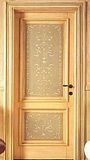 .
.
My doors are very narrow so I think less is more will be the best way to go. I really like the beadboard wallpaper and think that will look really nice. Its not over the top and a nice taupe color variation of slightly lighter or darker will probably work well.
Thanks for all the help and great ideas! Now I just have to find the right shade. I stink at that part.
---
| | | |
| --- | --- | --- |
| RE: Ugly bifold closet doors | | |
You want decoration your whole room or just these bifold doors? If just the doors then you must think about the decorations in the future.
Here is a link that might be useful: sliding closet doors
---
| | | |
| --- | --- | --- |
| RE: Ugly bifold closet doors | | |
laofeng - was that article dated? it sounds very dated...

sliding doors are a pain, besides the OP said she didn't want them.

I think the doors are just big and plain. putting some moulding around them and maybe that beadboard wallpaper inside of the moulding might make a big difference. It'll break up that massive plainness.

let us know what you end up doing - and post a pic of it!
---
| | | |
| --- | --- | --- |
| RE: Ugly bifold closet doors | | |
Just another thought. What about treating the 2 doors on each side as 1 door, so it looks like a 2 door closet when it's closed. That way it wouldn't matter that they are different sizes. A bit of molding that runs across and blend in the knob as if it were part of the pattern. No pictures just a though.
---
| | | |
| --- | --- | --- |
| RE: Ugly bifold closet doors | | |
Welcome to laofeng's Member Page
See my Clippings See my Journal See my trade list

I live in: United States
My Birthday is October 01 .
You can visit my home page at http://slidingclosetdoorsdoors.com.

First registered on July 17,2011.
---
Post a Follow-Up
Please Note: Only registered members are able to post messages to this forum.
If you are a member, please log in.
If you aren't yet a member, join now!
---
Return to the Home Decorating Forum
Information about Posting
You must be logged in to post a message. Once you are logged in, a posting window will appear at the bottom of the messages. If you are not a member, please register for an account.
Please review our Rules of Play before posting.
Posting is a two-step process. Once you have composed your message, you will be taken to the preview page. You will then have a chance to review your post, make changes and upload photos.
After posting your message, you may need to refresh the forum page in order to see it.
Before posting copyrighted material, please read about Copyright and Fair Use.
We have a strict no-advertising policy!
If you would like to practice posting or uploading photos, please visit our Test forum.
If you need assistance, please Contact Us and we will be happy to help.

Learn more about in-text links on this page here