Return to the Home Decorating & Design Forum
|
Post a Follow-Up
---
| | | |
| --- | --- | --- |
| Ideal dining room and table size? | | |
Posted by
olivesmom
(
My Page
) on
Sun, May 12, 13 at 13:29
I'm working with a stock plan and would like to send my modification requests to the draftsperson soon. The plan has just one eating space adjacent to the kitchen, but it is still somewhat formal and that's what I want. This plan is a bit of a compromise because I originally wanted a formal dining room plus a nook off the kitchen, but every plan with that keept growing way too large. I like this solution as it is an efficient use of space and still gives me a formal dining room feel.

As drawn, the dining room is 15 x 15. Is that a decent space? Our current home just has an eat in kitchen and is roughly 13 x 9 and is way too small. I feel like 15 x 15 won't be big enough if 13 x 9 isn't even close.

We will, of course, get a new table once we move. I kind of like the idea of round, but expandable round tables are harder to find. We are a family of 4 and may have 1-2 more kids. Right now it is just the four of us and sometimes 6-8 when we have company. A handful of times per year we have more, 8-12. So I will need something expandable. I'm not looking to select a specific table right now, but I feel like I need to have a rough idea to size the dinning room appropriately.

Here's the floor plan and a few pictures showing a completed home. I will be switching the kitchen island to a peninsula (I think) and I may change the built-ins around the fireplace somewhat.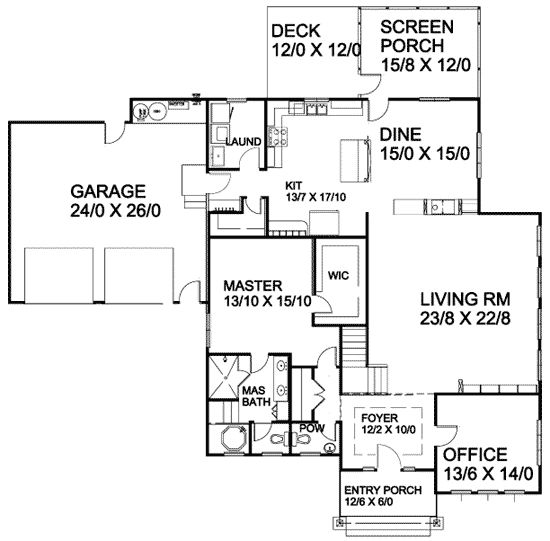 Dining room is on the the other side of the double-sided fireplace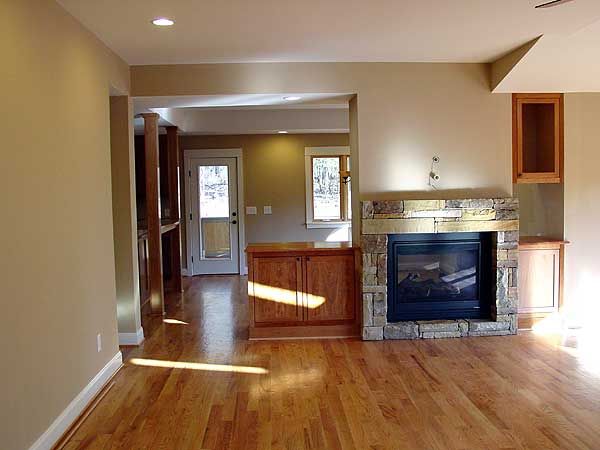 Looking into dining room from kitchen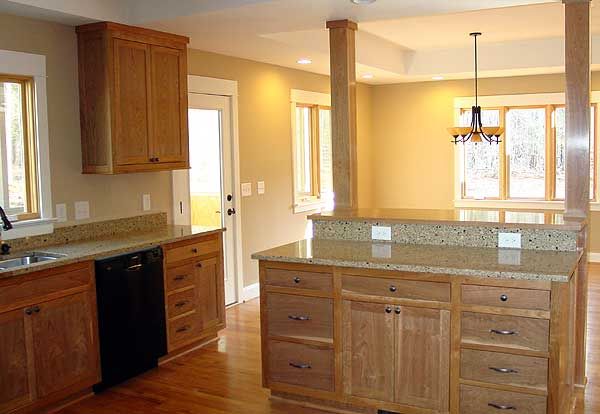 I'm completely open to adding space in either direction. Any suggestions as far as table size/shape and what size the room should be?
---
Follow-Up Postings:
| | | |
| --- | --- | --- |
| RE: Ideal dining room and table size? | | |
I would square off the house on that corner and add that to the dining room
---
| | | |
| --- | --- | --- |
| RE: Ideal dining room and table size? | | |
I'm concerned that it looks like the kitchen has been remodeled already--are we now trying to make new houses look like old ones that didn't have a good layout originally? Looks like someone knocked out a wall to "open up the kitchen".

I'm sure you'll take care of that when you fiddle with cabinets. Right? :)

I like Pal's idea--or take it into the screen porch if you can. You can use all windows on the back side to keep sort of an outdoorsy feel and expand the dining table into it when needed. If you don't REALLY need a screened porch and can manage with just the deck, it would make sense to me.
---
| | | |
| --- | --- | --- |
| RE: Ideal dining room and table size? | | |
The island bracketed by columns is a detail adopted from a larger house, but in this plan it has been pushed into the kitchen proper and makes the perimeter look like it runs beyond the confines of the kitchen. I can see why you want to change that.
---
| | | |
| --- | --- | --- |
| RE: Ideal dining room and table size? | | |
I should clarify, this is a new build. The photos are showing the home built according to the plan. When we build I will change the kitchen to have a peninsula. We won't have a screened porch but will have a large covered patio in that space.

Squaring off the dining room to the length of the living room would work, turning the space into a long rectangle. I'm still intrigued by round tables and I think a round table in a square room could look nice.

Does anyone know the maximum round table that could fit in a 15 x 15 space? Would 60" be too large? And if my family remains just four, then a 60" would be too large for everyday use, right?
---
| | | |
| --- | --- | --- |
| RE: Ideal dining room and table size? | | |
15' for width is fine but if you want to go longer then add some distance some how.

A 60" table is 5' and then you usually add 3' for a chair which includes walking around space which is an additional 6' giving you a total requirement of 11'. So you're good with the 15'. If you went oval with a leaf for bigger groups, 15' in length (- 6' for end chairs which includes walk around space) gives you space for a 9' table. You need 2' per person seating space so on a 9' table you can fit 4 to a side plus the 2 at the end gives you seating for 10.

So your 15'x15' is adequate for your needs. HOWEVER, I would consider raising your windows in case you want to fit a buffet under them for DR storage. It doesn't look like you have enough space for the height of one right now. A buffet is usually 18"-24" deep and so now your DR would be 13' x 15' which is still wide enough and long enough. Your 60" (should fit 8) round table would still fit in the room.

The only question I have is whether or not the island/peninsula will have seating at it. That seating will encroach into the DR and can affect seating requirements.
---
| | | |
| --- | --- | --- |
| RE: Ideal dining room and table size? | | |
After an exhaustive online search I've ruled out a round table. Not only are they harder to find, but everything I did find that could comfortably seat 8-10 would be way too big for the 3-4 (husband isn't home for dinner most nights) we have every evening.

So rectangular table it is. If it is still around in a year or two I think we will go with the 104" C&B Basque table. It's is fixed at 104" and is 47" wide. We have a much smaller world market knock-off (right down to the same mago wood) and it is so sturdy and has held up beautifully.

Now I need to figure out which way I want the table oriented so I can determine how to enlarge the room if needed. I was thinking I'd want it to run the same direction as the peninsula/island, that way I can have a nice view of the table when the kids are doing their homework or whatever. But then one end up the table would be aligned with the fireplace. Maybe it would be better to have the table perpendicular to the fireplace? Not sure.
---
| | | |
| --- | --- | --- |
| RE: Ideal dining room and table size? | | |
If you have thoughts that a 60" round table would be too large for everyday use, wouldn't a fixed 104" X 47" be too large as well for everyday use? Yes, it would certainly be nice to have a table that large for larger groups, but wouldn't you rather have a rectangular table that you could add leaves to and reach that dimension? A 72" table would be great for everyday use and with a couple of leaves, you could expand to the larger size.
---
| | | |
| --- | --- | --- |
| RE: Ideal dining room and table size? | | |
bac717: The 104" C&B table may be large, but I feel like it won't be so bad even if it's just a few of us due to the fact that it's rectangular. A 60" round would be awkward and uncomfortable for just 3.

Here are a couple of real- life photos of the table, and with a wider chairs it doesn't look all that large.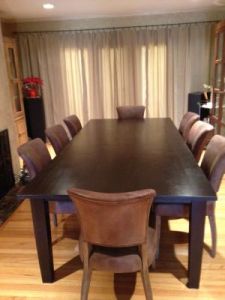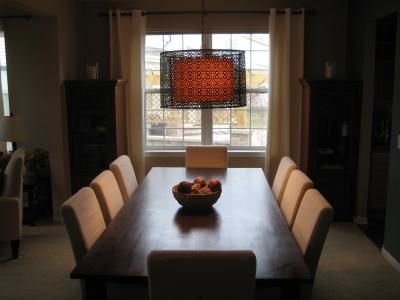 Like I said, we won't be buying the table until after we build and move in and that could be a year or two depending on how things go. Who knows if the C&B table will even still be available. A table with leaves would work, but I like a solid, smooth top table without cracks or seams. There are tables with extensions that just attach to each end, which is what we have now, but I find that they really don't provide much useable space due to the table legs.
Still trying to figure out which way to place the table in relation to the fireplace.
---
| | | |
| --- | --- | --- |
| RE: Ideal dining room and table size? | | |
We used to have a round DR table which we used on a regular basis when I was growing up and it had a lot of leaves so it would open up to a very large oval shaped table which was great as with ovals you can fit even more people on the end as you get more elbow room than with a squared off corner. So you might consider that as an option.
---
| | | |
| --- | --- | --- |
| RE: Ideal dining room and table size? | | |
Since you mentioned that you are having problems with your plan growing larger and larger, I think that 15' x 15' is more than adequate. What I, personally, would do is move the fireplace to the long exterior wall in the living room, and add another window to that short backfacing wall in the living room to get more light since the fireplace will replace some of your windows. This would allow your dining area to "feel" and "live" larger. When extending your table, you won't have to worry about not having enough space because of the fireplace.

If money were no object (haha), what I would like to see is that screened porch wrap around to meet the living room. Then instead of a window on that wall, you might want to include French doors or slider doors there.

Good luck, and let us know what you decide. :)
---
| | | |
| --- | --- | --- |
| RE: Ideal dining room and table size? | | |
Just for reference, here is my dining space. Ignore the furnishings (and the wonkily placed light fixture), the table needs to be refinished and we are getting new chairs. Anyway, from left to right is ~13' and from counter to windows is ~10'. The table is 55" round. It works perfectly for our family of four. And we can easily pull two more chairs up to it to seat six comfortably. It also has two leaves that make it expand to an oval for when we need more seating.
---
| | | |
| --- | --- | --- |
| RE: Ideal dining room and table size? | | |
You could get a round to oval extension table rather than one of those round tables with pie-shaped pieces that crank out and stay round. I know you would prefer a solid table but sitting at a long retangular table when it's only a few people kind of reminds me of my great-Aunt with the buzzer under the table that summomed Bridget up from the kitchen.
---
| | | |
| --- | --- | --- |
| RE: Ideal dining room and table size? | | |
Next time I'm at the mall I will go to C&B and hopefully try out the table, see how empty it feels with just 3-4 people. And, in all honesty, our dining table is rarely clean. There is usually something pushed over to one side; kids art projects, puzzles, groceries from costco I've yet to put away, etc.

I think I want to keep the FP where it's at. I LOVE the idea of a FP in the dining room and having a double sided one is a neat feauture. Though I did just price the FP and the heat and glo double sided gas FP is 7,000 and then there's the stone work, reinforced floors and those custom fireplace screens I'll just have to have. It will be one of the splurges I think, but worth it since its a focal point in both the living room and dining room.

I think 15 x 15 should be okay, even with the 104" table. If I run the table parallel to the peninsula (table short end facing FP) that leaves 38" on either end. Depending on how much the FP sticks out I may need to add a few feet. Also, I need plenty of space for patio access. Width wise the table should fit fine, even with a buffet against the wall.
---
| | | |
| --- | --- | --- |
| RE: Ideal dining room and table size? | | |
The 15x15 appears to include right up to the edge of the island and the opening into the dining room and through out to the porch, if you lengthened the room just a bit and made it 15 x 18 or 15 x 20, you could do two things:

Get the people at the head of the table out of the circulation area at that end of the dining room even if you are seating ten, and 2) create a truly free standing, two sided fireplace where it was Not tethered to the corner by a cabinet and you could walk on both sides of the fireplace. I find that narrow space with cabinets and a small pass-through a bit odd and not as nice looking as it could be. Even if you wanted to keep base cabinets in between either along or with open shelves or two sided glass cabinets above, it would look much better if it was wider than that small gap.
---
| | | |
| --- | --- | --- |
| RE: Ideal dining room and table size? | | |
If you are making changes to the plan I would see about moving the master bedroom to the front and the bath stuff/closet in the middle of the house, where the master is now

The master has only one window and that is of the driveway - I think I'd want something a bit better than that. Facing the front would at least allow you to have a different view. Also I would see if there was a way to enter it other than from the entryway.
---
| | | |
| --- | --- | --- |
| RE: Ideal dining room and table size? | | |
Since we're making changes to your plan, I'd see about changing the window in the laundry room to a door. At my house, the access to the backyard is through the dining area like yours and I wish we had an easy access to the mud/laundry room to outdoors as well. I dislike messy kids and the dog coming in right into the dining area.

I'd also look into flipping the master and the bathrooms as someone else suggested. For the window reason and because that would put the powder room closer to the kitchen and laundry and mud room. See above about messy kids. :)
---
| | | |
| --- | --- | --- |
| RE: Ideal dining room and table size? | | |
If you're having trouble finding a new round table that expands to an oval, try looking at vintage or antique tables. We have a 47" round with three leaves that expands to seat 12 comfortably.

The table should be placed so the one narrow side of the table runs parallel to it. If an end is next to it, the person seated there would be uncomfortably close to it and the person at the far end would be too far.
---
| | | |
| --- | --- | --- |
| RE: Ideal dining room and table size? | | |
You could also get an oval table with leaves. I bought an "antique" one (really only 20 years old or so), and it's been great. For everyday use, it's set up for four people but I had nine this weekend with the two leaves and there was room for one more.
---
| | | |
| --- | --- | --- |
| RE: Ideal dining room and table size? | | |
I like the idea of the round expanding to an oval.

BTW as somebody else mentioned the room is really 12x15 or a bit less on the 12 ft side depending on how much of walk through space you need.

Another question - how do you plan to arrange furniture in the living room? You might want to play with that and decide how to best fit furniture for how your family lives.
---
| | | |
| --- | --- | --- |
| RE: Ideal dining room and table size? | | |
Same issue with the living room, you need to allow for hallway space on the left (main/only connector from front to back of house) which will make it hard to arrange furniture since the fireplace will now be off center. If tv goes over fireplace, then the off center issue will become even more important.
---
| | | |
| --- | --- | --- |
| RE: Ideal dining room and table size? | | |
i leave my kitchen table open to 88" all the time even tho we often don't have more than 2 people here these days... we just eat on one end. our kitchen is ~20' or so in length- 15' would be fine for an 88" table, but i think it would be tight everyday at 104".... our table has leaves to open to 112" and when i do open it to that length, i need at least 116.5- maybe 17'...

i leave the leaves in our dining room table all the time- to fill the room and so i don't have to store the leaves... it is 102"... our dining room is right at 15', but one end opens to a butlers pantry/opening... it is fine fo limited occasional use, but if we didn't have the onedoorway at one end or if we frequently used the room, i'd want it bigger for that length table... probably 16' for comfort....
---
| | | |
| --- | --- | --- |
| RE: Ideal dining room and table size? | | |
I would be concerned about making the island into a peninsula. With the table taking up most of the length of the dr, you will know have only one way into the kitchen. Someone would have to squeeze past the head of the table to get to the sink.

Awkward flow of traffic with only one way in and out. Come in from outside, walk past the table, turn, go to sink, repeat to get back out.

Is your house going to have a Craftsman feel to it? Sorry but I don't think the table or chairs go with that vibe. It reminds me of a conference table (Guess I have sat through too many meetings lately!)
---
| | | |
| --- | --- | --- |
| RE: Ideal dining room and table size? | | |
We have 7 people (5 kids + 2 adults) eating at our table every night. We had an 82" X 38" table and actually felt too big for me. I didn't like it, though I thought I'd love it at the store.

We moved and sold it. Our new (old) one is only 40" X 60" and 7 of us fit. (Has leaves but I don't bother.) It's a little tight, but I much prefer it over the larger table.
---
| | | |
| --- | --- | --- |
| RE: Ideal dining room and table size? | | |
This is becoming increasingly difficult. I feel like I have to make furniture decisions before even drawing up a floorplan. To address some of the questions/ comments:

I guess i'm open to a round-to-oval table, I just don't think I've seen one (in a style I care for) that would expand long enough. I would also prefer to not have seams due to leaves.

The house won't be a traditional craftsman, more like a basic farmhouse with a few watered-down, transitional, craftsman-inspired details. The C&B table would look fine I think, and matches our other furniture. In fact, the C&B table is just a larger version of the table we have now (we have a world market knock off).

As far as the kitchen peninsula, I really don't want other people in the kitchen. I like my space. The sink will be in the peninsula and the range will be where the kitchen sink is drawn, flanked by windows. The fridge/freezer will be on the wall opposite the window and will have a very wide hallway to allow for traffic. If I have the space I might put in a small island to serve as a place to unload the fridge, make a snack and create a sort of boundary to keep people out of the kitchen proper.

If I go with a rectangular table I think I will increase the room by 2-3 feet. Ideally the table would run along the fireplace but I think the table works better running parallel to the peninsula. So a short end will be closest to the fireplace. I looked for dining room fireplace images online and I see tables oriented either way, so while not ideal I think it will look okay.

I will go look at some furniture to get a better idea. I feel kind of strange about it though, since we won't be buying furniture for this house for another year or two.

And lastly, the living room. As of now I'm planning on doing away with the cabinet on the left of the fireplace and just having a tv built in on the right (no pass through as the photos show) I need to play around with furniture layouts some more to be sure that will work.
---
Post a Follow-Up
Please Note: Only registered members are able to post messages to this forum.
If you are a member, please log in.
If you aren't yet a member, join now!
---
Return to the Home Decorating & Design Forum
Information about Posting
You must be logged in to post a message. Once you are logged in, a posting window will appear at the bottom of the messages. If you are not a member, please register for an account.
Please review our Rules of Play before posting.
Posting is a two-step process. Once you have composed your message, you will be taken to the preview page. You will then have a chance to review your post, make changes and upload photos.
After posting your message, you may need to refresh the forum page in order to see it.
Before posting copyrighted material, please read about Copyright and Fair Use.
We have a strict no-advertising policy!
If you would like to practice posting or uploading photos, please visit our Test forum.
If you need assistance, please Contact Us and we will be happy to help.

Learn more about in-text links on this page here