Return to the Home Decorating Forum
|
Post a Follow-Up
---
| | | |
| --- | --- | --- |
| Help me identify this color please | | |
Posted by
vidyaram
(
My Page
) on
Tue, May 1, 12 at 13:12
Hi
I am trying to paint my daughters room in this color. Could you please help me identify this from PB Kids Mid Spring catalog: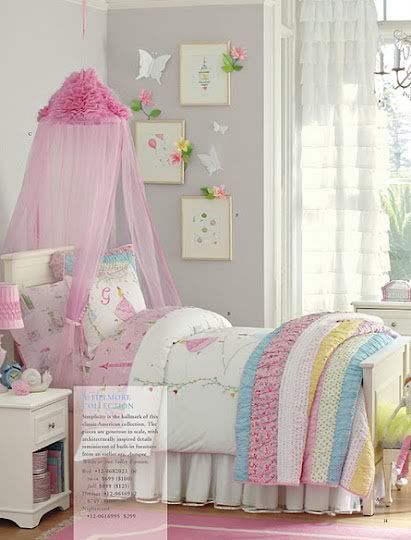 I have also added the link to BNenjamin Moore Spring 2012 colors. The paint color is not stated in the page of the catalog itself and my daughter loves this room.
Here is a link that might be useful: Benjamin Moore colors for Spring
---
Follow-Up Postings:
| | | |
| --- | --- | --- |
| RE: Help me identify this color please | | |
I don't know about the BM colors but it looks exactly like Behr 790E-2 Gentle Rain.
---
| | | |
| --- | --- | --- |
| RE: Help me identify this color please | | |
It doesn't matter what the color is, but what it looks like. Paint colors are notoriously unpredictable in print. I recommend taking the page to the paint store and having it custom matched.
---
| | | |
| --- | --- | --- |
| RE: Help me identify this color please | | |
If you contact PB kids they can probably tell you. i have done that before and they were very helpful.
---
| | | |
| --- | --- | --- |
| RE: Help me identify this color please | | |
My next door neighbor used the exact same inspiration picture to do her little girls' room. PB said the color was BM Natura "Spring Iris." The room came out beautiful.

http://www.potterybarnkids.com/products/benjamin-moore-natura-paint-spring-iris/

Here are more PB Kids color chips they used in the Spring Catalogue.

http://www.potterybarnkids.com/shop/kids/wall-decor/benjamin-moore-paint/
---
| | | |
| --- | --- | --- |
| RE: Help me identify this color please | | |
jterrilyn:
Behr gentle rain looks like a close match
gilylily:
I called customer service and they could not help me because it was not listed on the page. Why would I call customer service if it was listed. I guess teh CS is for their items not paint:)
angc:
I will try and BM store for color match
colorblind1961:
Thanks for the suggestion. I love that Spring Iris too. Maybe I can give it a try. I feel that color is more lavender and the color in the catalog is more gray with mauve.
Would Elephant gray listed in the colors be a close match?
---
| | | |
| --- | --- | --- |
| RE: Help me identify this color please | | |
| | | |
| --- | --- | --- |
| REre: Help me identify this color please | | |
Spring Iris - just like colorblind noted.
---
| | | |
| --- | --- | --- |
| RE: Help me identify this color please | | |
TheFoxesPad:
It is page 12 in the Spring 2012 catalog and pg 52 in the mid Spring Catalog. I guess the lighting makes it look different.
I would love to know how you found the color so that I can find it the next time.
Thanks Colorblind and theFoxesPad for helping me out. I will post the pictures once I am done.
---
Post a Follow-Up
Please Note: Only registered members are able to post messages to this forum.
If you are a member, please log in.
If you aren't yet a member, join now!
---
Return to the Home Decorating Forum
Information about Posting
You must be logged in to post a message. Once you are logged in, a posting window will appear at the bottom of the messages. If you are not a member, please register for an account.
Please review our Rules of Play before posting.
Posting is a two-step process. Once you have composed your message, you will be taken to the preview page. You will then have a chance to review your post, make changes and upload photos.
After posting your message, you may need to refresh the forum page in order to see it.
Before posting copyrighted material, please read about Copyright and Fair Use.
We have a strict no-advertising policy!
If you would like to practice posting or uploading photos, please visit our Test forum.
If you need assistance, please Contact Us and we will be happy to help.

Learn more about in-text links on this page here