Return to the Home Decorating Forum
|
Post a Follow-Up
---
| | | |
| --- | --- | --- |
| Has anyone repurposed sinks? | | |
Posted by
groomingal
(
My Page
) on
Sun, May 3, 09 at 13:10
I have been looking for an affordable apron sink for our kitchen but happened to come across this sink on Craigslist.

I have been wanting to build an outdoor station to hold beverages in the sink and where guests can make their own drinks and to have extra room to serve food instead of crowding the patio table.

So, $10 later DH is hauling home this sink. If the weather clears up this week maybe I can get out and start on it.

Have any of you made anything from these sinks and do you have any pics available?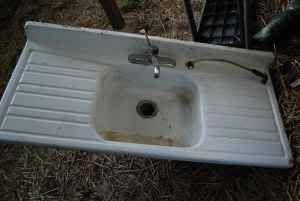 ---
Follow-Up Postings:
| | | |
| --- | --- | --- |
| RE: Has anyone repurposed sinks? | | |
would you build a station where the sink would be hooked up
to your main water line?
---
| | | |
| --- | --- | --- |
| RE: Has anyone repurposed sinks? | | |
Yes! We have just such a sink (although a single-drain-board type) on the back of our garage to serve as a potting sink/plant hardening off area. It used to have water available from the nearby creek(which has quit running) but now I just use the water hose only eight feet away. It's wonderful! Several friends who saw our setup have duplicated it.

Now if I could only keep DH from parking power tools, gas cans, excess parts, etc., there, it could be truly enjoyed. How is it that most spaces I consider mine, become his?
---
| | | |
| --- | --- | --- |
| RE: Has anyone repurposed sinks? | | |
Mitchdesj- we will not be hooking up a main water line to it. In our city we would have to pay for a permit and inspection not to mention re-route our plumbing. We basically want a neat way to keep drinks on ice and so forth.

nan nc- I would love to see a pic of yours! Tell DH anything left in your area is liable to be painted pink and adorned with lace :)
---
| | | |
| --- | --- | --- |
| RE: Has anyone repurposed sinks? | | |
probably not what you had in mind (smile). . ."The Carolers" at the Bavinger House (designed by Bruce Goff c. 1950) in Norman, OK. "They" are behind the house (second pic) across a small pond.
---
| | | |
| --- | --- | --- |
| RE: Has anyone repurposed sinks? | | |
Thanks for posting that. I never heard of Bruce Geoff. I've been reading and viewing his work. Fascinating. More reading to do.......
---
| | | |
| --- | --- | --- |
| RE: Has anyone repurposed sinks? | | |
Hi Nan, I have a sink like yours. Please consider posting a picture of how it is mounted. Is your sink cast iron? It takes two people to move ours, so can't figure out how to put it into use. TYA, FraniQ
---
Post a Follow-Up
Please Note: Only registered members are able to post messages to this forum.
If you are a member, please log in.
If you aren't yet a member, join now!
---
Return to the Home Decorating Forum
---
Instructions