Return to the Home Decorating Forum
|
Post a Follow-Up
---
| | | |
| --- | --- | --- |
| More Cane Chairs for Me!! | | |
Posted by
ideamom
(
My Page
) on
Mon, May 7, 12 at 12:46
A few weeks ago I posted some barrel cane chairs I found at a garage sale for $7.50 each. Well this past weekend I found 2 more, but they are a bit different. They were $17.50 each and I snapped them up!!

You can click on images to make it larger.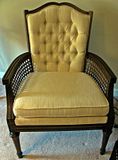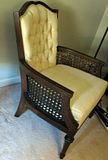 I think I'll keep these and sell the others I bought a couple weeks ago.....after reupholstering them of course! I may keep the tufting or may not. Do you think the tufting makes it look dated??
The plan is to use drop cloths to reupholster them. Wait, before you judge....LOL. It looks like linen! Take a look at this chair reupholstered in a drop cloth from Cobblestone & Vine blog.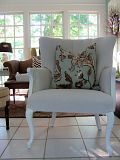 Oh and I am really loving this pillow! Anyone know what this fabric is called??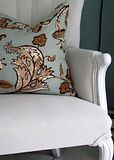 ---
Follow-Up Postings:
| | | |
| --- | --- | --- |
| RE: More Cane Chairs for Me!! | | |
A drop cloth doesn't FEEL like linen. Fabulous chairs, though.

Sea
---
| | | |
| --- | --- | --- |
| RE: More Cane Chairs for Me!! | | |
You're on a roll!

I don't know how anyone could be fooled by a drop cloth. It is what it is.
---
| | | |
| --- | --- | --- |
| RE: More Cane Chairs for Me!! | | |
I am so jealous! Love them!
---
| | | |
| --- | --- | --- |
| RE: More Cane Chairs for Me!! | | |
I have seen such great furniture, drapes and pillows on blogs from people who used dropcloths. After looking at very similar fabric at the fabric store and then seeing the dropcloths from Lowes...there was no difference, but the price was a heck of a lot cheaper. I'll be sure to show you all how it turns out.
---
| | | |
| --- | --- | --- |
| RE: More Cane Chairs for Me!! | | |
Those are great chairs and the tufting really does add an upscale feel to them. I think they'd be bland without it--the backs are very plain without it.

Now, I admit to being frugal. But because recovering chairs is a lot of effort (or expense if you hire it out), I would not bother with poor materials like dropcloths or, I suspect, what you saw at the fabric store. I don't like to cut corners on materials when the labor is significant.
---
| | | |
| --- | --- | --- |
| RE: More Cane Chairs for Me!! | | |
Great chairs and I love the tufting!

Honestly for those of you that have not tried dropcloths, you'd be surprised. My sunroom furniture is slipped in dropcloth fabric. It takes on a whole new life when washed and I bleached mine to an off-white. They are extremely durable, a good weight fabric for upholstery. I do have to disagree that it is like linen - it's a nubby cotton - kind of a similar texture though to linen.

I do think the dropcloths are for a certain look - cottage or country. I love them in the sunroom and they are holding up great.

There are some here who have made curtains from dropcloths. Maybe they'll chime in .

tina
---
| | | |
| --- | --- | --- |
| RE: More Cane Chairs for Me!! | | |
Tinam61-thanks for chimming in on the dropcloth debate. If I hadn't seen beautiful upholstery done by dropcloth fabric I would be skeptical too so I understand the comments. Although I have seen it and as you know it looks great and durable! You are correct the texture is like linen. We have an English cottage and these chairs will be perfect in our sitting room/office. We will be doing the upholstery ourselves. I'll post pics when they are completed.
---
Post a Follow-Up
Please Note: Only registered members are able to post messages to this forum.
If you are a member, please log in.
If you aren't yet a member, join now!
---
Return to the Home Decorating Forum
Information about Posting
You must be logged in to post a message. Once you are logged in, a posting window will appear at the bottom of the messages. If you are not a member, please register for an account.
Please review our Rules of Play before posting.
Posting is a two-step process. Once you have composed your message, you will be taken to the preview page. You will then have a chance to review your post, make changes and upload photos.
After posting your message, you may need to refresh the forum page in order to see it.
Before posting copyrighted material, please read about Copyright and Fair Use.
We have a strict no-advertising policy!
If you would like to practice posting or uploading photos, please visit our Test forum.
If you need assistance, please Contact Us and we will be happy to help.

Learn more about in-text links on this page here