Return to the Home Decorating Forum
|
Post a Follow-Up
---
| | | |
| --- | --- | --- |
| Florida nest: mcm suite progress | | |
Posted by
celticmoon
(
My Page
) on
Sat, May 19, 12 at 12:43
Just wanted to share an evolving vision for one room at my Florida nest, a multiyear work in progress.

This is for the ground level bedroom beyond the garage with its own entrance and bath. It is designated for my brother. He's a New England hermit type; a TV and recliner cover most of his needs. There are two other guest rooms upstairs so this is primarily his space. I can't see him in a bright beachy setting, so was stymied until I came across this $20 GW grouping last month. It was beat up but good quality and lines, and the caning detail looked a bit tropical.

I figured that king headboard could go longways along a twin xl bed, kind of a daybed look. Add a recliner and this pair of $7 GW chairs which I will reupholster. Simplified and without tufting.


I was worried the side table top was beyond repair, but I refinished it and it came out fine. Base still needs touching up.


I have a nice tropical but not trite fabric stashed for curtains, .

Maybe tan or khaki walls, green accents. Layout like this

I think it is a go, but I am open to suggestions. Thoughts? You like?
---
Follow-Up Postings:
| | | |
| --- | --- | --- |
| RE: Florida nest: mcm suite progress | | |
Wow! You GW's are allot cheaper than ours are around here. You're doing fine. Looking forward to seeing the finished room.
---
| | | |
| --- | --- | --- |
| RE: Florida nest: mcm suite progress | | |
GW pricing really varies around here. I have been very frugal, cheap, picky, whatever. Collecting for about a year now.

I sometimes lose perspective. I've been looking for an older 42" round drop leaf kitchen table to paint, one without a gateleg, rather with a slideout dropleaf support. Sturdy, and with a center leaf. Legs set apart enough to fit wide chairs. One finally appeared at GW for $29, and I almost passed because I though that was too high. Sheesh, I can be stupid sometimes. It'll work perfectly with a dropped leaf end up against the kitchen window.
---
| | | |
| --- | --- | --- |
| RE: Florida nest: mcm suite progress | | |
Nice refinishing job! I like the things you have collected for the space, and the fabric is great.

Just a couple of thoughts. Will your brother be there full time, or is this just for visits? I ask because I would not want an adult stuck in a twin bed full time. I would go with at least a full. I realize that might change the daybed feel you are seeking, but to me comfort is the bigger issue.

Also, while I like the chairs you have picked, does he really need all that seating in his private space? I think it is going to feel a bit crowded when it all gets in there IRL. Lots of chairs to get around for the closet access, etc.

Perhaps one of the chairs would double as the desk chair?

I guess I am thinking that assuming the fridge is a small one, you could set it up so that the fridge and microwave are in a cabinet below, and the tv would sit on top, or mount on the wall above them, where the mw and fridge are now.

I have some other thoughts, but knowing whether this is his full-time living space or a visiting spot, and whether the twin bed is the final choice, would make a difference.
---
| | | |
| --- | --- | --- |
| RE: Florida nest: mcm suite progress | | |
Thanks for the thoughts, Les. At 19'3" wide I was thinking there was room for a long low piece at either end, with the TV on a low dresser. Maybe not though. I share your concern about the chair pair crowding, but he'll need some chairs for video games with nephews. Splitting as you suggest would work.

This is a kind of unusual situation. My brother has some cognitive and social limitations. He's lived for decades in a cramped third floor tenement walk up. He has a single bed but usually sleeps in his recliner. He just does. Same when he visits me or other sibs. When he's been pressed to use a bedroom here, he sleeps on rather than in the bed. He'd be welcome to use one of the bigger bedded guest rooms upstairs. But my guess is he won't.

Soooooo, TMI aside, I'm setting up this space to suit him and taking cues from his space now (which despite being crowded & ancient is spotless and oddly very very comfortable to me.) He's worked over 35 years in a hospital maintenance job, and though he's saved, he has no pension, so I worry over him, especially since rent can keep going up. DH and I are committed to looking after his welfare, which is dicey since he won't take money. Helping with the dogs and looking out for things when we are not there would be plenty rent enough if he ended up living there someday.

So I'm not sure whether he'll be there full time or not. I am setting it up as if he will. I do want him to see it is there for him, and to know that he'll always have a place if he needs one.

Curious about your other thoughts...
---
| | | |
| --- | --- | --- |
| RE: RE Florida nest: mcm suite progress | | |
Here is the space with the twin chairs moved and dimensions noted.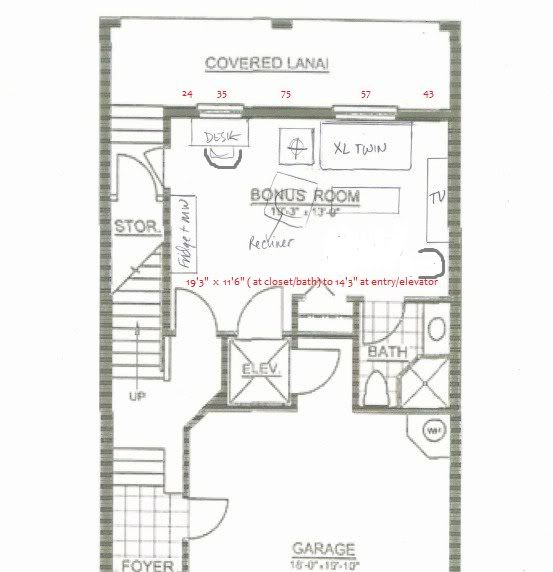 The furniture space is actually long and narrow given walkways and doorswings. The bed along the short right wall doesn't allow for any logical seating grouping.
The bed between the windows is the other option, with the recliner to the right and the TV on the left as you enter. Like this: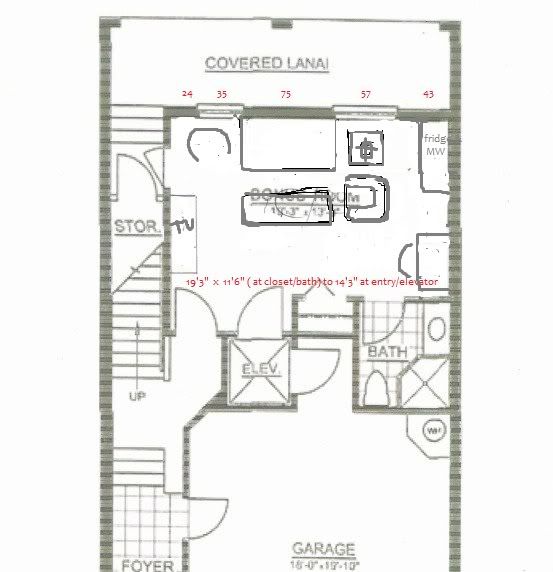 The MW & small fridge could go under the TV, and a dresser in the upper right. The seating area is larger and more central that way, with the recliner deeper in the room and nearer a window - they are monsters. Since the windows are unequal size I could 'cheat' the daybed right a touch ...but moving it under the right window leaves the recliner too far from the TV.
Thoughts?
---
| | | |
| --- | --- | --- |
| RE: Florida nest: mcm suite progress | | |
Celticmoon, I don't have any advice but just had to say that your brother is lucky to have such a loving caring sister. I think he will be comfortable in his room because you are designing for him in his way not yours. Best of luck to you. Satine
---
| | | |
| --- | --- | --- |
| RE: Florida nest: mcm suite progress | | |
Bless your heart, you are such a thoughtful person!

I like the coziness of the daybed in the original layout. Not sure if it's better with our with out the pair of chairs. I think that may be something that you might have to see how the space flows in reality.
---
| | | |
| --- | --- | --- |
| RE: Florida nest: mcm suite progress | | |
CM, by the way you described your brother in your first post I figured the layout was perfect for him. Knowing more about him now I feel that way even more. I normally agree with Les's interpretations of spaces, she has an amazing ability to visualize a space and its uses. With your brothers tendencies I feel the first layout will fit your brother personality better. You'll know for sure once the furniture is in place if it's overcrowded or just cozy.

Rule of thumb is that there be 18 inches room for walking between furniture/seating and occasional tables. You'll want more behind the chairs because of the closet doors. In my estimation I'm allow three feet. I'm figuring the chairs and coffee table at 24 inches, 18 inches between the bed and coffee table and again between the coffee table and chairs. With the 36 inches behind the chairs to the wall the total space needed would be 13 feet and 4 inches. If your room is to scale and my measuring is correct I'm guessing your room width is about twelve and a half feet. It could still work since the closet doors are bi-fold and take less space to open. Ofcourse this depends on your brothers size and if the chair was directly behind the closet door.

If you are not there to check the spacing in person then I'd do a scaled drawing of all pieces. BHG has a room arranger on their website that works great for things like this. Good luck!
---
| | | |
| --- | --- | --- |
| RE: Florida nest: mcm suite progress | | |
Would it help to mount the TV on an articulated arm on the wall between the windows? Then put the bed where the TV is in the first floor plan above?

Do you already have the recliner you are planning to use? If not, you might consider using a "wall hugger" recliner. They take up less room when reclined. I found some on the La-Z-Boy website and on Overstock. So they are readily available.

You can save some space by putting the microwave on top of the fridge. Consider having a "landing space" nearby, though, for things coming out of the mw. Could the desk serve that purpose?

I applaud your goal of making a comfortable home for your brother!
Here is a link that might be useful: articulated TV wall mount
---
| | | |
| --- | --- | --- |
| RE: Florida nest: mcm suite progress | | |
Thanks for the ideas. Doing right by my brother isn't really a kindness. It is a gift for me. He is such a good soul, incapable of being selfish or mean. He has given me so much in modeling self sufficiency in adversity. Though he cannot read or write or use a computer or checkbook, he's stayed employed, he drives, he makes ends meet. I work with people with disabilities and I know his level of independence is remarkable given his challenges. He does have one enviable talent, an almost spooky ability to evade traffic congestion. Pick him up at O'Hare at rush hour? No problem. Stroll up to the stage at a jammed rock concert? Done. Uncanny.

Back to his space... he does need his own space. His 24/7 TV drives me bonkers, and he can be maddeningly fixated on some things while oblivious to others. So a space that works for him works for us too.

Justgotabme, there is only 11'6" to the closet door (drawn as a bifold, but actually a regular door IRL). Coffee table is 30. So Les is right, that the chairs are a squeeze. Which would be familiar for him, but I think there may be better way. He wouldn't use the chairs often.

BBstx, the bed could just fit on the left. No room for side tables though, and traffic would split it off from other seating. Stacking the fridge & M/W means it could fit a number of places. (He could make it work. His current kitchen & bath are pretty marginal, e.g. no shower, tub is under a really low eave, fridge and range float each alone with no counter near, etc.) I'm going to try stacking MW on a shelf above counter above fridge, a little 2-3 ft zone. Will check out the BHG planner tool.

Thanks!
---
| | | |
| --- | --- | --- |
| RE: Florida nest: mcm suite progress | | |
Yep with only 11'6" and the width of the coffee table it would be too crowded. As usual, Les is correct.
We had a small refrigerator with a microwave on top for years upstairs and it worked perfectly. You can always use the top of the microwave as "counter" space when needed. I think putting it right outside the bathroom would be nice in case water if needed for anything he microwaves or even just for clean up purposes.
---
| | | |
| --- | --- | --- |
| RE: Florida nest: mcm suite progress | | |
oops. Cofee table is 60 x 20, not 60 x 30. Still tight though...
---
| | | |
| --- | --- | --- |
| RE: Florida nest: mcm suite progress | | |
oops. Cofee table is 60 x 20, not 60 x 30. Still tight though...
---
| | | |
| --- | --- | --- |
| RE: Florida nest: mcm suite progress | | |
sorry for the double post, I was trying to refresh and it resent the post from a couple days ago instead.
---
| | | |
| --- | --- | --- |
| RE: Florida nest: mcm suite progress | | |
celticmoon it's such an inspiration to read your post! i care for the differently abled in my home and am discovering that which makes me feel cozy and comfortable isn't necessarily what makes someone else feel good.
one of my guys is just like your brother in sleeping habits, wish to heck he had that traffic ability too!
---
| | | |
| --- | --- | --- |
| RE: Florida nest: mcm suite progress | | |
Fallingwaters, that traffic thing is really something. And true, people do prefer different things. Me, I would want most anything other than a honking recliner smack in the middle of this room, with its back to the doorway no less, but I'm not my brother.

Thanks all for your input. Putting it all together, the best plan seems to be the first one, but with changes. I'm going to cheat the daybed a bit left by shifting the drapes - the windows are different widths, so that is easy. MW over fridge by the bath, just a small spot for snacking, not serious meals. Those two occasional chairs can be tucked, one by the entry and one at the desk, and pulled out when needed. He'll be by himself usually.

Still a bit crowded, but his space now is quite packed, so this will likely feel comfortable for him.

I like that there is a dressing area space near the elevator: closet, tall dresser, and now even a chair for putting on shoes. I'll hang a mirror on the wall behind the elevator door (shown open but needs to stay closed or it won't go).
Guess I am on the hunt for mcm dressers, one taller and one low to retrofit for audio visual componants.
Thanks!
---
| | | |
| --- | --- | --- |
| RE: Florida nest: mcm suite progress | | |
Maybe I am too obsessive, but I remained troubled by some things in the above plan(s). Mostly poor view to the outside from the recliner. My brother does frequently glance out the window from his recliner now. And I wouldn't like not being able to see the door from the chair either. Didn't love the desk chair at the lanai door either. And really wanted to find a way to get him closer to the TV. He lives for TV, and the farther the recliner the bigger a TV I'd have to buy...

The answer was to unbundle the daybed and coffee table!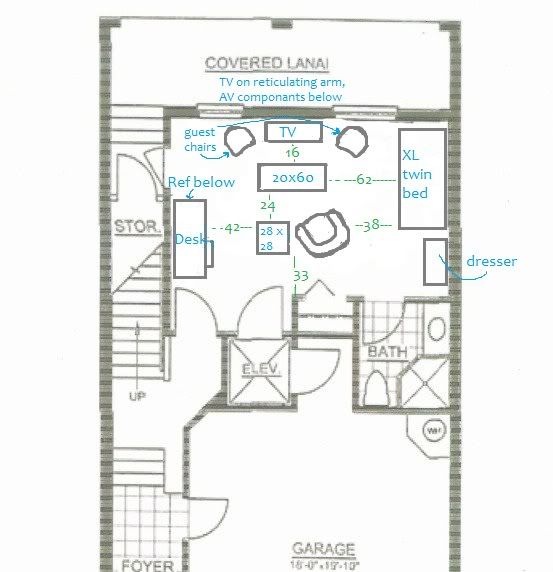 Again I'll cheat the drapery to shift the between window center 6 inches right. I have a 4 ft walnut credenza that fits well with the other things and can be the AV unit below the TV for Playstation or whatever. Use bbstx's suggestion of a reticulating arm for the TV on the wall. He will be about 7-8 ft eyeball to screen, MUCH improved over 10-12 ft in previous plans. And no window glare issue.
Bonus points: daybed can now hold a trundle for when the house is full!
---
| | | |
| --- | --- | --- |
| RE: Florida nest: mcm suite progress | | |
I haven't weighed in before because I haven't had any suggestions to offer, but I wanted to say that I really like this arrangement. You have created three separate areas in the room for different functions. And the focus is on the outside just as much as on the television. I think you've got a winner.
---
| | | |
| --- | --- | --- |
| RE: Florida nest: mcm suite progress | | |
The others have said it all but I have to add, you're one terrific woman with an equally terrific husband. Wouldn't it be great if all families were so kind.
---
| | | |
| --- | --- | --- |
| RE: Florida nest: mcm suite progress | | |
Aw thanks. He is such a good soul, it is easy for me. DH is great with him. Too many people talk down to him. DH just hangs out with him like he would anyone. Years ago DH started a thing playing off my brother's tendency to aplogize too much. Now they have a running joke: "I'm sorry." Red Sox lose: "I'm sorry." It snows and my brother will leave a message: "I'm sorry." They have fun together, mostly mocking me.

I'm killing off a parallel thread on alternate chairs. Juliekcmo wrote there I still like your other #2 original better This version does offer a lot of visual symmetry, and de-emphasizes the bed. But the TV viewer is facing outside, dealing with glare and squinting
It is a bad angle to watch the TV from the bed. Here the bed is that only, and not the daybed as in the original.
And sitting in the recliner, your brother now has his back to he door. This can be an unsettling sensation.

I should have been clearer. It is still a daybed. I was thinking glare would be less than with the TV on a side wall reflecting the windows. There will be some window treatments to control strong Florida sun, but there is shade ourtside those windows. I think it'll be OK.

The sightlines... tough to be able to see both doors and also to have a good angle out the windows beyond the lanai.
The current version isn't too bad.
He'll just have to turn his head to see the door. Worth it for closer TV viewing, larger clearances, flexible seating and a more spacious desk area.
I think.

---
| | | |
| --- | --- | --- |
| RE: Florida nest: mcm suite progress | | |
I like it too. A lot. I liked the version before in a lot of ways, for all its offers him, except for turning away from the windows and focusing on the interior walls. That didn't feel really good, but for all I knew he might feel more comfy that way. Anyway, this is very nice.

Just curious. Is he at all prone to rearranging his furniture? :)
---
| | | |
| --- | --- | --- |
| RE: Florida nest: mcm suite progress | | |
Rearranging furniture? No way. Nothing has moved at his place for decades!

Except for ten years ago, when another brother died who he'd taken in. We cleared out a lot of stuff that they had accumulated. He's kept it pretty much the same since.

If something works for him, he doesn't make changes. Often he doesn't make changes even when something doesn't work for him. So I'm trying to get this right ahead of time. One shot. After that he'll fight any change: "Nah, It's awright. Leave it. It's fine. I'm awright."

I'm sending him this drawing along with his plane info for his August trip out here. A picture really is a thousand words when reading is a struggle.
Futon or daybed - his choice. When he's here he can look over the mcm furniture and shop the lamps I've accumulated. I'm hoping he's OK with everything. I also want him to think about colors, and we'll get fabrics when he's out here. I'm thinking he might veto the drape fabric and the green coverlet. Too bright for him. When I saw him last he was watching a lot of HGTV and talking about 'neutral colors'. HGTV. Go figure.
---
| | | |
| --- | --- | --- |
| RE: Florida nest: mcm suite progress | | |
Read some of the comments here. I also live in Florida (East Space Coast) and I like your drawing of the room, very nice!

You and your brother made a good team in arriving at this room configuration, love his 'neutral colors' idea.

Some people are jarred by harsh bright colors, so staying neutral and comfortable for the user of the room is so necessary! You considered him at every step, that makes you a good designer and a great sister!
---
| | | |
| --- | --- | --- |
| RE: Florida nest: mcm suite progress | | |
I love the arrangement as you've drawn it! You always find the best things to refurbish, so I know the room is going to be perfect when it's done.

You really are a dear lady and a wonderful sister for doing this.
---
| | | |
| --- | --- | --- |
| RE: Florida nest: mcm suite progress | | |
It's all such a lovely project, and looks wonderful in that rendering. A nice place to be. I'm guessing the room will have subtropical green foliage for an accent outside in any case.

If he might hate to lose something he's gotten used to, though,...is that coffee table going to pay for its space in this room or would open space be more comfortable? Maybe he's used to having one. Another thought is that finding a nice, comfortable twin mattress for a nice price might be easier than a futon mattress, although I understand higher end ones are made a lot better these days.
---
| | | |
| --- | --- | --- |
| RE: Florida nest: mcm suite progress | | |
Might consider a round coffee table to give more walk-around space and soften the square angles...
also would recommend a regular mattress--maybe that is one reason your brother sleeps in his recliner--the mattress on his bed is not comfortable or he needs a more upright sleeping position for breathing (sleep apnea/sinus problems)...
you can get daybed with storage drawer vs trundle underneath that makes a more tailored appearance...vs a "bed" look...
Pottery Barn is expensive but that Stratton design is very simple--might be easy to make one...
and you can always go with blackout drapes/blinds to knock down the glare from windows....
---
Post a Follow-Up
Please Note: Only registered members are able to post messages to this forum.
If you are a member, please log in.
If you aren't yet a member, join now!
---
Return to the Home Decorating Forum
Information about Posting
You must be logged in to post a message. Once you are logged in, a posting window will appear at the bottom of the messages. If you are not a member, please register for an account.
Please review our Rules of Play before posting.
Posting is a two-step process. Once you have composed your message, you will be taken to the preview page. You will then have a chance to review your post, make changes and upload photos.
After posting your message, you may need to refresh the forum page in order to see it.
Before posting copyrighted material, please read about Copyright and Fair Use.
We have a strict no-advertising policy!
If you would like to practice posting or uploading photos, please visit our Test forum.
If you need assistance, please Contact Us and we will be happy to help.

Learn more about in-text links on this page here