Return to the Home Decorating Forum
|
Post a Follow-Up
---
| | | |
| --- | --- | --- |
| What blue goes with sage/olive? | | |
Posted by
katepublic
(
My Page
) on
Wed, May 13, 09 at 12:11
Our bedroom is painted in Kelly Moore Lemongrass, which is sort of a sage-olive green, definite yellow undertones. We're redoing the bathroom and I'd love to have some blue in there. Blue-green or blue-grey would be fine. DH wants light colors and wants BM Gray Wisp, which just looks a little blah to me. I'm going to check out BM Quiet moments, Palliadian Blue, Yarmouth Blue but nothing looks great next to this green. Thoughts anyone? Painting starts in about a week!
---
Follow-Up Postings:
| | | |
| --- | --- | --- |
| RE: What blue goes with sage/olive? | | |
Hello,

I have SW Steely Gray paired with SW Bamboo Shoot (green with yellow undertones) throughout my home. Here are shots of the blue/gray and the green.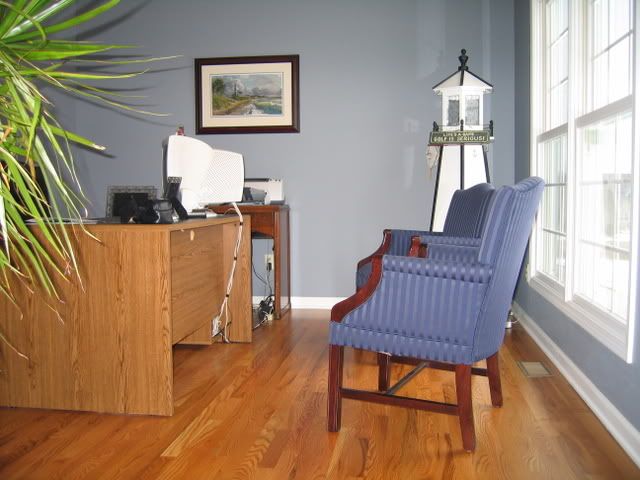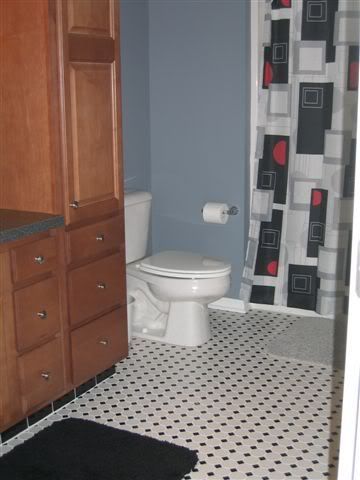 Elaine
---
| | | |
| --- | --- | --- |
| RE: What blue goes with sage/olive? | | |
I have BM Flowering Herbs/Richmond Grey (a yellowy tannish green) right next to Pleasant Valley (in both full and 1/2 strength) and they look fabulous together, acc. to guests :) I took the Pleasant Valley to half strength because of the lack of light in our room--in a sunnier area up front I used it full strength and you can't really tell the difference--the 1/2 strength in the shade looks like what the full strength does in the light. So maybe start with a full-strength sample of it and move to a 1/2 if it appears too dark. No matter what strength, it's a fabulous complement for the tone you mention.
---
| | | |
| --- | --- | --- |
| RE: What blue goes with sage/olive? | | |
I love browned/yellowed down greens with blues that have a hint of aqua. Don't go to the grayed blues, go for the white that has a hint of blue or softest blue with a hint of aqua.
---
| | | |
| --- | --- | --- |
| RE: What blue goes with sage/olive? | | |
My first thought was pale ice-blue, but I agree with Patricia, aqua would also be pretty. Olive is a rather somber color and the pale blue-aqua-teal-turquoise range is very cheerful.
---
| | | |
| --- | --- | --- |
| RE: What blue goes with sage/olive? | | |
I think a peacock blue would look interesting with olive green.
---
| | | |
| --- | --- | --- |
| RE: What blue goes with sage/olive? | | |
I did olive and peacock in my #1 son's room when he was about 12 years old. It was a beautiful wallpaper with bamboo that formed checks in peacock and olive with a very white background. His furniture was campaign furniture and I matched the blue of the wallpaper and got a friend who owned a body shop to get the furniture painted for me. I put a faux white fur rug on the floor (he was the neat one) and framed his artwork that he did for his room in silver metal frames. That almost makes me cry, so many years ago and yet it was so beautiful and it is a page from a fantastic book that my family and I wrote. They love it when people ask "have you ever used "x" color in your decor?" It is hard for them to imagine a color I have not used in decorating at some point in their lives.
---
| | | |
| --- | --- | --- |
| RE: What blue goes with sage/olive? | | |
| | | |
| --- | --- | --- |
| RE: What blue goes with sage/olive? | | |
I think a soft, light, powdery blue would be very nice, or an ice blue as stated above. A soft aqua might also work but I would favor a light blue.
---
| | | |
| --- | --- | --- |
| RE: What blue goes with sage/olive? | | |
Thank you all for your suggestions! If it were my decision alone I'd go with Beach Glass or Wythe Blue. DH likes it very light though, he thinks those are a bit dark. I find the colors seem to go together better when of the same depth. FYI the best BM match I can find for the color is Olive Branch.
---
| | | |
| --- | --- | --- |
| RE: What blue goes with sage/olive? | | |
I have a light olive green in my kitchen and use alot of blue accents. But I think the powder blue in my curtains looks so good with the green. I have light, med and dark powder blues and they all go well
---
| | | |
| --- | --- | --- |
| RE: What blue goes with sage/olive? | | |
mom2sethc - I love both of those colors. They look so nice with the light wood, which I also love.
---
| | | |
| --- | --- | --- |
| RE: What blue goes with sage/olive? | | |
Aquamarine looks great with olive green. I think those colors look good together in decorating and in winter clothing too.
---
| | | |
| --- | --- | --- |
| RE: What blue goes with sage/olive? | | |
Just reminds me of an olive green velveteen jumper I had a thousand years ago under which I wore a baby blue silk blouse with a Peter Pan collar, pearls and platinum alligator shoes and handbag.
---
| | | |
| --- | --- | --- |
| RE: What blue goes with sage/olive? | | |
My 1st thought was also BM Wythe Blue. My LR is Baby Turtle and the blue in my DR is very close to Wythe Blue. If it's too dark for your DH maybe Palladian Blue would work.

I have to be honest though: I love, love, love Grey Wisp & RH Silver Sage w/ my Baby Turtle LR. The pillows & throws in my LR are Silver Sage and I think it looks phenomenal! Lately I have really anted to paint my office Grey Wisp because it looks so good w/ Baby Turtle but I'm sticking w/ my original plan.
---
Post a Follow-Up
Please Note: Only registered members are able to post messages to this forum.
If you are a member, please log in.
If you aren't yet a member, join now!
---
Return to the Home Decorating Forum
Information about Posting
You must be logged in to post a message. Once you are logged in, a posting window will appear at the bottom of the messages. If you are not a member, please register for an account.
Please review our Rules of Play before posting.
Posting is a two-step process. Once you have composed your message, you will be taken to the preview page. You will then have a chance to review your post, make changes and upload photos.
After posting your message, you may need to refresh the forum page in order to see it.
Before posting copyrighted material, please read about Copyright and Fair Use.
We have a strict no-advertising policy!
If you would like to practice posting or uploading photos, please visit our Test forum.
If you need assistance, please Contact Us and we will be happy to help.

Learn more about in-text links on this page here