Return to the Home Decorating Forum
|
Post a Follow-Up
---
| | | |
| --- | --- | --- |
| Basement paint - no natural light? Color suggestions? | | |
Posted by
sheesharee
(
My Page
) on
Fri, May 28, 10 at 11:02
We're in the middle of finishing our basement. Drywall will soon be done and I need to start getting some paint samples.

There are no windows. So no natural light. The floors will be dark. - Pergo brazilian cherry.

I don't want "white" but the color needs to be light. (Like my rhyme? :) ) I want a little color to it. I really like Dlm's room in BM Palace White but it appears to have lots of natural light. Think I should start lighter? Grab some off whites? Any recommendations?

Dlm's room

Thanks!
---
Follow-Up Postings:
| | | |
| --- | --- | --- |
| RE: Basement paint - no natural light? Color suggestions? | | |
I hope that you have pleanty of artificial lights. Cans on dimmers perhaps. That is the secret to making a basement colorful.

Ours has a couple windows but on the north so natural light is scant, plus we use it more at nighttime anyway. Our ceilings are white as are several walls but we have some dark features and accent walls with bright colors. Our floor is medium gray tile.

It does take some courage but the lighting makes it work. Here's photos - you'll have to go past the first few to see the finished space.

Enjoy yours.
Here is a link that might be useful: Basement
---
| | | |
| --- | --- | --- |
| RE: Basement paint - no natural light? Color suggestions? | | |
fnmroberts is right. A long as you have plenty of overhead light and lamps, you can do whatever you want with the walls and stop thinking of it as a basement. We fancied ours up and call it the "lower level" nowadays! (and we all laugh at ourselves, too.)
---
| | | |
| --- | --- | --- |
| RE: Basement paint - no natural light? Color suggestions? | | |
Yeah, basement doesn't exactly sound glamorous does it? :)

Lights and lamps = check.

Fnmroberts - Thanks for sharing your basement photos. I really like it and don't think it looks cave like.

I didn't realize Palace White was a BM sample. I had a coupon that expired the 31st so I got it. I'm aiming for something creamy but not yellow so we'll see how it goes. I like dark colors but DH's man room will be down here and he's all about light walls.

Thanks!
---
| | | |
| --- | --- | --- |
| RE: Basement paint - no natural light? Color suggestions? | | |
sheesharee

I failed to mention that our bulbs are the Natural Light ones. I think that helps too.
---
| | | |
| --- | --- | --- |
| RE: Basement paint - no natural light? Color suggestions? | | |
If I got this right, one thing I learned on this forum is that if you have low light you shouldn't use white. White in a low light room will look dull. I would use a full spectrum paint. I probably would look at Ellen Kennon's colors, perhaps buttercream. You could write her for suggestions.She's great to deal with and offers great suggstions. Her paint isn't much more than BM or SW.
---
| | | |
| --- | --- | --- |
| RE: Basement paint - no natural light? Color suggestions? | | |
Funny you should post this, because we are also painting our basement this weekend. Like you, we have no natural light at all. I've been studying people's basements for a few years now, and have come to the conclusion that without natural light, trying to use light colors to brighten the space doesn't work. Everyone I know who has tried this (using various shades of white, off white, cream, etc.) ends up with a basement that looks shadowy and dingy. The basements I like the best are ones that take the "no natural light" thing and run with it -- dark walls, dark ceilings, etc. I have a few friends who have done this and it gives kind of a "movie theatre" feeling. You do need lots of can lights and lamps so you can see what you're doing when you need it bright, but the overall vibe is kind of funky and cozy. So I think that's what we're going to do. In fact, we painted our basement ceiling black today (yikes!) -- gonna take some getting used to, but I like it. Trim is also going to be black (or dark brown) as are the outlets and light switches.

That said, I'm still waffling on the wall color. I had originally wanted to copy this room I saw at IKEA that had dark purple walls: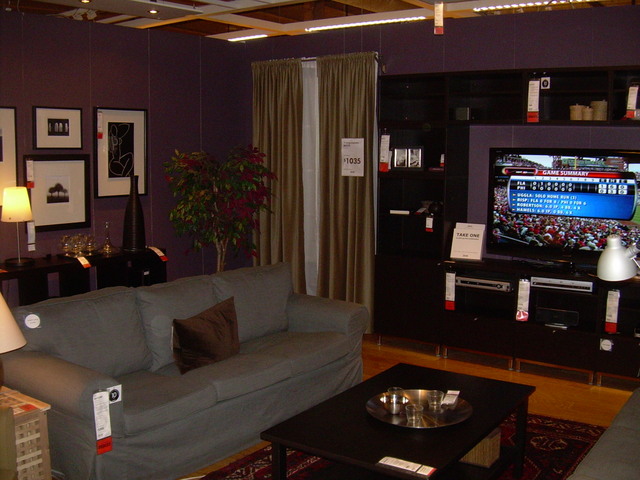 But I bought a sample of that purple color and holy moly, does it ever look dark down there in my basement. I'm still thinking of going for it (what the heck, it's only paint) but I might switch to a lighter shade on the same strip (though I'm afraid of straying into mauve or lavender territory - eek!). Or I might switch to something else altogether -- a golden tan or something.
One other thing - my husband's office is also down there, and he wants a lighter color. I had a bunch of the tinted primer we used upstairs leftover, so I slapped some up on his office walls today. Upstairs in all the sunlight, the color (BM's lancaster whitewash) looks like a light yellowish cream (a lot like the Palace White in the pic you posted). Down in his office, it looked MUCH darker -- almost like a grayish gold. So I don't think you can rely on a photo like that to show you what the paint will look like in your basement. Your best bet is to take a bunch of swatches down and look at them in the light that's there.
Good luck and let me know what you decide on -- I might still be making up my mind!
---
| | | |
| --- | --- | --- |
| RE: Basement paint - no natural light? Color suggestions? | | |
We have two rooms in our basement. One is a playroom/TV room and one is sort of a "man cave" w/ pool table although the man of the house rarely actually uses it... but that's another story. Our walls are BM Soft Fern and I really like it. Originally had pale yellow walls and ugh, I did not like that, not sure if it was because of the lighting (or lack thereof) but it just never worked.
---
| | | |
| --- | --- | --- |
| RE: Basement paint - no natural light? Color suggestions? | | |
We have one of those very tiny windows in our finished basement. The ceiling is painted white with recessed lighting. The walla are Behr Natural which is a tan color. We did an accent wall in a Behr Cocoa color (it was called cocoa or chocolate). They are not murkey or dark at all. I get lots of compliments.
---
| | | |
| --- | --- | --- |
| RE: Basement paint - no natural light? Color suggestions? | | |
I tried a sample of the Palace White tonight and I like it so far. It's a little darker than what I thought. My first thoughts were how I should repaint my foyer and hall but I just painted it maybe a year ago. I'll check it out tomorrow in the "lower level". :) I'm going to start saying that.

I'll have to check out Ellen Kennon's site. I don't think there's a store near me. I've also never looked at full spectrum paint. Everyone here says it does make a world of difference and I'd love to do a comparison.

I think it would be wise for me to try a variety of samples down there for an idea before we commit to buying the paint.
---
| | | |
| --- | --- | --- |
| RE: Basement paint - no natural light? Color suggestions? | | |
sheesharee,

I have a basement without any natural light. I have Saltillo tile in half of it, so I painted my BM Suntan Yellow. It keeps it quite cheerful, but my decor works well with it too. It is really tricky in basements. I agree with you about trying a variety of samples. That makes a world of difference.

I just used Ellen Kennon's paint in my foyer. I really do like it. Natural lighting changes do make a big difference. I ended up using Celery in our foyer and I am very happy. You can order 8" by 11" sheets of colors from the EK website, which is what I ended updoing.
---
| | | |
| --- | --- | --- |
| RE: Basement paint - no natural light? Color suggestions? | | |
As far as Ellen Kennon's paints go, you can order the large sheets and see what works best. They are handpainted and not photocopies of colors. Then you would order the paint via phone or online with Ellen and she gets the closest store that mixes her paints to deliver it to you. I actually got mine from NJ and live in NY. The paint came the next day.
Full Spectrum paints have no black in them. The colors look more vibrant.
---
| | | |
| --- | --- | --- |
| RE: Basement paint - no natural light? Color suggestions? | | |
Lighting is everything in a basement. And white walls in any shade almost never work. Definite color...and it doesn't have to be dark...is almost always better. Yellow rarely adds sunlight...it actually looks best in sunlight...but if it is reflective and clear, and the light is very bright, it can work.
Luminous pale blues can give the sense of sky, particularly if you also paint the ceiling...which you should do in any case to keep it from sitting down on top of you.
Very clear light is key...some of the new florescent corkscrew bulbs give a wonderfully bright light, and without the heat that halogen generates.
I would add big mirrors to crack the wall open visually wherever you would have a window, if you had them. You can even hang drapery to the sides to increase that illusion if you like. Lamps that are reflected in them them will throw the light around.
---
| | | |
| --- | --- | --- |
| RE: Basement paint - no natural light? Color suggestions? | | |
I was checking out Ellen Kennon's site and when I hit store locator it appears I can get the paint at Glidden stores? That's cool. I've never been to one. I'll admit though, I'm pretty content having BM or SW colors mixed into Ace paint. I'd love to try full spectrum sometime but since we have such a large area to cover we'll probably stick with the Ace royal line.

I tried Palace White down there and it looks about half pink. What in the world? With the flooring having such a reddish tone I would think that would be bad once everything is in place. So you guys are right about needing color. My go to color seems to be gold. I really like gold, not anything that reads yellow. I'll get some samples out tomorrow.

The ceiling will be white drop ceiling incase we need to get to any ductwork, etc. above.
---
| | | |
| --- | --- | --- |
| RE: Basement paint - no natural light? Color suggestions? | | |
Let's talk for a minute about the drop ceiling.
I understand about access. But if your access points are very specific (shut-off valves, electrical junctions, etcetera...), you can put stock access panels into a drywall ceiling to get at them, and not have to use the modular dropped things. It is so hard to keep them from negatively affecting the look of a finished basement. Of course you have to choose good construction practices over looks...but many of us assume we have to do things that aren't really necessary.
---
| | | |
| --- | --- | --- |
| RE: Basement paint - no natural light? Color suggestions? | | |
Oh I hear ya Bronwynsmom and agree but I don't believe DH is going to budge on this one. On the only positive note, they're very, very common here. We're going to go with 2x2 panels and I'll pick the most attractive ones I can find but it'll still be drop ceiling when we're done.
---
| | | |
| --- | --- | --- |
| RE: Basement paint - no natural light? Color suggestions? | | |
I'll chime back in regarding the ceiling issue. Personally, I believe drop ceilings make any space "Look" like a basement or retail establishment.

Just ask yourself, how frequently do you adjust the dampers. We lived here for 8 years before doing the basement ceiling and there is only 1 damper that we adjust seasonally. We left it accessible and drywalled over all others. Been another 6 years and never any second thoughts. Drywall will most likely provide another inch or so ceiling height, is less expensive, easier to clean and, in my opinion, makes the space a part of the rest of your home. If ever something needs accessed, repairs to drywall are simple. Or, just drop ceiling the soffit where the dampers are and drywall the balance.
---
| | | |
| --- | --- | --- |
| RE: Basement paint - no natural light? Color suggestions? | | |
I have a basement with no no windows. We used BM Linen white. With all the high hats for lighting and this off white color, you would think that there was a window down there. So I don't understand the poster who says that light colors look dingy.
---
| | | |
| --- | --- | --- |
| RE: Basement paint - no natural light? Color suggestions? | | |
Ellendi - Do you happen to have a photo of the Linen White you could post?
---
| | | |
| --- | --- | --- |
| RE: Basement paint - no natural light? Color suggestions? | | |
Linen white has a very slightly peachy tan undertone so it won't look dingy under good lighting. Some whites and yellows are very hard to light totally artificially (when there are no windows)--it depends what cast the artificial light puts on it. Non-corrected fluorescent can make some whites and yellows look bleak and deaden reds as well.
---
Post a Follow-Up
Please Note: Only registered members are able to post messages to this forum.
If you are a member, please log in.
If you aren't yet a member, join now!
---
Return to the Home Decorating Forum
Information about Posting
You must be logged in to post a message. Once you are logged in, a posting window will appear at the bottom of the messages. If you are not a member, please register for an account.
Please review our Rules of Play before posting.
Posting is a two-step process. Once you have composed your message, you will be taken to the preview page. You will then have a chance to review your post, make changes and upload photos.
After posting your message, you may need to refresh the forum page in order to see it.
Before posting copyrighted material, please read about Copyright and Fair Use.
We have a strict no-advertising policy!
If you would like to practice posting or uploading photos, please visit our Test forum.
If you need assistance, please Contact Us and we will be happy to help.

Learn more about in-text links on this page here