Return to the Home Decorating Forum
|
Post a Follow-Up
---
| | | |
| --- | --- | --- |
| bathroom vanity cabinet that's nice on ONE side? | | |
Posted by
jamies
(
My Page
) on
Tue, May 8, 12 at 10:56
Can you give me any direction on how to achieve a nice look on the side of the vanity that's out in the room? The other end is against the wall.

I see furniture-type vanities and I see boxy built-in vanities and I want a combination of the two.

I need enough ideas and vocabulary that I can go to a cabinet website and order the pieces.

Do you have a visual or verbal idea that can get me over this hump?

I have 2 of these to work on. The one I'm concerned with right now is in the half bath on the main floor and it will be 36" wide. It cannot be open on the bottom but it could have a nice furniture leg in front of a skirt.

I know some people order an extra door and put that on the side for kitchens, but are there other methods to use on vanities? Like maybe a leg that extends both out and to the side?

The other is in the full bath upstairs.
---
Follow-Up Postings:
| | | |
| --- | --- | --- |
| RE: bathroom vanity cabinet that's nice on ONE side? | | |
You specify finish end left (FEL) or finish end right (FER), depending on which side should be finished. If you do not specify a finished end, both sides will be unfinished.
---
| | | |
| --- | --- | --- |
| RE: bathroom vanity cabinet that's nice on ONE side? | | |
Applied Moulding Door Inset with Bead with Furniture Corner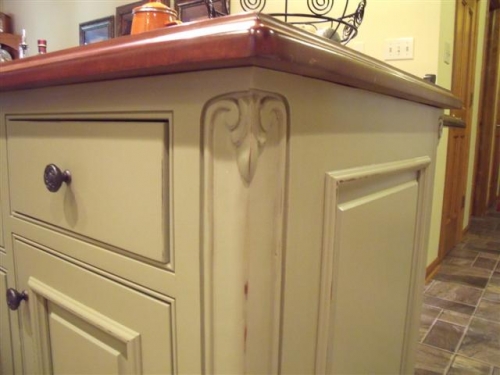 This one is fairly simple and probably a common end panel, but combined with the finish and legs it looks very nice.

---
| | | |
| --- | --- | --- |
| RE: bathroom vanity cabinet that's nice on ONE side? | | |
This is a during-build picture. We had an additional cabinet on the open side, where that cabinet has doors with a small amount of storage.

It is perfect for storing feminine supplies and extra toilet paper and is reachable when most needed.
(If you want more pictures, I can take them--the room now does have a sink, a toilet, a mirror, that sort of thing.)
---
Post a Follow-Up
Please Note: Only registered members are able to post messages to this forum.
If you are a member, please log in.
If you aren't yet a member, join now!
---
Return to the Home Decorating Forum
Information about Posting
You must be logged in to post a message. Once you are logged in, a posting window will appear at the bottom of the messages. If you are not a member, please register for an account.
Please review our Rules of Play before posting.
Posting is a two-step process. Once you have composed your message, you will be taken to the preview page. You will then have a chance to review your post, make changes and upload photos.
After posting your message, you may need to refresh the forum page in order to see it.
Before posting copyrighted material, please read about Copyright and Fair Use.
We have a strict no-advertising policy!
If you would like to practice posting or uploading photos, please visit our Test forum.
If you need assistance, please Contact Us and we will be happy to help.

Learn more about in-text links on this page here