Return to the Home Decorating Forum
|
Post a Follow-Up
---
| | | |
| --- | --- | --- |
| Is My Room Too Crowded? | | |
Posted by
choclot
(
My Page
) on
Fri, May 4, 12 at 10:55
Let me start by saying that I love the look of a cozy and crowded room. But I'm wondering if I struck the right balance here.

This is a before picture of my living/family room. While it was okay, it didn't really suit my style or the life of my family. We're more about casual comfort rather than the somewhat formal look that the room previously had.
Below are pictures of the room now. I painted the TV wall an accent color to bring in more color. I love the color palette going in the room, but I'm wondering if it's a bit too crowded now. I rarely use the doors, so I'm not concerned about blocking them. Just want to know if the room looks cluttered.
The ratty brown rug is going. I just put it down for the picture to get an idea of how a layering rug would tie the room together. I plan to buy a darker 8x10 chocolate brown shag rug that will leave only the edges of the orange rug showing underneath.
I also plan to put ottoman covers on my poor abused ottomans to freshen them up and I will get better window treatments, similar to this:


I also like this coffee table/ottoman:

Thanks in advance for opinions/advice!!
---
Follow-Up Postings:
| | | |
| --- | --- | --- |
| RE: Is My Room Too Crowded? | | |
I too like a cozy-crowded room, and think you've done well with yours. I really like the direction you're planning to go with the curtains (and I love that coffee table too!). I would move the ottoman that you currently have in front of the door to be used in front of the chair, though. Of course, that may really crowd the room if/when you bring in a coffee table, but the ottoman doesn't appear to be usable at all where it currently sits. The lamp in the corner is gorgeous!
---
| | | |
| --- | --- | --- |
| RE: Is My Room Too Crowded? | | |
Well the first thing your room did for me when I saw the After was make me smile! It's warm and inviting!

If this is what you have to work w/ for th etime being than, no, I don't think tht it is too crowded. I do have a question though:

When you have a door whose pathway appears to be blocked sometimes that can cause a room to look crowded as well as give some people a scratch on the head wondering what's going on.

I know it's hard to tell from pictures so maybe the path isn't blocked at all, but I wonder how your ottoman would work if positioned in front of the chair or in front of the sofa as a 'coffee table'.

When you do upgrade your curtains you may want to consider fixed straight panels (if they don't interfere w/ the doors) - 1 at each door. That is unless you choose to do something like a roman shade on each door.
---
| | | |
| --- | --- | --- |
| RE: Is My Room Too Crowded? | | |
I think you've got too many things pushed against the walls and it's making it look crowded.
Recover the ottoman and put it in front of the chair, or sofa if it works with a tray on it. Whatever is on the other side of the fireplace remove it. Because you can only see a small portion of it, it just looks like clutter. You need something taller there, or nothing at all.
I'm not crazy about the patterned chair or settee. I'm not sure what it would be called. I don't think it goes with the room, and I think that's a big part of why the room looks over crowded. I'd put the beige chair in that corner and omit the settee altogether.
Another thing is.. You've got kids. I see the pointy edges on the tv table and with the chairs so close, I'm afraid somebody is going to bang their head.
---
| | | |
| --- | --- | --- |
| RE: Is My Room Too Crowded? | | |
I agree with Laurie about the settee. That's what making the room look crowded. Either remove it completely or replace it with another chair similar to the beige one.
---
| | | |
| --- | --- | --- |
| RE: Is My Room Too Crowded? | | |
I am not a big fan of crowded rooms, so take my comments with a grain of salt. Overall, the room does feel a little crowded to me. Specifically, around the edges of the room look very tight, but then there isn't much furniture in the center.

The ottoman next to the chair squeezed between the fireplace and TV seem too snug. Would you consider putting the ottoman in front of the chair and moving the chair a little away from the TV? Also, is that the center part of a sectional? For me it seems odd/squished because the shape does not seem very functional for two people, but it's taking up more space than a single chair would. Again, I think a chair with some breathing room would be preferable for me.

I think a coffee table or ottoman in front of the couch would be nice, but I would recommend something in an oval shape to make certain there is still room to get to the chair/TV side.

I think curtain panels would be great. Perhaps you could position the panels to cover the door knobs and hinges. That would hopefully make the doors look more like windows (which is how they're actually functioning for you).

Also, have you ever tried switching the position of the couch with the chairs/TV? I wonder if having the larger furniture by the pony wall would help make the space feel less crowded.
---
| | | |
| --- | --- | --- |
| RE: Is My Room Too Crowded? | | |
I love the color of the wall. I does add a nice touch of color.

If you need all the seating, then I might put the triangle piece in front of the door where the chair is, but not totally against the door - out just a bit. It will block the door in a way that it might look like a window instead of a door. If you seldom use the doors, then I might put drapery panels hanging on either side of the doors so that they cover (barely) the doorknobs, which will help them look like floor to ceiling windows instead of blocked doors.

Then put the chair and ottoman where the wedge piece was. I'd leave the lamp where it is; it, too is very pretty.
---
| | | |
| --- | --- | --- |
| RE: Is My Room Too Crowded? | | |
Thanks for all the great feedback.

What's funny is that the beige chair was actually where the floral piece is now. And, on the other side of the TV, was an ottoman. I thought the space looked too empty, so I harassed my daughter to help me bring up the center piece from my sectional in the basement.

I agree it's too big, but I was hoping to make it work. I guess not!

I do have an appt to pick up this chair from someone on CraigsList. I agree that a smaller chair in that other corner would probably work best. I'm so inpatient, that if I don't have what I want when I want it, I look for alternatives. But, I'll return the sectional piece to the basement.

Chair I'm going to pick up: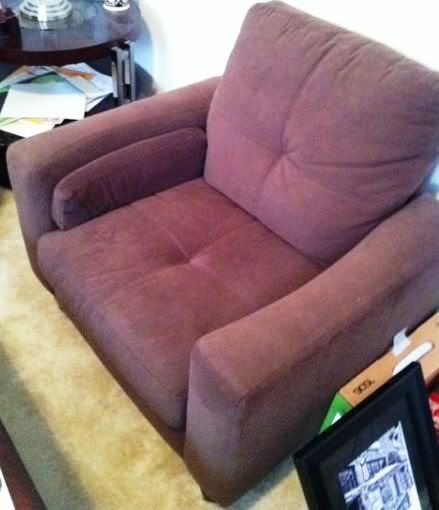 I've been trying to find a patterned chair to give the room a nice color pop, but I've been unsuccessful. Maybe I'll just use throw pillows to introduce the floral theme to the room.
I love the idea of putting the ottoman in front of the chair (not sure why I didn't think of this!).
Thanks for all of the advice. Will update when I get the other chair.
---
| | | |
| --- | --- | --- |
| RE: Is My Room Too Crowded? | | |
X2
-______________________________________________________________-
Posted by srilunewgardener (My Page) on Fri, May 4, 12 at 12:41

I agree with Laurie about the settee. That's what making the room look crowded. Either remove it completely or replace it with another chair similar to the beige one.
---
| | | |
| --- | --- | --- |
| RE: Is My Room Too Crowded? | | |
I would remove the settee, add a couple of large pieces of art to the orange wall, and mount some panels high on the wall for the doors. Room has great bones!
---
| | | |
| --- | --- | --- |
| RE: Is My Room Too Crowded? | | |
Choclot.. I know you want to finish the room, but I'm not so sure that chair from CL is the right one for your room either. It's a different style and on my computer it looks sort of worn.
---
| | | |
| --- | --- | --- |
| RE: Is My Room Too Crowded? | | |
I love olychick's idea! What a cozy little reading nook by the floor to ceiling "window".
---
| | | |
| --- | --- | --- |
| RE: Is My Room Too Crowded? | | |
Oh no, lauriedeee,

Any recs on the type of chair I should be looking for?

I wish I could take olychick's suggestion, but even though I rarely use the doors, they are used, so I don't want to block them entirely.

Thanks again for all of the great feedback.
---
Post a Follow-Up
Please Note: Only registered members are able to post messages to this forum.
If you are a member, please log in.
If you aren't yet a member, join now!
---
Return to the Home Decorating Forum
Information about Posting
You must be logged in to post a message. Once you are logged in, a posting window will appear at the bottom of the messages. If you are not a member, please register for an account.
Please review our Rules of Play before posting.
Posting is a two-step process. Once you have composed your message, you will be taken to the preview page. You will then have a chance to review your post, make changes and upload photos.
After posting your message, you may need to refresh the forum page in order to see it.
Before posting copyrighted material, please read about Copyright and Fair Use.
We have a strict no-advertising policy!
If you would like to practice posting or uploading photos, please visit our Test forum.
If you need assistance, please Contact Us and we will be happy to help.

Learn more about in-text links on this page here