Return to the Home Decorating Forum
|
Post a Follow-Up
---
| | | |
| --- | --- | --- |
| Buying used furniture for second home--and repainting | | |
Posted by
loves2read
(
My Page
) on
Mon, May 14, 12 at 10:38
We are buying second home in FL--built in 77, 4/2/2--with remodeled kitchen and original baths--8 ft ceilings.
We will have the entire interior repainted before putting any furniture in
we are likely going to shop consignment/second hand stores for lot of stuff except mattresses and big upholstered furniture--
we want a more beachy look than the current owners are using...

the house has 2000 sq ft but because it has 4 bedrooms and a utility room and decent closets, the bedrooms are small...
the kitchen remodel involved taking down a wall and creating an open floor space in the main living/dining areas and those ceilings are somewhat higher...there is good cross lighting there as well...

IF we do buy various styles of furniture including some wicker/rattan seating pieces as we anticipate...there would be a pretty electic style...to unify the look and make the rooms look bigger--

would it be better to paint all furniture a shade lighter than the wall color if we go with white walls and trim so that the furniture blends into the walls to make rooms seem bigger?
To me it makes sense to have all furniture the same color of white unless a piece might have really attractive wood grain/finish to keep

We are also considering using color on walls/ceilings--maybe a light sandy tan with contrast white trim but can't really decide until we are actually IN the house--

we are buying it w.o actually doing personal visit...lots of reasons why although I know it seems pretty foolish...

I think the 8 ft ceilings have pretty heavy texture as well which I would like to cover with beadboard in most rooms.
I don't think my husband will agree to spend money for that right away...

any suggestions on paint color for furniture if you have done lot of white furniture--
some web sites say not to use a glossy finish--that matte really works better for furniture...
any opinion as to the different sheens?
---
Follow-Up Postings:
| | | |
| --- | --- | --- |
| RE: Buying used furniture for second home--and repainting | | |
First off, I think you need exact measurements of the room in question and then make a graph so that you can figure out where to place furniture and what sizes you need. That will avoid a lot of errors. There are sites online where you can do it but I have never used one. Once that is accomplished you should google beach looking rooms and find an inspiration of what you might like and then get the paint up. I, personally, would not do white furniture with white walls unless you plan to use more color elsewhere. I'd do the walls a pale tan (like the sand on the beach when it's sunny) and do a few pieces of furniture a very pale aqua and the others shades of white.
We have a home on the water and we spray painted the odd pieces we picked up and used an eggshell or semi gloss. It's so much easier to spray them than paint with a brush. Make sure you get really comfy furniture as it sounds like you'll have lots of company lol. Just a suggestion to get started, others will add to it soon.
---
| | | |
| --- | --- | --- |
| RE: Buying used furniture for second home--and repainting | | |
Yes--I have spent days looking at sites online with photos of beach homes and beachy interiors--
lots of ideas but sometimes difficult to tell if that paint color would work in your house because so much depends on light/flooring colors

one thing I did read online that makes sense is that too many colors is not beneficial--
we originally though to do each bedroom in different color-with more tropical flavors-but the three guest rooms all open into the same hall very close to each other--too much of a rainbow effect I am thinking now...

so now it is either white/white or tan/white for walls and trim...

how many people use a spray paint gun to do something like this--
I am talking maybe 2-3 bedroom suites, some side tables, and maybe some wicker pieces
---
| | | |
| --- | --- | --- |
| RE: Buying used furniture for second home--and repainting | | |
loves2read we just (December) bought a second home in Florida built in '72 (needed some updating which is underway as we speak- we're doing it from a distance- taking texture off ceilings, putting in some beadboard ceilings, putting hardwood floors throughout, etc.).

Anyway, we were going to buy primarily second-hand furniture for the house too since we are working on furnishing our main house. However, it turned into a giant pain and time consuming to drive all over the place and try to coordinate delivery and so much of the stuff we looked at was just not as nice as people promised it would be.

Instead, we ended up just going to a Rooms to Go Outlet and a furniture liquidation store and furnishing the whole house in a day and having the furniture delivered. The furniture probably didn't even cost as much as good second hand stuff would and it all matches and we went w/ a wicker/rattan theme and were able to find all kinds of pieces to go w/ that theme. It's not the best quality of furniture but it is fine for a second home and it looks good (and the couches are comfortable).

So, just a thought, might be worth checking out for you as well.
---
| | | |
| --- | --- | --- |
| RE: Buying used furniture for second home--and repainting | | |
We purchased a pro spray gun and first off painted our house exterior. It was a blast, the prep was the hard part. Then we decided to tackle all the douglas fir walls in our lakehouse, did 3 bedrooms, kitchen and bath. They came out great. We did the ceilings with the same paint so we didn't have to be careful with overspray. You could also rent one. This summer we're going to paint the screened in porch with it, vaulted ceilings and all.
---
| | | |
| --- | --- | --- |
| RE: Buying used furniture for second home--and repainting | | |
@beagles--
yes--that is what our friend suggested--going to Rooms to Go--
I don't know about the cheaper part though--
what part of FL are you in?
we are buying south of Sarasota in Nokomis--

there are quite a few consignment/second hand/thrift stores in the area that people on another website I post that has local Venice/Sarasota posters say are good places to shop for better used furniture

did you find it difficult to get good contractors to do your work?
I am trying to find some painters to give us quotes and lot of people in that area are not with Angie's List and don't have web sites--
just Yellow page type listing

Our daughter lives right next door to this house--
we can only stay for a week after the closing and have to go home
our son is being married first part of June and my husband has business stuff to take care of--
do't know when we will get back...normally she would be very helpful but she is teaching school and pregnant so she has enough on her hands without becoming our supervisor
---
| | | |
| --- | --- | --- |
| RE: Buying used furniture for second home--and repainting | | |
loves2read, we are in the Clearwater/St. Pete area so not too terribly far from Sarasota.

Rooms to Go itself wasn't less expensive but the Rooms to go OUTLET is extremely cheap. We paid I think $299 for a sectional couch. $300 or $350 for a wooden rattan-ish king bed. $199 for a very heavy solid wood dining table and six (cheap) chairs that I got slip covers on and made look great. I wish that I could take pictures but I'm back in my PA house. The stuff does look really nice, although not anything close to hierloom quality or furniture like I would put in my full-time house.

We found our contractor walking down the street in our neighborhood. He was doing work for a neighbor and we started talking to him. He is very, very slow but very cheap and meticulous about doing work. I had no qualms about leaving him the keys to my house to do the work while I am in PA for six months. I would advise talking to neighbors and getting referrals on people doing work. Everyone has houses of the same age so are probably remodeling right along w/ you. I guess that will be hard for you to do with only going for a week though.

---
| | | |
| --- | --- | --- |
| pictures | | |
loves2read I found a few pictures although they aren't very good. Everything you see pictured is from rooms to go except the papasan which is from brookstone. Don't mind the ugly rooms- they are all pretty much being completely redone (new paint, carpets torn out to replace hardwood, new windows and doors, texture off ceiling and trimwork added!)
---
| | | |
| --- | --- | --- |
| RE: Buying used furniture for second home--and repainting | | |
thanks for taking the time to send the photos--
we are hoping to go with lot of white--vs the darker, plantation/east indies look...
and use more color
the people who own the house now are an older gay couple but they have a real mishmosh of furnituree--with pool table and a bar having price of place in the main LA/DR area in front of house...

since we have not been in the house yet--our perceptions are through the MLS photos and ones our daughter took
I think in the main LA ther will be good cross light from east/west--but the master bedroom will have north light and some from the shaded lanai slidres...the other bedrooms have those small FL windows that don't really let in lot of light at best of times...

somee people say that white walls/trim make a digny look at night---
some of the walls currently are a tan--some are white
going next week to close and will choose colors then

Did you say you are in Tampa area?
where did you shop besided Roomss to Go outlet--I have one here in DFW area and think theree is one in Tamps
---
| | | |
| --- | --- | --- |
| RE: Buying used furniture for second home--and repainting | | |
We are in Clearwater, so pretty close to Tampa. We went to a bunch of consignment furniture and flea market shops and also used craigslist and went to Pleasers (I think that was what it was called for patio furniture) as well as Kane's and a few other places. Rooms to Go had the best stuff we found. A lot of the consignment furniture was very 1970's and I am trying to de-1970's the house, not emphasize it! Hopefully you will have better luck.

We're repainting all of our walls in the entire house (after the floors are redone and popcorn removed from all ceilings). We had beadboard installed in the "sunroom" and dining room and are doing a wainscotting (informal) in the living area. All molding below the chair rails and all trim throughout the whole house is getting painted Martha Stewart Icerink (a really pretty blue-ish color) and the top is going to be grey. We're doing white hardwood floors throughout the house and wanted the darker furniture for a little bit of contrast.

The biggest thing we did which made a huge impact was taking out all of those aluminum sliders that the 1970's FL houses are famous for and replacing w/ french doors. It completely changed the entire look of all of the rooms when we tore those out and isn't a hugely expensive fix. We also took all the 1970's slab doors off throughout the whole house and replaced w/ six panel doors from Home Depot. Again, not a huge cost but a huge difference. The aluminum windows everywhere are next to go.
---
| | | |
| --- | --- | --- |
| RE: Buying used furniture for second home--and repainting | | |
Can understand why the dark furniture works in that design scheme. This house has had some remodeling but their taste is not what i would have picked---they put dark granite --absolute black I think--in kitchen but didnt work in a pantry---stayed w same layout to save money and it would have been better to close one of the sliders and move kitchen more to one side .

Would love to take up all their flooring and stain concrete but some of it is new. My husband wont see any point in that
So will have to work around--totally agree that sliders are the pits. We hsve 3...not very safe from burglers either

Did u have trouble w insurance?
It is crazy compared to TX where we live
---
| | | |
| --- | --- | --- |
| RE: Buying used furniture for second home--and repainting | | |
Yea the people who we bought our house from "redid" the kitchen too (no layout changes) and I hate it! Cheap builder grade cabinets and beige. We're going to tear that out too w/in the next few years and put in something decent!

Insurance is extremely expensive! We had to get FEMA flood insurance b/c the house is on an inlet off the intercoastal, and then a regular insurance policy. All told, we're paying like twice the cost to insure the Florida house than we're paying to insure our house in PA even though our house in PA is worth about 4 times what our FL house is worth! We do have a good insurance agent who found us the best deal possible, if you're looking for a name, I can get you her contact info- although she's in Clearwater so you might want someone closer to you. Let me know if you do want a referral for anything.

We actually got exterior french doors to replace the sliders at Lowes and just bought the cheapie Reliabilts and I like them better than the anderson doors at our PA house! Some of them were custom sizes and they were still really reasonable in cost. Are you going to replace your sliders?
---
| | | |
| --- | --- | --- |
| RE: Buying used furniture for second home--and repainting | | |
Our RE agent gave us 2 people
Found another through the BBB site
Had problem w electrical -- breakers were double tapped--mesnt 4 pt inspection has noncompliance so no ins until fixed.
Sellers refused initially and we accepted contract wo clause that it had to pass inspection... Thought unnecessary becsuse of all renno they did.
Was cheap to repair but should have been done right after inspection
We r supposed to close Monday and no ins lined up so far

We havent talked any change but paint interior initially and we need to get pantry put in kitchen somehow. Im not walking 15 ft to a hall closet to get cereal in the morning or chips for a snack...
Just goes to show gays arent all great decorators
---
| | | |
| --- | --- | --- |
| RE: Buying used furniture for second home--and repainting | | |
Congrats on the house. We also bought a Florida place a year ago (Tampa Bay area), but we have a long term tenant since we are not ready to be there enough to justify the carrying costs. We faced the same dilemmna over whether to buy furnishings here or there. I decided I could make out better stockpiling things here in the garage and basement since I have time and storage space and I like to refurbish things. Since you are buying there, I strongly recommend a visit to Decor Direct in Sarasota - wonderful unique and exotic pieces, there are many that would 'make' a room.

Agree with the advice to lay out the spaces and decide on the furnishings' dimensions. If you are patient, you can find most anything; eventually I found the 9 ft long, 2 ft tall, 14 in deep cabinet that was in my head. I also decided to buy the beds and couches new (bug phobic). And will recondition the solid pieces: dressers, tables, chairs, etc. I'm learning upholstery and I've been carefully trolling Goodwill, Craigslist, etc and adopting pieces that need work. Today I scored a CL pair of wicker headboards I'd been seeking for months. ($30 the pair - sweet). Woo woo. Over the last year I have collected lamps, frames, wicker, several pairs of Hollywood caned chairs, some Provincial dressers and night stands, beachy dressers, a teak pedestal dining table, many other tables, desks etc. And a fabulous $20 MCM caned grouping for my brother's room (king headboard = daybed back, coffee table and end table) My budget is zip - essentially I am burying the furnishings cost in my grocery budget.

I am painting some pieces, refinishing others. I am using spray paint for wicker, and Annie Sloan's chalk paint for painting wood. (Brushwork.) Her paint is pricey but so easy. You can mix a range of beachy colors with her gold, turquoise, green and white.

Fun project, planning a Florida nest. We may be starting a trend... lots of property there going to turn over in the next 10 years. Sure beats Wisconsin winters!
---
| | | |
| --- | --- | --- |
| RE: Buying used furniture for second home--and repainting | | |
loves2read we had a similar issue w/ double tapped breakers and overloaded circuits in our house. Guess that that's probably common to houses of that era.

Good luck with the closing!
---
| | | |
| --- | --- | --- |
| RE: Buying used furniture for second home--and repainting | | |
Celticmoon--that is exactly what i am hoping to do
Would never consider second hand mattress no matter how good condition.
Have seen decor direct on Sarasota CL
R u looking on Tampa CL or your home's site
In DFW I dont get same type or Quality that I see on SRQs CL
But my husband is leery of CL -- thinks we will be jacked by poster or find furniture isnt in good shape
Have 4 captain guest chairs we had in storage for years I hope to reuse and cover in linen or sunbrella ikat maybe---paint wood white

But my husband is always in a hurry
---
| | | |
| --- | --- | --- |
| RE: Buying used furniture for second home--and repainting | | |
Congrats...how exciting! We did the very same thing almost 3 years ago in Cape Coral, FL.

We went back and forth trying to decide if we should wait and purchase everything there or purchase at home. We were only going to have 10 days to get everything painted and set up (we were setting it up to rent as a vacation home). I knew we wouldn't have time to shop down there and search CL ads.

We lucked out because the previous owner had the floor plan still since it was only 7 years old. We bought most furniture at either Ashley furniture or another locally owned store. We bought close-out floor samples and got some really good deals from our local store. I was worried about any long lead time items and scheduling delivery. We bought the sofas/end tables/coffee tables from Ashley. We hauled everything down in a Uhaul!! I'm glad we went that route, it was much less stressful I think.

On top of furnishing and painting, we had to build an owner's closet in the garage, install an island bar countertop and construct a tile table at the dock! Luckily we had another couple with us and my BIL to help. It was a lot of work.

We painted all the rooms a light green color and did a couple of accent walls in blue. We get a ton of compliments on it. I stressed out enough over one color...I didn't want to do multiple colors.

Your RE should be able to help you find some contractors. Ours helped us with our pool enclosure and hurricane shutters. We had looked up a few in the phone book and they quickly realized our situation and thought they were going to make a quick buck on us by charging almost double what we ended up paying with our realtor's contractor for the shutters.

And don't fall for any contractor just stopping by and checking out your AC unit. We figured it couldn't hurt to have him look at it and check it out. He tried to tell us we needed a whole new system!! Luckily we are in construction ourselves and knew he was full of it.

Hope it is okay to post our website. You can look at the pictures there for some ideas.
www vacationhomeincapecoral com

How often will you get to visit? We only get down 2 or 3 times a year. We just got back home on Saturday, and I am ready to go back :)

Good luck on your adventure....and closing! That part is so stressful too!
---
| | | |
| --- | --- | --- |
| RE: Buying used furniture for second home--and repainting | | |
I think you have to examine the look you want, your budget and if you want to spend your visits there shopping. Personally a done over time thrifted, beachy look would thrill me. I would enjoy the thrift shopping.
I personally would order new matresses with just a standard metal frame. Get a card table and chairs and some ikea or other cheap dressers and then start shopping for replacements. It doesn't have to be done right away. And especially in a vacation home I think the over time painted beachy look is so nice. I like a just off white but also think a very pale aqua would be beautiful on some pieces.
---
| | | |
| --- | --- | --- |
| RE: Buying used furniture for second home--and repainting | | |
Just wanted to thank Beaglesdoitbetter for the furniture store ideas--we just bought a condo in Clearwater Beach, and may very well be looking for furniture (it is furnished now, but long story, is the previous owner's furniture, and will be going with the current renters). We had not considered the Rooms to Go outlet, great idea!
---
| | | |
| --- | --- | --- |
| RE: Buying used furniture for second home--and repainting | | |
I'm on theCentral FL east coast and we always joke that some condo has a new owner when we see a Rooms to Go truck outside. I'd say that most of the condos over here use Rooms to Go. That's just about the only thing on our Craigs List too.
---
| | | |
| --- | --- | --- |
| RE: Buying used furniture for second home--and repainting | | |
No problem jb1586. Congrats on the condo! Not to hijack the thread, but are you familiar w/ the Clearwater Beach area at all? If not, you need to go to Island Way for dinner (it's right in Clearwater Beach and has the most beautiful setting and the best food- go after 6:15 to get the daily specials from the fish caught that day) and also Mystic Fish which is closer to the tampa area so a little bit a drive but an amazing $12.50 happy hour 2 course meal and an amazing $15 Bouillabaisse loaded w/ seafood. It is making me want to go back there just thinking about it!!
---
| | | |
| --- | --- | --- |
| RE: Buying used furniture for second home--and repainting | | |
Loves2read, funny that the Florida Cl seems better than your Dallas CL. I found the opposite, with much better CL options here in Milwaukee vs Florida. Maybe because there is such old stock here. Most of Florida seems to have been populated after the 60's, and I am not too keen on the quality of recently made furniture. I'd rather rehab something solid wood.

My needs are unique, though: dirt cheap but great potential. And I have time to search out pieces and to rehab them. I just finished a $7 Goodwill chair that started like this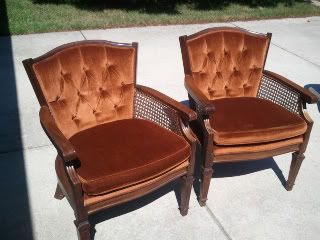 and now is this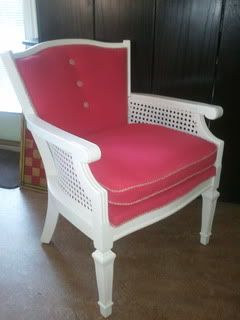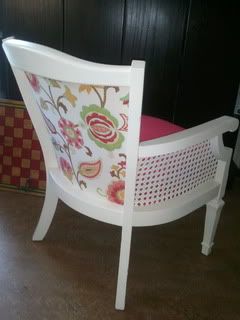 I am learning to sew and upholster practicing on the guest rooms, ha. The chair will go in the twin bedroom for which I just found those wicker headboards. I have miles of the red fabric ($1/yd) for bedskirts and scored 2 new oatmeal linen Shabby Chic duvets at Goodwill into which I'm slipping clearance Kohl's $16 quilts. I have a free dresser that needs painting, and some Goodwill wicker lamps. Some CL desks and tables, and a little yardsale dhurrie rug. Sew up some pillows. DH and I will make artwork - and I use the term loosely. Voila! One room done.
I found it helps to let a vision evolve in your head for each room. I go nowhere now without my notepad filled with fabric scraps, paint colors and dimensions.
---
| | | |
| --- | --- | --- |
| RE: Buying used furniture for second home--and repainting | | |
Beagles--thanks so much for the restaurant suggestions! We've been there only twice, but cannot wait to get back and explore! And Celticmoom, what a fantastic transformation on those chairs!
---
| | | |
| --- | --- | --- |
| RE: Buying used furniture for second home--and repainting | | |
Awesome chairs
Did not expect to find so many FL 2nd home people in close proximity
We r getting house vs condo---neec yard for our dog when we come forongrr visits
---
| | | |
| --- | --- | --- |
| RE: Buying used furniture for second home--and repainting | | |
Who is your insurance carrier if you don't mind saying--
Citizens for wind/hurricane of course

our best quote has been with Tower Hill for HOI...
---
| | | |
| --- | --- | --- |
| RE: Buying used furniture for second home--and repainting | | |
ASI Assurance Corp out of St Petersburg. I did not research or get multiple bids. We were scrambling to get insurance in place before a very fast closing and followed recommendations of neighbors. Our agent said ours in May last year was one of the last policies she got though before some changes went into effect that impacted rates. I held my breath this year opening the envelope, but the premiums didn't change significantly.
We are on water and in a flood zone. We paid 152k for the townhouse but insure for 320k, closer to value. Our (FEMA) flood is $526 and regular insurance including hurricane is $1712: $960 hurricane and $752 regular. The hurricane componant started at an eyepopping $5.5k. Discounts for the construction features (2006 build) and opting for a high deductable for hurricane damage cut it down to the $960.

Hurricane and flood insurance is a real buzz kill.
---
| | | |
| --- | --- | --- |
| RE: Buying used furniture for second home--and repainting | | |
we asked several agents but some of them were kind of squirrley
the one who has followed through and given us a quote is with agency in Englewood--south of where our house is--

HOI is with Tower Hill and has house valued at 280K--
we did not buy distressed property so value is just little higher than sales price--apparently that is common since all the quotes we have seen have used that same $$ amount
and we are getting higher liability coverage through special plan -- 500K--that also has coverage for pool cage that is not given through Citizens or HOI

probably overinsuring but Citizens alone is 1551 and HOI is little less
this house is not on water--is about 2 mi in crow-flight from Gulf...but it is 1977 construction w/o a hip roof, has older windows/garage door--no permanent shutters--
which all make difference when getting wind policy

our FEMA is about 350
our agent priced higher deductables for HOI but did not really make that much of difference on policy costs

thanks for the info
---
Post a Follow-Up
Please Note: Only registered members are able to post messages to this forum.
If you are a member, please log in.
If you aren't yet a member, join now!
---
Return to the Home Decorating Forum
Information about Posting
You must be logged in to post a message. Once you are logged in, a posting window will appear at the bottom of the messages. If you are not a member, please register for an account.
Please review our Rules of Play before posting.
Posting is a two-step process. Once you have composed your message, you will be taken to the preview page. You will then have a chance to review your post, make changes and upload photos.
After posting your message, you may need to refresh the forum page in order to see it.
Before posting copyrighted material, please read about Copyright and Fair Use.
We have a strict no-advertising policy!
If you would like to practice posting or uploading photos, please visit our Test forum.
If you need assistance, please Contact Us and we will be happy to help.

Learn more about in-text links on this page here