Return to the Home Decorating Forum
|
Post a Follow-Up
---
| | | |
| --- | --- | --- |
| Doors with blinds 'inside' the glass? | | |
Posted by
jockewing
(
My Page
) on
Fri, May 27, 11 at 10:23
The backdoor at my house that goes from the kitchen/dining area to the back porch needs to be replaced. Currently, it is a metal door with a large glass insert, and I have a bamboo roman shade mounted to cover the glass.

I have been looking at those french doors and pane glass doors that already have mini-blinds inside the panes of glass. From a convenience standpoint, those doors are fantastic, but I'm not sure if I think they look all that great. The problem with the bamboo shades is they swing when you open the door and don't look so sharp where you have to screw it in at the top of the door. Will it look odd to have one of these inside shade doors when all the other windows in the room are bamboo shades?

Can anyone post pics of their doors with the interior shades?
---
Follow-Up Postings:
| | | |
| --- | --- | --- |
| RE: Doors with blinds 'inside' the glass? | | |
I wasn't able to see your picture using that link. I have not seen blinds in french doors before but in other sorts of doors I think the look is fairly neutral. I feel they will just become something you don't even notice so I would not worry about the difference with the bamboo shades at all.
---
| | | |
| --- | --- | --- |
| RE: Doors with blinds 'inside' the glass? | | |
Oh, the "swingin' door blinds" clack drives me nuts! I've had that setup before, but now have a door with blinds in the glass and I love it! (Sorry, don't have a pic.) I don't think it would be strange at all with what you have on your windows - am assuming that you can get a color that would complement your bamboo blinds - but would just look like the door is treated as a "separate entity" from the windows.
---
| | | |
| --- | --- | --- |
| RE: Doors with blinds 'inside' the glass? | | |
I have two back doors - one into my mud room/laundry room which my DH uses. I recently replaced an old wooden slab door with a new fiberglass kitchen style door with built in blinds (the kind with just a window in the top). Strangers to our home sometimes think it is our main back door, so I like to be able to close those blinds easily so that strangers don't see my sorted ples of dirty laundry, plus other junk. I usually just keep it in the tilted up position, so I can see out and visitors can't see in.

I also have a "main" back entrance which has french doors. That is the only door that anyone uses at my house because my driveway comes to that door. I seriously considered getting the inside blinds, but ruled it out because I really didn't need the privacy what with living in the country, a hill with a forest behinds us, and no direct sunlight. And we are usually in a fairly "decently dressed" stage in our living area. I really don't care who shows up at that door and catches me in my jammies.

If I needed the privacy, I would not hesitate a minute to have the inside mount blinds. I also had the grids inside mounted for ease in cleaning and also for ease in painting the door. My old door had outside grills and they were a pain.

Tuesday
---
| | | |
| --- | --- | --- |
| RE: Doors with blinds 'inside' the glass? | | |
We have the Lowe's/Reliabilt (made by Jeld-Wen I believe) fiberglass with the blinds between the glass. They're gorgeous! No regrets at all. They are also fairly inexpensive if you need a standard size, about $800 plus installation. Of course, we could not use a standard size and needed a special order that cost a little more.

They come primed and are easy to paint.

We used up the rest of our EnergyStar tax credit with them since we were able to get them installed right before Christmas.

BTW, we also got an estimate from Pella, and they were about $4K for fiberglass. This was also pre-painted.

This is from Christmas Eve. DH is shy.
---
| | | |
| --- | --- | --- |
| RE: Doors with blinds 'inside' the glass? | | |
We have two doors like this in a rental property we own, and they are great. They are both glass on the top with the standard white blinds in-between the glass. I think they cost about $250 each at Menards a few years ago. Sorry, I don't have any pictures handy.
---
| | | |
| --- | --- | --- |
| RE: Doors with blinds 'inside' the glass? | | |
We've had a similar treatment for 12 years with no problems. We have a wrap around porch with the front door in the center and french doors on either end. One door goes into the breakfast room and one door goes into our bedroom. Then we have another french door off the back that goes onto the deck. What we have on all three doors is a glass covered frame that you mount onto the doors and the mini blind is inside. I have 2" wood blinds on all other windows and curtain panels in both the breakfast room and our bedroom. I've never considered it odd that the door has the mini blind deal. To me, it's a door and I didn't necessarily want it to look just like the windows. I searched Lowe's site and the link below is what we have only made by a different manufacturer and in a different size.
Here is a link that might be useful: door blind
---
| | | |
| --- | --- | --- |
| RE: Doors with blinds 'inside' the glass? | | |
I will also make another point. I was concerned about how well they would hold up and having to deal with replacement/etc and asked a salesperson at Lowes about this. He made a good point with this statement "See our display model here in the store - every customer that passes by raises the blind and lowers it once or twice and tilts the blind once or twice, so they get used at least 20 times a day, and they are still functioning". That made a believer out of me.

Tuesday
---
| | | |
| --- | --- | --- |
| RE: Doors with blinds 'inside' the glass? | | |
Tuesday, I remember you posting that before, that everyone in the store works the blinds. We are very happy with them, and we live in the city, so we do need them closed during the day when we're not home and at night.
---
| | | |
| --- | --- | --- |
| RE: Doors with blinds 'inside' the glass? | | |
Well you all have me convinced. I will put this down on my "list" of a million things that need to get done!
---
| | | |
| --- | --- | --- |
| RE: Doors with blinds 'inside' the glass? | | |
We are renting a townhouse which is Swedish built and all the windows have blinds inside the glass. They work well and the townhouse was built in the 80's, so I think they have held up well.

The downside is the cords are outside the window and some of the cords broke making it impossible to open the blinds. These are European windows so hopefully the products sold here have better cords.
---
| | | |
| --- | --- | --- |
| RE: Doors with blinds 'inside' the glass? | | |
We replaced our back door (which had a double-hung style window in it) interior blind door. We like it but have had some problems with it not working properly. The company has been out twice to fix or replace it (cannot exactly remember what they did). Anyway, it seems to be working fine now. Be sure to get a good warranty.
---
| | | |
| --- | --- | --- |
| RE: Doors with blinds 'inside' the glass? | | |
They make them with a slider on the top, no cords to raise them up and down. If you aren't interested in new doors but just the inside shade, they sell retro fitting kits where you put the glass/shade combo right over the existing door window, same effect. They hold up well and no one notices the add on. My MIL had one on her back door leading out of the open concept main room. She had other shades on all the other windows. It did not look out of place at all. I think a lot of people don't "expect" to see a shade on a DOOR, so they don't notice.
---
| | | |
| --- | --- | --- |
| RE: Doors with blinds 'inside' the glass? | | |
We will have 3 of said doors in our new house. My husband is in a wheelchair when he is not using his prosthetic legs and man can he tear up some blinds/shades/pretty much anything you use to cover a door for privacy. They were the best option my builder and I could come up with.

Just installed blinds up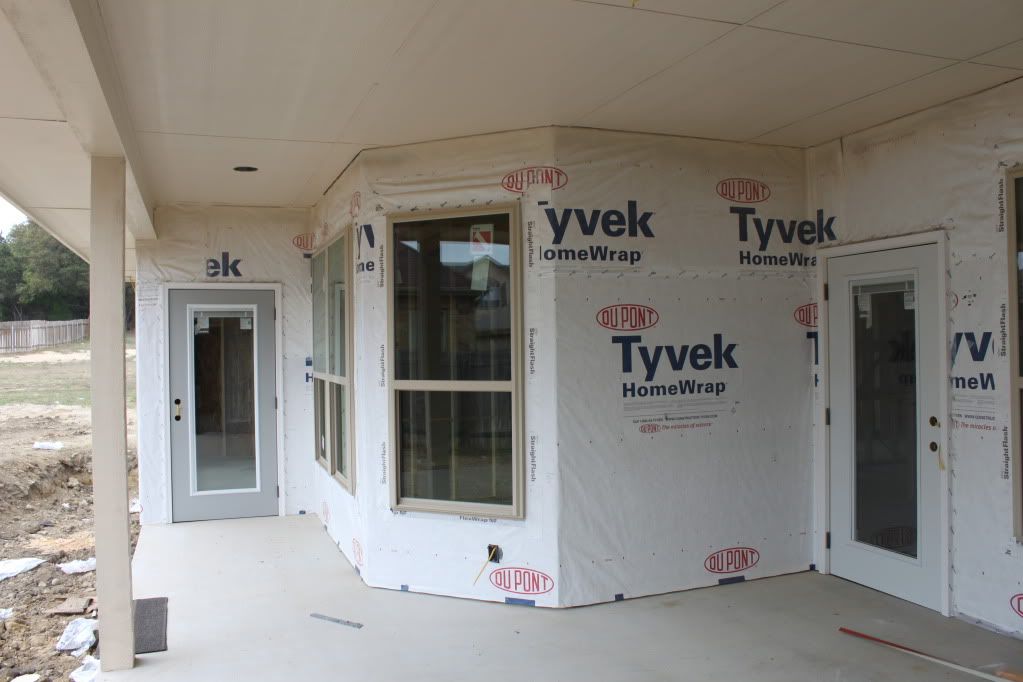 Taken earlier today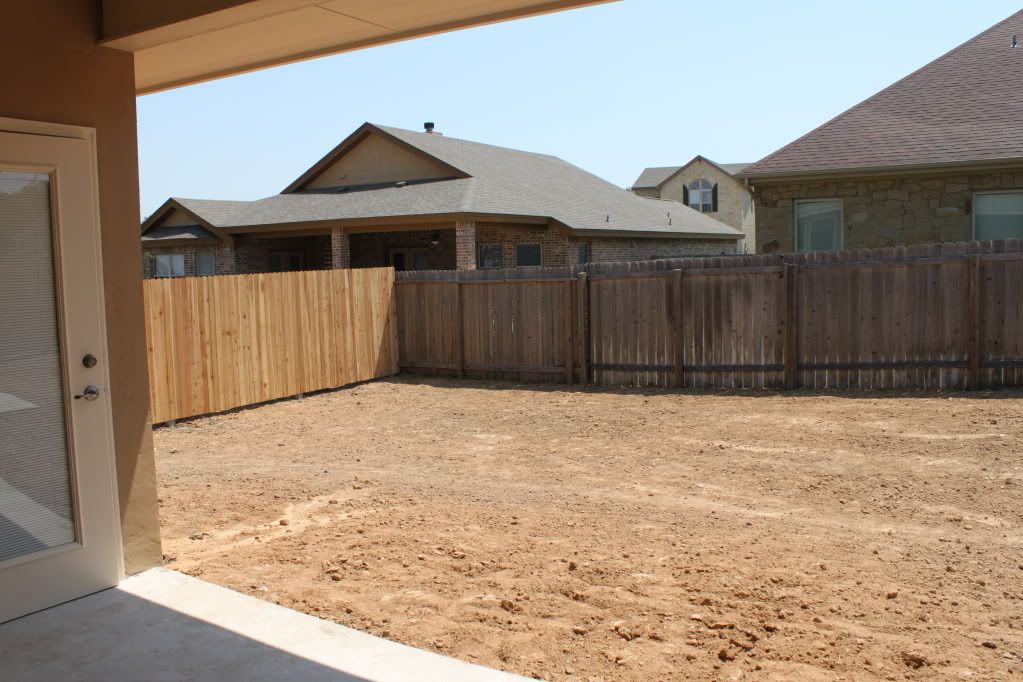 Sorry I dont have a better picture of the blinds down and closed.
---
Post a Follow-Up
Please Note: Only registered members are able to post messages to this forum.
If you are a member, please log in.
If you aren't yet a member, join now!
---
Return to the Home Decorating Forum
Information about Posting
You must be logged in to post a message. Once you are logged in, a posting window will appear at the bottom of the messages. If you are not a member, please register for an account.
Please review our Rules of Play before posting.
Posting is a two-step process. Once you have composed your message, you will be taken to the preview page. You will then have a chance to review your post, make changes and upload photos.
After posting your message, you may need to refresh the forum page in order to see it.
Before posting copyrighted material, please read about Copyright and Fair Use.
We have a strict no-advertising policy!
If you would like to practice posting or uploading photos, please visit our Test forum.
If you need assistance, please Contact Us and we will be happy to help.

Learn more about in-text links on this page here