Return to the Home Decorating Forum
|
Post a Follow-Up
---
| | | |
| --- | --- | --- |
| Please vote either or neither | | |
Posted by
vidyaram
(
My Page
) on
Wed, May 16, 12 at 9:56
Hi All
I am trying to purchase an ottoman today and would like your responses. I have a leather sectional and would like to buy an ottoman instead of a table. It is so hard to buy a leather ottoman. I really don't want the matchy match look but I want to find one that goes well with the sofa. If not, I have to go with a table it seems. I really like these ottomans but feel that neither are good enough with the sofa. Would you suggest that I buy it and cover only on the top with a fabric by attaching it with nailhead trim?
Here is my sofa: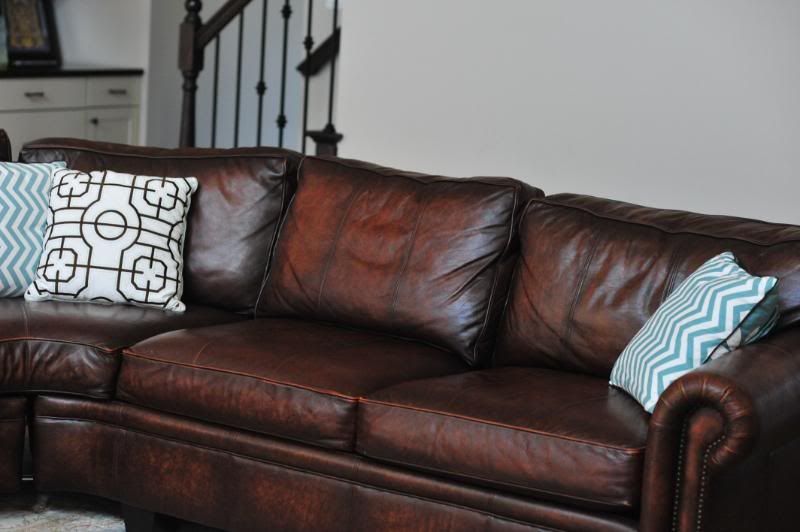 Sofa with the rug shown:

First whiskey ottoman I almost think will work: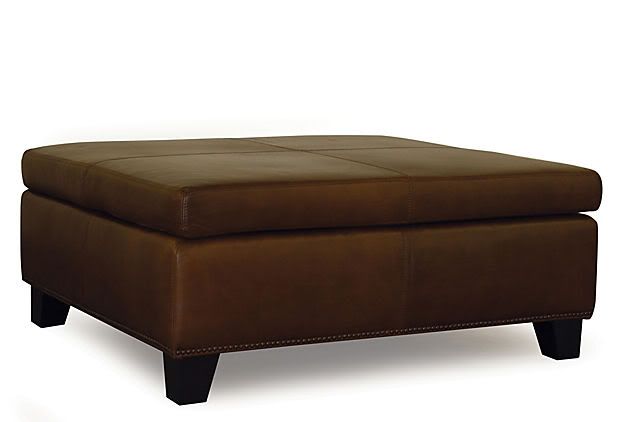 Espresso ottoman:

Please give your valuable opinion for me to make a decision
---
Follow-Up Postings:
| | | |
| --- | --- | --- |
| RE: Please vote either or neither | | |
If the colors are accurate, I would go with the espresso which might pick up some of the dark tones of the sofa.
---
| | | |
| --- | --- | --- |
| RE: Please vote either or neither | | |
Do you have to go with leather? What about a fabric like burlap or linen or some kind of weave? Or a pattern? Something like this:
http://www.ballarddesigns.com/graham-large-ottoman/furniture/ottomans/12842?listIndex=11

What does the rest of your room look like? The nailhead ottoman is not as casual looking, but I really like it.

Another option is to not even try to match and to go with a color. Maybe a caramel?
Here is a link that might be useful: Leather ottoman
---
| | | |
| --- | --- | --- |
| RE: Please vote either or neither | | |
I can identify with your situation. I have four dark leather chairs in my LR. I found that using a dark ottoman was too much. Your ottoman should not be leather, and it should be lighter in color. Then put something on top of it to relate back to darkness of the sofa.
---
| | | |
| --- | --- | --- |
| RE: re re Please vote either or neither | | |
I would open up that ballard window right next to this one, so it is side by side with the sofa and pillows. Then just keep trying fabrics on the ballard ottoman until you get a look you like. Maybe Indochine Ikat in Bark? That may still be too dark but it will go w your pillows ....
---
| | | |
| --- | --- | --- |
| RE: Please vote either or neither | | |
I have this ottoman from Overstock, really like it. It's very big, so make sure you check the measurements. If you read the reviews, people talk about having recovered the top fabric. I haven't done it, so I can't comment on how difficult a project that is, but might look great in a coordinating fabric in your room.
Here is a link that might be useful: Overstock ottoman
---
| | | |
| --- | --- | --- |
| RE: Please vote either or neither | | |
weimom:
The colors are pretty accurate. My couch has some brown with dark espresso stain on it. It almost has a reddish tint. But both the ottomans don't have it. I almost picked the espresso but DH didn't like the nailhead trim. I am thinking that I could use rub and buff if that bothers him a lot
Geokid: I don't want to go with leather too. But it is a family room and I have very messy kids and I don't want to keep losing my cool every time something happens to the ottoman. The rest of the room is more transitional. I like cleaner lines and love this ottoman I posted with the two options.
I loved this one from Safavieh:
http://www.rugsusa.com/rugsusa/furniture/safavieh-off-white-beech-wood-and-leather-cocktail-ottoman/off-white/101HUD4066C.html
But I got an off white leather chair from them and it looks more yellowish ivory.
mtnrdredux:
I was thinking on those lines too earlier. But getting a cloth ottoman in my family room doesn't seem like a great idea since I keep fretting every time they pour something on my rug already:)
Maybe, I should get a wood table? What do you all think about adding a fabric to the espresso one with some more nail head trim. Once it wears out, I can change the look bu getting new fabric and do it myself?
Here is a link that might be useful: Safavieh ottoman
---
| | | |
| --- | --- | --- |
| RE: Please vote either or neither | | |
Ah, kids. Yes, I understand.

After a couple experiences with wood coffee tables and trips to the ER, I have vowed not to have a wood coffee table until my kids are older. Something to consider. But maybe your 3 year old doesn't do somersaults off the couch onto the coffee table.

What about this option from IKEA? Nothing fancy, but the slipcovers are washable. You could even get two and change up the color scheme in the room. I think the dark blue would look nice. Or the brown. You could get a colorful tray to use on top to bring in color and to be a place to set stuff on (and hopefully contain spills).

This one is smaller but it has storage. http://www.ikea.com/us/en/catalog/products/S79839430/#/S89873032
Here is a link that might be useful: Ikea ottoman
---
| | | |
| --- | --- | --- |
| RE: Please vote either or neither | | |
IMHO, once you have an ottoman, you can never go back to a coffee table. An ottoman is so nice for your feet or even extra seating sometimes, but still can do a lot of what a coffee table does for you.

How about a slipcovered ottoman? Then you can take it off and wash it. Or, use indoor outdoor fabric, which is far less likely to stain.

We have an upholstered bench seat in our banquette and it is very easy to switch the fabric in and out. But I think reupholstering the ottoman yourself could get tricky.
---
| | | |
| --- | --- | --- |
| RE: Please vote either or neither | | |
I haven't read the responses, so if this is a repeat, I'm sorry, but I don't care for either with your sofa. If it were me, I'd find a really nice fabric ottoman that will coordinate with both the rug and the sofa.

Sorry. :c(
---
| | | |
| --- | --- | --- |
| RE: Please vote either or neither | | |
Geokid and mtnrdredux: Thank you so much for taking the time to look for different options for me.
You will not believe what DH did. He ordered the lighter one:) I called them to cancel it but it was too late. It has gone to the vendor. So, have to wait for the vendor to call me. So, no more options for thinking too much for me:)
---
| | | |
| --- | --- | --- |
| RE: Please vote either or neither | | |
I'm in agreement with the others that a brown leather ottoman would be too heavy and an overdose of brown leather in that room. I can definitely relate to having young kids and wanting something durable, though!

I found a large, white shabby chic table on Craigslist for my living room. It was inexpensive and I'm ok if my kids scribble all over it with crayons. What do you think about a white table that is oval or round?
---
| | | |
| --- | --- | --- |
| RE: Please vote either or neither | | |
pipdog, I fell in love with your room when you posted it. I truly appreciate your taste. I have a very dark brown and I love a white table but was afraid that there will too much of a contrast. I am not very fond of the slip covered ottoman for the look in that room. Do you think a white table will work here?
Here is the view of the room looking at the fireplace:

This is the kitchen which is open to this room: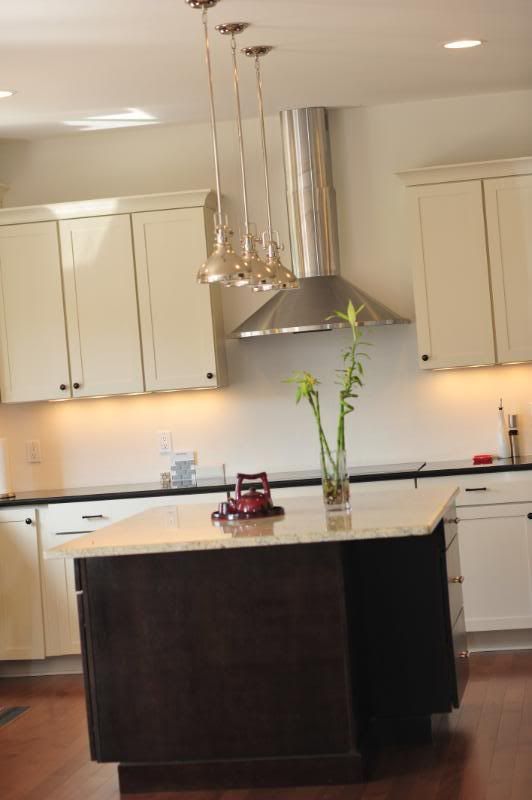 My breakfast table: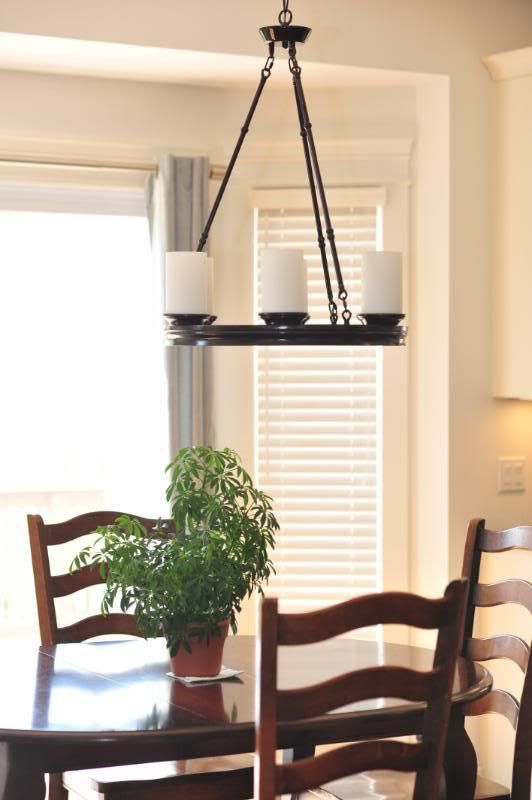 ---
| | | |
| --- | --- | --- |
| RE: Please vote either or neither | | |
Seeing your lovely spaces, and the fact that the kitchen is open, I'd love to see a metal and glass coffee table. Bring some of the finish from your kitchen into the family/living room.
---
| | | |
| --- | --- | --- |
| RE: Please vote either or neither | | |
What a beautiful space! I think a white table would look very nice. It would pick up the white trim on the fireplace and pick up the whites/cream in that rug (which I love, btw). Other options would be a lucite table, or a round table with glass (although I know glass can be problematic with little ones). With a dark leather sofa, I see something light or transparent to counter-balance the weight.
---
| | | |
| --- | --- | --- |
| RE: Please vote either or neither | | |
FYI, if you want to, either under the UCC or most state laws, you have a chance to cancel orders, especially the same day.
---
| | | |
| --- | --- | --- |
| RE: Please vote either or neither | | |
Seeing the rest of your room(s) I definitely agree those Ikea ottomans will not work. I agree with the suggestions of pipdog and fancypants.

BTW, we have similar tastes in that some of your furniture and light fixtures are what I have in my home. I've just used them in different rooms.
---
| | | |
| --- | --- | --- |
| RE: Please vote either or neither | | |
I love the metal with glass table idea. I agree with you ladies that it will counter balance the weight of the sofa. pipdog: The rug was from Marshalls. I loved it so much that i decided on the blue palette.
mtnrdredux: he ordered it on one kings lane and I missed the 15 minute cancellation policy they have. But they are going to see what they can do with the vendor team. Maybe, I have to try to see the piece in real life. If it doesn't work, I will have to try craigs list:( But it is a Mitchell gold Bob williams ottoman I got for a steal. It will be hard to part with it:( I am planning to do my living room in all grays and white. So, can't use it there either:(
If nothing works, I will have to bring a green or blue throw and put a tray on it and call it a day. I can't believe the stress I have every time I order a new piece.
---
| | | |
| --- | --- | --- |
| RE: update | | |
geokid: I must have been composing the time you posted the last message. Wow, that's nice we both share the same taste. When I am in a design crisis like this, I could check with you.

Update from one kings lane: The vendor already pulled my order. So they can't change it anymore. I will have to check the piece when it comes home:(
---
| | | |
| --- | --- | --- |
| RE: Please vote either or neither | | |
Ohhh, ONe Kings Lane. I havent bought from them but gee, 15 minutes!

I love MGBW, all of my living room and family room stuff came from there. Funny, I paired their leather ottoman with a white duck slipcovered sofa in my family rm. I paired four of their leather chairs with a white duck ottoman in the LR.

BTW, love your round pillows.
---
| | | |
| --- | --- | --- |
| RE: Please vote either or neither | | |
mtnrdredux: I know 15 minutes for a confused woman like me:)
I would love to see a picture of your leather ottoman in family. Maybe, it will give me inspiration for my living room.
Thanks for your compliments about the round pillows. It was from Target! Getting compliments from you talented people means a lot to me. I have seen some pictures of your beautiful living room and in fact it came up in the search on google today while I was going crazy in the morning:)
---
| | | |
| --- | --- | --- |
| RE: Please vote either or neither | | |
I love your sofa, beautiful quality and looks comfy and still fits with the beautiful style you have going.
I would agree with a fabric ottoman. With a burlap or duck cloth type cover that can be cleaned if the kids spill or whatever.
Beautiful room
---
| | | |
| --- | --- | --- |
| RE: Please vote either or neither | | |
May I suggest a trunk? I had one w/my last set of furniture which was a saddle brown color. The truck was slightly lighter and it was great to hide my throws, etc. when company came. Your kids keep keep their games in it.
---
| | | |
| --- | --- | --- |
| RE: Please vote either or neither | | |
Since the ottoman has already been ordered, what about a slipcover or slipcovers? That way you have the quality of the ottoman, and the option of having the leather sometimes. But a slipcover made in one of the amazing washable heavy duty fabrics that are available today would give you the option of the fabric look, and easy care on top of it.
---
| | | |
| --- | --- | --- |
| RE: Please vote either or neither | | |
anninthedistrict: That is a great idea. I wish I had posted this earlier like last week when it was on my mind.
jeannie01: Could you please tell me where you got the trunk. I would still love to incorporate some trunks in the room.
les917:I am looking for a tailored ottoman slipcover. I was wondering if you have any ideas where I could buy them.
---
| | | |
| --- | --- | --- |
| RE: Please vote either or neither | | |
First off...I love your room! I think once the ottomaman arryou could try it with a brighter lighter color throw. That may do the trick.

If you want a slipcover...I would find soone to make you one. That
way you can choose the exact fabric you want.

Looking forward to pics once you get it!!
---
| | | |
| --- | --- | --- |
| RE: Please vote either or neither | | |
aktillery:Thanks for your kind words. It makes me feel happy that the talented people in this forum like my try at decorating.
I am hoping that the throw will change the dynamics instead of making the effort to find fabric and someone in my area. Don't know anyone around here.
This room has high ceilings and gets lot of natural light and the rug is very light too as are the walls. So, am hoping that the dark ottoman wouldn't make it too dark. I hope it is neither too light nor too dark so that it will look collected.
I will post pics once it arrives. The ottoman will arrive only in July. A long wait:(
---
| | | |
| --- | --- | --- |
| RE: Please vote either or neither | | |
I was visualizing a light leather, then I saw the rest of your rooms and the sense of the kitchen island was what I thought would look good...then I saw your link to that Safavieh ottoman and if it matches or blends with your chairs I think that would be a nice piece.

Other option I thought about would be to get a nice wood table and have it upholsterd with a cushy top in a leather. One might have to shorten the legs to get it at the correct height for an ottoman.
---
| | | |
| --- | --- | --- |
| RE: Please vote either or neither | | |
Love the room! The leather ottoman, not as much. But this is what I would do: accept the leather ottoman if it is at all acceptable. Go looking for a cool fabric--- ikat would be great--- in tones of blue, orange (or is that red in your rug?) ivory and brown. Have a slipcover made for the ottoman and use it as the mood strikes, when you have guests, etc. But when it's just the fam eating sandwiches and drinking juice boxes, let the leather be its indestructible self.

Ikat is one type of fabric I've never tired of. We have it in only one room, our youngest son's, but it is the only fabric in the room. One side (predominantly green) is the bed cap and shams and an upholstered club chair. The fabric's other side (predominantly cream) comprises the curtains and tailored bed skirt. The sort of bamboo/ bark-y feel of the fabric has softened over time and can be laundered with no I'll effects. It's a cool eco look and suitable for a variety of settings. I think it would look smashing in the room pictured above.
---
| | | |
| --- | --- | --- |
| RE: Please vote either or neither | | |
enduring: We have already ordered the ottoman. But I also used to think on the same lines of upholstering a table. I have never tried any cushions also for a bench or window seat. Once I do that, maybe I could become bold enough to do this.
kswl:I love the idea of ikat. It is so beautiful!
---
Post a Follow-Up
Please Note: Only registered members are able to post messages to this forum.
If you are a member, please log in.
If you aren't yet a member, join now!
---
Return to the Home Decorating Forum
Information about Posting
You must be logged in to post a message. Once you are logged in, a posting window will appear at the bottom of the messages. If you are not a member, please register for an account.
Please review our Rules of Play before posting.
Posting is a two-step process. Once you have composed your message, you will be taken to the preview page. You will then have a chance to review your post, make changes and upload photos.
After posting your message, you may need to refresh the forum page in order to see it.
Before posting copyrighted material, please read about Copyright and Fair Use.
We have a strict no-advertising policy!
If you would like to practice posting or uploading photos, please visit our Test forum.
If you need assistance, please Contact Us and we will be happy to help.

Learn more about in-text links on this page here