Return to the Home Decorating Forum
|
Post a Follow-Up
---
| | | |
| --- | --- | --- |
| Novalis flooring going down and looking great! | | |
Posted by
citymomof3
(
My Page
) on
Fri, May 23, 08 at 9:46
Well, we're finally putting down the Novalis vinyl planking and I have to say so far I am really singing its praises!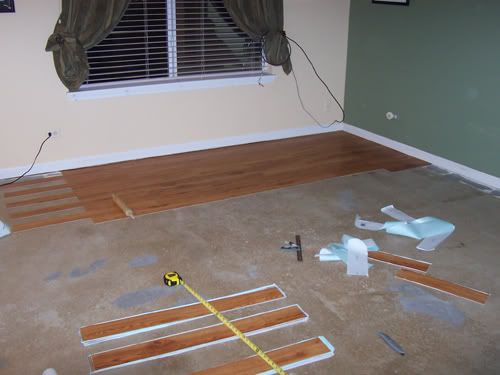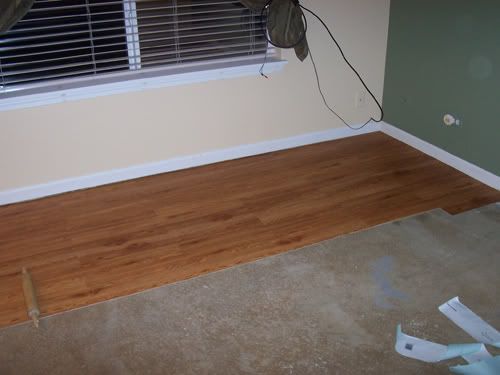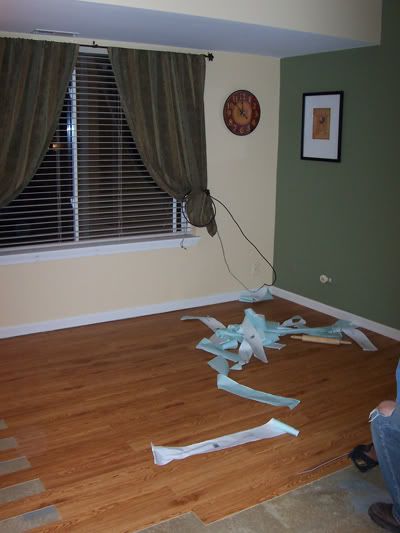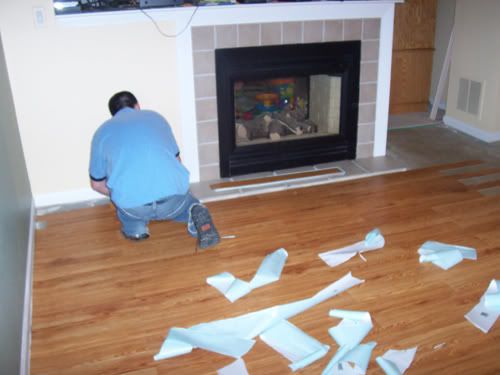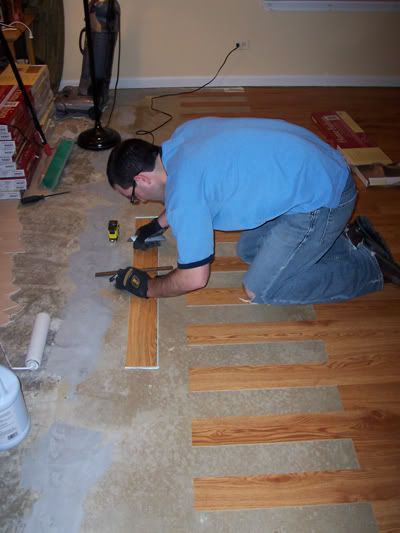 I was really worried at first. We got the slab really clean and rolled on the latex floor primer. It didn't seem like these could possibly stick. We worked until about 11:30 - it only took a little over an hour to lay the family room! I was half expecting to get up this morning and have it all curled up! But it isn't!
We're doing the whole main floor, so it's a big job with lots of furniture moving. I will post more pics when finished! Thanks to everyone who posted information on this awesome flooring!
---
Follow-Up Postings:
| | | |
| --- | --- | --- |
| RE: Novalis flooring going down and looking great! | | |
Wow, it really looks great. Can't wait to see all the floors finished.
---
| | | |
| --- | --- | --- |
| RE: Novalis flooring going down and looking great! | | |
Me too! Too bad it doesn't install itself. That would really be great!
---
| | | |
| --- | --- | --- |
| RE: Novalis flooring going down and looking great! | | |
The family room looks gorgeous. Is there a color name to that Novalis that yoou picked.
---
| | | |
| --- | --- | --- |
| RE: Novalis flooring going down and looking great! | | |
We chose the 'golden oak', but there are three other colors. I have not been able to find a negative review on this stuff. I didn't find it to be as sticky as I thought it would be. If I stick my fingernails under an edge piece, I can pull it up with some effort. I tried it a few minutes ago to see how well it was stuck down. I *looks* stuck and the edges aren't curling, but are you supposed to be able to pull it up? Did we do something wrong?

I am going to post on the flooring forum to see if anyone there has any thoughts. We cleaned the slab REALLY well and primed it with Henry latex self stick tile floor primer, just like it said to do. But maybe we didn't put it down thick enough?? I am still scared it's going to come up!!!
---
| | | |
| --- | --- | --- |
| RE: Novalis flooring going down and looking great! | | |
It is looking great. We are getting ready to put Gunstock down in the office. If we like it we are also going to use it in the family room, too. Can't wait to see the finished floor.
---
| | | |
| --- | --- | --- |
| RE: Novalis flooring going down and looking great! | | |
No worries now. It seems really stuck. I think! We are in the process of ripping up old linoleum and I think my dh is going to divorce me. We went and bought a $10 heat gun and it's coming up slowly with the help of the gun and a flat edge shovel. Yikes! It always gets worse before it gets better. Right???
---
Post a Follow-Up
Please Note: Only registered members are able to post messages to this forum.
If you are a member, please log in.
If you aren't yet a member, join now!
---
Return to the Home Decorating Forum
Information about Posting
You must be logged in to post a message. Once you are logged in, a posting window will appear at the bottom of the messages. If you are not a member, please register for an account.
Please review our Rules of Play before posting.
Posting is a two-step process. Once you have composed your message, you will be taken to the preview page. You will then have a chance to review your post, make changes and upload photos.
After posting your message, you may need to refresh the forum page in order to see it.
Before posting copyrighted material, please read about Copyright and Fair Use.
We have a strict no-advertising policy!
If you would like to practice posting or uploading photos, please visit our Test forum.
If you need assistance, please Contact Us and we will be happy to help.

Learn more about in-text links on this page here