Return to the Home Decorating Forum
|
Post a Follow-Up
---
| | | |
| --- | --- | --- |
| Beach Glass Vs Comfort Gray | | |
Posted by
jockewing
(
My Page
) on
Fri, May 29, 09 at 9:28
I think I have finally narrowed down my two possibilities for my Master Bedroom to BM's Beach Glass or SW's Comfort Gray. They are very similar shades, with the Comfort Gray have a slightly more greenish tone than the Beach Glass. I really do like Beach Glass, but sometimes in certain lights it gives off a powdery blue feeling that I'm not sure about. I thought maybe I could try the next color down on the strip, Mount St. Anne, but I was afraid that might be too dark.

I find that sometimes Comfort Gray is a little too, well, gray. It can kind of go drab in certain lights. Of course all of this could completely change when I get the entire room painted either color. I don't know how people can decide on a color from a little swatch on the wall--I have to paint almost an entire wall before I can see how a color is going to behave.

I really initially wanted a greener color, and I tried SW Oyster Bay, Quietude and BM Raindance and Imperial Gray, but nothing really clicked for me. Beach Glass is more blue than I initially wanted, but I find those greener colors SO hard to get right. I want my bedroom to have a very relaxed and beachy/tropical feel. I plan on having dark brown bedding, although I have found a Thomas O'Brien coverlet in stripes with various aqua tones at Target that is beautiful that I might have to get. I would love to find some ivory curtains with chocolate brown trim to go on my existing espresso curtain rods. I have Tigerwood floors and mahogany colored furniture.
---
Follow-Up Postings:
| | | |
| --- | --- | --- |
| RE: Beach Glass Vs Comfort Gray | | |
Jockewing, I know what you mean about swatch vs. entire wall. I found that, even after painting large boards to move around, the painted room didn't look right until 2 coats were painted (first coat, even over offwhite looked watery) and trim. Only then did it resemble the color that I'd pondered over endlessly. Good luck with your selection.
---
| | | |
| --- | --- | --- |
| RE: Beach Glass Vs Comfort Gray | | |
Comfort Gray is beautiful when it's up. The swatch doesn't do it justice at all. I have a guest bedroom painted CG. The bedding is striped in tones of beige, chocolate and a tone very similar to CG.

Another color I love which I think is very spa like and relaxing is Halcyon Green. It's the strip right next to CG and shows more green than CG.
---
| | | |
| --- | --- | --- |
| RE: Beach Glass Vs Comfort Gray | | |
I have a color I love that is an older ICI color, that I want to get mixed. I still have the sample and it is one that I used in my bedroom a few years back. Miller's Cove. I think that is the color you want but unless you can find a Glidden or ICI store, and maybe not even then, can they find the old fandecks with that color or swatches. I hate they change paint colors so often.
---
| | | |
| --- | --- | --- |
| RE: Beach Glass Vs Comfort Gray | | |
I put up a big splotch of Comfort Gray, and it's just too gray and drab for me. If it only had a bit more color and life, it would be perfect. Then I realized that I really like Quietude, but that color was just too vibrant on the wall. Something in between would be the perfect compromise.

SO--- I mixed equal portions of both colors. Finally we are getting somewhere! I liked the mix, but played around some more, making another mix with equal portions of Quietude, Comfort Gray, and Oyster Bay (maybe a bit too dark?). I also might try 2 parts Comfort to 1 part Quietude, or equal portions of Comfort and Halcyon Green. My question is, once I find the perfect mix, how do I get SW to mix it for me? Should I paint a sample of it on cardboard and get them to match it for me? Do I buy a gallon of each color and manually mix it? (could be tricky if the blend doesn't end up being 1 to 1 ratios)

At least I know I'll be able to find a color that works now. The Comfort Gray strip is just a tad too muddy for me, and the Quietude strip is a little too screaming aqua for my taste. Somewhere in between will be the perfect compromise.
---
| | | |
| --- | --- | --- |
| RE: Beach Glass Vs Comfort Gray | | |
I fell in love with Comfort Gray at my dentist's office but it looked too drab in my DR so I went with Halcyon Green. I really like it. Be careful of mixing colors especially of two brands. The computers are very good at matching but sometimes just cannot get that true color you like by mixing. It can take a lot of time and $$ too with sampling. Not trying to discourage you-just caution. Good luck-these colors look great with dark wood and chocolate.

Here are some pics of Halcyon Green in my DR. IRL I think it looks a little richer than this. Please forgive the creamer sitting on the coffee pot counter:
no overhead light: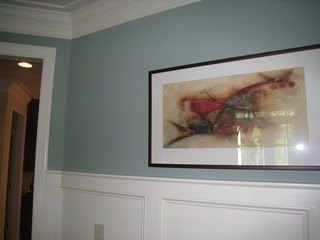 ---
| | | |
| --- | --- | --- |
| RE: Beach Glass Vs Comfort Gray | | |
Jokewing. Sometimes if you're fortunate, you can find a standard color to almost nearly match the color you mixed together.

I did this once when I mixed Grassland and Comfort Gray together to my liking and came out with a near perfect match to Austere Gray.

Do you have all the SW sample cards including the different palattes (Historic, Craftsman, etc.) and the Concepts in Color fandeck? You might be able to match a mix you made from one of those palettes, if not the standard fandeck. If it's a bit too dark or too light for your liking, then you can ask them to tweak it at the store for you.
---
| | | |
| --- | --- | --- |
| RE: Beach Glass Vs Comfort Gray | | |
If I found the perfect color by mixing several paints together, I'd paint a foamboard with a couple of good coats and then have Sherwin Williams' computer colormatch it. It should give you the exact color, and they'll even keep the forumula in the store's system.
---
| | | |
| --- | --- | --- |
| RE: Beach Glass Vs Comfort Gray | | |
I have beach glass in my study on the the walls and 10 foot
ceiling. The cabinets, trim and doors are walnut stain and I love the look. I would definitely do beach glass again and I don't find it powdery.
---
| | | |
| --- | --- | --- |
| RE: Beach Glass Vs Comfort Gray | | |
Well, I had SW make a sample of my mix of 2 parts Comfort Gray to 1 part Quietude, to 1 part Oyster Bay. It has that muted quality of Comfort Gray with a little more oomph thanks to the Quietude and a little more green thanks to Oyster Bay. I think this might be it. Somebody help me pick a name!!!! I painted a little piece of cardboard and the colormatch machine made a spot on match. The guy told me my formula is saved in the computer so I can buy gallons and quarts in the future! How convenient is that?

Since I have Spanish ancestors from the Canary Islands, I was thinking of calling it Tenerife since they have beautiful azure beaches over there. Any other ideas?
---
| | | |
| --- | --- | --- |
| RE: Beach Glass Vs Comfort Gray | | |
How about "Perfection" Or "Quiet Bay Gray?" Tenerife sounds like a really tropical blue color to me, but you are so right they do have lovely azure beaches over there!

Kat :)
---
| | | |
| --- | --- | --- |
| RE: Beach Glass Vs Comfort Gray | | |
I vote for: "FINALLY!"
LOL!
---
| | | |
| --- | --- | --- |
| RE: Beach Glass Vs Comfort Gray | | |
| | | |
| --- | --- | --- |
| RE: Beach Glass Vs Comfort Gray | | |
Jockewing, I've had samples of Comfort Gray, Quietude, Rainwashed along with a couple of gray blues painted on our masterbath wall for weeks and have yet to decide. I'm always nervous about mixing colors, so can you post a sample of the color you came up with? I'm really curious to see how it turned out. Thanks!
---
| | | |
| --- | --- | --- |
| RE: Beach Glass Vs Comfort Gray | | |
We have a finished family room/guest suite over our 3 bay garage. It's painted Comfort Gray with SW Snowbound (a crisp white) trim. I don't think anyone has ever walked into that room and not commented on how much they like the color. I find it noteworthy that it appeals to both men and women.

I didn't know how the room was going to be utilized when we had it finished off, so I wanted something that could "play well" with other colors, but I didn't want white or off-white walls.

Right now I have a daybed with a pinstripe butter yellow cover & various white & yellow pillows on the back. I have a wicker coffee table from Maine Cottage in their "Sun" yellow and a couple wicker chairs across from the daybed. The walls are a nice grounding shade and aren't "blah" at all. I think it's the cheeriest room in the house.
---
| | | |
| --- | --- | --- |
| RE: Beach Glass Vs Comfort Gray | | |
Do you all have pictures of all these rooms? I am dying to see them!
---
| | | |
| --- | --- | --- |
| RE: Beach Glass Vs Comfort Gray | | |
| | | |
| --- | --- | --- |
| RE: Beach Glass Vs Comfort Gray | | |
After some tinkering, I think that I've found a suitable mix. It's about 60% Comfort Gray and 40% Quietude. I'm gonna get a sample matched during lunch today, and hopefully I'll be painting this weekend. I need to figure out what to do with the ceilings. I've never painted ceilings anything other than white and I've always wanted to try it. Should I go with the same color as the wall, or should I go with my custom color at 25% strength (the SW guy recommended this). Also, I plan on using SW Cashmere in flat for the walls. Should I use the same type of paint for the ceiling, or do I get a different type? I've actually seen on other threads here that recommend using a cheap paint for the ceiling--supposedly the fillers in the paint sort of "puff up" and help hide brush strokes and any blemishes. I do have a few minor blemishes on the ceiling.
---
| | | |
| --- | --- | --- |
| RE: Beach Glass Vs Comfort Gray | | |
comfort gray is the kind of color that really comes out once you compliment it with furnishings. It is not the type that stands out on a wall in an empty room next to other color swatches. it is a muted pale blue. you must use the right compliments to bring out the blue, but I assure you, if you do it right, comfort gray is far from drab. :-) It is comparible to hazel colored eyes. Sometimes they look blue, sometimes green, sometimes brown. It all depends on what you wear.
This room is painted with comfort gray.
Here is a link that might be useful: comfort gray
---
| | | |
| --- | --- | --- |
| RE: Beach Glass Vs Comfort Gray | | |
Use flat paint on the ceiling as it hides the flaws. A lighter tone of the wall paint would look nice on the ceiling.

I love the Cashmere Low Lustre and have it in several bedrooms. It has such a nice silken glow. It's easy to use as well. Smells nice and the smell dissipates quickly.

I have tried several different types of paint for ceilings and the one I like best is SW Superpaint flat. It's very forgiving for a DIYer (doesn't dry too fast), covers well and doesn't drip much. If you don't have a roller cover yet, I'd recommend a 1/2" lambswool roller cover for the ceiling. Lambswool holds a lot of paint compared to synthetic and doesn't drip and splatter as much either. More expensive, but it washes up well for reuse - releases the paint in clean up better than synthetic.

For the Cashmere, a 3/8" cover like Purdy White Dove will give you a nice smooth finish without too much stipple.
---
| | | |
| --- | --- | --- |
| RE: Beach Glass Vs Comfort Gray | | |
Well I know that i can't wait to see a picture of your new color creation!
---
| | | |
| --- | --- | --- |
| RE: Beach Glass Vs Comfort Gray | | |
I am really getting frustrated. So I went to SW and got a quart of flat Superpaint in the new 60-40 Comfort Gray/Quietude mix. Painted one whole entire wall. After it was up and dried, it STILL looked so bland and washed out. This is the second room in my house I have desperately tried to use a muted aqua and cannot find the right color! I am really on the verge of giving up. To tell you the truth, I really liked the way Beach Glass looked when I had a large section of the room painted that color. I think I may just go with that in the bedroom and then use my aqua in the bathroom. For some reason, the same green-toned aquas I use in the bathroom stay true instead of turning totally blue and washed out like they do in the bedroom.

I really just can't understand how that beautiful color in Restoration Hardware stores is the same as that awful drab gray that Silver Sage or Comfort Gray creates on my walls. It must be all about lighting. Those strong halogen spots in the store really warm up those walls. My bedroom is 16x12 and I have a ceiling fan with a 4 light kit that has 4 of the Halogena 70 watt bulbs that put out nearly 1500 lumens a piece. Just about some of the most powerful light bulbs you can get, and it still isn't enough. I would kill for the chance to get some recessed installed in my house to wash down those walls and make those colors come alive!
---
| | | |
| --- | --- | --- |
| RE: Beach Glass Vs Comfort Gray | | |
I love the colors aqua and turquoise as well. Keep in mind that the best interior designers use wall color as an "accessory" and not the maint focal of a room. The accessory comes alive and brings everything together once you pair it with other colors in the linens and furnishings. I suggest you stay with a soft color for the walls and use bright aqua in your sheets,drapes, or decor pillows. I initially sampled with sea salt in my guest room and felt it was too bright, so ended up withc omfort gray. I have no halogen lighting. Just one light fixture in the ceiling and the natural light from the window and everyone loves that room. SOmetimes it can even appear a little too blue at times but overall, its the perfect wall color and I can change the colors in that room anytme I want without having to bother with repainting. If you go with too bold a wall paint color, you are stuck with that color scheme. It can also tire out the eyes after an extended period of time. You want a soft soothing color. Sea Glass from Sherwin Williams is also a very nice color and may have that little bit more oomph you are wanting. It is very similar to BM Beach Glass. It was too much oomph for our guest rooom b/c our linens in that room have a lot of aqua and we needed a more muted color to bring everything together nicely. Good luck with settling on a color! :-)
---
| | | |
| --- | --- | --- |
| RE: Beach Glass Vs Comfort Gray | | |
Hi Jockewing have you decided on a color yet? I agree with what above kittypawz said that you should use softer muted tones of blue in the wall and then bring out the brights in your bedding and curtains. I just went to a dinner party where the owners had SW comfort gray in the master bedroom and the effect was gorgeous. Of course it was evening and the lighting was soft(lamps), but I never imagined the color would be called gray as it looked like more a pale blue to me?
If you want to go the other route and do light linens and bright walls, then go for a truer blue. If you do soft colored linens and muted colored walls, then the effect will be, well, drab. If you bring up comfort gray on the sherwin williams color tool website, the complimenting colors are Drizzle(bright aqua) and Nonchalant White.
So maybe you can go for the Drizzle colored walls, and then tone everything down with pale colored linens and curtains? If you are going with the brown colored bedding, SW Hazel is a very pretty greenish blue color that goes wonderful with brown. Interesting Aqua(6220) is also a very pretty soft aqua color.
It seems you are relying on the paint color to be the right shade of blue, but since you haven't decided on bedding yet, you are going for the color just to be the color rather than trying to match it with your linens. So if that;s the case, go for a truer blue b/c until you have everything in that room, every shade that is less than blue will look drab.
Post pics after you've painted and put everything together so we can see the result. :)
---
| | | |
| --- | --- | --- |
| RE: Beach Glass Vs Comfort Gray | | |
Jockewing - I completely understand your frustration. I LOVE Silver Sage in the store and in other people's homes. I've tried it in two houses now and it looks....icky.

Maybe you need to think aboutside the grey box? What about a color that leans more blue?
---
| | | |
| --- | --- | --- |
| RE: Beach Glass Vs Comfort Gray | | |
I found the perfect color for you! Sherwin Williams Silvermist.
Here is a link that might be useful: silvermist
---
| | | |
| --- | --- | --- |
| RE: Beach Glass Vs Comfort Gray | | |
Well, the thing is, although I'm not going for a gray at all, I just know without enough gray in the color, it will look way too bright. It is just so hard to find that perfect balance between enough color and enough gray. I don't want a bright aqua on the walls by any means. I plan on going with a chocolate or chocolate/tan combo in a coverlet, and ivory sheets with chocolate pattern. The shades are bamboo, and the drapes are currently cocoa, may be changed to ivory with chocolate edging.
---
| | | |
| --- | --- | --- |
| RE: Beach Glass Vs Comfort Gray | | |
I think you should try beach glass again. It is a beautiful color - not power blue to me at all. I also have BM wythe blue in my dining room and it is gorgeous as well.

Best of luck to you!
---
Post a Follow-Up
Please Note: Only registered members are able to post messages to this forum.
If you are a member, please log in.
If you aren't yet a member, join now!
---
Return to the Home Decorating Forum
Information about Posting
You must be logged in to post a message. Once you are logged in, a posting window will appear at the bottom of the messages. If you are not a member, please register for an account.
Please review our Rules of Play before posting.
Posting is a two-step process. Once you have composed your message, you will be taken to the preview page. You will then have a chance to review your post, make changes and upload photos.
After posting your message, you may need to refresh the forum page in order to see it.
Before posting copyrighted material, please read about Copyright and Fair Use.
We have a strict no-advertising policy!
If you would like to practice posting or uploading photos, please visit our Test forum.
If you need assistance, please Contact Us and we will be happy to help.

Learn more about in-text links on this page here