Return to the Home Decorating Forum
|
Post a Follow-Up
---
| | | |
| --- | --- | --- |
| Door/window treatment dilemma | | |
Posted by
sueb20
(
My Page
) on
Mon, May 14, 12 at 8:56
In the master bedroom at our beach cottage (recently renovated), we have a door to a small deck. I can't seem to figure out what to do with the window on the door. It is directly opposite the bathroom so I feel a bit "on display" if I happen to brush my teeth with the door open, or just come out not-quite-dressed. The house is in a regular neighborhood with a house right across the street in full view of this door. So I need Something, really only for nighttime privacy.

The other windows in the room have woven wood blinds. I wasn't sold on the idea of putting them on this door, so it has remained naked for two years. I don't want to use window film because I do want to be able to see through the window during the day. WWYD? I'm sure there's an obvious choice that I'm not thinking of.

Not a great pic, but you can see the door here.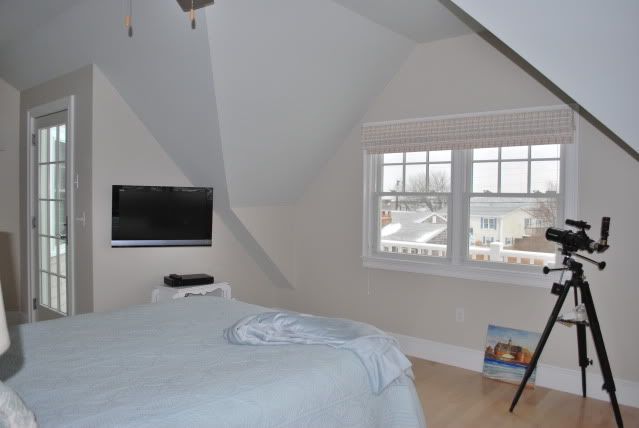 ---
Follow-Up Postings:
| | | |
| --- | --- | --- |
| RE: Door/window treatment dilemma | | |
Perhaps these will solve your dilemma...have never seen them or used them, but the idea sounds good.
Here is a link that might be useful: ODL blinds
---
| | | |
| --- | --- | --- |
| RE: Door/window treatment dilemma | | |
Why werent' you sold on the wooden blinds? That seems like a good option?
---
| | | |
| --- | --- | --- |
| RE: Door/window treatment dilemma | | |
Pal, I dunno, at the time I guess I was thinking the blinds would be banging around on the door when we opened it or something... and at the time, now that I am remembering, I think we thought we didn't need anything on that door. I was wrong!

Anyway, I actually placed a call to the same dealer we bought those blinds from, and I am getting the same woven woods for the door. We had one more room that needed blinds, so is a good excuse to get them all done at once.
---
| | | |
| --- | --- | --- |
| RE: Door/window treatment dilemma | | |
Yes they can bang around when you open the door unless you leave them down with a bracket attached.
---
| | | |
| --- | --- | --- |
| RE: Door/window treatment dilemma | | |
Annie, I have been seeing the inset windows with blinds on a lot of sites and really like the idea. Specifically for sliding glass doors. The site you listed is a bit more expensive than I've ran across. Not sure of the difference in construction buying from other places.
---
Post a Follow-Up
Please Note: Only registered members are able to post messages to this forum.
If you are a member, please log in.
If you aren't yet a member, join now!
---
Return to the Home Decorating Forum
Information about Posting
You must be logged in to post a message. Once you are logged in, a posting window will appear at the bottom of the messages. If you are not a member, please register for an account.
Please review our Rules of Play before posting.
Posting is a two-step process. Once you have composed your message, you will be taken to the preview page. You will then have a chance to review your post, make changes and upload photos.
After posting your message, you may need to refresh the forum page in order to see it.
Before posting copyrighted material, please read about Copyright and Fair Use.
We have a strict no-advertising policy!
If you would like to practice posting or uploading photos, please visit our Test forum.
If you need assistance, please Contact Us and we will be happy to help.

Learn more about in-text links on this page here