Return to the Home Decorating & Design Forum
|
Post a Follow-Up
---
| | | |
| --- | --- | --- |
| Have you tried these DIY home improvements ? | | |
Posted by
lilyfinch
(
My Page
) on
Sat, May 24, 14 at 0:06
My husband and I are closing on our dream home in 3 weeks and I'm so excited !! Our house is only 7 years old but has a couple things we'd like to do to improve it's looks .
First , I read about changing our staircase spindles to the iron look ones. Seems easy ... But I know my dh thinks I'm nuts . Anyone do this ? Easy as it seems ? Here's a pic of our steps and also if you have any suggestions for any of the areas shown please share !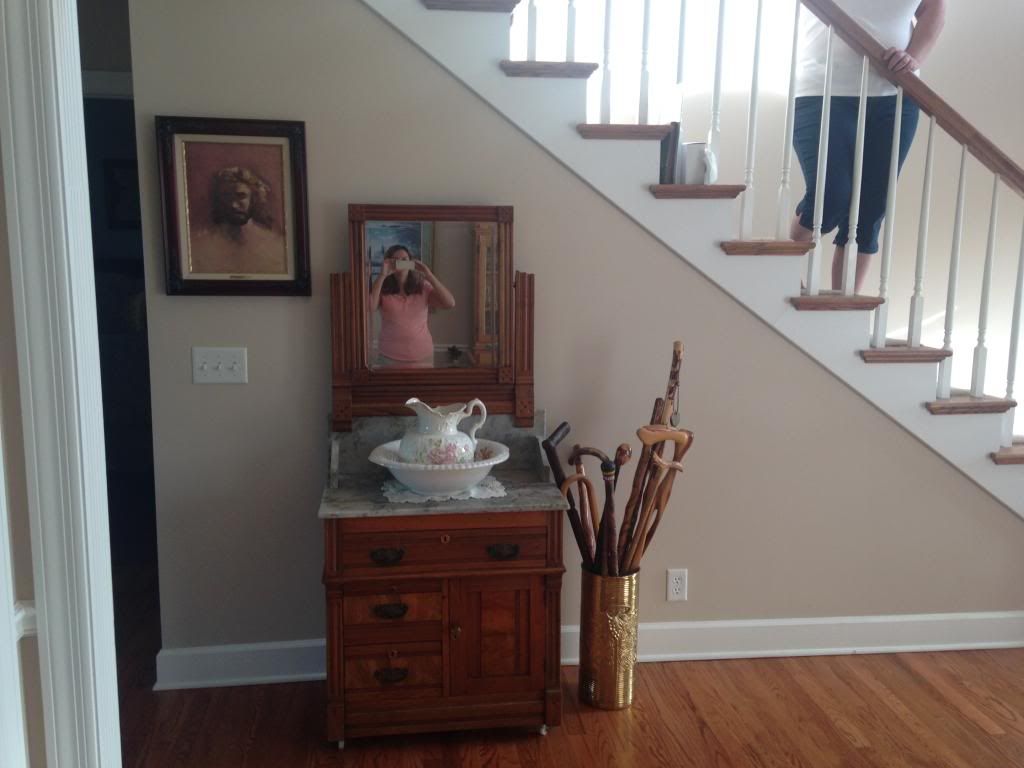 Next idea is wainscoting in dining room. Here is current homeowners furniture so imagine it's gone .,. And a pic of what I want to do after that.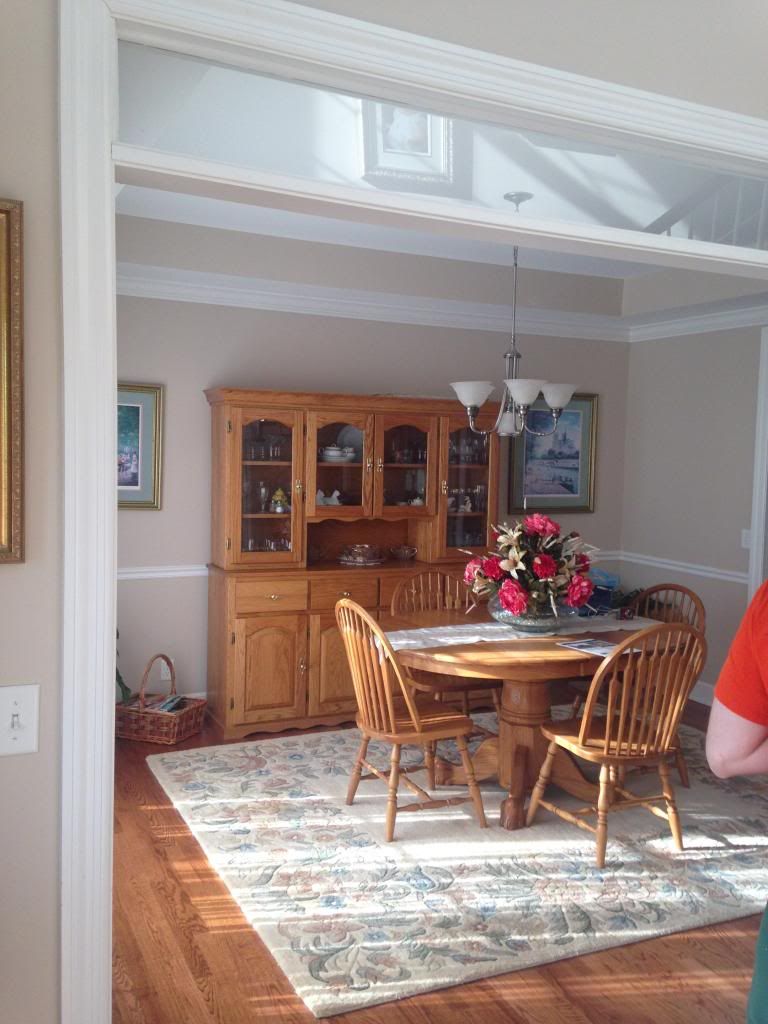 Do you think we need a new light fixture? I do.
Here's my inspiration pic. Not crazy about the wall color .

Any one try to do the wainscoting themselves ? I think we can do it ... Not a lot of wood cutting skills so I will have to practice.
The last project I most want to do .... That might be a contractor job. I really don't love red brick and would love to do a stacked stone covering it ? I feel bad because it is nice red brick as far as brick goes. I just hate it .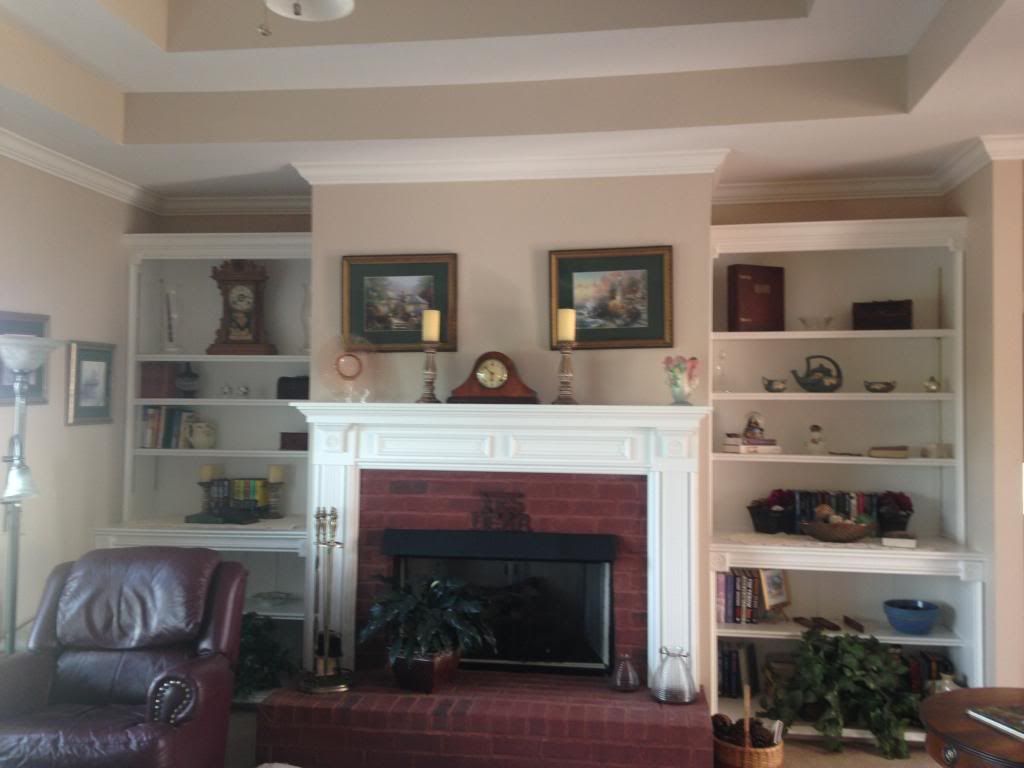 What I want to use ( in place of brick !) maybe all the way up the fireplace wall ( but not side walls ? )
Isn't that pretty ? I love the white mantel I already have so just the stone covering brick .
Soooo, are any of these projects you have taken on yourself? Any advice ? Am I being too ambitious ? Do you have any pics of your own to inspire with ?
I so enjoy reading peoples posts and hope to hear what y'all think !!
---
Follow-Up Postings:
| | | |
| --- | --- | --- |
| RE: Have you tried these DIY home improvements ? | | |
It is great that you are excited about the new house and wanting to maintain and update, but I would suggest that you live in it for a little while before you go cutting/demoing parts of the house.

I would have to see more of the house, but based on what you showed here are my opinions on your projects.
1) I don't think the iron spindles go with the house style.
2)The wainscoting sound like a great idea. Lots of tutorials on line.
3) I don't think stacked stone will look good with the mantel and fireplace style. Maybe you could paint the brick first, live with it for a while and if that doesn't work, then work on a plan to remodel the whole fireplace wall.
---
| | | |
| --- | --- | --- |
| RE: Have you tried these DIY home improvements ? | | |
What Chispa said....adding the stacked stone and wainscoting will also fight. I suspect if you paint the brick you will be pleased with the how well it goes with the wainscoting.
---
| | | |
| --- | --- | --- |
| RE: Have you tried these DIY home improvements ? | | |
First, congratulations on moving into your dream home.
The house looks really lovely as is and I hope you enjoy that way for a while before starting a project. Houses have personalities and you have to get know each other a little.
I agree with chispa that iron spindles to look to be in keeping with the style of the home.
Do not attempt the fireplace project until you have at least three medium DIY projects under your belt and the full support of your spouse.
The wainscoting is pretty easy, I linked one tutorial for you
Here is a link that might be useful: Wainscoting
---
| | | |
| --- | --- | --- |
| RE: Have you tried these DIY home improvements ? | | |
Instead of painting brick, I covered mine with tile mastic and then painted it the same as walls. It has held up for 7 years, no cracks etc. An odd idea, but worked. I don't care for painted brick, it always looks like painted brick. I do like your example stone, but as others have suggested, perhaps live with some ideas for awhile. Your surround is the same as mine, the change I made seems to soften the looks of the fireplace. I would trim out the sides of built ins to give them more of a cohesive look with the fireplace. Especially if you add stone, they seem to be hidden behind the FP.
---
| | | |
| --- | --- | --- |
| RE: Have you tried these DIY home improvements ? | | |
Meant to add that I agree with not using iron spindles. Would add natural wood stained to match your steps/handrail. Think this would make the area feel even larger.
---
| | | |
| --- | --- | --- |
| RE: Have you tried these DIY home improvements ? | | |
I wouldn't change out the spindles. Why not, instead, paint them in a high-gloss black, and the stairs black and white. While the pic below does have iron spindles, it can give you an idea as to what black and white would look like on your stairs.

Wainscotting is definitely do-able, so long as you learn how to cut the corners, which is the only hard part. Other than that, it's just a matter of hammering pieces of wood to the wall using finishing nails.

Re: the fireplace. A very good rule of thumb (which I wish I'd known when I bought my house) is to live in it for a year before making major decisions (other than the obvious, i.e.: updating a 1970s kitchen). This includes landscaping, because you need to know what it has year round before deciding what to add or take out.

I don't think the FP is a DIY project. That is something you want done right, not only for looks but for safety. That you would want to hire pros to do, and it would be expensive.

I agree with the others that the stone wouldn't fit in very well. Once I had the money, I'd probably replace the brick surround with wood and paint it white to match the mantel and the bookcases. I'd replace the hearth with a slate or cement hearth.

Meantime, I'd go with technicolor's idea of the tile mastic you can paint; paint the FP surround white and the hearth black or gray or brown.
---
| | | |
| --- | --- | --- |
| RE: Have you tried these DIY home improvements ? | | |
| | | |
| --- | --- | --- |
| RE: Have you tried these DIY home improvements ? | | |
Have to agree with the others that the iron spindles don't seem to go with the style of your home. I think you bought a beautiful home btw and I love the built-ins. And I also agree that living in a home a while let's everything sort of settle with you. Once your own things are in there you might think differently. How do you plan on decorating that room? (style, colors?) But it is truly a beautiful home from what you've shown. Best of luck!!
---
| | | |
| --- | --- | --- |
| RE: Have you tried these DIY home improvements ? | | |
Thank you all for the input ! I agree that the fireplace at be a bit much to do ourselves . I have no idea yet the colors we will paint ! I know we plan on taking up the carpet on the steps. Also I have to have the iron spindles... Lol I just love them ! I am happy to share more pictures ! I just really feel that the homeowners taste and furniture is a little dating to the home. And I have a hard time looking past it.
We looked at a lot of new construction and the iron spindles are very popular here. I personally think it will a make the home look a little newer ( tho by no means is it old ). The reason we didn't go with a home with all the perfect finishes is this home has incredible views. Not a lot in our budget with this backdrop .
Feel free to suggest what you may !! We prefer cooler colors . We are leaning toward a blue grey , or a slate color.
Entry way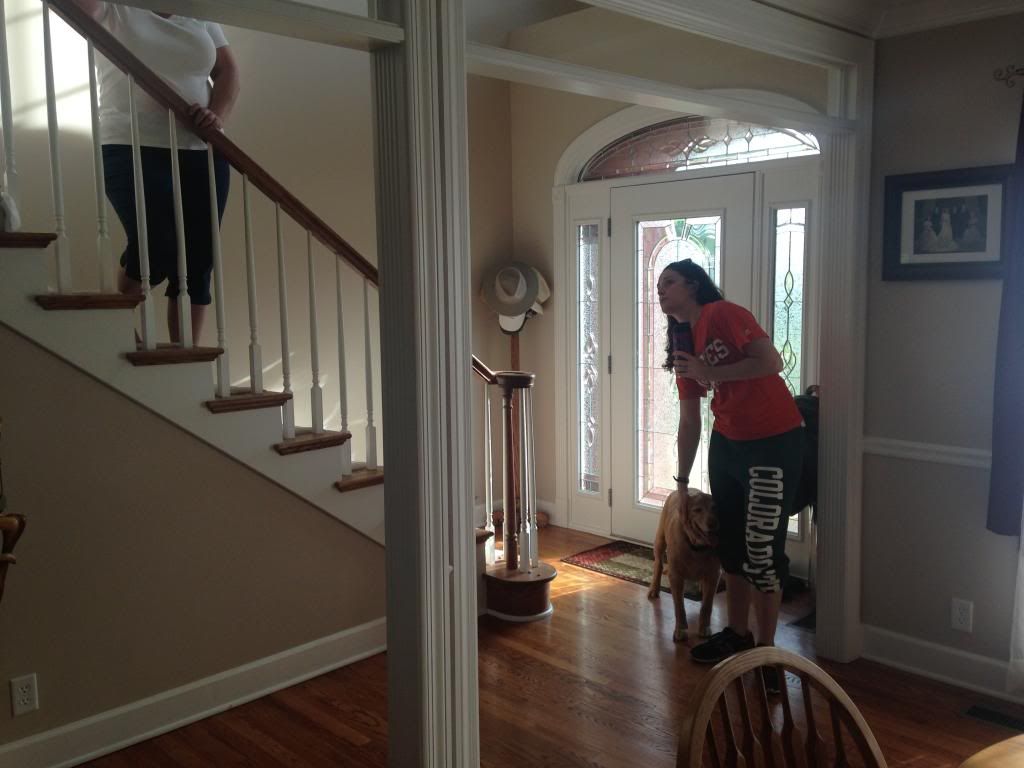 Sorry about the quality of pics . I was in a hurry bc the homeowner was there.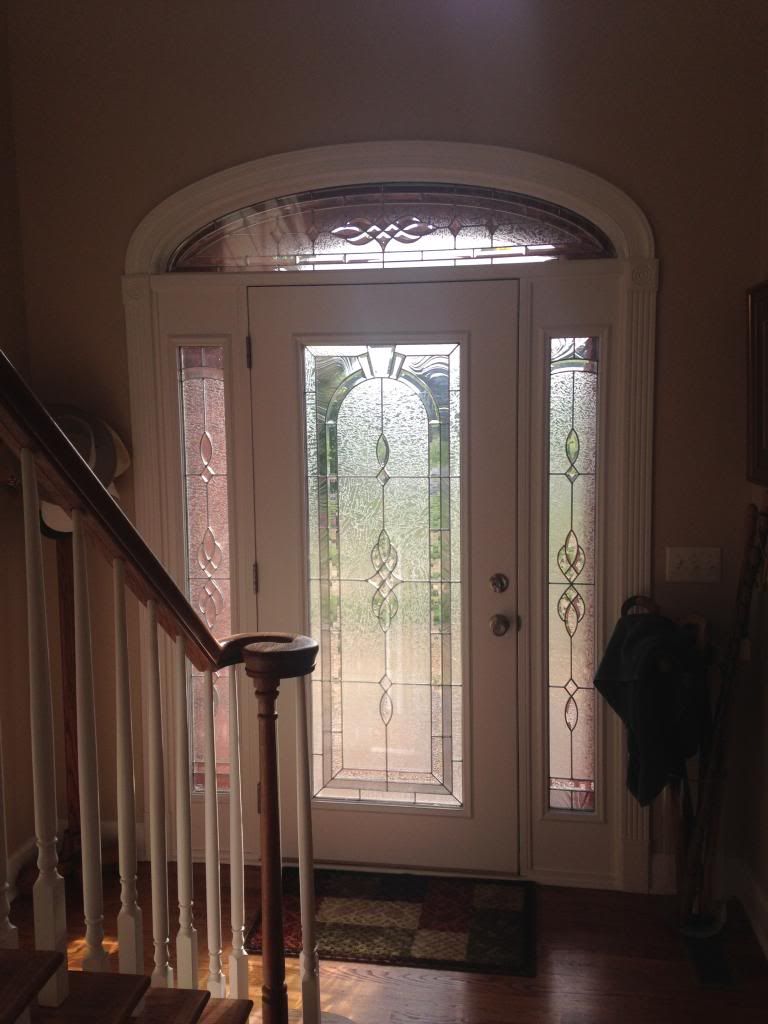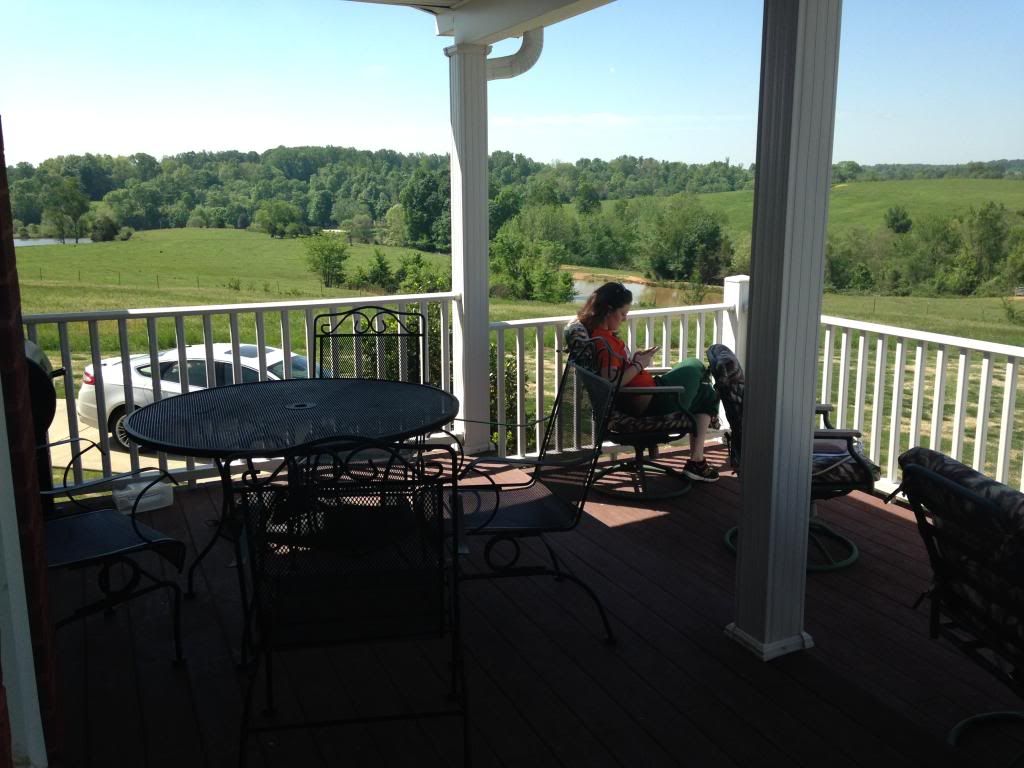 ---
| | | |
| --- | --- | --- |
| RE: Have you tried these DIY home improvements ? | | |
More ...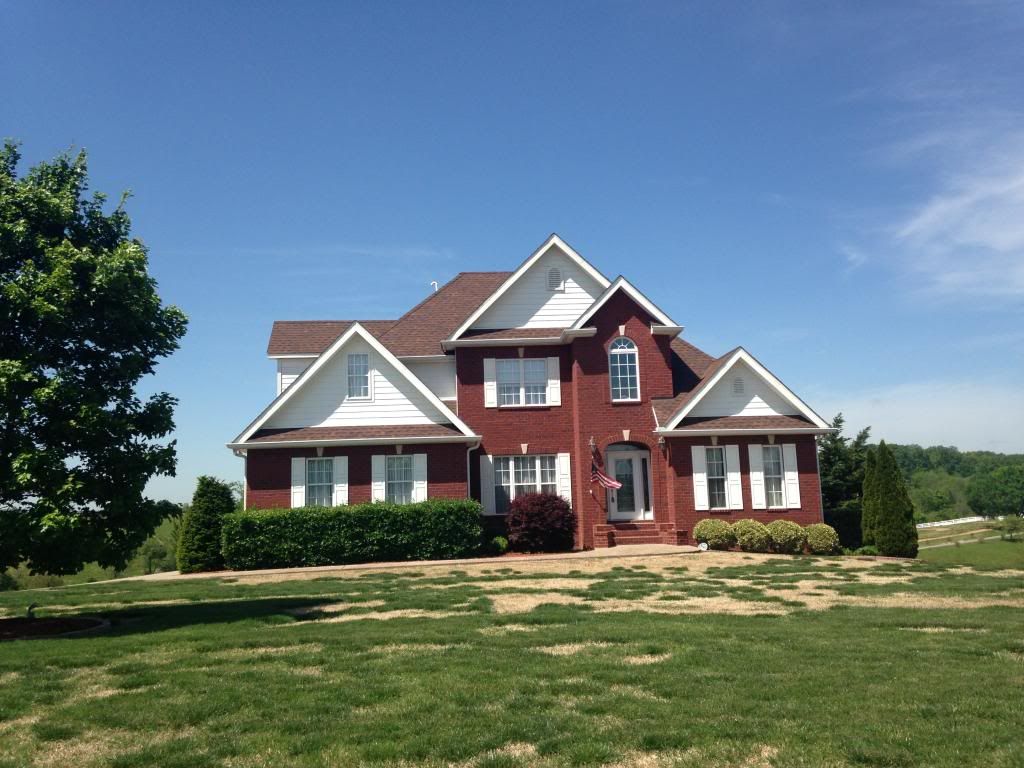 It was a stormy spring day here ...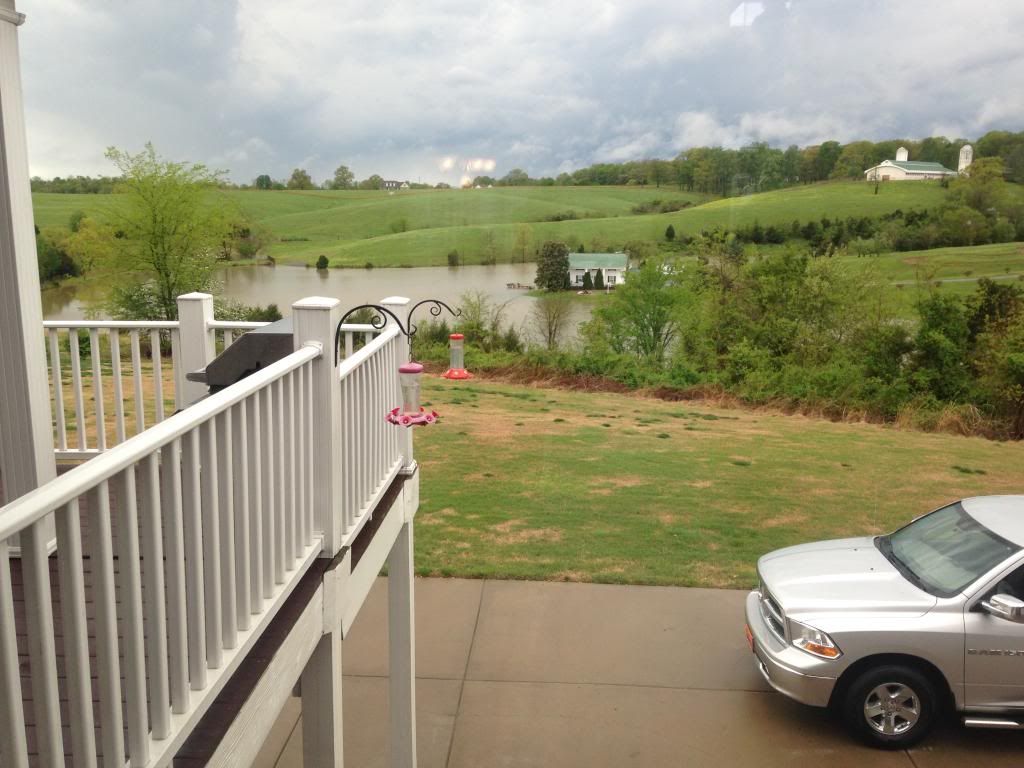 Ok I have a work meeting but I'll follow up in an hour or two! Also I'll get more pics of bedroom too :)
---
| | | |
| --- | --- | --- |
| RE: Have you tried these DIY home improvements ? | | |
Guess I'll be the lone dissenter here......I like all of your ideas. Unless you design and build your own home, it's almost impossible to always stay within the home's style. I live in an area that is 90% colonial, but I like modern furnishings. I think it's probably more appropriate if you are in a true period home, but not so relevant if you are in a tract subdivision or reproduction home. I say decorate it how you like or you won't be happy.

If the spindles are easily removed, you could try spray painting them first. I'm sure there's even a spray paint that would simulate wrought iron, then you can see how it looks before you commit to the real thing, especially if you have to pay to have it done.

I would certainly take a stab at the wainscoting and then have it done if you find it difficult.

Fireplace....I would just use stone where the brick is now and not take it up the wall above the mantle...you have enough going on with the built ins...might be too much.

Very pretty house...congratulations!
---
| | | |
| --- | --- | --- |
| RE: Have you tried these DIY home improvements ? | | |
What a beautiful setting! And, that's a big house!

I have no opinion on the iron balusters. I think you can make wood or iron work. I WAS surprised that it's a simple DIY job, as I've never looked into it - not ever having a railing ourselves, lol! I found a link explaining their process that I linked below.

Yes on wainscoting, yes on a new fixture for the dining room and entry. Oh, you didn't mention that one? hahaha

The brick. I have a huge brick fireplace surround that's a not so gorgeous color. It's an 8 foot x 8 foot monstrosity in our living room that I've lived with for almost 8 years because what I THOUGHT I wanted turned out to be NOT what I wanted for the long haul. That'd be the stacked stone. I'm glad I waited because my tastes have changed in those years and the thought of ripping something like that out (or living with the regret) makes me shudder. I'm still waiting for that Ah ha! moment. Give yourself some time in the house before changing that area. It's a bigger job than you think when you take into consideration the moulding on the mantle will likely need to be changed to accommodate the thicker hearth surround.
Here is a link that might be useful: Blog where they DIYed balusters
---
| | | |
| --- | --- | --- |
| RE: Have you tried these DIY home improvements ? | | |
Wow! those views are fantastic! I can see why the house appealed to you despite the things that aren't perfect. No house is perfect.

If you don't like the brick in the LR, you have nothing to lose by painting it. I lived in a house with a brick fireplace that I despised for 10 years. I am a chicken about doing things that can't be easily undone, but I finally bit the bullet and painted the brick. It made a world of difference. I wished I had done it years earlier!
---
| | | |
| --- | --- | --- |
| RE: Have you tried these DIY home improvements ? | | |
I think the iron spindles could look good. I like the fireplace stone, too-- (but what do I know?).

I do think it's wise to move in, get settled, and live with the house a while before making drastic improvements.
---
| | | |
| --- | --- | --- |
| RE: Have you tried these DIY home improvements ? | | |
I like the example of the painted stairs w/the iron spindles. I think that if you paint the spindles, treads, and handrail black you will get a very similar look but for a lot less money...but if the budget is not a concern then change them for how you like. I don't really like the "country" look of those kind of stairs...so a bolder color scheme or adding metal will help IMHO :-)

To me the dining room fixture seems fine, a transitional style piece. Maybe it's not high-end trendy, but I'd consider living with it, first. I agree that changing the entry fixture would have a nice impact. But to answer your question, yes we changed our and it was easy DIY (for DH LOL). The only issue is that we need to move it a few inches over, and have never been able to agree on whether to actually MOVE it or just to swag it...and that was several years ago yet we have still not done anything about it at all other than change it.

The fireplace -- I think the red brick looks harsh in that room. If the room and mantle were a deeper color I think it would connect better. My feeling is that, again, you'll get the most impact for the least investment if you simply paint the bricks and/or the mantle and walls. The stacked stone example, while attractive, just seems too informal for that very formal white mantle. I agree to just live with it for now and see how you feel in a year. Or paint the bricks for now, and then re-address things in a year.
This post was edited by melle_sacto on Sat, May 24, 14 at 11:33
---
| | | |
| --- | --- | --- |
| RE: Have you tried these DIY home improvements ? | | |
I would not change out the spindles to iron. I did that with our staircase, and regretted it within months. Although it was easy enough to do, it just didn't look as good as the wood did. We took the wrought iron spindles out, and put new painted wood ones back in.

Wainscoting should be easy and simple to do.

As much as I love stacked stone, it fights with the formality of that mantle. I'd paint the bricks instead.
---
| | | |
| --- | --- | --- |
| RE: Have you tried these DIY home improvements ? | | |
For people who have stacked stone: how do you dust it? Seems like the dust would gather in all the nooks and crannies, but the stone seems like it wouldn't dust easily.
---
| | | |
| --- | --- | --- |
| RE: Have you tried these DIY home improvements ? | | |
Thanks again everyone !!
I agree about living with some things for the time being. I don't think the fireplace is affordable right away. We have to get a fence put up and our deck is getting steps leading down to the yard. So the wainscoting is the project we can do right away. I am going to try to I've with the brick for a bit. I could paint it but my dh hates painted brick and I don't think he'll want to look at that ( tho it may speed along the stacked stone ! )
The spindles can wait also . It is just so exciting after 2 years of renting to be able to do things again !! We do have lots of painting to start with tho. Can't wait !
When we get the keys and can get empty house pics that may help too ! I agree about the light fixtures. We need to buy dr furniture first . There's just so much to do !! But it's so exciting . I know we can love with the house the way it is . We started in a small home with the tiniest kitchen ever so I know we have come a long way and are very blessed.

Here is the bedroom ... Carpet to be replaced . No ideas here either. Can't agree on bedroom furniture ! Lol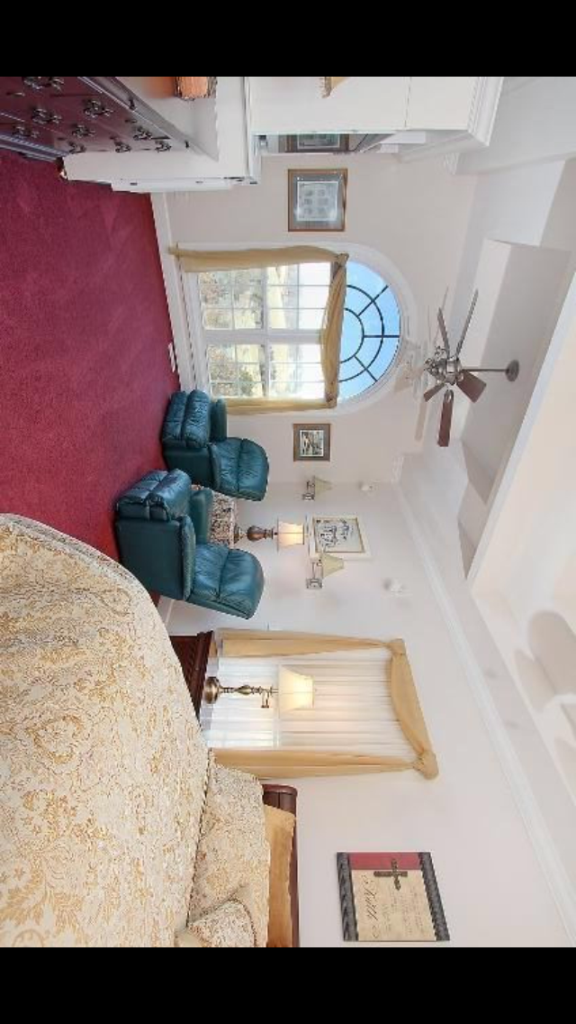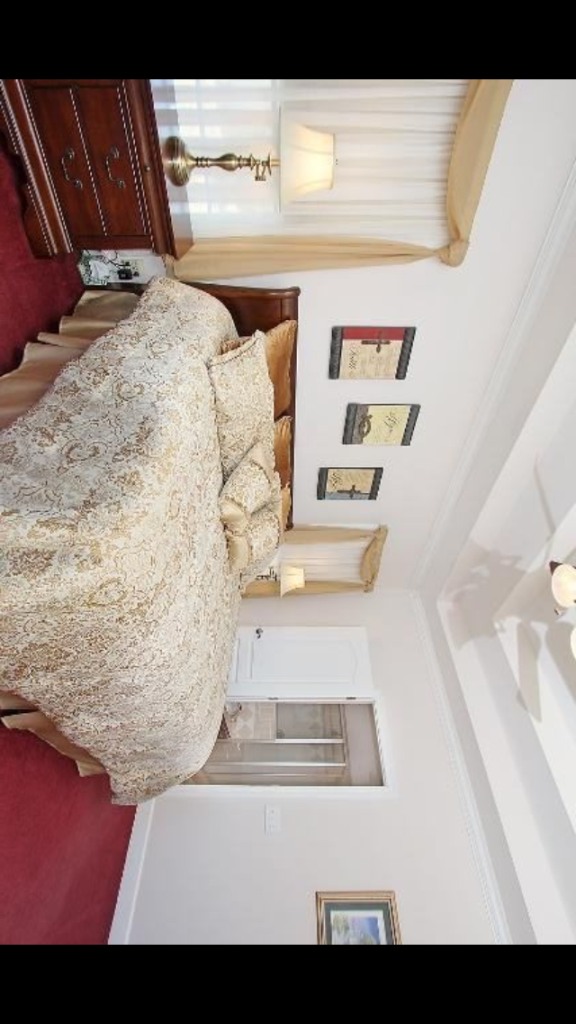 Sorry about the orientation of pics. When I flip them they become tiny
---
| | | |
| --- | --- | --- |
| RE: Have you tried these DIY home improvements ? | | |
I know they are using the iron spindles in all styles of homes now -- like the "Tuscan" kitchens and Craftsman kitchen in homes that don't suit them -- they are trends. You may be able to find a style that works better if you "have to have" them. Probably the plainer the better, but they will need something else in the house to tie into or they will look like you just put them there for the trendiness of them (consider the hardware and light fixtures for possible ways to tie in the darker metal).

Painting the stair treads and rail black seems to me to be going further in the wrong direction. Look at the photo with that done -- the floors are very dark and they tie in. In your home, they would not.

The wainscot treatment can be as simple as "picture frames" applied to the walls and everything below the chair rail painted white, beefing up the chair rail (and baseboard if needed) by stacking trim and then adding the vertical trim between them -- more like your photo, to taking down what is there and starting completely over. These all are DIY worthy projects, but obviously some will be easier than others.

The stone will not work with the mantel, as several people have pointed out. The mantel not only works with the rest of the house, but also the wainscoting you want to add to the DR. The mantel is a more traditional and formal style, while the stone is a casual, rustic style. I would try painting the brick - possibly only to test the idea of a final color done later in stone, or having a smooth stone tile applied where the brick is now. It could be a granite that ties in with the kitchen, a slate, a marble or possibly soapstone if you can find it. You could also do a stone around the firebox opening and a slab on the top and sides of the hearth.
---
| | | |
| --- | --- | --- |
| RE: Have you tried these DIY home improvements ? | | |
Just came back to see what other people were saying :-) What about painting the staircase another color altogether? If you stick with wooden spindles, I think some that are just straight up and down, instead of turned (or whatever that style is called) would look more transitional while still in keeping with the overall feel of the home.
---
| | | |
| --- | --- | --- |
| RE: Have you tried these DIY home improvements ? | | |
Since I have no idea exactly how formal this home is, can y'all suggest ways to tone that down? We are not formal people , no kids but have dogs . We don't like stuffy or formal and I guess the word " formal " to me means please don't relax or enjoy yourself here I want things to remain immaculate. So , when that word is used , I want to cringe and get away from that look. Not too causual I of course , but how can I soften the looks ?
I hope that dosnt offend anyone , I can totally respect others need to have their space defined that way :)
---
| | | |
| --- | --- | --- |
| RE: Have you tried these DIY home improvements ? | | |
It is a lovely house with an amazing view! I like that it looks older even though it is relatively new.

I currently live in a house with painted stairs. Any painted stairs that get a lot of use will show wear, and I wouldn't do it by choice. (Our stairs were already painted, and we simply repainted.) They also are relatively slick compared to other stairs I have lived with. If you want paint on the stairs, do the risers, not the treads IMO.

I grew up in a 50's house with wrought iron balisters and handrails. So to me they always look dated. I agree with the folks who think that the stacked stone doesn't work with the formality of the mantel. If you decide not to keep the brick or paint it, look at other finishes such as tile or wood panels.
---
| | | |
| --- | --- | --- |
| RE: Have you tried these DIY home improvements ? | | |
I just need to say I think lascatx has a wonderful eye for details.
Best of luck on your new home...it's a beauty!
---
| | | |
| --- | --- | --- |
| RE: Have you tried these DIY home improvements ? | | |
I know what you mean about formal but the fact is you purchased a traditional style home. Look at your entrance way plus I don't think crown molding has ever been considered anything but traditional.

I like ceramic tile on a fireplace. I could not find a good picture but I have seen a sit down hearth enclosed in wood and it looked like part of the built in.

It would not be DIY but it is the project I find most interesting. Here is a picture,
---
| | | |
| --- | --- | --- |
| RE: Have you tried these DIY home improvements ? | | |
Thank you all for the insight ! Perhaps it's a square peg in a round hole situation. I may have this " dream " in mind and may end up taking away from the beauty of what we have. Another thing to mention , is that some of us here are on our 5th home so we've nailed down what we like . This is my first home purchase that we had lots of time and options.. So what I guess I'm saying is ... I have no idea what my style is for sure and my mind is basically a Pinterest board of pretty things that may not go together !! So I really appreciate the help here.
---
| | | |
| --- | --- | --- |
| RE: Have you tried these DIY home improvements ? | | |
Lovely home, I can see why you are so excited! The front door and transom style window above the DR door frame are so pretty, and that deck...well, I would always want to be out there and projects inside would never get done. Congrats!

I too, would choose to replace both fixtures in the DR and foyer. The wainscot would be a great addition and not terribly difficult, even for a beginning DIYer. I don't feel strongly either way on the spindles, but I agree about waiting awhile on some changes. Your taste will evolve as you live in the house, and it's a shame when one spends the time and money on a project and decides shortly thereafter that it didn't turn out as desired.

As far as the fireplace, if you want to keep the mantle (I would!) the stacked stone will look all wrong. The mantle is very traditional, while that stone look is quite contemporary. I suspect your style is traditional, or else this house would not be your dream house. Maybe a new paint color in that room will help soften the brick color? I also like the idea of tile- tons of gorgeous choices out there.

One other suggestion, if I may? Stay away from Pinterest! It will just muddy the waters if you are trying to make decisions. It helps to keep you from ever being satisfied. With a daughter planning a wedding, guess how I know this?

Again, congratulations on your beautiful new home! I wish you many happy years and memories there.
---
| | | |
| --- | --- | --- |
| RE: Have you tried these DIY home improvements ? | | |
What a gorgeous home! How lucky you must feel. I love your fireplace mantel and built ins and even though I'm a brick lover, I find the raised brick hearth just a bit too much brick. When you are considering options (I agree the stacked stone wouldn't favor your style home) maybe something like this would appeal to you? In your white wood, of course.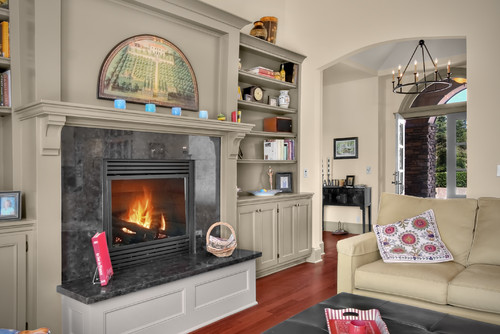 And if you think you could live with less brick, maybe after honing your DIY skill, this could work?
---
| | | |
| --- | --- | --- |
| RE: Have you tried these DIY home improvements ? | | |
Lily, I think the style you are going for is "transitional" (this is where traditional and contemporary meet in the middle). You have had some good advice to wait a little before you start major changes. Your small changes of paint, light fixtures and more contemporary rugs will make a HUGE difference the home. Best of luck.
---
| | | |
| --- | --- | --- |
| RE: Have you tried these DIY home improvements ? | | |
I have no decorating input, but just wanted to comment on the stairs. When you take up the carpeting, the treads may be very slippery. We had carpet on ours for about 15 years, then took it up and put in oak treads. Our poor dog spent six months falling down the stairs until she got good at descending slowly. I am careful to never carry anything down the stairs in sock feet, or I might fall too.

Also, those stair treads could be finished wood only on the ends, if the carpet covers to the wall. Ours were pine in the middle. Every tread was replaced with solid oak. Fortunately DH is a woodworker. :)

Beautiful house!
---
| | | |
| --- | --- | --- |
| RE: Have you tried these DIY home improvements ? | | |
I disagree that the iron spindles do not go with your house there are several different styles of them. There are many homes in our traditional neighborhood that have exactly all of the things you want to do. The stacked stone would look GREAT with your white mantel, have seen many of them, they compliment each other wonderfully. It's a beautiful look and often done here in the south.

I am in favor of the changes you want to make. Living with the house for awhile would make no difference in these minor changes. The stacked stone would look so much better than that red brick. I don't blame you for wanting to get on with that. You have excellent taste! It's going to be beautiful. I love your new home.

In a house we updated we just put a chair rail in the dining room and painted it white below and the chosen color above giving it the look of wainscoting. In this case there was so much furniture, door openings and windows, we felt it would be a place for the homeowner to save money by not doing a paneled wood wainscot. If you are feeling energetic you could add picture frame moulding in squares or rectangles below the chair rail. I have seen DIY'ers use actual picture frames painted white as the raised panel below the rail. Wish I had a picture for you. Good luck and congrats on your new home.
---
| | | |
| --- | --- | --- |
| RE: Have you tried these DIY home improvements ? | | |
Oly, thanks for posting those! As I tend to lean more traditional and those fireplaces resonated with me and my conundrum! I think cladding mine in wood is exactly what I want.
---
| | | |
| --- | --- | --- |
| RE: Have you tried these DIY home improvements ? | | |
Good morning! The pic of the judge's paneling that you have shown in the first post is from the dining room of a home that we built about 5 years ago. :)

My trim guy did it in about 4 hours and charged us $300 (including materials). It was worth every penny! The center of each of the "panels" is the drywall. Just for reference....the boards that run around the bottom of the room are 1X10s. The vertical boards are 1X4s with shoe moldings placed along the edges to "frame" each panel. The top rail is a of couple types of mouldings built up on top of a 1X.
---
| | | |
| --- | --- | --- |
| RE: Have you tried these DIY home improvements ? | | |
AOK,

There is stuff you can put on pine (wood) stair treads to make them not slippery. My house has a VERY steep staircase with very narrow treads, also pine, and they aren't slippery at all. They had been treated before I bought the house, presumably when the stairs were put in, so I don't know what that stuff is or how to apply it, but you can Google it. It's a godsend. I rent my house, and the grade and narrow treads make me nervous enough. If they were slippery too, I don't think I'd be able to sleep.
---
| | | |
| --- | --- | --- |
| RE: Have you tried these DIY home improvements ? | | |
First of all those views are beautiful!

With respect to iron railings - we have iron railings in our house and I love them but they also suit our house. I would wait on doing those because I think you need to put them in context of your entire front entrance and so formulate a plan for the stairs in conjunction with the entire front entrance - outside and inside. That front door will not play well with iron railings. I think the facade of the house can carry them but the front door can't. If I offend the home owner or anyone else I do apologize but that front door is hideous and doesn't suit the house. That's the first thing I would replace and then live with the rest.

The fireplace surround (no opinion on the brick) - the mantle and crown molding are quite strong features and the shelving on the bookcases looks very lightweight in comparison. While you're honing your woodworking skills on the wainscoting maybe consider adding some molding to the front of the shelves to add some depth to them. I don't mean actual depth depth but 3-dimensional interest depth.

There is already a lot going on with the fireplace - the mantle, the crown molding, the tray ceiling, whatever you put in the shelves and the stacked stone might put that wall over the top in terms of fussy detail. A simple tile might be better.

I wouldn't replace the chandeliers until you've done the wainscoting and bought your new DR furniture. Let that look guide your choices and not the other way around.

When looking at your rooms and decorating them in your mind don't forget to look at them as a whole unit. What rooms do you see from what rooms, how do they flow together, what are the sightlines like between rooms when you're sitting down. If this is your long term house do take it slow. I know it's exciting but you don;t want to be redoing "mistakes" in five years.
---
| | | |
| --- | --- | --- |
| RE: Have you tried these DIY home improvements ? | | |
I'd paint the brick around the fireplace, white, gray, or black and put molding to the ceiling.

---
| | | |
| --- | --- | --- |
| RE: Have you tried these DIY home improvements ? | | |
Replacing a front door with double sidelights and an arched transom would be very expensive. Blfenton, please show us a picture of the door you would find suitable. Reducing any glass area would make that 2 story foyer way too dark.
---
| | | |
| --- | --- | --- |
| RE: Have you tried these DIY home improvements ? | | |
Here are some different looks for you to peruse. Good luck! Love the setting of your home, gorgeous!



Stone goes with anything in nearly any decor. I love the look.

Not a bad look with the tile, looks nice in this room.





---
| | | |
| --- | --- | --- |
| RE: Have you tried these DIY home improvements ? | | |
Lovely house! What a view!!!
Instead of "formal," call it traditional and classic.

I really appreciate your last post, lilyfinch, especially your comment about a Pinterest board of pretty things.
You said you love your mantel, and you want to use wainscoting.
You also like iron spindles and stacked stone.
All those things are pretty, but not necessarily all at once or in the same house.
Just because lots of people are doing it, or every house in the neighborhood has it are not reasons to do it.
Those might even be reasons Not to do it, or at least to hesitate.

As far as people in the south using stacked stone and iron spindles in traditional houses, I'm sure they are. In new subdivisions in our state, you can see many examples of interesting choices in the use of stacked stone. Apparently, the thought is More is Better.
Like everywhere else in the U.S., sometimes those kinds of elements are used appropriately to the style of the house, and sometimes inappropriately.

Stacked stone looks great when it's called for and used in a way that makes sense. But lately it's been so overused and misapplied that I wonder if the next big trend will be tearing it out.
---
| | | |
| --- | --- | --- |
| RE: Have you tried these DIY home improvements ? | | |
Forgive me, I know this has nothing to do with the style of your staircase but I just have to say this is just visually stunning!

~Seeing more of the iron balustrades in contemporary design.

---
| | | |
| --- | --- | --- |
| RE: Have you tried these DIY home improvements ? | | |
I absolutely love your house and those views. I would personally live on that porch / deck wow lucky you!

I think if you used restraint in how you do the fireplace and the stone it could work and help to transition from formal to a bit more relaxed. I definitely wouldn't go up above the mantle and would really be picky about the stone and again use restraint. This picture is an example that looks good.
---
| | | |
| --- | --- | --- |
| RE: Have you tried these DIY home improvements ? | | |
| | | |
| --- | --- | --- |
| RE: Have you tried these DIY home improvements ? | | |
Oh wow ! These are some great pictures and I really appreciate y'all posting them and taking the time to do so.
I really love the door , but respect others opinions. :) I know the lighting needs changed too . I can't wait to get there again and really see it as our own ! I love iron so I'll probably find lighting that is black and iron. I love it in the garden too . It's my fav thing to shop for at antique stores!
Gr8day , thank you for your encouragement ! We must have similar tastes. I love the 2nd and third fireplaces . I did look at tile at hd and lowes today and found a tile that mimics stacked stone that I may consider. Also the stair pics make my heart smile ! I just love them.
Raven Cajun , that pic is exactly how I thougt it would turn out !' I know my inspiration pic was much bigger fireplace. This pic you posted is just perfect.

Melsouth , thank you for your ideas! I am in tennesee , so yes these things are popular here. But beside being popular , they are things I really love. I believe there is a lot of psychology behind ones home choices too. I grew up in a trailer , for 19 years.. Didn't know any better of course , and my parents did the best they could ! Love them for it ! Now I am 30, buying my dream home and feel very blessed. I think I am attracted to these different things because of years of admiring other peoples homes. So even if other people have similar things , I am so proud to have them !! I don't feel the need to be keeping up with others . I hope it dosnt come across like that .
I love beautiful staircases , and I think it's because when I went to friends homes as a child , I thought they were great ! We didn't have stairs .
I'm sure there's a lot buried in our minds relating to our styles ! It would make for an interesting discussion , for sure! :)
---
| | | |
| --- | --- | --- |
| RE: Have you tried these DIY home improvements ? | | |
DIY - in order to remove the existing spindles and then install new spindles, there is a reasonably high likelihood that you would have to remove the handrail. In doing that, you would most likely damage the Sheetrock around it at the top of the stairs. Sheetrock patching and then repainting would be needed. In addition, note how the handrail winds around over the top of the newel post. Removing and replacing it would introduce a stain/finish matching challenge. You will also have a tread refinishing task if the new spindles aren't the same diameter and size as the existing.

Are you ready for this type of DIY?
---
| | | |
| --- | --- | --- |
| RE: Have you tried these DIY home improvements ? | | |
Such a sweet and wonderful story and now you will have this beautiful new home! I'm so proud for you!!!

Around here when they take out the spindles they leave the other decorative support posts so the integrity of the stair rail is not compromised. They simply replace just the spindles. In fact when they build a staircase the spindles are the last thing to go in. We had our staircase made and it was brought to the house without the spindles which were put in after the stair rail and posts were installed. The support posts that are heavier wood are left in place and the drywall never comes into play as the spindles do not connect to the drywall but only to the rail, the bottom trim and the posts and finish trim of same wood. If you elect to have it professionally installed it's a pretty quick process. There are lots of companies here that do it. Enjoy your new home to the max!

In our town there are homes from brand new to over 180 years old, as there are in many quaint towns in our country. We aren't what I would call cookie cutter and I admire the many different styles that people have loved all through these many years. We live near our 200 year old town square in the city. You can find these elements of stone fireplaces in old and new as well as wrought iron accents. I never thought of wainscot as trendy either. Do what makes you smile when you pass by it in your daily comings and goings. Making it your own is the best!
---
| | | |
| --- | --- | --- |
| RE: Have you tried these DIY home improvements ? | | |
" I just really feel that the homeowners taste and furniture is a little dating to the home. And I have a hard time looking past it. "

yes, it is. and that's is a good reason to move in, get your stuff around you and do little things (replace any carpet? light fixtures etc) for now. six months or more down the road re-evaluate those other things.

It's a beautiful house - and awesome view!
---
| | | |
| --- | --- | --- |
| RE: Have you tried these DIY home improvements ? | | |
"Around here when they take out the spindles they leave the other decorative support posts so the integrity of the stair rail is not compromised. They simply replace just the spindles. "

That all depends on whether the spindles fit into holes on the underside of the handrail or are just flush with the underside.
---
| | | |
| --- | --- | --- |
| RE: Have you tried these DIY home improvements ? | | |
You have confused me. I agree the dining room is ripe for wains cotting. It can be an easy thing to mimic depending the style you choose. IMHO it is a very formal treatment, but you said "we are not formal people". It really sounds like the best advice over all is SLOW DOWN, live there awhile. Iron is such a harsh dark treatment. I will never be a fan.
---
| | | |
| --- | --- | --- |
| RE: Have you tried these DIY home improvements ? | | |
Jmc, if you look at videos on how to do it yourself you will be surprised at how simple it is . No drywall involved. There are these little black shoes that hold the posts in place and cover any damage from the white spindles .

Arcy , I understand what you are saying. But I see wainscoting as a nice finishing touch , like crown moulding . I think we can tone down the formality of the room by not choosing heavy window treatments and our table can be light.
Gr8day , here in tn is a beautiful little town called franklin . Similar to what you described , town square and all . They have old and new homes and they are overflowing with character! I just love it. Double staircases , butlers pantrys, I even toured one that had secret servants stairs and rooms . It was so neat ! I love strone property walls , lots of those. One had an enclosed courtyard garden . There is so much beauty in these little towns!
---
| | | |
| --- | --- | --- |
| RE: Have you tried these DIY home improvements ? | | |
We hated our red brick fireplace so DH tiled over it with slate floor tiles. Could be cut down to look like stacked stone....
---
| | | |
| --- | --- | --- |
| RE: Have you tried these DIY home improvements ? | | |
It looks like the brick used in the fireplace is the same as the exterior brick on the house. This is a wonderful matching accent which I would be very slow to change. The red brick is timeless. Stacked stone is going to look very dated within a decade, if not sooner. Are you old enough to remember when volcanic rock accents were all the rage in the 70's?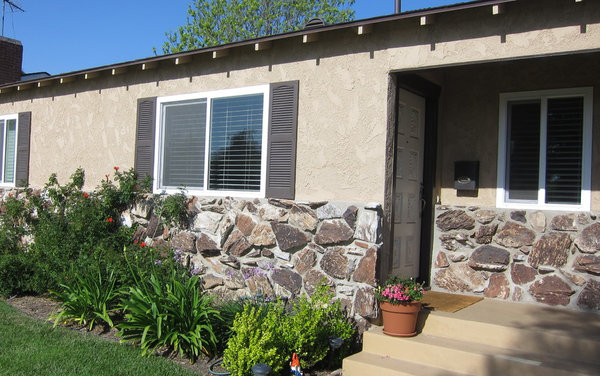 ---
Post a Follow-Up
Please Note: Only registered members are able to post messages to this forum.
If you are a member, please log in.
If you aren't yet a member, join now!
---
Return to the Home Decorating & Design Forum
Information about Posting
You must be logged in to post a message. Once you are logged in, a posting window will appear at the bottom of the messages. If you are not a member, please register for an account.
Please review our Rules of Play before posting.
Posting is a two-step process. Once you have composed your message, you will be taken to the preview page. You will then have a chance to review your post, make changes and upload photos.
After posting your message, you may need to refresh the forum page in order to see it.
Before posting copyrighted material, please read about Copyright and Fair Use.
We have a strict no-advertising policy!
If you would like to practice posting or uploading photos, please visit our Test forum.
If you need assistance, please Contact Us and we will be happy to help.

Learn more about in-text links on this page here