Return to the Home Decorating Forum
|
Post a Follow-Up
---
| | | |
| --- | --- | --- |
| Does Your Decor Match Your Personality? | | |
Posted by
paint_chips
(
My Page
) on
Thu, Apr 23, 09 at 23:30
Recently I saw another news story about how owners look like their dogs. My pups all chose me so I feel like I can claim more ownership over my house than the dogs.

I feel like I know so many of you, not only through your posts, but also from your rooms. But I never know how close I am to pegging personalities. All of this has lead to the creation of my totally unscientific test to see if GWebbers look like their homes. : )

It is simple really. Just list your 5 most favorite decor/furniture items that are actually in your home. Then give us 5 adjectives that best describe you.

----
Five items:
My baby grand piano, an Oriental chest that I use for the tv, a leopard print chair, gilt gesso mirrors, and a vintage crystal chandy over the bed.

Five adjectives:
Persevering, resourceful, spontaneous, eager, and imaginative
---
Follow-Up Postings:
| | | |
| --- | --- | --- |
| RE: Does Your Decor Match Your Personality? | | |
Humm fun idea!

Five items:
Jeweled frog, 17th century shoe, Art Deco lighting, Chickens, Venetian glass

Five adjectives:
Quirky, Classy, Comfy, Creative and Ethical

I'm not sure if the frog most demonstarts my ethics or the chickens :oP
---
| | | |
| --- | --- | --- |
| RE: Does Your Decor Match Your Personality? | | |
Five Items:
Queen Anne sofa, Victorian armoire, Shabby chic chest of drawers, Farm table, "Bernardo" (my new handsome portrait of someone) lol
Five adjectives:
Chic, traditional, hip, comfortable and lusty.
I'm only kidding about the lusty comment, my attempt at being funny about the painting. Humorous is my fifth answer.
---
| | | |
| --- | --- | --- |
| RE: Does Your Decor Match Your Personality? | | |
I'll play --

My favorite things in the house (not counting the sentimental stuff like pics frame made by kids, etc...)

These chairs:
this chandelier -- which I will hang in my master bedroom & bathroom (I have 2)
this dining chair (absolute love!)
This mosaic basketweave:
pottery ...

Adjectives:
Carefree, easy going, details oriented, friendly, nomadic.
I don't know if my decor reflect my personality -- probably not! :-D Judge by the items above, you probably think I'm a high-maintenance diva. LOL.
---
| | | |
| --- | --- | --- |
| RE: Does Your Decor Match Your Personality? | | |
Items I love in the house:

My mother's crystal lamp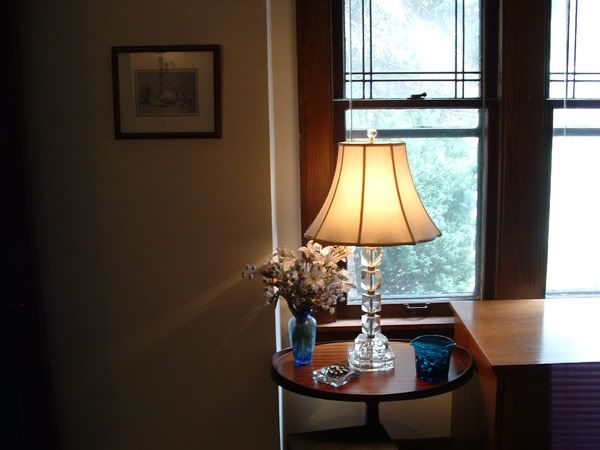 My dining room chairs and my large print of The Palm House: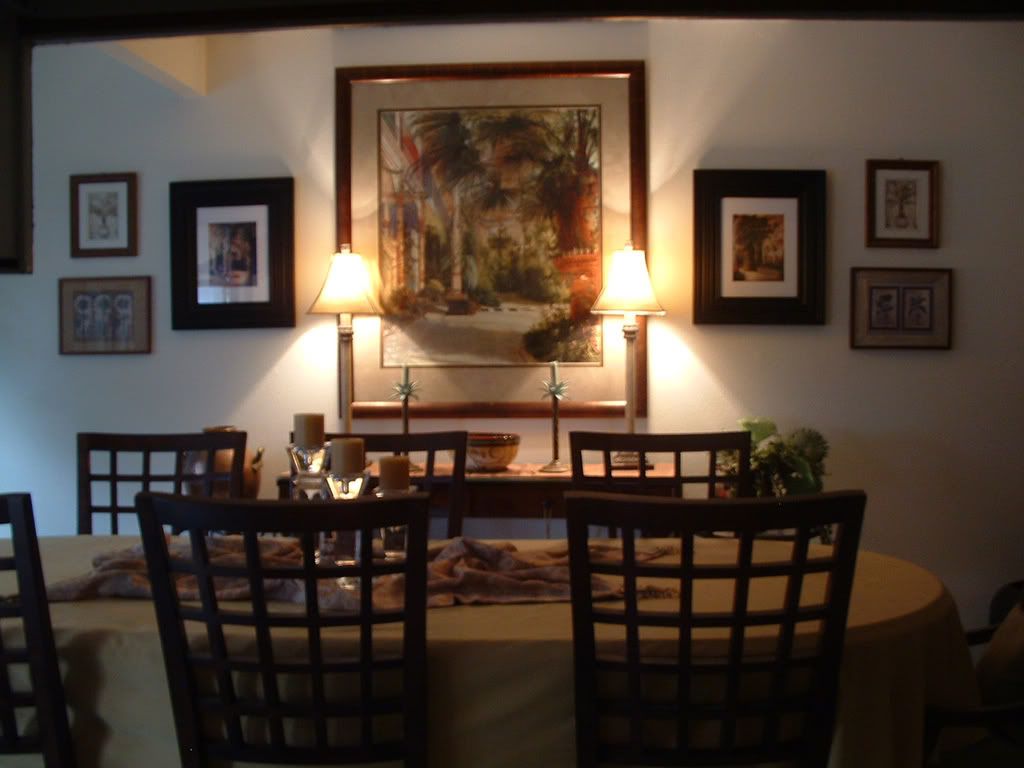 This crystal lamp and the mirrored chest plus my self portrait above: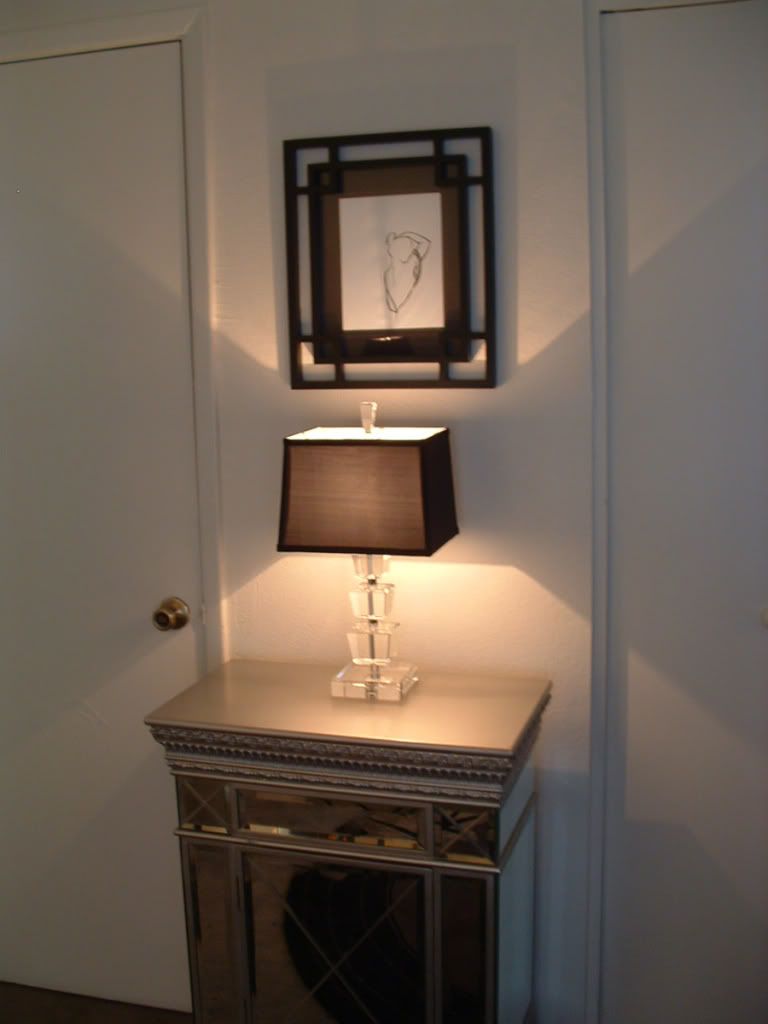 This art piece which is actually a print of a painting by a gorilla who is now deceased. It was painted by Michael who used to be with Koko, the gorilla that can sign hundreds of words. The dog used to be a good friend of the gorillas too. Koko used to have a kitten pet which she kissed and held very gently.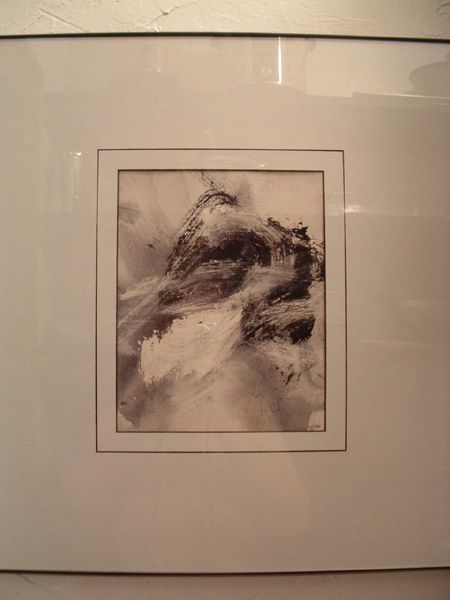 Well, that's more than 5 pieces.
Adjectives - hmm, let me think:
Positive person, strong faith in God, Creative, Smart, Helpful
---
| | | |
| --- | --- | --- |
| RE: Does Your Decor Match Your Personality? 2 | | |
Yep, my thoughts exactly Bella, you DIVA!
---
| | | |
| --- | --- | --- |
| RE: Does Your Decor Match Your Personality? | | |
New dawn...my name is Dawn as well...my husband laughed at your five words...and want's to trade up :OP
---
| | | |
| --- | --- | --- |
| RE: Does Your Decor Match Your Personality? | | |
Jade foo dog, English secretary, antique Chinese vase, Oriental rug, the portrait my husband painted

Intelligent, mature, compassionate, inquisitive, classy (I cheated. I asked my husband about my personality and he reeled off these qualities in approximately four seconds. Sorry, I'm tired tonight. Horrible day at work.)
---
| | | |
| --- | --- | --- |
| RE: Does Your Decor Match Your Personality?3 | | |
Dawn this happens to me all the time, NOT. Men... you can't live with them and you can't live without them. lol
Incidentally my name is Jane, Newdawn is my favorite rosebush.
---
| | | |
| --- | --- | --- |
| RE: Does Your Decor Match Your Personality? | | |
5 Favorite Items: (leaving our personal photos)

*HM Grandfather Clock
*HM Gallery Wall Clock
*Keith Urban FC Party Framed Vintage Poster
*Pottery Barn Chelsea Bedside Lamps
*Large Rustic Wall Star

5 Adjectives:

*punctual
*rustic
*loyal
*researcher
*dependable

I love my clocks, they're big & strong. And dependable! :)
---
| | | |
| --- | --- | --- |
| RE: Does Your Decor Match Your Personality? | | |
These are all interesting and I could have almost guessed Eileen's. Three Grad, I think you know yourself pretty well.

I would say you are self-reliant, positive, talented, nurturing, persevering, honest to a fault and have a deep abiding faith that allows you the confidence you have in your ability to move forward and your trust that others will do the right thing.

New Dawn, I think yours is right on also. Love your Latin lover guy. ;-) I think you also are pretty true to how you feel about yourself, but I would also say you like a sure thing. You like to think you are a gambler, but you are pretty safe person. You will go out on a limb but you will come back in before you hear the creaking.
---
| | | |
| --- | --- | --- |
| RE: Does Your Decor Match Your Personality? | | |
Things I love:

Old pine Welsh dresser (from Mom)
Mahogany altar table/cabinet from Hong Kong (bought there by Mom)
1898 Ansonia clock (from Grandpa)
Pottery Barn secretary-hutch (indispensable)
My collection of animals in stone, metal and wood.

I am:
Tenacious
Optimistic
Organized
Self-confident
Loyal
---
| | | |
| --- | --- | --- |
| RE: Does Your Decor Match Your Personality? | | |
Let me see, things I love:

My house itself (a replica of a 1700s house in Conn.)
A garden statue of a wizard- a gift from DS
Some of my books- ok most of my books, oh all right ALL OF MY BOOKS!
My desk and chair- both handed down, one from each grandmother
My mantel clock- the face was hand embroidered by my mother

5 adjectives: cerebral, empathic, rooted, ethical, kind
---
| | | |
| --- | --- | --- |
| RE: Does Your Decor Match Your Personality? | | |
My favorites are:

My dad's artwork, especially the two pen and ink characters from The Mikado he did while he was working on a mural for the public school system of NYC during the WPA.

My iron lamp with an oak leaf on the shaft and acorn feet as the base. I purchased it quite a few years ago at The Crafts at Rhinebeck art fair. It was made by a metalsmith from Maine, Lance Cloutier, and reminds me of our property.

Antique 3-drawer chest with hand-cast fittings that was my parents. I think it's from the early 1800's, but have never had anyone come and give me a definite. It sits in our guest room and I use it to store linens and gift wrapping.

My collection of pitchers, creamers and gravy boats, some antique and some current.

A Swedish buffet that my mom loved that we use in our den/office.

I am:

Creative
Resourceful
Pragmatic
Detail-oriented (or as DH puts it, "detail obsessed")
Honest
---
| | | |
| --- | --- | --- |
| RE: Does Your Decor Match Your Personality? | | |
All my crystal, including vintage Heisley that belonged to
my great aunt

an 1845 seascape painting of Newport, RI

an vintage gold-leaf mirror, belonging to another great
aunt

a queen anne secretary (repro)

flo-blue and old chelsea china

Means I'm old and like old things lol, I'm traditional and cling to those things with history, I would say I'm pretty transparent as well
---
| | | |
| --- | --- | --- |
| RE: Does Your Decor Match Your Personality? | | |
Vintage Henredon burled mahogany bedroom pieces.

Acrylic painting of Majorca I bought from the artist in 1969 (I was 17 and a traveler in the making).

French Heritage carved, solid ash DR table.

Scalloped, marigold glass dish that belonged to my mother.

Muddy yellow-SW Ivoire.

I am...

Wandering

Loyal

Risk-taking (some might say to a fault)

Humorous (some might say to a fault)

Self-deprecating (see above)
---
| | | |
| --- | --- | --- |
| RE: Does Your Decor Match Your Personality? | | |
I gave up playing the tables in Biloxi many years ago. lol Your right Patricia I like a sure thing and I wish I was more of a risk taker.
Your good at reading people Patricia. Now why didn't you play the game, we're waiting. lol
---
| | | |
| --- | --- | --- |
| RE: Does Your Decor Match Your Personality? | | |
What a cute idea! I want to play.

My 5 favorite things:
1. The unobstructed view of the woods from the windows on the back of my house.
2. The light and airy look of my kitchen.
3. My newly remodeled powder room -the wallpaper is a contemporary take on an old damask.
4. My china hutch - it's traditional, yet casual
5. Off white canvas sofa - I waited so long to replace the old one. This one is what I would called paired down traditional. I can dress it with various pillows to change the look.

5 adjectives that describe me:
1. Artistic
2. Optimistic
3. Like change - easily bored
4. Project oriented
5. Resourceful
---
| | | |
| --- | --- | --- |
| RE: Does Your Decor Match Your Personality? | | |
It was hard to choose just five!

The first is a little Castleford butter crock that's been in my family for almost 200 years -- so I'll go with Enduring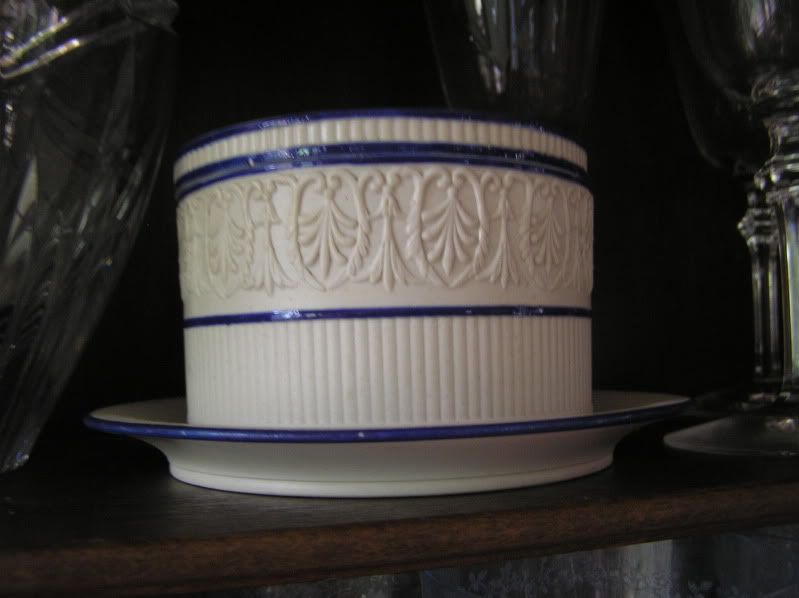 Next are two pieces of art glass that I just fell in love with, one more traditional, and the other very surprising -- so I'll add Traditional and Innovative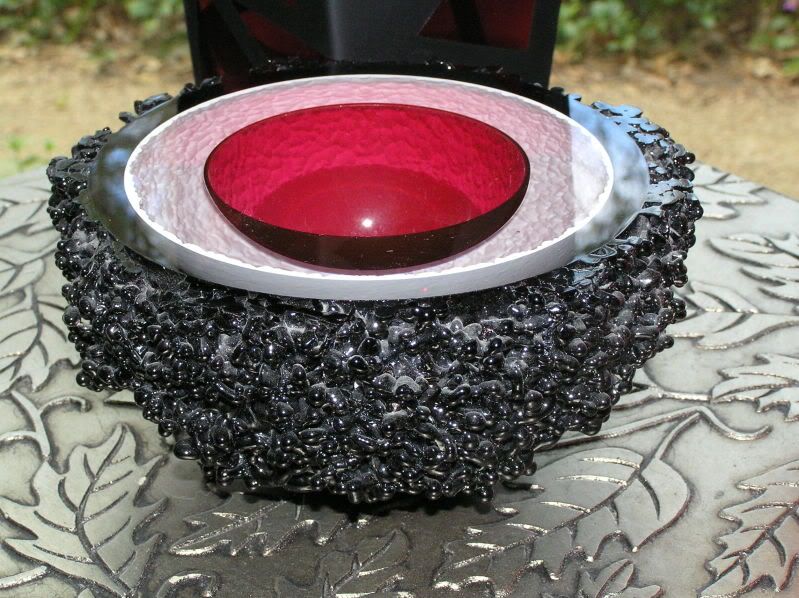 Next is a collection of several items that also have been in the family for a while. The bronze birds belonged to my grandparents, and the Japanese cloisonne urns were my parents' favorites -- so I'll add family-oriented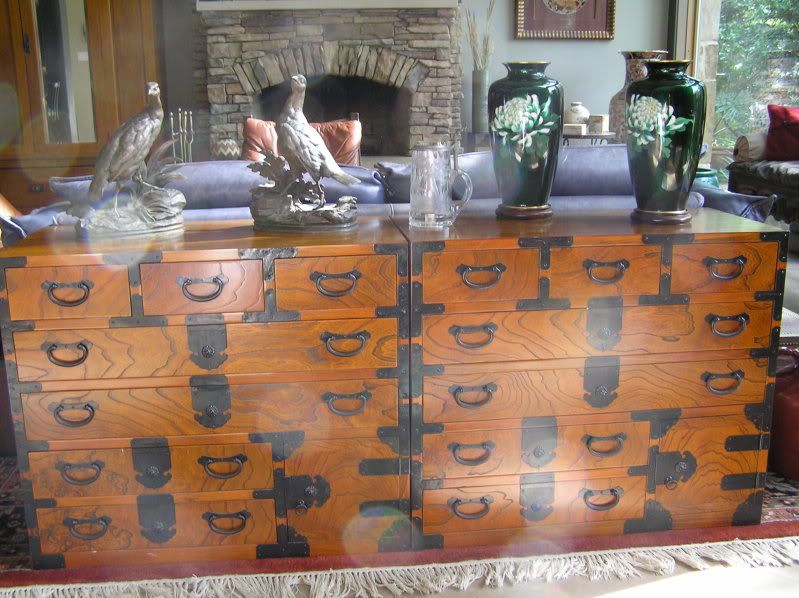 And last is a charger that family lore maintained was ancient, Chinese and very valuable. But having just had it appraised, I recently learned that it's Japanese, under 100 years old, and not especially valuable. But still beautiful -- so I'll add Curious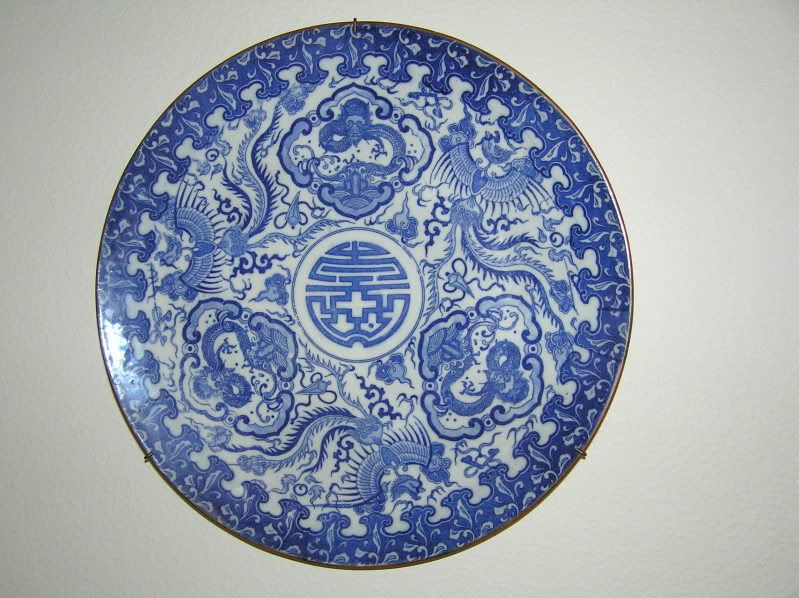 ---
| | | |
| --- | --- | --- |
| RE: Does Your Decor Match Your Personality? | | |
I loved seeing the pictures of all the "things" you all love!!! Good thread!!!

1) The leaf, iron bed Dh & I made.


2) Grandmas glass inlaid brass vases.


3) Souvenir desk clock from our trips to Australia.(we scuba dive)


4) Grandmas 100yr old rug.


5)The views out the wall of windows and off the huge deck.

5 descriptive words: Outdoorsey,simple,traveler,devoted,loyal
---
| | | |
| --- | --- | --- |
| RE: Does Your Decor Match Your Personality? | | |
Nope. I am a dark, dour, compulsive, didactic person so my house does not match me, because its not a Gothic library.

I do have piles of books and some compulsive collections though.
---
| | | |
| --- | --- | --- |
| RE: Does Your Decor Match Your Personality? | | |
My 5 favorite things:
1. Collection of WWI posters (I know that's semi-cheating, but they all go together--I couldn't pick just 1.)
2. Double oven, 6 burner O'Keefe and Merrit stove, newly rechromed.
3. William Manker pottery--graduated green glazes.
4. Sumak rug I bought on a whim, and love it more every day.
5. Art Deco mahogany desk I rescued from the curb

5 adjectives that describe me:
1. Imaginative
2. Enthusiastic
3. Resourceful
4. Adventurous
5. Democratic--with a small "d". I treat everyone and everything about the same.
---
| | | |
| --- | --- | --- |
| RE: Does Your Decor Match Your Personality? | | |
This is one of those threads that's going to become a GW classic . . . what an great idea, Paint Chips! I've enjoyed reading each and every one.

My favorite things:
This framed photograph from the the artist Phil Sonier. I love the the beauty and energy that Phil was able to capture and have it hanging in our guest room. This was taken in Northern New Mexico.

This wonderful 99 y/o statue I just got on our trip to Florida. Those of you who know me here, KNOW that I don't have an Asian-inspired house, but I just love this little guy!

My (fairly) new kitchen hood that I designed totally by myself . . . although I didn't built it. It has a hand-troweled plaster finish, a narrow mantel for me to display paintings on and I love how it really sets the atmosphere for our new kitchen.

My family room's kiva fireplace that I hand-painted myself. I'm proud of my creativity . . . and that I finally got up the nerve to do something that big!

My great-grandmother's set of antique china. It connects me to my past and to all the strong, good women who helped make me who I am today.

Me: Nurturing, Creative, Family-oriented, Eclectic, Great sense of humor (I know that's more than one word, sorry)
Lynn
---
| | | |
| --- | --- | --- |
| RE: Does Your Decor Match Your Personality? | | |
What a great thread!

My Favorites
1. picture brought over from Germany by my grandparents
2. cherry desk built by my grandfather as a graduation gift
3. china that belonged to my deceased aunt
4. antique dining set my mother had
5. souvenir trinkets from my fathers trips

My Adjectives
1. Humble
2. Loyal
3. Candid
4. Generous
5. Compassionate
---
| | | |
| --- | --- | --- |
| RE: Does Your Decor Match Your Personality? | | |
Decorative items:
1. antique upright piano circa 1908 (bought from classifieds for $300)
2. antique Jacobean style dining room table and chairs (with pads and leaves - also bought at yard sale, coincidentally for $300!)
3. antique quartersawn oak apothecary cabinet, originally from circa 1900 drugstore (let's just say a lot more than $300!)
4. antique quartersawn oak sideboard; inherited from my parents - was in my childhood home since I was born; then to my sister; now I am the caretaker
5. old photographs of my and my husband's grandparents, great-grandparents, etc. that we have framed and hung in various rooms

adjectives:
1. adventurous
2. rebellious
3. fun-loving
4. impractical
5. easy-going

Not sure if my decor matches my personality - clearly I adore old things. In fact I should say my 1895 victorian is my favorite decorative item. it give me a thrill to think I am living in or using something that someone in long ago times used - and there is something about old photographs that just fascinate me. I think my love of antiques is related to my impractical nature - I am definitely a form over function kind of gal. As much as I've complained about our "drafty old barn of a place" over the years, I know in my heart I would never consider living in a house that was not an antique. However in terms of lifestyle , socio-political views, etc. I am pretty forward thinking, so go figure.
---
| | | |
| --- | --- | --- |
| RE: Does Your Decor Match Your Personality? | | |
| | | |
| --- | --- | --- |
| RE: Does Your Decor Match Your Personality? | | |
| | | |
| --- | --- | --- |
| RE: Does Your Decor Match Your Personality? | | |
I think David's favorite decorative item is Spam.

The adjective best used to describe him is illiterate....at least where TOS is concerned.

Take a hike pal...
---
| | | |
| --- | --- | --- |
| RE: Does Your Decor Match Your Personality? | | |
Hey David..

My husband was in a hurry and didn't have the time to really fix up. This picture was taken unexpectedly do you think you could touch it up a little? Please use all your powers, thanks in advance.
---
| | | |
| --- | --- | --- |
| RE: Does Your Decor Match Your Personality? | | |
Ohh! I forgot about this thread. My husband had some stuff going on around that time and needed my help. Should I be surprised that most of us are some form of creative? :0D

LOL, is anyone getting a kick out of the fact that he wants to retouch pictures of our homes BEFORE we post them? Is he going to retouch popcorn ceilings and take dog bones out of the pictures?
---
| | | |
| --- | --- | --- |
| RE: Does Your Decor Match Your Personality? | | |
Just saw this, so here is "me".
1. My DDs paintings ( the shoes are not framed)
2. kitchen my DH DIYd for me
3 chest made in Vt by an ancestor- Dad's side
4. Karastan rugs
5. Marble top table from Moms family - made in Cockeysville MD- marble from the Ashland quarry there.
Ya know I just can't get these to download in order! and the colors arent true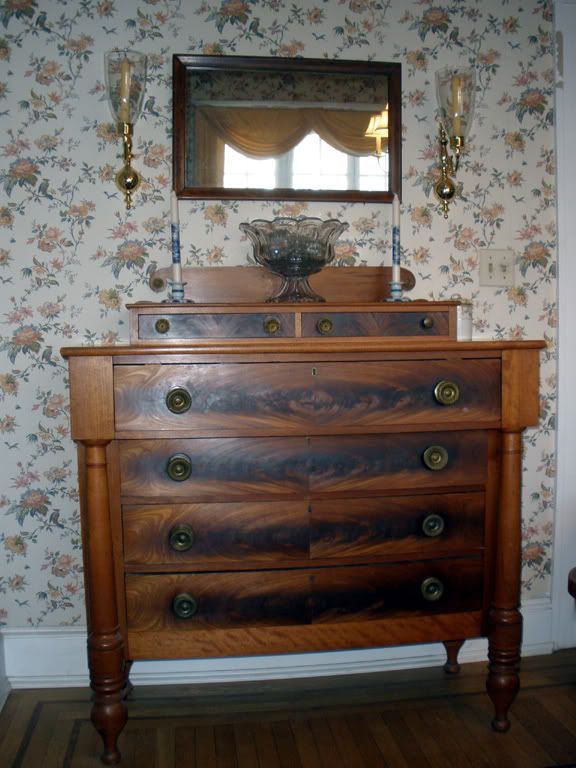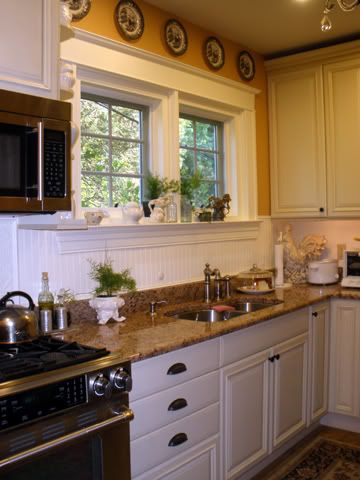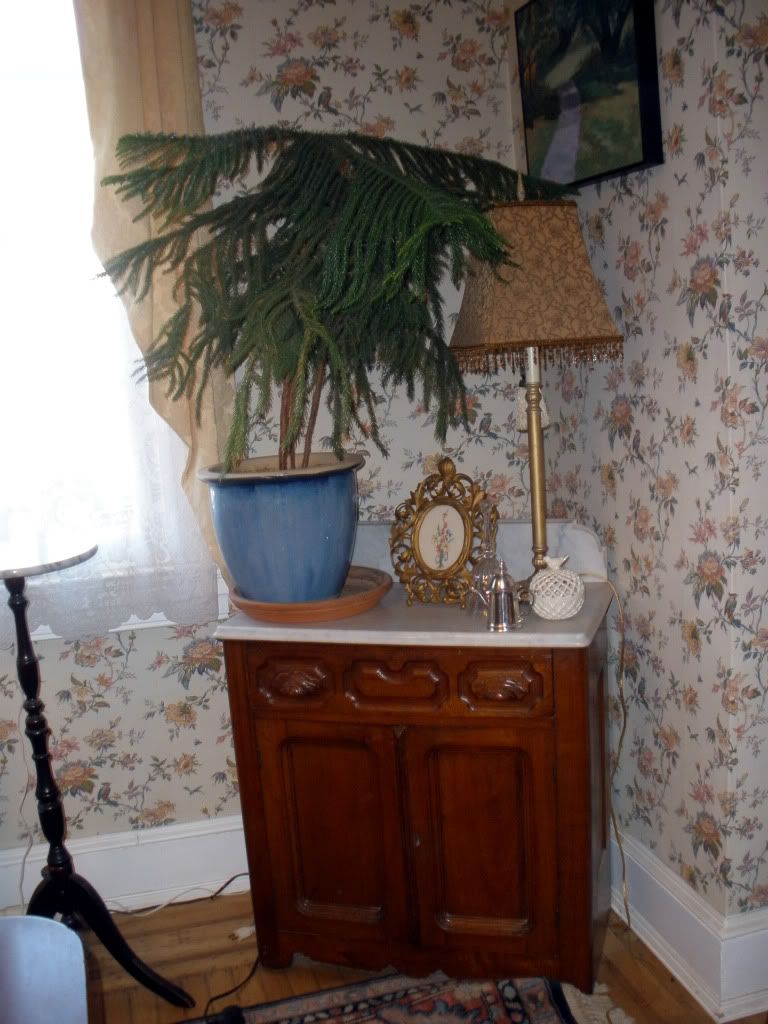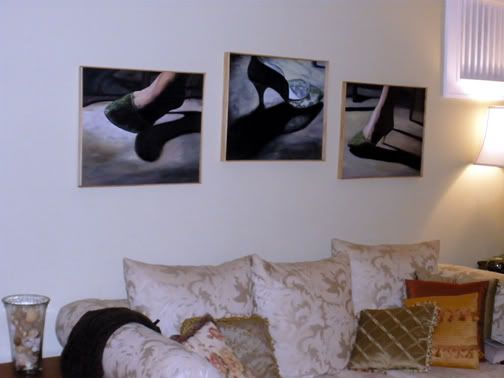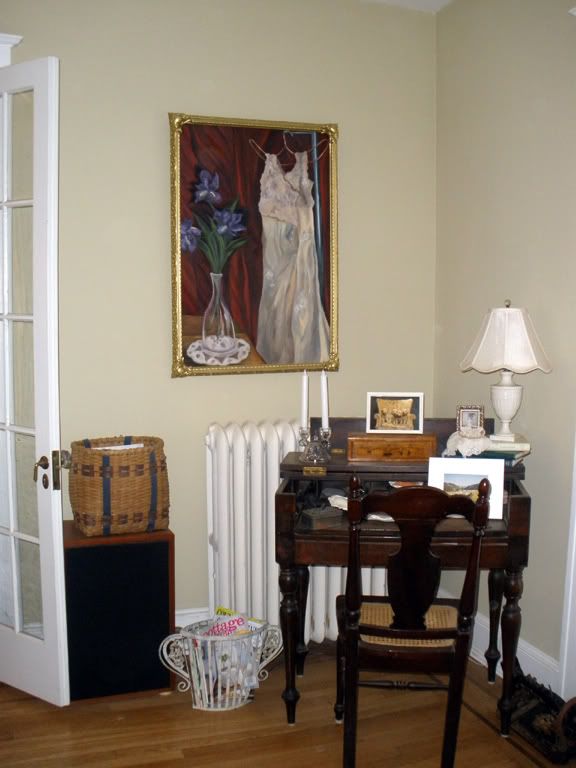 I am a survivor:
empathic creative kind humorous flexible
---
| | | |
| --- | --- | --- |
| RE: Does Your Decor Match Your Personality? | | |
Cooperbailey I love your empire chest of drawers, really gorgeous.
---
| | | |
| --- | --- | --- |
| RE: Does Your Decor Match Your Personality? | | |
Wonderful thread and beautiful things...Nicole, love your bed!
Our decor absolutely matches our 'over the top,' 'over done,' 'more is more' type of personality.
A member on one of the woodworking forums that I belong to said it best..."It must be fun to live
in a house that has so much you in it!"

Yes, it is, absolutely it is!

Joann
---
| | | |
| --- | --- | --- |
| RE: Does Your Decor Match Your Personality? | | |
What a delightful thread! I've enjoyed reading everyone's answers.

I love my cottagey picket fence headboard. With my Belgian tapestry pillows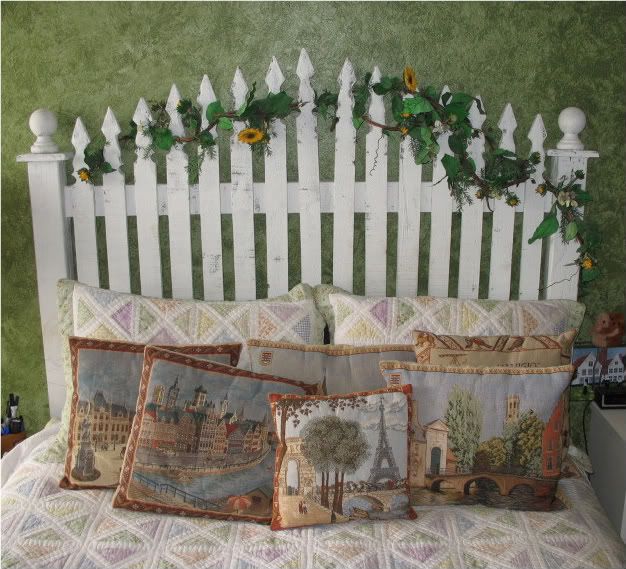 And the matching shelf... plus the small drawing a friend did of my much loved mare.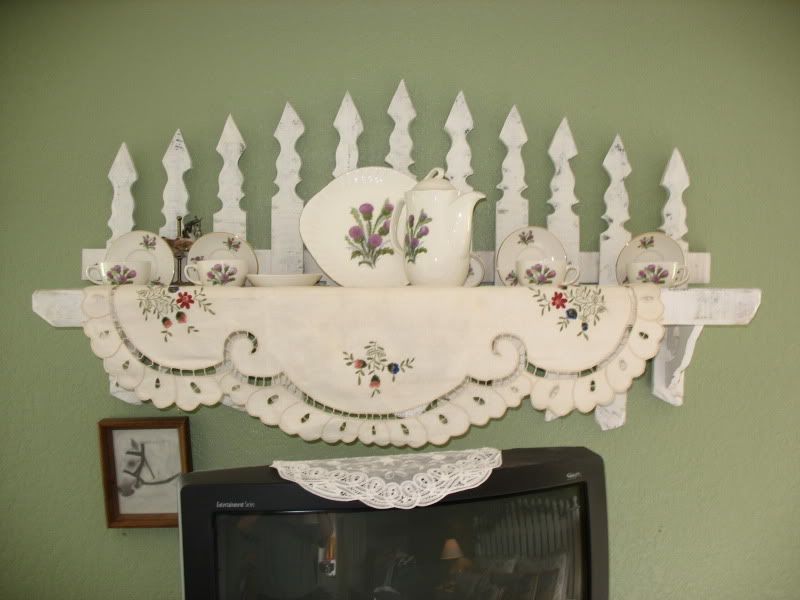 My porch swings, especially my purple one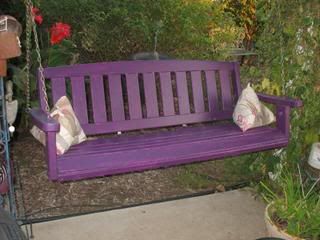 My large curio cabinet filled with treasures from our travels. (no photo)
The stained glass pieces hanging in the windows. We did the small ones, not the glass panel in the door...someday. Dh and I took up stained glass this year as a joint hobby. It's been fun!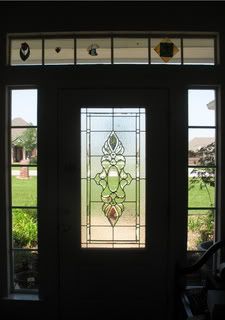 We have photographic portraits that we love, plus all the BOOKS.
My five descriptive words...
Creative
Friendly
Outdoorsy
Bookworm
Determined. (my daddy called me bull-headed, but I prefer determined. GRIN)
This was fun! Thanks for starting the thread.
Here is a link that might be useful: Creative Soul
---
| | | |
| --- | --- | --- |
| RE: Does Your Decor Match Your Personality? | | |
My favorite 5 items: vintage glider, raku pottery mask, hand carved African stool, collections of river/ocean rocks and sea shells

Five adjectives:
Laid back (mostly), nature lover, busy - always thinking, resourceful, creative
---
Post a Follow-Up
Please Note: Only registered members are able to post messages to this forum.
If you are a member, please log in.
If you aren't yet a member, join now!
---
Return to the Home Decorating Forum
---
Instructions