Return to the Home Decorating Forum
|
Post a Follow-Up
---
| | | |
| --- | --- | --- |
| how to hang curtains accross large span | | |
Posted by
nccmama
(
My Page
) on
Tue, Apr 6, 10 at 23:21
I'm thinking of hanging some outdoor curtains from my covered patio to block the western sun in the afternoon. I prefer to not build a wall or lattice, and I don't want the hassle of outdoor roller blinds. I found some panels made for outdoors that will work, but I am unsure of how to hang them. The span is about 20 feet, and I need them be pushed all to one side when not in use, so I cant' just mount multiple curtain rods. The curtains have grommets, so I need something rather thin that will fit through the grommet holes. (I hope this makes sense.)

Does anyone have any ideas? Maybe somehow joining 2 10-foot lengths of conduit piping? Or, hanging them from a thick cable? The problem is not being able to use mounting hardware to support the middle of a rod (curtains need to be able to slide accross the entire span).

Thanks!
---
Follow-Up Postings:
| | | |
| --- | --- | --- |
| RE: how to hang curtains accross large span | | |
hmmm, you've given me an idea for covered porch at farmhouse.
DH actually did use conduit once to make me a rod for a really wide window, worked just fine. (Couldn't find a curtain rod long enough.) It was covered in fabric, no one ever knew it was a pipe and not a curtain rod. But I bet you could find thin conduit or piping (copper plumbing?) in your 20' length. The copper could look cool outside. Or the cable is an excellent idea as well.
---
| | | |
| --- | --- | --- |
| RE: how to hang curtains accross large span | | |
Nccmama, you can find long curtain rods and special sliding rings at some locations. They wouldn't work with your grommet curtains though, since the rings and passing brackets have special slide-by cutouts.

I don't think a cable would work, as it would sag and drive you bananas. Long conduit piping would work as long as you don't mind having to paint it to keep it looking good, and you'd have to find some way to support it in the middle.

Is there a way you could use long conduit and then support it from above? Say, on a cable attached to your house above the patio? You'd still have two stacks of curtains when they were fully opened, but you wouldn't have a support column in the middle of your patio. Does this make sense or am I not describing it well?? :)
---
| | | |
| --- | --- | --- |
| RE: how to hang curtains accross large span | | |
I can't imagine finding a 20 foot long piece of pipe that isn't going to sag. And if there is such a metal, the weight of it would make it extremely difficult to mount. I think you are going to have to factor in support brackets. Maybe use some kind of s-hook in each grommet hole that can slide over a support bracket?
---
| | | |
| --- | --- | --- |
| correction | | |
I need to correct myself (sorry, morning coffee hasn't kicked in yet). The white vinyl conduit was not what he used, it was metal pipe. Very sturdy, no sagging. I think about 1" diameter max (not super skinny). Brackets were not at very end, they were in about a foot from the end. (It was about 14' length total.) Cost under $10 IIRC, not costly at all, so not a big loss if it didn't work.
---
| | | |
| --- | --- | --- |
| RE: how to hang curtains accross large span | | |
I am pretty sure that PVC will flex. But I happen to know that a 1/2 inch copper pipe that is 20' long has not too much flex in it. (Left over from plumbing, and trying to store it in the garage, it wasn't very cooperative.... you don't live in Nebraska, do you?) I am guessing that you could probably put in three brackets (both ends and in the middle) and have it work decently if you fabric is not too heavy. Can you pull the curtains to each side? A galvanized pipe may also have the strength you need. Rule of thumb, a pipe (hollow) is stronger than solid rod.
---
| | | |
| --- | --- | --- |
| RE: how to hang curtains accross large span | | |
Why do the curtains need to be pulled all the way over? I have done the same on a sixteen-foot span and the curtains stack in chunks. Looks fine to me and I don't have to worry about sagging of finding special rods.
---
| | | |
| --- | --- | --- |
| RE: how to hang curtains accross large span | | |
That should have read "or finding special rods."

My porch is kind of chaotic right now, but here are a couple shots. The panels are from PB and the rods from Country Curtains.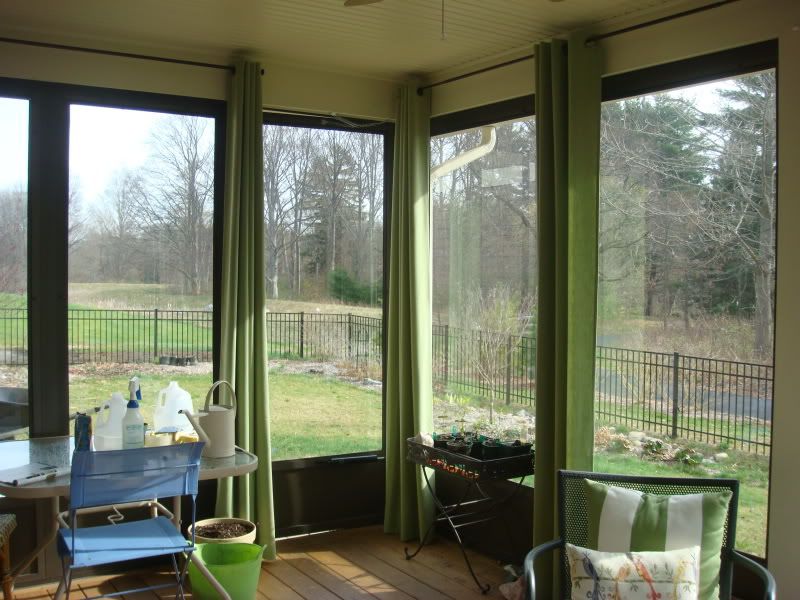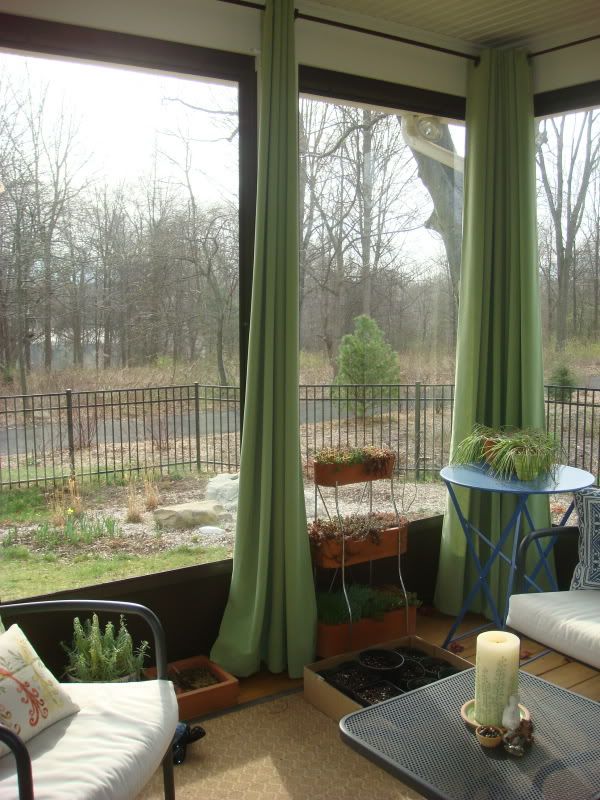 I think one reason they don't "stop the eye" is because they are green and blend in with the greenery all around. I don't feel they diminish my view in any way. Perhaps if they were another color or a lively pattern, I'd feel differently.
---
| | | |
| --- | --- | --- |
| RE: how to hang curtains accross large span | | |
Another good option is curtain track. I love this stuff...got mine from curtaintrack.com, they have a bazillion options, several would easily work outdoors.
---
| | | |
| --- | --- | --- |
| RE: how to hang curtains accross large span | | |
Wow, nice porch amy!
I agree, your panels are a great color and completely blend in with colors in that gorgeous view, so don't interrupt it in the least.
---
| | | |
| --- | --- | --- |
| RE: how to hang curtains accross large span | | |
Look for "hospital curtain track". It mounts to the ceiling and the hooks slide inside the track.
---
| | | |
| --- | --- | --- |
| RE: how to hang curtains accross large span | | |
Thanks for the replies, and Amysrq, what a lovely porch! My covered patio doesn't have walls like yours, though, so it wouldn't be quite the same. It is just open to the backyard, and where I need the sun to be blocked is all open. That west side spans from the house to a cedar post in the ground, with a solid shingled roof overhead, and flagstone patio underneath. I don't want to have 2 stacks of curtains in this area because a stack near the post would look odd, since there are no walls, and especially because it is an extremely windy location (Texas). I know that I am going to have to deal with wind regardless, but if I can pull all of the panels over to the side with the house wall, the stack will be out of the way, and I can secure them with a tie back or rope to the wall to contain them. Securing them to a cedar post just wouldn't be as secure or sheltered, since it is the corner of the structure that is most out in the open. The stack of curtains would be constantly flapping about in the wind.

I would like the look of a copper pipe used as a rod, but I can't see how I could get around having to put a support bracket in the middle. S-hooks would be fine, or even clip hooks instead of using the grommets, but they still wouldn't pass by the middle bracket mount, would they?

I will look into curtain tracks to see if that might work.
I have to figure out some kind of solution since we built this cover to make our patio usable in the evening for eating dinner, and we have found that we still cannot use it from 4pm until the sun completely sets because the sun peeks under the roof all evening and aims itself directly at our patio table. Frustrating.
---
| | | |
| --- | --- | --- |
| RE: how to hang curtains accross large span | | |
nccmama, I live in Austin, and also have to deal w/late afternoon/evening wind on my back patio, and was considering doing the same. Like yourself, I want to be able to eat outside in the evening, but the wind makes it almost impossible. Will be watching this thread for a solution. ;o)
---
| | | |
| --- | --- | --- |
| RE: how to hang curtains accross large span | | |
It looks like curtain-tracks.com has some things that I could make work. I hate to give up the look of a rod going through the existing grommets on the curtains, but can probably find something there that will work. Maybe I can find some kind of decorative S-hook or even a pretty shower curtain hook to use, one that would cover up the grommet hole with a a pretty doodad to match my outdoor look? OK, I'm going a bit overboard since my original post was mostly utilitarian, but this is the decorating forum, afterall. LOL
Thank you all for the help!
Patty_cakes, since you're in TX, I got the outdoor panels yesterday at Tuesday Morning for a great price, in case you are looking for some. They may be gone already, but what a find!
---
| | | |
| --- | --- | --- |
| RE: how to hang curtains accross large span | | |
We're in Texas as well, and used the curtain tracks in our b edroom for light control & privacy across a 12-foot span. You barely notice the track, it's really low-impact visually. As a matter of fact we installed 2 and aren't using one, and it doesn't bother me at all. You can see it behind the curtains, just before the windows.

As for the wind...that's a hard one, you might want to get some tie-downs or put in some grommets you can attach to weights (like bricks maybe, Texans always seem to have random bricks lying around!)
---
| | | |
| --- | --- | --- |
| RE: how to hang curtains accross large span | | |
Thanks for posting nccmama. I have been struggling with the same thing. I actually want to put the curtains on the outside of 12 ft. sliding glass door panels. I know - outside seems weird - but it will hopefully also solve a rain problem we are having with rain water collecting in the tracks of the sliders and leaking through the ceiling. I would love to hear how you solve this. One other question - how long are the panels you found? My other issue is 8 ft doors.

As far as weighting the curtains against the wind - I was hoping to be able to put sand packets into the hems. (Think sand bag about the size of snack baggies) I didn't want anything that could end up going through my glass doors or hit someone! I am near the beach in California and we get some pretty wild wind.
---
| | | |
| --- | --- | --- |
| RE: how to hang curtains accross large span | | |
Not sure if this is a look you are going for... but i thought it was a great idea. And if the pipe look doesn't work for you, you could always spray paint them hammered bronze.
Here is a link that might be useful: Pipe Curtain Rod & Painter Drop Cloth Curtains
---
Post a Follow-Up
Please Note: Only registered members are able to post messages to this forum.
If you are a member, please log in.
If you aren't yet a member, join now!
---
Return to the Home Decorating Forum
Information about Posting
You must be logged in to post a message. Once you are logged in, a posting window will appear at the bottom of the messages. If you are not a member, please register for an account.
Please review our Rules of Play before posting.
Posting is a two-step process. Once you have composed your message, you will be taken to the preview page. You will then have a chance to review your post, make changes and upload photos.
After posting your message, you may need to refresh the forum page in order to see it.
Before posting copyrighted material, please read about Copyright and Fair Use.
We have a strict no-advertising policy!
If you would like to practice posting or uploading photos, please visit our Test forum.
If you need assistance, please Contact Us and we will be happy to help.

Learn more about in-text links on this page here