Return to the Home Decorating & Design Forum
|
Post a Follow-Up
---
| | | |
| --- | --- | --- |
| Decorating Debacle - Purple Guest Room | | |
Posted by
NewHomeOwner123
(
My Page
) on
Sun, Apr 13, 14 at 22:44
My fiance and I recently purchased our first

home
. I picked out a paint colour and painted our guest bedroom it this week. The paint was CIL lilac light, but once the room was painted it was way lighter than expected. I wanted it to be a "warming purple" rather than a "baby girl" purple. I think that if I decorate it nicely though it could work.

I was thinking accenting the room with gold and whites to warm up the space and make it more mature looking. I am open to suggestions on this though. Does anyone have any ideas how to make my guest space not look like a child's room?

Thank You in Advance!
This post was edited by NewHomeOwner123 on Sun, Apr 13, 14 at 22:50
---
Follow-Up Postings:
| | | |
| --- | --- | --- |
| RE: Decorating Debacle - Purple Guest Room | | |
Maybe you will find some inspiration in the lilac bedrooms on Houzz.

But, by the time you spend the money and effort trying to decorate around a color you don't really like, repainting might make more sense.

Just in case you didn't already know, you can usually buy samples of paint and paint out big swatches so you can see the color better. Make sure to look at it in all lights as the time of day and cloudy vs sunny can make a big difference.
Here is a link that might be useful: Lilac bedrooms
---
| | | |
| --- | --- | --- |
| RE: Decorating Debacle - Purple Guest Room | | |
crl's advice is spot on. I know. Too often, I've tried to "make it work." It is a waste of money. If the room is empty and you really dislike the color, NOW is the time to repaint.
---
| | | |
| --- | --- | --- |
| RE: Decorating Debacle - Purple Guest Room | | |
Agree with both cry and bbstx. If you are not happy with the paint color now, you never will be. And the time to repaint is before you put all the furniture back in place. I'd suggest taking the lilac on the chin and repainting.

FYI: When I bought my first house (three years ago), I nearly went mad truing to figure out the paint color thing. I spent a fortune on samples, etc. But, I rent my house out in the summer, so I had to you-know-what or get off the pot i.e.: make a darn decision! Only one color I chose I absolutely love, and I had to repaint two rooms.

Since then, while I'm not expert, I've kind of got the paint thing down. It's the undertones that matter, NOT whether you think you like the color you're looking at. Light affects paint color profoundly.

So, ask yourself these two questions:

How do you want your guests to FEEL when they're in the room?

What direction is the room facing, north, south, east or west?

If you want guests to feel calm and serene, go for a lighter but warmer purple (darker and cool will also work, but you say you don't want cool).

If you want guests to feel cozy, pick a darker purple.

For a warmer purple, look for green or yellow undertones.

For a more sophisticated purple, look for gray undertones (which will be a cooler purple, though).

For instance: Ben Moore violet pearl. And of course, my absolute favorite, BM Vintage Charm (quite dark).

Violet Pearl
---
| | | |
| --- | --- | --- |
| RE: Decorating Debacle - Purple Guest Room | | |
| | | |
| --- | --- | --- |
| RE: Decorating Debacle - Purple Guest Room | | |
I would then decorate using chocolate browns and beiges, rather than, say, whites, which can give purple a nursery look.
---
| | | |
| --- | --- | --- |
| RE: Decorating Debacle - Purple Guest Room | | |
Interesting as it doesn't look like a girly purple on line.

I painted my mud room BM tropical dusk and it doesn't look the least bit girly.... it looks to be softer than the lilac light.
A lot will depend on the fabrics you put with it. Avoid florals and go with modern graphic prints and solids. Avoid fussy things and look for clean, straight lines.

---
| | | |
| --- | --- | --- |
| RE: Decorating Debacle - Purple Guest Room | | |
I'd pair it with beige and/or brown, or darker gray; ditto what Annie says about going with more modern and non-flowery fabrics.
Or could you paint a focal wall (behind the bed) in the same color but several shades darker? Boysenberry?
---
| | | |
| --- | --- | --- |
| RE: Decorating Debacle - Purple Guest Room | | |
A friend of mine just now sent me an email about Benjamin Moore's "Colors of the Year 2014". On the list is one called Nightingale. AF-670. Check it out! It's a GORGEOUS, very soft, very sophisticated light purple. Might be perfect for your room.
Here is a link that might be useful: BM Nightingale
---
| | | |
| --- | --- | --- |
| RE: Decorating Debacle - Purple Guest Room | | |
I totally agree that if you don't like the wall color now, you will like it less and less as time goes by. And you're already calling the paint color a debacle! Repainting asap is the best solution. (I've done this.)

To find a color that works for your room, narrow your paint chip favorite colors down & buy a sample jug of your favorite. Apply two coats to a big piece of white poster board. Tape the painted poster board to a wall in the room you're going to paint and look at it for at least 24 hours at every time of the day and night. That will give you a good idea of how a paint color will actually look on your wall.
---
| | | |
| --- | --- | --- |
| RE: Decorating Debacle - Purple Guest Room | | |
What look were you trying to go for?
---
| | | |
| --- | --- | --- |
| RE: Decorating Debacle - Purple Guest Room | | |
Demifloyd has a guest bedroom painted with EK paint - don't recall the name. I've had the honor to stay in it on two visits. It's a lovely color.. and the antique chandelier is just gorgeous in person: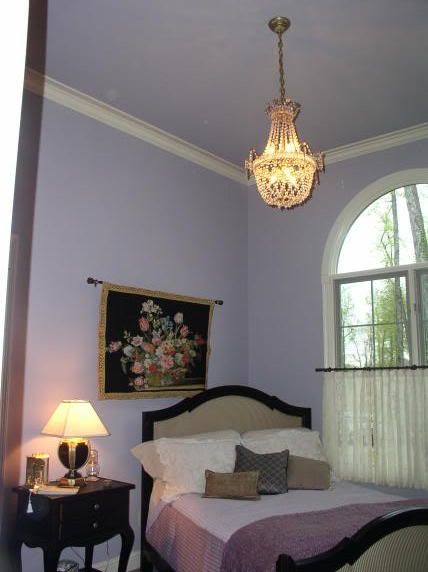 ---
| | | |
| --- | --- | --- |
| RE: Decorating Debacle - Purple Guest Room | | |
Someone on this board suggested BM Slip as a lovely pale lavender/gray. Pics are so pretty. My aunt decided she wanted a lavender/gray in her living room. I suggested Slip - she painted 1 wall and was sold! Ended up painting the entire room with it. She said it is almost ethereal, especially at night with great lighting and candles. That's my vote!

And I agree - repaint now!
---
| | | |
| --- | --- | --- |
| RE: Decorating Debacle - Purple Guest Room | | |
What about this? It looks like your purple.

---
Post a Follow-Up
Please Note: Only registered members are able to post messages to this forum.
If you are a member, please log in.
If you aren't yet a member, join now!
---
Return to the Home Decorating & Design Forum
Information about Posting
You must be logged in to post a message. Once you are logged in, a posting window will appear at the bottom of the messages. If you are not a member, please register for an account.
Please review our Rules of Play before posting.
Posting is a two-step process. Once you have composed your message, you will be taken to the preview page. You will then have a chance to review your post, make changes and upload photos.
After posting your message, you may need to refresh the forum page in order to see it.
Before posting copyrighted material, please read about Copyright and Fair Use.
We have a strict no-advertising policy!
If you would like to practice posting or uploading photos, please visit our Test forum.
If you need assistance, please Contact Us and we will be happy to help.

Learn more about in-text links on this page here