Return to the Home Decorating Forum
|
Post a Follow-Up
---
| | | |
| --- | --- | --- |
| Need help choosing tile for half bathroom floor | | |
Posted by
purrus
(
My Page
) on
Thu, Apr 15, 10 at 22:38
Hi everyone,

We are getting our half bathroom remodeled. Right now it is a hideous tiny room with a gold-wallpapered ceiling, dark brown fake wood paneling and a gross old off-white tiled floor (not the cute retro kind, just an ugly cheap kind).

My style is modern-ish with some glitzy touches. I also like MCM furniture.

I am going to do the following:
1. Paint the walls and ceiling a pale pink
2. Install the following pedestal sink with the faucet pictured: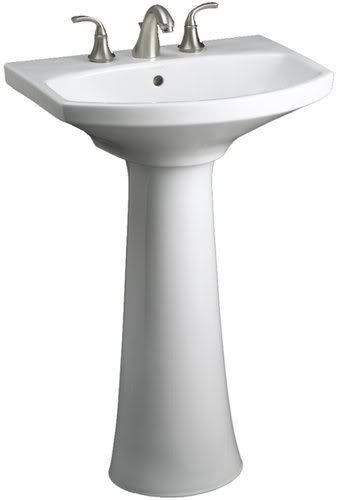 3. Install new light sconces and a new mirror, something along these lines: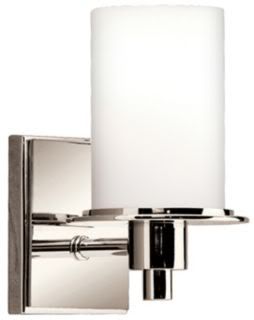 though I'm not settled on those light fixtures.
My question is whether you guys have any ideas on floor tiles. The room is small, so something that's not overly busy is probably good. The room also gets no natural light, so dark tile might not be good. I was thinking some kind of white floor tile, but I can't seem to find anything I love. I would love some recommendations or pictures. Thanks in advance!!
---
Follow-Up Postings:
| | | |
| --- | --- | --- |
| RE: Need help choosing tile for half bathroom floor | | |
Would it be bad to use something like this, even though it is an older style? I am a huge sucker for black and white anything. I don't want to spend a lot of money (not that this is a lot of money at $5.75/square foot at home depot) and then still have the room look like it has the original tile, in case we sell.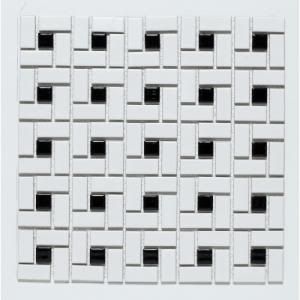 I like this too, for the same reasons...this is more expensive though, at $15.39/SF (for sale here: http://www.fastfloors.com/catalog/productline.asp?wid=FG8N2D2&productlineid=17937&productid=126165: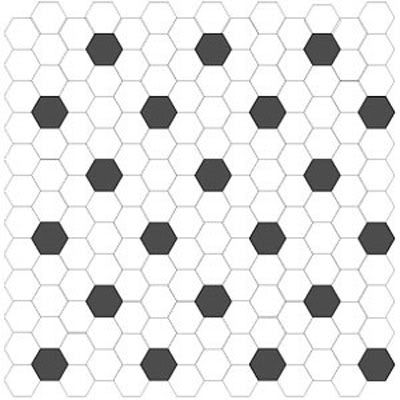 I also like this, but I'm suspicious of the price ($5.48 for 11.25x11.25). Is the quality bad? this is at home depot.
Would marble be better? Or granite? I have no idea what to do.
---
| | | |
| --- | --- | --- |
| basketweave | | |
Also love this b/w basketweave tile:
http://www.homedepot.com/webapp/wcs/stores/servlet/ProductDisplay?storeId=10051&productId=100659996&langId=-1&catalogId=10053&ci_sku=100659996&ci_src=14110944&cm_mmc=shopping-_-googlebase-_-D23X-_-100659996&locStoreNum=2701&marketID=72
---
| | | |
| --- | --- | --- |
| RE: Need help choosing tile for half bathroom floor | | |
Ignore the burgundy tiles, but here is a white floor with pink walls.

Here is large tile which I don't think looks that great in a small bath...I prefer the smaller tiles.

Wrong color, but you can see how several different size/style tiles work together...would look great in white with some pink accents.

---
| | | |
| --- | --- | --- |
| RE: Need help choosing tile for half bathroom floor | | |
Hi!

Here is my B/W Home Depot floor. I paid a lot less for this tile at HD, then I could get the same stuff for in a tile store. Actually...the tile stores needed to order it in, HD had it in stock.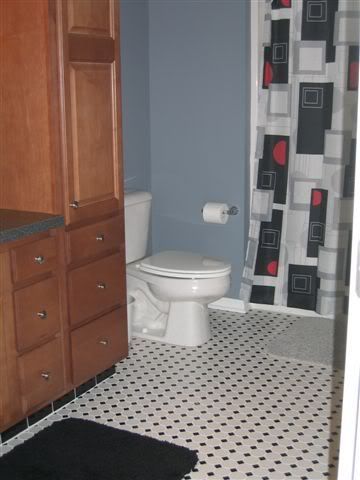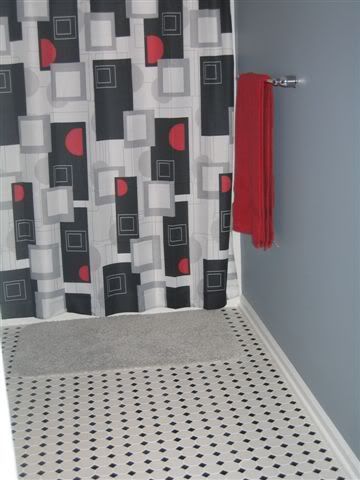 Elaine
---
| | | |
| --- | --- | --- |
| RE: Need help choosing tile for half bathroom floor | | |
I like Elaine's. I wouldn't do pink on the floor - what if you (or next owner) got tired of pink and repainted?
---
| | | |
| --- | --- | --- |
| RE: Need help choosing tile for half bathroom floor | | |
Hi everyone,

Thanks for your thoughts. I definitely prefer white or white and black (not pink) and small tiles, I guess unless it was a marble or granite floor where the seams aren't so evident.

I love the black and white floor that someone posted (sorry ,I am on the corrections page and can't see the thread to get the name right!). That is really nice tile...will have to look for it.

I'd love to hear more thoughts--thanks! I'm going to the tile store in the morning and need to make a decision.
---
Post a Follow-Up
Please Note: Only registered members are able to post messages to this forum.
If you are a member, please log in.
If you aren't yet a member, join now!
---
Return to the Home Decorating Forum
Information about Posting
You must be logged in to post a message. Once you are logged in, a posting window will appear at the bottom of the messages. If you are not a member, please register for an account.
Please review our Rules of Play before posting.
Posting is a two-step process. Once you have composed your message, you will be taken to the preview page. You will then have a chance to review your post, make changes and upload photos.
After posting your message, you may need to refresh the forum page in order to see it.
Before posting copyrighted material, please read about Copyright and Fair Use.
We have a strict no-advertising policy!
If you would like to practice posting or uploading photos, please visit our Test forum.
If you need assistance, please Contact Us and we will be happy to help.

Learn more about in-text links on this page here