Return to the Home Decorating Forum
|
Post a Follow-Up
---
| | | |
| --- | --- | --- |
| Van Deusen Blue | | |
Posted by
vavavoom
(
My Page
) on
Fri, Apr 10, 09 at 22:08
I am torn.

I LOVE navy blue. it is my absolute favorite color. I am itching to paint my bedroom a dark blue (not navy, but somewhere between ink and navy.)
If I were going to do it, I would do it, i'm not a fan of accent walls. I would have crown molding and ceilings bright white, dark wood furniture and white bedding. I love the idea of it but am scared it is going to be too dark.

Our painters will be using BM. I realy like the Van Deusen Blue. Does anyone have experience with a whole room being painted this color? Especially a bedroom?

I also have my eye on blueberry and NY sate of mind. i know if i'm going to do this, i have to get it right!

Any advice or pictures would be great. (btw, i'm planning grays with brown undertones for much of the house.)

Thanks!!
---
Follow-Up Postings:
| | | |
| --- | --- | --- |
| RE: Van Deusen Blue | | |
Well, this is your lucky day! My DD's bedroom is painted Van Deusen Blue. We love it. Even painted the ceilings. My builder thought I was crazy, but it looks great. I have no pics of the room with furniture because it is so messy all the time. But, there is an off-white sofa in there, a white marble topped coffee table, a few black accent pieces, white shaded lamps and white/green bedding. All the trim is bright white.
The window faces east and she has two south-facing skylights, so the room is bright during the day. At night, it is cozy yet moody and brooding...just right for a teenager! :-)
---
| | | |
| --- | --- | --- |
| RE: Van Deusen Blue | | |
Amysrq, that looks beautiful!!
---
| | | |
| --- | --- | --- |
| RE: Van Deusen Blue | | |
Here's our master bedroom. It's Van Deusen blue with a faux finish. Ceiling is blue too. I decorated this room in 2001 and still really like it.
---
| | | |
| --- | --- | --- |
| RE: Van Deusen Blue | | |
Another VD blue ceiling!! Amazing. :-)

Vavavoom, even if you don't use the blue for the ceiling (a big commitment) I don't think a bright white ceiling is the way to go. My advice would be to use a color with less contrast...still a "white" if you want, but not bright. Maybe a taupe or a pale gray, depending on what else is in the room.
---
| | | |
| --- | --- | --- |
| RE: Van Deusen Blue | | |
We used a somewhat similar color from Lowes in the foyer of our last house. We did exactly what Amy said and used a light grey to offset the white trim everywhere.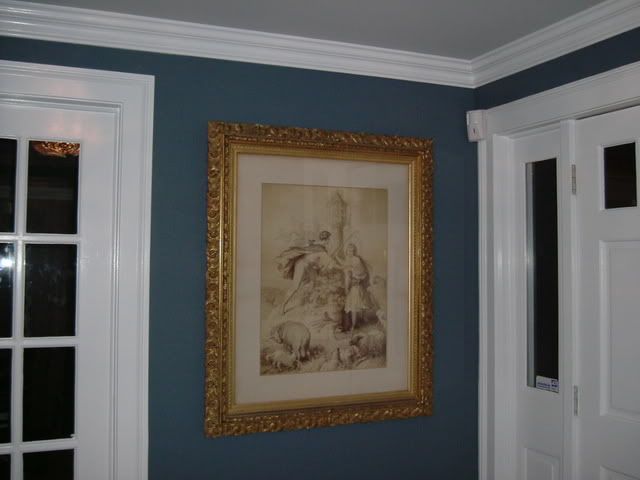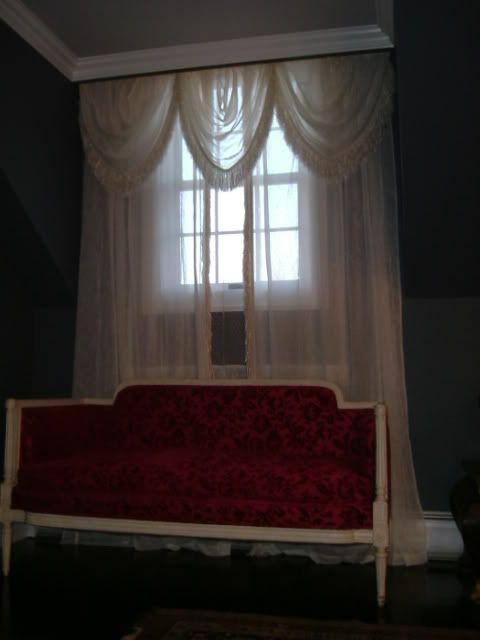 Not sure how well they grey is showing up. I think it will depend on the monitor.
---
| | | |
| --- | --- | --- |
| RE: Van Deusen Blue | | |
thanks everyone! your rooms look great!

Just out of curiousity (i'm new at this) why would you not do a white ceiling?

thank again!
---
| | | |
| --- | --- | --- |
| RE: Van Deusen Blue | | |
Amy, your daughter's room is gorgeous! Hope she likes it as much as I do!

Leann, your bedroom is very pretty too!

Boopa, wow, love the gray ceiling with your walls, & your art is showcased so beautifully against that deep blue shade.

Vavavoom, if I understand correctly, I think Amy & others recommend a gray or other-than-white ceiling to soften the contrast. A big expanse of white (on the ceiling) next to those deep blue walls could seem a bit garish & harsh.

You certainly lucked out with inspiration photos! Have fun painting!
---
| | | |
| --- | --- | --- |
| RE: Van Deusen Blue | | |
Post a Follow-Up
Please Note: Only registered members are able to post messages to this forum.
If you are a member, please log in.
If you aren't yet a member, join now!
---
Return to the Home Decorating Forum
Information about Posting
You must be logged in to post a message. Once you are logged in, a posting window will appear at the bottom of the messages. If you are not a member, please register for an account.
Please review our Rules of Play before posting.
Posting is a two-step process. Once you have composed your message, you will be taken to the preview page. You will then have a chance to review your post, make changes and upload photos.
After posting your message, you may need to refresh the forum page in order to see it.
Before posting copyrighted material, please read about Copyright and Fair Use.
We have a strict no-advertising policy!
If you would like to practice posting or uploading photos, please visit our Test forum.
If you need assistance, please Contact Us and we will be happy to help.

Learn more about in-text links on this page here