Return to the Home Decorating Forum
|
Post a Follow-Up
---
| | | |
| --- | --- | --- |
| SW Hopsack for this room? | | |
Posted by
decchallenged
(
My Page
) on
Sat, Apr 25, 09 at 21:54
My husband is painting our LR next week and I need to pick a color.
It used to be our kids' old playroom, so we don't really have furniture in there yet, but will most likely have a neutral-colored couch and a small, cream-colored desk eventually. The curtains are a light goldish color and we have SW Ivoire in the foyer, which is very open to the LR. The LR gets the morning sun and stays fairly bright throughout the day. I don't want Ivoire in the LR, too, because it is too close to the color of the curtains. I was thinking I would like a medium-brown in the LR - like SW Hopsack? Need suggestions on if this would look okay, or if anyone has any other ideas! Thanks!


Looking into LR from foyer.


Close-up of curtains.


Standing in LR, looking out toward foyer.

---
Follow-Up Postings:
| | | |
| --- | --- | --- |
| RE: SW Hopsack for this room? | | |
I think my favorite paint color that I used in our latest remodel was Hopsack. It's in our dining room and entry. Cick on the link below to see pictures and there are more (various stages of incompleteness) on the previous page. We're still not finished! :o
Monica
Here is a link that might be useful: Hopsack Dining Rm
---
| | | |
| --- | --- | --- |
| RE: SW Hopsack for this room? | | |
I know this may be in a totally different direction than you're thinking, but what about a grayed-down, muted blue-green, like BM Mount Saint Anne. I think it would be gorgeous with your creamy curtains and tie in well with the Ivoire. It would provide a lot of interest. I just don't like the all over beige-tan-yellow look. I just painted my LR a creamy goldish-greenish color and I am using blues and greens as accent colors. It is so soothing and peaceful--you just want to sink into the comfort. It is not boring, either
---
| | | |
| --- | --- | --- |
| RE: SW Hopsack for this room? | | |
That hopsack dining room is beautiful! What a rich color.
---
| | | |
| --- | --- | --- |
| RE: SW Hopsack for this room? | | |
We used SW Meadowlark mixed at 75 per cent. Our adjoining rooms and foyer are SW Blonde which is on the same strip as Ivoire

Meadowlark in the foreground, Blonde in the foyer behind it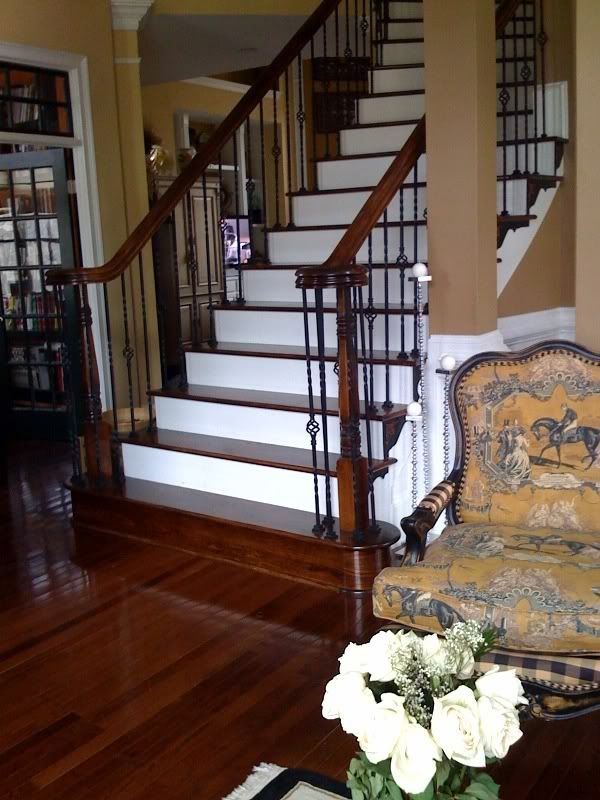 Dining Room

Living room-the color is not showing up true due to the light- the dining room pic is more true. It's like a rich cafe-au-lait color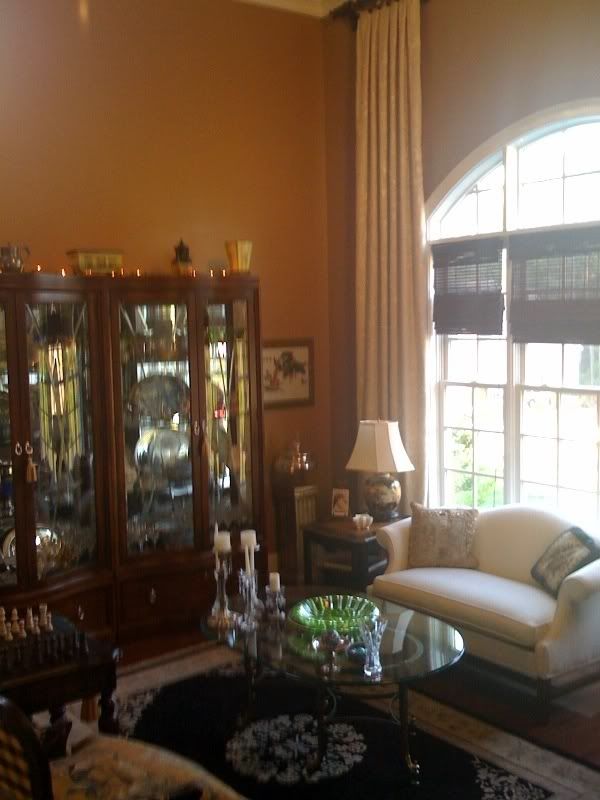 ---
| | | |
| --- | --- | --- |
| RE: SW Hopsack for this room? | | |
monicakm, your dining room is very pretty, thanks! I do think I like Hopsack, but I am liking the Meadowlark too. I just checked all my swatches, and I don't have Meadowlark. I must have missed that at the SW store; I'll have to go back and grab it because I really like it in your pics, pattiem93.
I hadn't thought of a light gray/blue/green...I do think that would look pretty. I'm just not sure I have it in me at this point to completely change direction on the color. Maybe my next round of painting I will try it!
---
| | | |
| --- | --- | --- |
| RE: SW Hopsack for this room? | | |
I think what I'm looking for is a dark, golden brown (if that makes any sense). Does anyone have an idea of a color that fits this description?
---
Post a Follow-Up
Please Note: Only registered members are able to post messages to this forum.
If you are a member, please log in.
If you aren't yet a member, join now!
---
Return to the Home Decorating Forum
Information about Posting
You must be logged in to post a message. Once you are logged in, a posting window will appear at the bottom of the messages. If you are not a member, please register for an account.
Please review our Rules of Play before posting.
Posting is a two-step process. Once you have composed your message, you will be taken to the preview page. You will then have a chance to review your post, make changes and upload photos.
After posting your message, you may need to refresh the forum page in order to see it.
Before posting copyrighted material, please read about Copyright and Fair Use.
We have a strict no-advertising policy!
If you would like to practice posting or uploading photos, please visit our Test forum.
If you need assistance, please Contact Us and we will be happy to help.

Learn more about in-text links on this page here