Return to the Home Decorating & Design Forum
|
Post a Follow-Up
---
| | | |
| --- | --- | --- |
| What Do You Put in Your China Cabinet, Other Than China? | | |
Posted by
beth0301
(
My Page
) on
Sun, Apr 14, 13 at 21:48
So I bought a dining set today from craigslist.

It came with a china hutch - two pieces - top with glass doors and a bottom base part. The bottom alone is not that attractive while the top part is pretty. Together they balance each other out and it looks fine.

I could just use the bottom part as a sideboard, since that would be more practical, but it's a little on the smallish side and, again, not really that attractive, even though it does match the set.

Using it as intended, one tall unit, would really look nice in the dining room with it's high ceilings. I need a tall piece in the front part of the house and have a few other ideas for a sideboard.

The thing is, I don't know what I'd put in it! I do technically own a set of china and while it does have sentimental value, it's not something I'd want to display .... not really my style and woulc clash with my colors.

So, if not china, what would I put in it? It's 5' tall and 5' wide (the open top part, with the base of course it's taller) so it's a good sized area to fill.
---
Follow-Up Postings:
| | | |
| --- | --- | --- |
| RE: What Do You Put in Your China Cabinet, Other Than China? | | |
Depending on which room it's in, you could use it for books, magazine, collectibles, crystal, quilts, crafting supplies in pretty boxes, towels and bath supplies, table linens, etc. You could also line the glass with something opaque like fabric or rice paper and use the storage for whatever you needed, regardless of the room where the cabinet resides.
---
| | | |
| --- | --- | --- |
| RE: What Do You Put in Your China Cabinet, Other Than China? | | |
I haven't visited the forum before but I totally "get" and "love" this question! I have a family heirloom China cabinet with a base similar to what you describe that I put China in for years -- this year I changed it up totally and store my collectible masks and artsy beer steins (see picture). People comment on it more now than ever before.

Think of putting anything in there that you value or anything that would be interesting to others .... here are some ideas ...

-- Family Photos all in black-in-white and in similar frames of varying sizes
-- Anything you collect or want to start collecting
-- Books! These are classic and a reflection of your interests
-- CDs and/or Videos (even accented with some old Vinyl Records, 45s, Cassettes or 8Tracks ... LOL)
-- Small framed art of varying sizes but a similar theme (houses, cars, architecture, flowers, landscapes, etc.)
-- Guest Soaps, Towels, Spa Items (Relaxation theme)

Or simply mix it up -- have each shelf dedicated to some theme or use. Be creative and keep it practical! You said it best ... it is not "really your style" -- so put your style in it.

Good luck -- if you care to share more with a photo or post some of your interests maybe I could come up with some more ideas. Then again ... I probably said too much. :)
---
| | | |
| --- | --- | --- |
| RE: What Do You Put in Your China Cabinet, Other Than China? | | |
It is going in the dining room .... I don't collect anything (other than I have a large number of birdcages which wouldn't fit anyway). I DO love the idea of b&w photos though. I think that would be awesome! It would even be fun to have the kids (3 of which are grown and on their own now) to go through the old photo albums at the next family dinner and each select 3 or 4 of their favs for inclusion.

I think that sounds lovely. I convert them to black & white and then put them all in frames. I will start picking up 4 X 6 and 5 X 7 wooden frames next time I go thrifting or to dollar tree. I can spraypaint them all the match when I get ready to put it all together. Add in a wooden initial and a couple of electric candles ... love it.

Thank you!! Great idea!
---
| | | |
| --- | --- | --- |
| RE: What Do You Put in Your China Cabinet, Other Than China? | | |
Fun2BeHere and I had similar ideas -- very cool.

Beth, I'm glad you got a spark of inspiration from the posts. When shopping for frames, you might want to check Craig's list too for Estate Sales and even Barn Sales (under Farm & Agriculture).

I got 8 ornate wood frames last year (with glass) at a Barn Sale for $10-- all small, stand-ups that I plan to paint and display. Something to consider -- mixing up contemporary, newly bought frames with some vintage/old frames.

So glad you're on a roll with an idea. People you love captured in time, your kids will enjoy the photos and the display now and in the future -- classic and timeless. Go for it!!
---
| | | |
| --- | --- | --- |
| RE: What Do You Put in Your China Cabinet, Other Than China? | | |
I have filled mine with stuff I've gathered over the years from trips and vacations and gifts from friends and keepsakes....

My GF quilled my wedding invitation which is framed and in the cabinet...some wedgewood from our trip to england...a bowl that was a valedictory gift...a statue of ganesha which was a wedding gift, a silver plate that was a commemorative gift of DH's army duty... a plate from DH's grandmother...a hummel figurine that was DH's mother's...a small collection of horse figurines from when I was a horse-happy child.... you get the idea.
---
| | | |
| --- | --- | --- |
| RE: What Do You Put in Your China Cabinet, Other Than China? | | |
| | | |
| --- | --- | --- |
| RE: What Do You Put in Your China Cabinet, Other Than China? | | |
Although I do have a set of china, I store glassware, assorted platters and decorative items in the top of my china cabinet. Also some dining room table centerpieces and a pretty ceramic teapot.
---
| | | |
| --- | --- | --- |
| RE: What Do You Put in Your China Cabinet, Other Than China? | | |
We used the top half of the china cabinet I inherited in the library of our former house. I had a plain box base made to hold it, stained it to the same color, and put it behind the small end of an L-shaped sofa, because with its own base, it was too tall to fit in our 8' rooms.

It actually started life as a secretary-bookcase, but my great-grandfather, who bought it at auction, only bought the top half, and had a nice but distinctly inferior bottom made for it then. I've tried to find the other half, but with no success. Sigh. So much for its potential value. But I digress ...

I put a few groups of nice old books, a couple of pewter pitchers, a plate or two, and some other attractive things in it. I also lined the back wall with a piece of cream jacquard fabric to lighten the whole business.

Not sure how well you can see, but here it was:
It was traditional in old houses to line the doors of large secretary-bookcases like this one with gathered green cloth to protect the books from sunlight, so you'd be in good company if you decided to put fabric in yours.
---
| | | |
| --- | --- | --- |
| RE: What Do You Put in Your China Cabinet, Other Than China? | | |
Like Annie, I've filled mine with stuff collected over the years. At times I decorate it for the seasons. It's hard to see the forest for the trees here, but I had some autumn stuff in there.

I took some old candlesticks and put cardboard candle covers in them, that I had first punched a hole in the back of, and wired them with a small chandelier socket. The bulbs are the nightlight type that are dipped in silicone to have a realistic flame look. They are such low wattage that that there is no worry of fire, and the soft glow at night is very nice.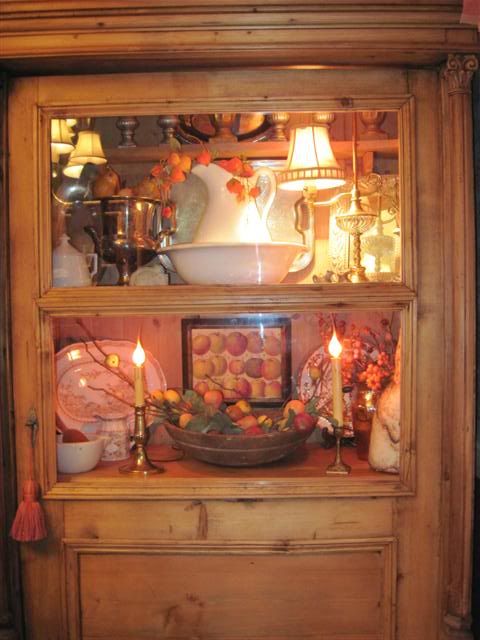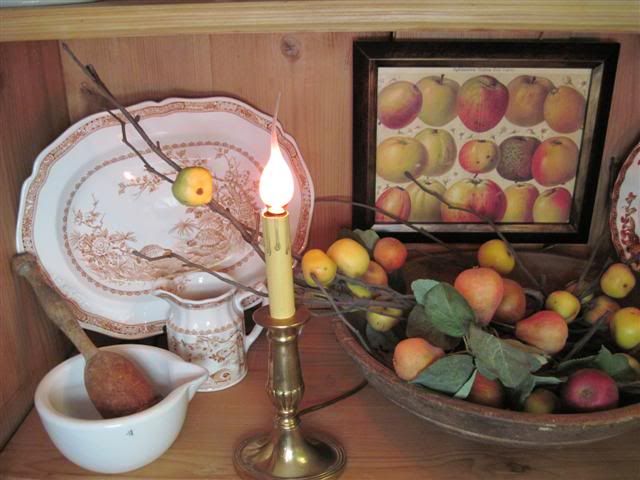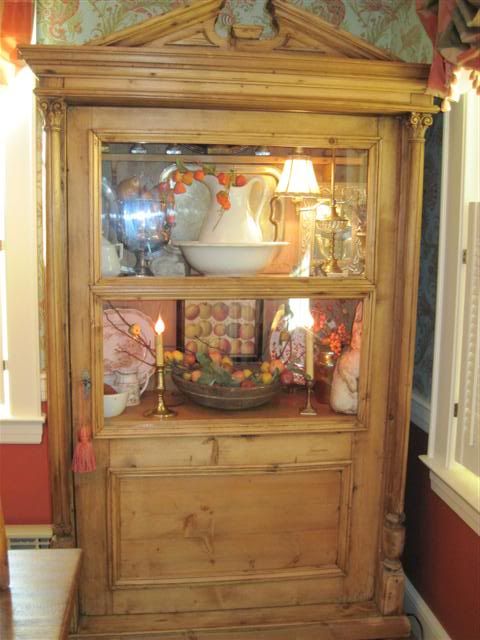 ---
| | | |
| --- | --- | --- |
| RE: What Do You Put in Your China Cabinet, Other Than China? | | |
LOL @ LazyGardens, after this remodeling/moving adventure, I just may start drinking.

The pictures are lovely, thank you! I do like the idea of doing seasonal things, and I actually have a few fall pieces left from when my entire house was decorated in that scheme.

Maybe I can do both - fall things in the autumn, Christmas things after Thanksgiving and then photos the rest of the year. I don't really see myself decorating for spring, those aren't my colors, but that would give me three rotating displays and goodness knows I do like to change things up!

I'm so glad I asked here; you all always have the best ideas. Even if it's not exactly what i was looking for, this forum has a way to trigger my thinking into figuring things out.
---
| | | |
| --- | --- | --- |
| RE: What Do You Put in Your China Cabinet, Other Than China? | | |
I have a mix of collectibles, some crystal stemware and sentimental items in my china cabinet. Here is a shot of it ( please excuse the reflections in the glass)
---
| | | |
| --- | --- | --- |
| RE: What Do You Put in Your China Cabinet, Other Than China? | | |
Bar glasses, crystal (which I do use, esp the wine glases), plus the china. I don't try to decorate inside seasonally. Too lazy. I have my miniature tea sets in another console-type cabinet but any collection of things would be pretty - vases, pitchers, pottery bowls, etc.
---
| | | |
| --- | --- | --- |
| RE: What Do You Put in Your China Cabinet, Other Than China? | | |
Hopefully Trailrunner will see this topic. She has a beautiful cabinet full of framed pictures. I'd never seen anything like it before.

I have a hutch, but if I had a cabinet I'd still use it the same way I think. Old pottery pieces, cookbooks, vintageware, etc.

Just make sure you have good lighting inside the cabinet or it won't matter what you have in there.
---
| | | |
| --- | --- | --- |
| RE: What Do You Put in Your China Cabinet, Other Than China? | | |
My china cab/hutch is a built-in in our dining room. I do keep the set of antique china I inherited on display in there. I also keep my good crystal and some of my smaller silver serving pieces. On the counter area of it, I have some of my larger silver serving pieces displayed. Below that are two shallow drawers where I keep my huge stash of cloth napkins, which we use daily. Below that are two closed cabs with pull-out shelves. I store several more sets of china down there. In Autumn and during the Christmas Season, I add some seasonal decs, but mine is pretty traditional, I guess. Nothing bold or innovative.
Lynn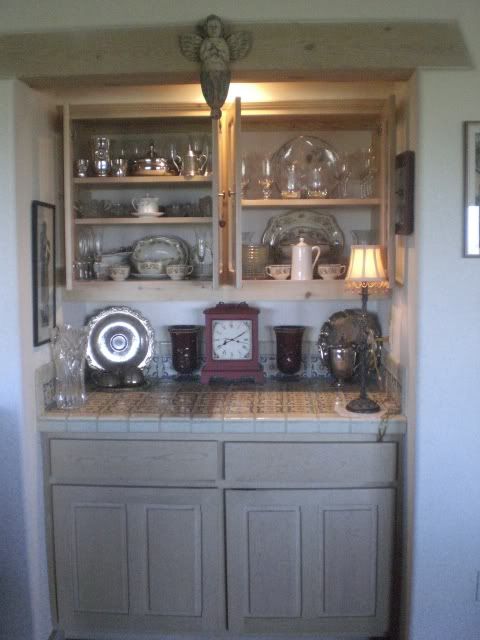 ---
Post a Follow-Up
Please Note: Only registered members are able to post messages to this forum.
If you are a member, please log in.
If you aren't yet a member, join now!
---
Return to the Home Decorating & Design Forum
Information about Posting
You must be logged in to post a message. Once you are logged in, a posting window will appear at the bottom of the messages. If you are not a member, please register for an account.
Please review our Rules of Play before posting.
Posting is a two-step process. Once you have composed your message, you will be taken to the preview page. You will then have a chance to review your post, make changes and upload photos.
After posting your message, you may need to refresh the forum page in order to see it.
Before posting copyrighted material, please read about Copyright and Fair Use.
We have a strict no-advertising policy!
If you would like to practice posting or uploading photos, please visit our Test forum.
If you need assistance, please Contact Us and we will be happy to help.

Learn more about in-text links on this page here