Return to the Home Decorating Forum
|
Post a Follow-Up
---
| | | |
| --- | --- | --- |
| Tile in Master Closet? | | |
Posted by
sonepi
(
My Page
) on
Thu, Apr 22, 10 at 20:10
What are your thoughts about tile in the Master Closet?

Our layout is Master Bedroom (carpet) into Master Bath (tiled), then into master closet (currently carpeted). We had a contractor come out to give a bid on retiling the master bath floor and he suggested tiling from bathroom into the closet. I have never seen this before and wonder if anyone has done or seen it.

I would really like input, esp. pros and cons. If you have pictures, it would be greatly appreciated. I have always had closets with carpet, but his suggestion made me wonder.

Thanks.
---
Follow-Up Postings:
| | | |
| --- | --- | --- |
| RE: Tile in Master Closet? | | |
Our layout is like yours.

Our neighbor decided to continue the bathroom tile into the closet. She's not happy because sometimes she's in there barefooted and the tile is very cold.

I don't have any pics of her closet, but honestly I didn't care for the way it looked. But then again, I'm used to having carpet in our closet.

If the closet were off the bedroom and the bedroom floor was tile or wood, then I'd continue the same flooring into the closet.
---
| | | |
| --- | --- | --- |
| RE: Tile in Master Closet? | | |
I like the idea. I prefer hard surfaces in closets. Carpets are a place for clothing moth larva (and related species) to hang out. I'm not a neat freak but I think getting rid of carpe t in closets is a good thing for that reason alone. And if you have bins on the floor they will be easier to move on a hard surface.
---
| | | |
| --- | --- | --- |
| RE: Tile in Master Closet? | | |
When we remodeled our master bedroom and bath, I told DH I wanted the closets to be tiled. He said "no one does that!". My thoughts were that it would be cleaner (and it would be). He installs carpet and wood for a living and says 9 times out of 10, the customer puts carpet in their closets (walk-ins included). When I'm typing invoices to builder's, I'm always seeing measurements for large walk in closets that David has put carpet in so I guess he's right. He carpeted ours too but I still think tile would have been easier to keep clean.
Monica
---
| | | |
| --- | --- | --- |
| RE: Tile in Master Closet? | | |
I've never had anything other than carpet in the closet. It is a large walk-in. I'm considering a limestone tile or maybe a travertine tile and thought, ummm that might be really nice, especially with a thin grout line.

Rosestink - I was thinking it would be easier to keep clean also, just sweep. Monablair, I think you hit the nail on the head about wondering if it might be cold, especially after getting out of the tub or shower.

I hope someone has pictures they would share to see that continuation from bath to closet. I think the look would be pretty cool, but wonder if I would wish I had carpet later.

Sonepi
---
| | | |
| --- | --- | --- |
| RE: Tile in Master Closet? | | |
Ours will have hardwood floors. The master bedroom has hardwood floors, then tile in the bath, then wood floors again in the closet.

I would do whatever makes you happy! I'm usually barefoot at home, so I wouldn't want tile.
---
| | | |
| --- | --- | --- |
| RE: Tile in Master Closet? | | |
Interesting, because I was thinking of extending our tile into the MBR closet. It seems like it would feel choppy with MBR carpeted, then tile, then carpet, and I like the idea of keeping dust down anyway.
---
| | | |
| --- | --- | --- |
| RE: Tile in Master Closet? | | |
Our closets are tiled, and it is really easy to get the dustbunnies out.
---
| | | |
| --- | --- | --- |
| RE: Tile in Master Closet? | | |
Donnagwd, I was thinking the same thing that it would have a cohesive flow from the bath to the closet. I s/w contractor about radiant heat floors. They're just not that common in my part of Texas. LOL

Lazygardens, do you have any pictures? I would love to see your tiled closet floor.
---
| | | |
| --- | --- | --- |
| RE: Tile in Master Closet? | | |
I don't have pics, but all of our closets in the townhouse are tiled, as are the storage areas (left over tile, but I'd purchase it again for the same use if I had to do it over again). You just sweep :) No musty smells coming from the floors, easy to clean (do you honestly vacumm your closet much? Carpet pulled from closets is always NASTY with dust and must from years of lack of cleaning.

My master suite is done in bamboo (a lovely floor floor for a bedroom) and the closet is a large walk in, so it's done the same, but we have a bathroom off of that bedroom which is travertine. The closet kitty corner which houses a washer and dryer is done in the same travertine. I love it for a washer and dryer closet.

The storage closet off of the kitchen and dining room is done in travertine as well (left over from the entry) again, I love it. It was the kitty litter area when we lived there all the time so again, cleaning was a consideration. It's off of dark wood flooring. If you don't want the closet floor to show you just run your flooring under the door and let the closet floor begin at the inside door edge (so you only see it when open...we did this with some, but with others wanted to see the edge).

In the basement closet (again a laundry) we have travertine as does the bath kitty corner from that while the rest of the floor is in wood. It looks splendid.

If I were going to actually walk on the surface (walk in closet?) I'd add in floor heating. But if it's just a reach in, tile in a heart beat!!!!

You won't regret it. it's the best decision (and a last second one at that because we had extra) we ever made. I even had them done in a baseboard tile that matches the tile (tile strips cut from left over tiles 4" tall) which really makes for easy sleezy cleaning :)

Here are a few pics...

in this one you see the two tiled areas in the master suite. I had a little problem in the bathroom and the tile ended up having to be a bit higher than the wood (the floor slopes ALOT because the house is on piling so this was a fix). So I chose to have the tile also show just under that dark wood door (see the tan strip) as it matches the bathroom floor height. This is a washer and dryer closet done in travertine:

This is our closet...I did continue the wood (it's adjoining that same room) just for fun :) I think it's the only finished pic with the room a mess (there are no other pics LOL)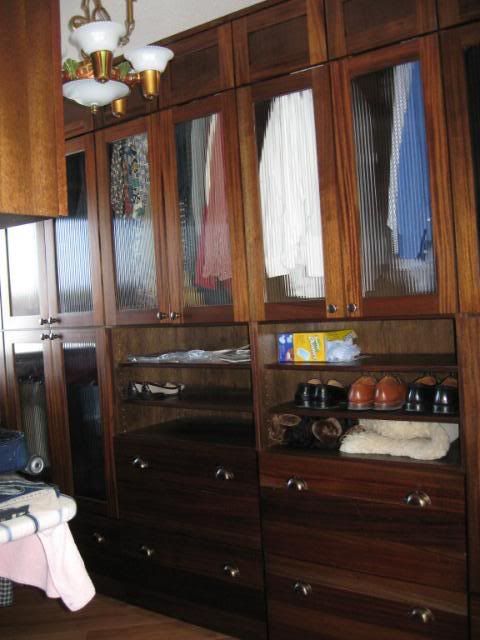 In that room I tiled the desk backsplash LOL So tile did end up in there :)
Ohh here :) this is the downstairs closet floor prior to it being finished (the wood that butts up to it isn't there and it's not painted...no cabs etc, but here's the floor :) It's edged in black granite which is the same as the trim in our adjoining bathroom: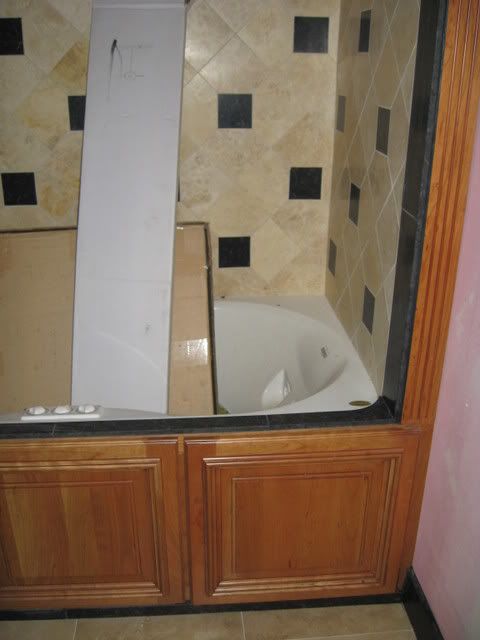 Storage area under stairs (cat room) which was later done in venetian plaster as well (ok I had extra LOL)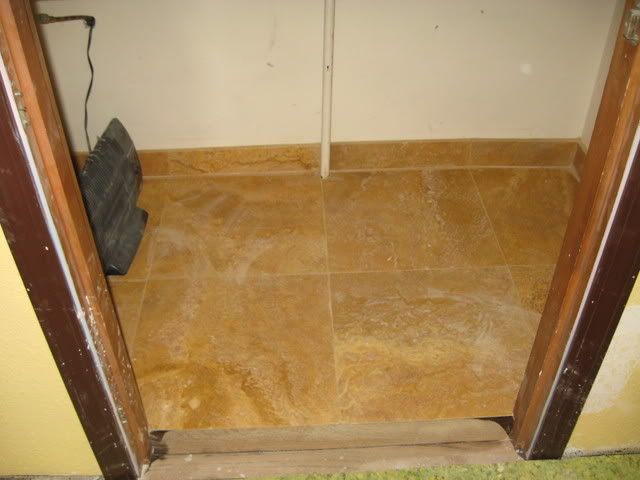 I guess that's all I have...who takes pics of their closet LOL :)
---
| | | |
| --- | --- | --- |
| RE: Tile in Master Closet? | | |
I too have pondered this idea. Our bedroom has carpet which flows into the bath and both master closets. DH was thinking we should tile inside closets as we will be tiling the toilet closet and the linen closet. But his closet is in the interior of house and stays warm. Mine is on the south wall and in winter I swear I can see my breath. I have seen it done both ways. I guess it would be neater to do tile because then each doorway would have to have transition strips which can be unappealing. I think I would end up doing the tile throughout just to keep the look flowing.
---
| | | |
| --- | --- | --- |
| RE: Tile in Master Closet? | | |
Another vote for anything but carpet in the master closet. We built our home one year ago with a 12x12 walk-in master closet. One of the biggest regrets of the build is putting carpeting in the closet. I'm sure it will only make it a few more months before it gets ripped out for hardwood or tile. My plan is a large area rug, so it won't be too cold underfoot, but the wood or tile under the hanging areas will be much easier to keep clean and "feel" clean.
---
| | | |
| --- | --- | --- |
| RE: Tile in Master Closet? | | |
I love tile but it is cold on the tootsies, so I only have it in my front entryway. I have vinyl in my master bath and then the two closets there have carpeting and I love it. All my other closets have carpeting too. I prefer to vacuum than sweep, so for cleaning guess that is a personal choice.
---
| | | |
| --- | --- | --- |
| RE: Tile in Master Closet? | | |
My vote would be for tile if you are good about keeping junk off the floor. My closet is not nearly organized enough and I know that stuff sometimes (all the time) gets heaped up on the floor, teenager-style. I can't imagine how beat-up my shoes and purses would get if they wound up shoved around on a tile floor. If you are not always tidy, then you may want carpet. If you do get tile, make sure you do an organizer!
---
| | | |
| --- | --- | --- |
| RE: Tile in Master Closet? | | |
The issue of tile versus carpet came about not only because we are beginning a Master Bathroom update/light remodel, but because I am also updating my Master closet to be more functional and organized.

Like you "tomorrowis", I had stuff everywhere, things were cluttered and it was driving me crazy. I did not have shelves or storage to the floor, but purses and hats were out of reach and just thrown in. I am getting cabinets, shelving and other built-ins constructed by a cabinet-maker for my closets. The new cabinets and storage units will go to the floor and everything will have it's place on shelves or in cabinets.

The cabinet maker will be installing the closet components in a week and I am trying to decide whether we should keep carpet or tile the floor to make the transition seamless from the Master Bathroom. Thank you Igloochick for your photos, the tile in the reach in closet looks great. Shannon01, thanks for the tip about the transition stripe if we keep the carpet. I had forgotten about that. I know it's not a big deal, but tile with a large rug like Ann2010 suggested for warmth, might be a viable option.

Decisions, Decisions.
---
| | | |
| --- | --- | --- |
| RE: Tile in Master Closet? | | |
We took out the carpet in the Master Closet and replaced with laminate. Made more sense--attractive, less moisture in the closet, and easy to clean--fewer dust bunnies and clothes stay nicer. The carpet holds a lot more moisture and in FL that is a constant battle!
---
| | | |
| --- | --- | --- |
| RE: Tile in Master Closet? | | |
Sorry for the slow response. I have been out of town. Our carpenter has now finished with installing our master closet built-in pieces. After everything was painted and completed, my carpet now looks old and dingy. I noticed the darkened edges of the carpet along the wall. I never noticed that before with all the clothes in the closet. It's a very light carpet so it is quite noticeable now after everything is out. Someone had mentioned that on another posting with a con of carpet as it gets older and with lighter colored carpet this is more noticeable.

Prior to the closet cabinetry install, my husband said he would prefer carpet. After the cabinet install, he thinks tile would be nice and look great. I can always put down a nice rug for my cold feet. :-) Well I will definitely keep you posted on what we decide.
---
| | | |
| --- | --- | --- |
| RE: Tile in Master Closet? | | |
My former home had a similar layout! I loved my tile floor in the master closet. It was just easier to clean. The best part of that closet though was the stackable washer/dryer that I only used for my special clothes. I had a seperate laundry area downstairs! I really miss it and hope to have something similar incorporated into my current home in the future!

Alicia
---
| | | |
| --- | --- | --- |
| RE: Tile in Master Closet? | | |
Two laundry areas and one in the Master Closet! Awwww Camarodreamer. I wish you had posted earlier, I probably would have considered that instead of one of the built in's! LOL
---
| | | |
| --- | --- | --- |
| RE: Tile in Master Closet? | | |
We have been looking for the right tile to redo our master area to include tile in our WIC.

We walk off of hardwood onto carpet to get into our master area. The "walk pattern" is usually from the hardwood into the WIC and we have had our carpet cleaned so many times because of the foot traffic in that area.

We realize that tile would have been a better choice so we are going to redo the WIC, the large vanity area, the toilet and shower area.

Good luck!
---
| | | |
| --- | --- | --- |
| RE: Tile in Master Closet? | | |
I had no idea that anyone carpeted a closet that was not adjoined to another area with carpet but to another hard surface until I saw my neighbor's new flooring in her master bath. Her layout is exactly like mine but she chose to stop her tile at the closet door where my vinyl (soon to be travertine) flows seamlessly into all areas of the master bath (3 different areas). I was speechless.

Her reason was the same as what I'm reading here...cold to the feet. But help me out here...if the tile is cold in the closet, won't it be cold in the rest of the bathroom? I realize closets aren't heated but I've never noticed a temperature difference in our walk-in closet.

And, conversely, she was stunned when she learned I didn't have carpet in my closet. Then I told her about my nice thick closet rug....speechless.
---
| | | |
| --- | --- | --- |
| RE: Tile in Master Closet? | | |
We had a tiled floor in the master bedroom closet of our last house - the closet was vented for heat so no cold tile in the winter. Easy to clean and looked very nice.
---
| | | |
| --- | --- | --- |
| RE: Tile in Master Closet? | | |
We have the same layout for the master bed/bath/closet, but the house even came with builder grade carpet in the bathroom! (though the toilet area did have tile). This is actually pretty common in Texas, unfortunately, and after living with it for 10 years, we finally installed tile in the bathroom a couple of years ago. We decided to bring the tile all the way into the closet, too, and I do not regret it one bit. It is easier to keep clean, and it helps minimize any musty closet odor from stored items. The installer tried to talk us out of it saying that nobody does this, but I insisted and am happy with my decision. I wish that I would have done this in the hallway downstairs when we had hardwood floors installed. There, I listened to the flooring contractor and left the carpet. But, you can see the beige carpeting a bit from underneath the closet door, and, although most people probably never notice it, it bugs me every time I see it, and I wish I would have just continued the wood in there.
---
| | | |
| --- | --- | --- |
| RE: Tile in Master Closet? | | |
I think putting tile in the closet is a great idea!

I wonder if it would be odd looking if you didnt' have access to your closet via the master bath? I will have carpet in the mst. br. and my walk-in will be accessed from the mst.br, the mstr bath will be on the same wall but about 6 ft apart.

I will have radiant heat - so I'm not too worried about if being cold. I just wonder if it would look odd ? I liked someones comment about putting in a throw rug - I think that could take away the hard look of the tile.
---
| | | |
| --- | --- | --- |
| RE: Tile in Master Closet? | | |
Okay, we decided that we would not put tile in the closet. We did an experiment for two weeks. We took up all the rugs on the floor in the bathroom and just walked on the tiles in the Master Bathroom. We determined, the floor was too cold. I didn't like the water on the floor when we got out of the tub and most importantly, I felt unstable and always slightly afraid I would fall with the wetness on the floor.

Even though we have decided on carpet, I still think tile would have looked great. The closet turned out great though and thought I would share. You all were so helpful in making our decision.
Before - Open linen closet that towels hung over the edge because only 12" deep. His double hang.
After - Closed in built-in for towels now 18" deep, his armoire for socks, underwear and t-shirts and his shoe storage.
Before - Just long hang and almost useless 3 foot high shelf
After - My shoe and purse storage and closed in cabinets with doors and shelves above.
Before - Long Hang (2nd) and under stairs open shelves
After - Kept long hang, but built-in chest for my socks and undies. So convenient because already in the bathroom.
I know in real life I will have a rug on the floor when getting out of the shower or floor, but it was an experiment to determine if we had a tile floor and were barefoot most of the time how it would work for us. I think the look would have been just fine, but it was just too cold for my little tootsies.
---
| | | |
| --- | --- | --- |
| RE: Tile in Master Closet? | | |
This page has been very helpful, as I have been considering whether to go with hardwood in the Master Walk-in Closets or carpeting. Same debate over the Master Bedroom flooring too. The Master Bathroom, which is sandwiched between the bedroom and closets, is tiled.

I am leaning towards hardwood for both the bedroom and the his & her walk-in closets. However, my experience with hard surface flooring of any kind, is that the dust tends to float around on it until it is cleaned, whereas carpeting holds the dust till it is vacuumed. To me, that makes the hard surface flooring seem dustier. Plus, any time I have tried clothing on in a store that has hard surface flooring installed in the dressing rooms, the clothing tends to pick up dust like a lint magnet. Whereas in carpeted dressing rooms no such thing occurs. So the debate begins over whether I want that same situation going on in my own home.

I presently vacuum my carpeted walk-in closet floor almost every week so there are never any visible dust bunnies, however there is some dust underneath the clothes on the rugs when I pull shoe boxes or other boxes away from the baseboard once or twice a year for some spring cleaning. But until that annual cleaning occurs, I am blissfully unaware that there is any dust lurking there! I have some time to decide this, since it is a new construction residence that I am debating over what to do. Any additional feedback will be very appreciated. Thank you!
---
| | | |
| --- | --- | --- |
| RE: Tile in Master Closet? | | |
We will be facing the same decision when we do our bathroom. We replaced the MBR carpet with wood last year and have tile in the bath. If we replace the tile, then I'd be tempted to continue it into the closet, although I would like the wood better (and a rug in the center in either case). I'm trying to think of wood inset options that might help bridge the two.
---
Post a Follow-Up
Please Note: Only registered members are able to post messages to this forum.
If you are a member, please log in.
If you aren't yet a member, join now!
---
Return to the Home Decorating Forum
Information about Posting
You must be logged in to post a message. Once you are logged in, a posting window will appear at the bottom of the messages. If you are not a member, please register for an account.
Please review our Rules of Play before posting.
Posting is a two-step process. Once you have composed your message, you will be taken to the preview page. You will then have a chance to review your post, make changes and upload photos.
After posting your message, you may need to refresh the forum page in order to see it.
Before posting copyrighted material, please read about Copyright and Fair Use.
We have a strict no-advertising policy!
If you would like to practice posting or uploading photos, please visit our Test forum.
If you need assistance, please Contact Us and we will be happy to help.

Learn more about in-text links on this page here