Return to the Home Decorating Forum
|
Post a Follow-Up
---
| | | |
| --- | --- | --- |
| ceiling color and crown molding | | |
Posted by
newhome09
(
My Page
) on
Wed, Apr 15, 09 at 18:22
I had my husband paint our ceilings a bright white (because that's what the paint store told us was standard) and we picked out Antique white for the trim. I just realized that since we're doing crown molding I'm not sure what color to paint the crown. If we do bright white it won't match the other trim and if we do antique white it won't match the ceiling. I really hope I don't have to repaint my ceiling antique white. My husband would not be happy with me! Any thoughts?
---
Follow-Up Postings:
| | | |
| --- | --- | --- |
| RE: ceiling color and crown molding | | |
Whatever you do with the ceiling, do paint the crown to match the rest of your trim. Otherwise, it will look as if you primed it and forgot to paint it.

And now, for the answer you were hoping not to hear... ;>)
I wish the paint stores and the painters would stop telling people that ceilings should be white. Your husband can blame them, and not you, when you tell him that the ceilings should be antique white as well, to give the room a finished look that is as nice as the rest. Remember that the ceiling and the floor are the biggest surfaces in any room...and the ceiling is usually the only uninterrupted one, so you want to pay some attention to it.

Depending on the color of your walls, you could opt to paint the ceilings the same color, wrapping the room in color. Or you can choose a very very pale third color...a hint of blue, or pink for warmth. Color on the ceiling makes it seem to recede more than white does, visually enlarging the room.

Can you post a photo of your walls, so we can have even more opinions about how much more work you ought to do...??
---
| | | |
| --- | --- | --- |
| Oops! RE: ceiling color and crown molding | | |
(Sorry, hit send before fixing URL link)

Agree with bronwynsmom on this--I am a convert to ceilings painted to match the walls, not simply white.

I did a custom color match on my ceilings after seeing how nicely it set off the trim in Brutuses' home. A friend had also reassured me it would help visually lift the 8'ceiling and she was right. I get a LOT of compliments on the effect and oddly enough the ceilings don't really seem to show a color (it's a silver sage variation as everyone is totally tired of hearing :). They just look like a nice light shade of *something* close to the walls. And boy does a color make crown molding pop. Love the effect. Here is a close up view: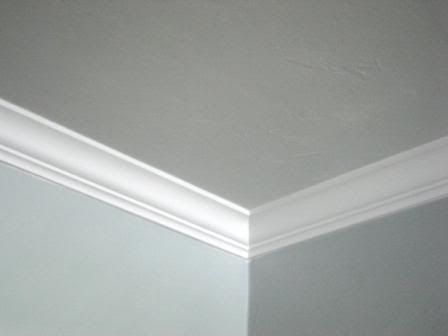 ---
| | | |
| --- | --- | --- |
| RE: ceiling color and crown molding | | |
Just wondering - if you don't have crown molding and your baseboards and casings are natural wood (no stain), what color should your 8ft ceilings be? Same color as walls (or lighter?)? What if your walls are different colors in different rooms - would you go off white ceilings in an off white/beige room and a light green in sage or jade room? What if you have recessed lights with white trim rings? Thanks.
---
| | | |
| --- | --- | --- |
| RE: ceiling color and crown molding | | |
ajsmama - so much of it is a matter of preference. Personally, I think you can treat natural woodwork the same as white woodwork when it comes to painting walls and ceilings. If you like white ceilings, paint them white and your natural wood will stand out. If you want to paint the ceilings the same as the walls or a lighter shade of the wall paint, that would be fine as well because the natural wood crown would still stand out.

I think the main objection to painting the ceiling white when you also have white crown molding is that the molding blends in and is not noticeable. But some people still like white molding and white ceilings, regardless.

In your case, the molding will pop no matter what you do with the ceiling.
---
| | | |
| --- | --- | --- |
| RE: ceiling color and crown molding | | |
newhome09--I'd match your other trim--and redo the ceiling--on a day your husband is not home!! lol

So, if I have the misfortune of having only 7 1/2ft. ceilings and my walls are EK Honeysuckle--and wainscoting
is EK Sand, and my window trims are stained a warm walnut--what would you do with MY ceiling color?

Right now, it's white--not what I'd call 'bright' white but it is white! Oh, and it's stomped--gak!! I've already removed
the 'stomp' in our kitchen and master bedroom, and our computer room, and I'm just not up to doing this room!!
---
| | | |
| --- | --- | --- |
| RE: ceiling color and crown molding | | |
I was wondering if it was OK to have ceilings different colors in different rooms, the same as walls?

I don't have any crown molding. But if we ever added it, I'd make it stain grade wood (pine to match baseboards, casings, 6-panel doors, or oak if we do oak floors and floor-to-ceiling bookcases, that way it could just butt into the oak CM we're installing on tops of kitchen cabinets)
---
| | | |
| --- | --- | --- |
| RE: ceiling color and crown molding | | |
Now, for too much rambling about ceilings...

My objection to white ceilings has always been that they tend to look like the inside of a box top instead of part of the atmosphere of the room. The subliminal effect of that, in my view, is to emphasize the long horizontal lines where the wall meets the ceiling, to squash any sense of height, and to make the whole scheme seem unfinished.

You can certainly have different colors in differently colored rooms, but if there is a pale tint of ceiling color that is harmonious with all the room colors, it can pull the scheme together.

Here are photos of two rooms...our ivory living room, in which the ceilings match the walls, and our gray/brown library, in which I painted the ceilings a very pale peachy-pink to add warmth, and to bring out the pink cheeks of the portrait. In the last photo of the other end of the library, you can see a bit of the entry hall, which is painted to seem almost like leather, and the LR beyond. I used the same peach tone in the hall and in the dining room, which was the same color as the library, and then was golden tan, and then terra cotta, and it worked with all of them.

These rooms have 8' ceilings, and the effect was to raise them. I also emphasized the vertical wherever I could...the floor-to-ceiling sheers and vertical lines of the painted paneling in the LR, the proportions of the library cabinetry, and the long windows in both rooms also helped.
---
| | | |
| --- | --- | --- |
| RE: ceiling color and crown molding | | |
I recently did my first non-white ceiling (when we built our house, the builder said " ceilings should be white!" and what did I know?) But when we recently painted our dining room, the white ceiling was exactly as Bronwynsmom said- like the top of a box. I had seen some pictures here of non-white ceilings and how great they looked.

Anyway, the ceiling in the dining room is lemon chiffon (got the idea looking through the catalogue of the rooms at The Mount, Edith Wharton's house). It is an almost white with just a hint of yellow. And it is lovely. No more box top effect.

And yes, do your crown to match your trim. Good luck with your room!
---
| | | |
| --- | --- | --- |
| RE: ceiling color and crown molding | | |
Hi Bronwyn's mom and barb5,

I'm sold. Bronwynsmom, it may be my monitor but it looks like your LR ceiling color is different than the walls. I think I remember NHB saying something about cutting the ceiling color in half if you want it to look the same. Does the difference in the angle (looking up at the color, obviously) change how it looks?

Both of your rooms are just wonderful I'd love to spend time in either one of them. I'm another one with 8 ft ceilings and I thought I'd done everything possible to "raise" them but I see now there is one more thing I can do.

Barb5, Do you have pics of your DR. Lemon yellow on the ceiling sounds divine.
---
| | | |
| --- | --- | --- |
| RE: ceiling color and crown molding | | |
Thank you, Barb! I do miss that house sometimes.
And I'd love to see your lemon ceilings, too.

Jjam, it's not your monitor - it's the photo. In reality, the ceiling didn't look different. I think what the photo is picking up is the reflected tone of the floor, which was emphasized by the lamplight. The camera's flash whitened the ivory color of the walls just a touch - I'm not a very good photographer.
---
| | | |
| --- | --- | --- |
| RE: ceiling color and crown molding | | |
Hmm, my FR/kitchen walls are Navajo White - recessed cans with white trim rings. Do you think it would help to visually raise the ceiling if we painted it Navajo White as well? DH would kill me after just having them painted last year(a bright white BM "muresco ceiling white" the painter picked that I hate, can't be touched up, we had to retape and skim seams 9 months after house was built). For some reason the 8ft ceilings in the rest of the house don't bother me - maybe b/c in last house we had 8ft *except* in FR and there I got used to cathedral ceilings (which I also hated, which is why we went with 8ft in this house - but maybe 9ft on ground floor would have been better?).

If/when we ever get to repaint the rest of the ceilings, would Navajo White look OK with Thornton Sage and Antique Jade - yellowish off-white with the green walls? Not sure if I'd leave upstairs alone - kids's bath is 2 different shades of blue (Summer and White Satin), though I could see light blue White Satin on the ceiling there, DD's room is Navajo White with bright white ceiling fan and very dark funriture, DS's room is Horizon (a blue-gray) with blue carpet, MBR is also Horizon but green carpet (not the best choice - maybe I should repaint the walls?).
---
| | | |
| --- | --- | --- |
| RE: ceiling color and crown molding | | |
I did my ceilings the same as crown & rest of woodwork. We have 8 ft ceilings in this room and wanted it to blend and not be cut off at ceiling line. I also wanted to take advantage of the natural light & have it really dance off the ceilings . I think it gives so much more depth & texture rather than a flat paint. I get many compliments on these beautiful ceilings, I love them.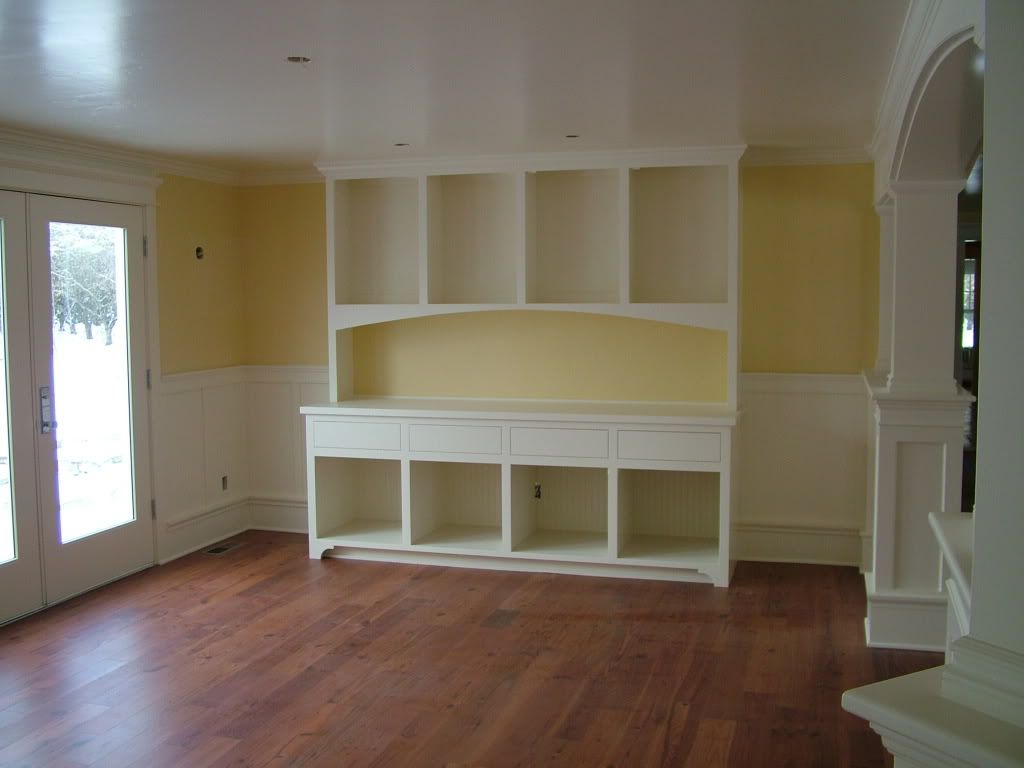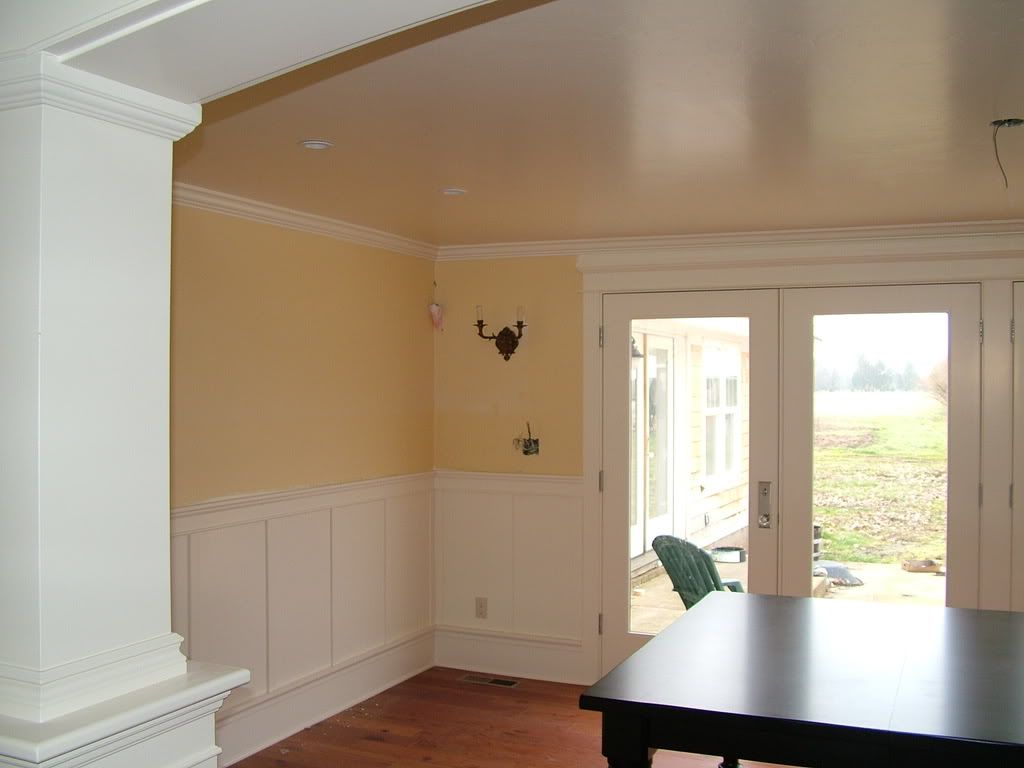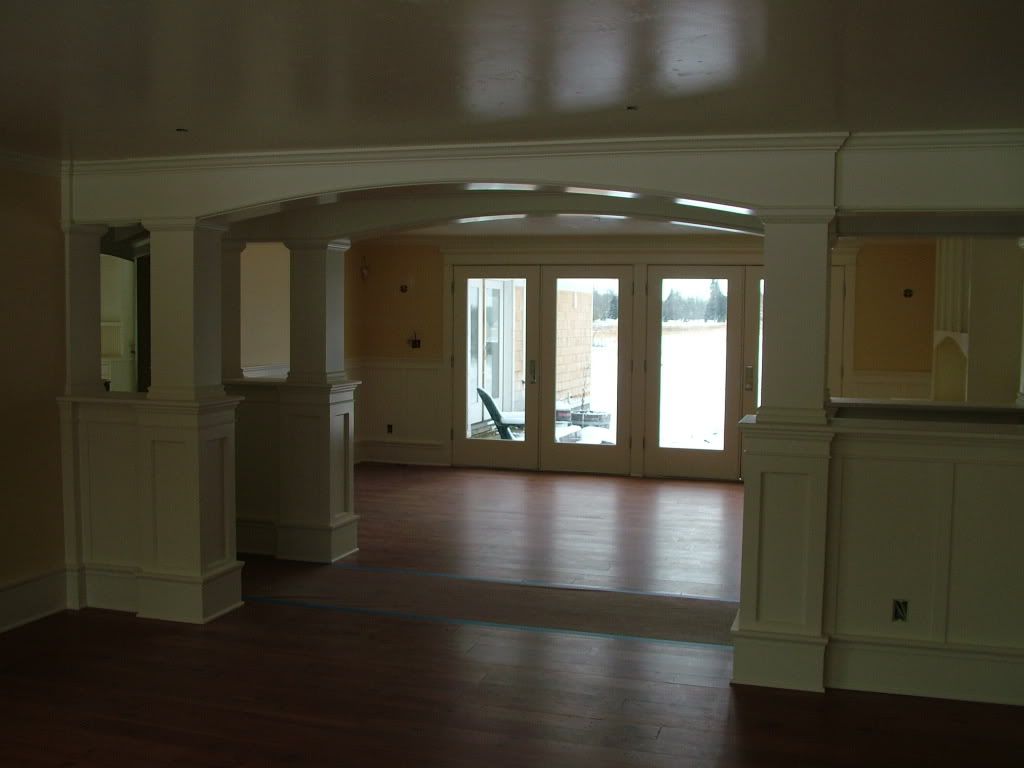 ---
| | | |
| --- | --- | --- |
| RE: ceiling color and crown molding | | |
acountryfarm: your pictures are beautiful! I'll have to see if I can talk my husband into repainting the ceiling he just did. At least in the living room/dining area/kitchen :o)
---
| | | |
| --- | --- | --- |
| RE: ceiling color and crown molding | | |
acountryfarm - have you got new pictures? I know you've moved in already!

I have to do flat (well, maybe the Regal Matte I have on the walls would be OK) since my ceilings are so messed up - can still see seams and humps in some places, sanding marks in others (though the LR is OK, I sanded that myself - by hand! But where the painter used the screen it's still grooved). I miss the swirled plaster ceilings in our old house :-(
---
| | | |
| --- | --- | --- |
| RE: ceiling color and crown molding | | |
OK, I tried my best to get a good picture. The effect of the ceiling is subtle, but the effect is very real. The bit of yellow in the ceiling complements the yellow on the wall (BM lemon chiffon ceiling, BM windham cream on wall, BM sherwood green on trim).

If you do a search on the forum for painted ceilings, you'll also get some other pics from other people.



---
| | | |
| --- | --- | --- |
| RE: ceiling color and crown molding | | |
I have a question hopefully someone can answer. We are moving into an old farm house built back in the 1950's. I want to put crown molding in the dining room but I am not sure what color the molding should be. My walls are red so the ceiling is a light almond color. The floors, base boards and trim are all pine wood. So should my molding match the ceiling or the woodwork....help!! :)
---
| | | |
| --- | --- | --- |
| RE: ceiling color and crown molding | | |
Gidgett, I think your crown should match the woodwork.
---
| | | |
| --- | --- | --- |
| RE: ceiling color and crown molding | | |
So, if I want to color the ceiling, as rule of thumb, can I just pick the lightest color from my chosen color card? Would that be a safe assumption? Just trying to avoid sampling even for the ceilings.

What do you experts think?
---
| | | |
| --- | --- | --- |
| RE: ceiling color and crown molding | | |
vcheethi

Yes, that is what I would do. If you want your trim to "POP" then give the ceiling a color about 25% of your wall color. This is my plan also when we repaint the family room.
---
| | | |
| --- | --- | --- |
| ceiling /crown molding/wall color combination | | |
which combination will make the room look taller? Ceiling and crown molding in same color or wall and crown molding in same color? are there other combinations that would produce the effect of higher ceiling?
---
| | | |
| --- | --- | --- |
| RE: ceiling color and crown molding | | |
bronwynsmom, what is that beautiful pale green on the walls of your room called? It is perfect for my kitchen!
---
| | | |
| --- | --- | --- |
| RE: ceiling color and crown molding | | |
this is a great topic....i'm in the process of remodeling and redecorating my condo, the paint color now is a 'place holder' but ultimately i'm leaning toward a silver sagey or one of the warm, pale blues...

the problem i have is the dreaded textured ceiling...mine are not horrible looking....the texture is very uniform and pretty fine textured...i do NOT want to scrape it off, as it was painted white by the previous owner...

we have white crown moulding that matches the base boards...would painting the ceiling a pale an extremely pale blue or peachy pink draw too much attention to the ceiling texture? my goal is to draw attention more to the crown moulding (which is very lovely)...any input from the 'color ceiling' experts is greatly appreciated!
---
| | | |
| --- | --- | --- |
| RE: ceiling color and crown molding | | |
Would painting the ceilings the same or a bit lighter (25% - 50%) of paint color depend on the amount of light the room gets?
My ceiling and trim match - which is a creamy white (chalk grey) my walls are a light grey and I hate the look. It seems that my 9 ft ceiling gets a grey cast from the lack of natural light in the room - they almost look dirty at times. It could be since my floors are dark wood that casts a shadow too.
I'm thinking the opposite of you girls - a whiter color for my ceilings. I'm thinking that a shade of the wall color will make me feel like I'm in a box rather than the opposite effect. JMHO
---
| | | |
| --- | --- | --- |
| RE: ceiling color and crown molding | | |
acountryfarm, is that glossy paint on your ceilings, or a semigloss? DH is into flat flat flat, yet I think the glossy finish can yield some interesting effects.

We used our ceilings to tie the open rooms together. So the wall color in the DR went on the ceiling in the library and the walls in the library went on the ceiling in the foyer. The DR ceiling is in the blue, a project waiting...when I get some scaffolding, my plan is to paint it like a sunset sky.
What's really interesting is, because the light is so different, the paint on the wall in the DR looks completely different than it does on the ceiling. Our carpenter refused to believe me, until he took an actual swatch and held it up against each to see that they matched.
I also used darker ceiling colors to bring the ceilings down in smaller rooms. So the tray in the study went a dark taupe to offset the high ceiling in a smaller room.

I did the same in the master bath as it too is smaller yet tall.
---
| | | |
| --- | --- | --- |
| RE: ceiling color and crown molding | | |
acountryfarm - What color white is your trim/wood work? So pretty!!!
---
| | | |
| --- | --- | --- |
| RE: ceiling color and crown molding | | |
bumping to find out acountryhome's trim ceiling color.
Beautiful!
---
| | | |
| --- | --- | --- |
| RE: ceiling color and crown molding | | |
Annie, what is that pretty warm white in your DR? Lovely room, very interesting architecture and beautitul colors!
---
Post a Follow-Up
Please Note: Only registered members are able to post messages to this forum.
If you are a member, please log in.
If you aren't yet a member, join now!
---
Return to the Home Decorating Forum
Information about Posting
You must be logged in to post a message. Once you are logged in, a posting window will appear at the bottom of the messages. If you are not a member, please register for an account.
Please review our Rules of Play before posting.
Posting is a two-step process. Once you have composed your message, you will be taken to the preview page. You will then have a chance to review your post, make changes and upload photos.
After posting your message, you may need to refresh the forum page in order to see it.
Before posting copyrighted material, please read about Copyright and Fair Use.
We have a strict no-advertising policy!
If you would like to practice posting or uploading photos, please visit our Test forum.
If you need assistance, please Contact Us and we will be happy to help.

Learn more about in-text links on this page here