Return to the Home Decorating & Design Forum
|
Post a Follow-Up
---
| | | |
| --- | --- | --- |
| Chandelier Crashed! | | |
Posted by
jeri
(
My Page
) on
Tue, Apr 9, 13 at 17:14
Our foyer has a dormer window that housed a beautiful 3 tier crystal chandelier that could be seen above the roof-line from the front of the house. The Chandelier was probably about 4 feet tall. We bought the house with this installed and I really did love it. It came crashing down a few months back. OMG - we were so lucky! No one was hurt. There could have been kids or pets under it when it fell. I also host large family meals during the holidays in that room. Glass was everywhere!

Anyway, I've tried to find the exact chandelier but have not seen anything close. Sadly, I don't have any pictures of it to post either. :-(

My question to all of you is, have you seen a fabulous chandelier that you would love to buy if you had this space? As mentioned, the Chandelier will be housed in the Dormer, so other than seeing it outside, one would only be able to see it from directly below, looking up. This may make a difference.

Although the one that crashed had 3 tiers of long strips of glass (crystal?), it was not what I would call fancy - we are not "fancy" people.

Just thought it would be fun to see what has caught your eye! :-)

Jeri
---
Follow-Up Postings:
| | | |
| --- | --- | --- |
| RE: Chandelier Crashed! | | |
Could you check with the real estate co and see if they may have the listing pics somewhere that show the light? I'm so sorry you lost it, but what a blessing that no one was under it. I can't even imagine cleaning up all that shattered glass. When I break a drinking glass, no matter how thoroughly I clean it up, I always seem to keep finding little pieces.
---
| | | |
| --- | --- | --- |
| RE: Chandelier Crashed! | | |
Have you checked with your insurance company to see if it's covered? I've had some weird stuff like that covered in the past.

So glad no one was hurt!
---
| | | |
| --- | --- | --- |
| RE: Chandelier Crashed! | | |
What about something like this from lampsplus.com
I am on my iPad and cannot attach a photo.

Chrome and Glass Spheres 39 1/4" High Halogen Ceiling Light  Style # U0771
---
| | | |
| --- | --- | --- |
| RE: Chandelier Crashed! | | |
It was indeed a blessing that no one was injured. Where the chandelier hit the tile are several deep divots! And I did find bits of glass for weeks.

It never occurred to me to check with the insurance company…

I did check the listing pictures, no luck there I'm afraid.

Lyban - here is the chandelier you mentioned for anyone else who would like to see it. I bet this looks stunning! Unfortunately, it is too modern for the look we are going for. :-)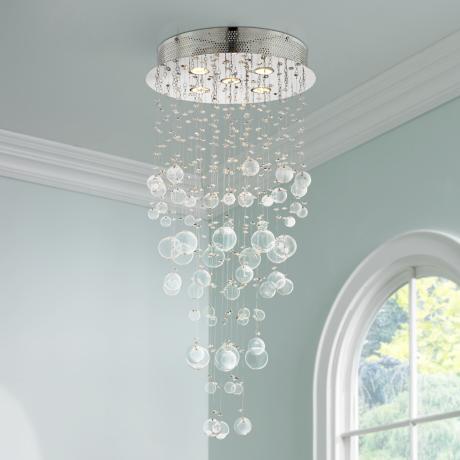 ---
| | | |
| --- | --- | --- |
| RE: Chandelier Crashed! | | |
Have you saved any of the parts from the crashed one? Your insurance agent will likely want to see them and will likely cover replacement cost and also to replace the damaged tiles. Minus deductible.
---
| | | |
| --- | --- | --- |
| RE: Chandelier Crashed! | | |

From your description I am guessing it was one of those "upside down wedding cake" chandeliers--like this? This particular one is for sale in Pomona, CA for only $100- the listing comes up in a google image search for " three tiered chandelier". I think it is acrylic, so yours was nicer. I'll bet you could find one on ebay.
---
| | | |
| --- | --- | --- |
| RE: Chandelier Crashed! | | |
We didn't save any of the pieces, but we have pictures. Here we just swept up the main area where it fell.
---
| | | |
| --- | --- | --- |
| RE: Chandelier Crashed! | | |
this place has all kinds and I have used them before . good people
Here is a link that might be useful: great chandeliers
---
| | | |
| --- | --- | --- |
| RE: Chandelier Crashed! | | |
I can not help you find a replacement but have you determined what caused the chandelier to fall?

At four feet tall, the electrical box may not have been strong enough to support the chandelier long term.

We installed a 5 foot tall chandelier that weighed about 300 pounds.
The existing box was rated for 100 pounds.
We replaced the box and installed a chandelier winch rated for 300 pounds.

I hope this helps.
---
| | | |
| --- | --- | --- |
| RE: Chandelier Crashed! | | |
I was hoping this thread would turn into "This is what I would buy if I was looking for a Chandelier!" But I should have known better; you all are just too selfless. :-)

I've started a Pinterest board… I'll keep looking, but you can see my ideas. Unfortunately, the one DH and I liked the best from this group is EXPENSIVE! I didn't know that when I pinned it… My Second Choice (currently) might work better giving the confines of the space it will live in (tall and narrow). But I don't yet know where to buy that one.

I was going to post both my Fist & Second Choices, but it is not working. So, if you follow the link to my pins, I have labeled them with First and Second Choices.
Here is a link that might be useful: Current Chandelier Pins
---
| | | |
| --- | --- | --- |
| RE: Chandelier Crashed! | | |
I would first find out why it fell. Does the support need to be increased, etc? You don't want to purchase a new one only to find it can't be installed without the risk of falling again.
---
| | | |
| --- | --- | --- |
| RE: Chandelier Crashed! | | |
I have to agree that my first concern is why it fell and whether you have enough support to put a new fixture up there.

My second concern is the size. How large is your dormer. I have one over my door, but it has a floor and is more closed in than it sounds like yours is if you can look straight up at it. Or do you look out at an angle? Either way, I would make sure the scale was right indoors and out.

The other thing about size is that it really drives the cost. If you went with a two tier instead of a three tier in the look that is your first choice, you can cut the cost to a third or less What I can see on the floor doesn't look like you have a huge foyer that requires a huge fixture. That first choice one is over four feet wide and close to five feet in height with the canopy included -- then you need to add a reasonably proportions amount of hanging chain. You need tall ceilings or that monster is going to be right over your head. I would be uncomfortable with that. That same Ferguson site has a couple of two tier Maxim fixtures. Take a look at those and see if something merely very large might work.
---
| | | |
| --- | --- | --- |
| RE: Chandelier Crashed! | | |
The chandelier screwed into the part that held it to the ceiling. Does that make sense? I don't think it was screwed all the way on and the weight pulling on the few threads holding it up eventually gave way. This house was a bank owned house that had been pretty trashed. We had to do a lot of work just to make it habitable, but we never thought to check this! Lesson learned.

Lascatx - I guess I didn't read the info on my "first" choice - just liked the look of it. You are right - I don't think that one would fit. The last one was long, but narrow, so I will probably need something like that again.
---
| | | |
| --- | --- | --- |
| RE: Chandelier Crashed! | | |
Typically, there is a junction box with mounting brackets or plates that may be particular to the fixture and then a canopy or plate that covers the hole and gives a decorative finish. How, exactly, the fixture was supposed to be secured tot he junction box depends on the fixture, The weight and strength of the junction box and the way they are secured to the framing of the house, and whether an additional piece of framing or block is required, is also geared to the weight of what is to be attached.

Was the house mostly stripped of fixtures? The previous occupants may not have had the ladder or tools to take it down properly and may have loosened it. The fixtures I've helped mount and those I've watched have more than a single screw holding them in, and anything the size of what you were describing would seem to have also. It really should be very hard for anything like that to accidentally happen if it was installed properly. You worry about structural failures, insect damage, rotted wood, etc. You sure don't want it to happen again, so that's why so many are suggesting you make sure everything is structurally okay before you get too concerned with installing another fixture. Is all the ceiling intact? Is there any way to access the area above the ceiling to make sure it is okay? Any evidence of a water or roof leak?

What size do you think you need? I would focus on width since your height will have more leeway. What price range are you looking for?
---
Post a Follow-Up
Please Note: Only registered members are able to post messages to this forum.
If you are a member, please log in.
If you aren't yet a member, join now!
---
Return to the Home Decorating & Design Forum
Information about Posting
You must be logged in to post a message. Once you are logged in, a posting window will appear at the bottom of the messages. If you are not a member, please register for an account.
Please review our Rules of Play before posting.
Posting is a two-step process. Once you have composed your message, you will be taken to the preview page. You will then have a chance to review your post, make changes and upload photos.
After posting your message, you may need to refresh the forum page in order to see it.
Before posting copyrighted material, please read about Copyright and Fair Use.
We have a strict no-advertising policy!
If you would like to practice posting or uploading photos, please visit our Test forum.
If you need assistance, please Contact Us and we will be happy to help.

Learn more about in-text links on this page here