Return to the Home Decorating & Design Forum
|
Post a Follow-Up
---
| | | |
| --- | --- | --- |
| A Collected & Layered Apt | | |
Posted by
chijim
(
My Page
) on
Tue, Apr 15, 14 at 16:35
A 1929 NYC tri-plex penthouse by architect Rosario Candela :

Jim
The small library was a former bathroom: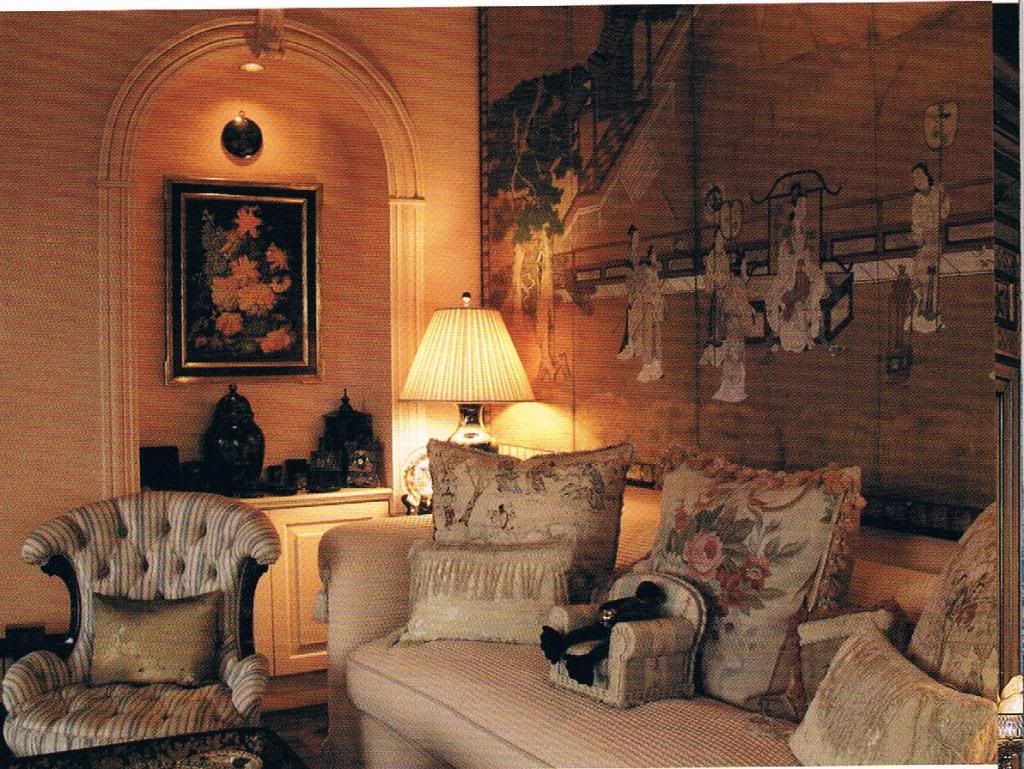 This post was edited by chijim on Tue, Apr 15, 14 at 17:37
---
Follow-Up Postings:
| | | |
| --- | --- | --- |
| RE: A Collected & Layered Apt | | |
Jim, I always love it when I see your threads since I know there will be lots of pictures! Now I need to go study them, thank you.
---
| | | |
| --- | --- | --- |
| RE: A Collected & Layered Apt | | |
One thing that I notice about apartments and houses like this is that they are large enough and stately enough to carry completely different architectural details in different rooms.

Very little continuity here, but each room is fully expressed, so I don't think continuity matters much.
---
| | | |
| --- | --- | --- |
| RE: A Collected & Layered Apt | | |
Ineffablespace, I think the continuity is that every room is done-up to (almost) extremes. Personally, I think it's a bit overwhelming. I can't imagine living there and always walking into room after room that is filled with just so much stuff! It's all very beautiful- and probably extremely high end- but I don't like having all my worldly possessions on display.

I do, however, absolutely love the architecture of the building itself!
---
| | | |
| --- | --- | --- |
| RE: A Collected & Layered Apt | | |
May I please have the floors and the paneling and chairs from the dining room installed in my home? Gorgeous, Jim, thanks so much for sharing. I love your posts.
---
| | | |
| --- | --- | --- |
| RE: A Collected & Layered Apt | | |
Many beautiful things, many beautiful elements.

I am unable to separate the trends of today from an objective assessment of the rooms.

It almost reminds me of things like touring castles in Europe or even places like the Biltmore or Newport cottages. To me, today, they are so ornate as to be "ugly". This dwelling approaches that extreme. It seems like a place to display wares rather than a place to live, and maybe it is, in a sense?
---
| | | |
| --- | --- | --- |
| RE: A Collected & Layered Apt | | |
Funny, I was going to say my reaction to these rooms is that they look more like shops than rooms in a residence. But store or home, I'll go out on a limb and suggest that a plush frog sitting cunningly in an upholstered mini chair atop a sofa (picture 7) , or rag dolls in matching mini chairs (pic 2) are bad taste writ large.

Edited for picture reversal!
This post was edited by kswl on Tue, Apr 15, 14 at 23:02
---
| | | |
| --- | --- | --- |
| RE: A Collected & Layered Apt | | |
You literally have me giggling, KSWL, looking for those (btw you have the pic numbers reversed).

It speaks volumes that i DID NOT NOTICE a plush frog on a mini chair atop a sofa. I think that is a sign there is too much going on!

I like the kitchen and back hall, though...
---
| | | |
| --- | --- | --- |
| RE: A Collected & Layered Apt | | |
Yes, it's a rule if you can't see the fuzzy frog amidst the froufrou it is just too, too!

I will have to edit those numbers above it is hard enough to see without being led astray. :-)
---
| | | |
| --- | --- | --- |
| RE: A Collected & Layered Apt | | |
Oh I don't know that it is bad taste writ large, I think it's more vulgar, or an intentional display of some bad taste.

Just like there is a thin line between love and hate, and the opposite of hate is indifference, I think there is a thin line between good taste and vulgar taste but bad taste is something that's just banal.
---
| | | |
| --- | --- | --- |
| RE: A Collected & Layered Apt | | |
Some wonderful pieces are lost in the chaos. A cute plush frog may be in poor taste (or maybe an missed attempt at whimsy), but those dead birds in the 10th picture are way too Victorian macabre (and just plain creepy)! As children we found stuffed dead birds in my great grandmothers attic and I didn't sleep for nights (it didn't help that my cousin chased me with one of those things). Frankly I would flee from that apt before seeing the things I like. For example, there are some beautiful rugs and while the bedroom carpet is not my taste, I find it charming. What's not to appreciate in the silver and Chrystal and a few pieces of furniture are fabulous. But !i would never notice them amidst the macabre and bizarre -- I'd be trying to find the fastest way out and I'd be a few blocks down the street before I looked back to see if aunt agatha was chasing me with a dead bird on her hat.
---
| | | |
| --- | --- | --- |
| RE: A Collected & Layered Apt | | |
This certainly isn't my style, but when I come across this old money style of the gentry, I do try to at least appreciate the effort. When there isn't more than 2 feet of wall space without a decorative element other than paint, in a residence of this size and scope, this is effort!

But I get so distracted wondering about the thought process that went into this decor. For example, in photo 3, there are 2 tiny frames mirrors above the the shuttered door frame. My initial reaction, "Are those really nice frames, and why would you place mirrors that high?" And then in photo 10, I was distracted by the two rugs... why 2 rugs just inches apart? Why not just 1 larger rug?

Another overall impression is the use of black/dark accents in trim and pieces. This is rather unusual among other similar residences of this scope.
---
| | | |
| --- | --- | --- |
| RE: A Collected & Layered Apt | | |
Jim, I love it when you bring us posts of decor to evaluate. It is always a treat. I like to imagine what was going through the lady's or gentleman's head/s when they were decorating or their decor was evolving. It takes us back a century . . . and often more . . .

I would be willing to bet the lady of the house was a keen letter writer, whose letters probably written in very beautiful calligraphy, served as her diary to the world.

Did she dish to her ancestors in Europe about the wealth her husband of newfound riches had produced in order that she have the latest "things" and travel to distant lands that none of the left-behind cousins across the pond had experienced... or ....

were the letters to her American born sisters for whom she wrote of the disposition of her inheritance of MIL's and mother's family jewels, which she displayed in her well-done and architecturally exploited residence... or ....

did she write of the flourish and fantasy they had read of in the papers of the new city of York for those women whose wombs were empty of children and whose lives were filled with homes so full of store-bought satisfaction one need not bear children.

But my favorite was the four-seasons dining, what appeared to be a 1950s-1960s rose judging, replete with tiny Victorian mussie-tussie vessels holding the best of the blooms of a mid October gathering... and with it, the Thanksgiving cranberries complete with a 'stuffed bird' pecking at their freshly washed skins, the sideboard donned of Easter lilies and late summer hydrangea, the Christmas collected magnolias brimming with light and trimming every handrail and mantle, whilst the blue rooms held an abundance of Sunday dinner secrets.
---
| | | |
| --- | --- | --- |
| RE: A Collected & Layered Apt | | |
Jim, thank you so muchy for sharing the pictures. Many of us do appreciate looking at them.

IMO, it's an art to achieve the layered look. I like a bit of layering myself instead of sparse.

As far as the little chair, maybe there's a child around? I keep a little rocking chair with an antique rag doll in my LR, long before the grands came along. :)
---
| | | |
| --- | --- | --- |
| RE: A Collected & Layered Apt | | |
I have admired the architect's work for many years. Our eldest son went to school a few blocks away from a Rosario apartment building on Park Avenue and I had wild fantasies about living there :-) The link below is to a site that lists his notable buildings in NYC. The French government is trying to unload their Rosario apartment as part of ongoing budget cuts....listing price $48 million.
Here is a link that might be useful: Apartment buildings in NYC designed by Candela Rosario
---
| | | |
| --- | --- | --- |
| RE: A Collected & Layered Apt | | |
Like peony, an overall impression that stood out for me was the black and dark accents and backgrounds in rugs, etc.

It's pretty quirky, but I like it. It doesn't seem chaotic to me, maybe because there's lots of symmetry? I can picture visiting a rich old aunt there and enjoying the atmosphere!
---
| | | |
| --- | --- | --- |
| RE: A Collected & Layered Apt | | |
K, I looked at the building on 740 Park Ave., and let me tell you, I WANT TO LIVE THERE!!! lol.

Talk about perfect surroundings for my dream lifestyle. Wow!

Can you explain to me how having dolls in chairs (probably antiques) is considered "bad taste?" How is it disgusting or offensive, or out of place?

I'm wondering if I need to put my "Buttons" doll away. :)
---
| | | |
| --- | --- | --- |
| RE: A Collected & Layered Apt | | |
Can you explain to me how having dolls in chairs (probably antiques) is considered "bad taste?"
No, Oak, I can't, because it goes without saying---doesn't it?---- that anything anyone posts here is his or her own opinion. We don't post IMO in every sentence for obvious reasons, but it is surely implied. And it is my opinion, just one of those obvious-to-me and perhaps me only things. Explanations would only dig the hole deeper, iykwim :-)
Some day we should have a tacky picture thread of stuff in our own houses. Mine may surprise you...or maybe not, lol!
---
| | | |
| --- | --- | --- |
| RE: A Collected & Layered Apt | | |
I think I'd enjoy wandering around there for a bit and looking at things, much like I'd wander around a museum. But I wouldn't find it at all relaxing to spend a great deal of time there.

I think it's funny that a key piece of real estate advice for those putting their homes on the market is to get rid of the clutter. What would a Realtor say about this? In all likelihood the rules that apply to the plebeian masses such as myself don't apply to those who can afford a place like this.
---
| | | |
| --- | --- | --- |
| RE: A Collected & Layered Apt | | |
The apartment is decorated for Christmas and the "rag dolls" are expensive collectible Santas or elves. I remember seeing them long ago, but I can't remember what they are called.

I have no idea what the frog in the chair is about.
This post was edited by Fun2BHere on Wed, Apr 16, 14 at 13:49
---
| | | |
| --- | --- | --- |
| RE: A Collected & Layered Apt | | |
I enjoy seeing these rooms. I bet I would even enjoy visiting them. There is so much interesting stuff to look at--each time I see the pictures I see different things. But I would not enjoy living in that kind of space. I would feel uncomfortable with so much stuff around me all the time (not to mention how hard to would be to keep that dusted!)

Thank you for posting!
---
| | | |
| --- | --- | --- |
| RE: A Collected & Layered Apt | | |
I would love to explore these rooms. I would say that most of us have never seen/touched furniture, accessories, plaster or woodwork of this quality. It is a style different from my own, but WOW, those rooms are surely worth exploring. Not for everyone? You bet, that is the value of them.
Diane
---
| | | |
| --- | --- | --- |
| RE: A Collected & Layered Apt | | |
I would also love visiting this 'self made' museum, since I find it a fascinating 'abundance of acutrements'. We need to keep in mind one 'man's trash is another man's treasure', but realistically, there are probably more treasures than trash in this instance. So is it really a collectively hoarders paradise?
---
| | | |
| --- | --- | --- |
| RE: A Collected & Layered Apt | | |
Fun2BHere, it is also decorated for the Thanksgiving feast, the Easter egg hunt, Christmas and late summer (maybe Labor Day) all in one room. There are Thanksgiving cranberries with a bird feasting on their skins; there are Easter lilies on the sideboard; there are late summer hydrangeas in the same vase; there are evergreen magnolias hanging like bunting with lights in various places. It is a holiday smorgasbord.
---
| | | |
| --- | --- | --- |
| RE: A Collected & Layered Apt | | |
ugh, no. hideous to my eyes.

Might have been acceptable if an actual 1929 decorated apartment, but this modern interpretation of some kind of pseudo Victorian just makes me want to run screaming.

less collecting and layering for modern sensibilities, please
This post was edited by Violet.West on Wed, Apr 16, 14 at 21:09
---
| | | |
| --- | --- | --- |
| RE: A Collected & Layered Apt | | |
It's fun to look at all these rooms. Every time I re-visit, I see something new that catches my eye.

I like that really tall clock in pic 3. It wouldn't fit in my home, but it's fascinating all the same.

Now, the adorable black child's chair in pic 8 (the room with all the contrast - black/dark trim)...that chair, I would love to have!
---
| | | |
| --- | --- | --- |
| RE: A Collected & Layered Apt | | |
Love the symmetry of picture number 2, love the blue of picture number 3, wish I could read the quote on the ceiling!

I also love the eat in kitchen nook in pic number 9. WIsh I still had my little couch. Still mad DH threw it away. :(

Thanks for sharing as usual chijim.
---
| | | |
| --- | --- | --- |
| RE: A Collected & Layered Apt | | |
God help them if they ever get bedbugs. (Remediation often involves removing/washing every single soft finish item.)
---
| | | |
| --- | --- | --- |
| RE: A Collected & Layered Apt | | |
I am overwrought and shall retire to my library, sweeping away all accoutrements that deter retrieval of my companions, my books....
---
Post a Follow-Up
Please Note: Only registered members are able to post messages to this forum.
If you are a member, please log in.
If you aren't yet a member, join now!
---
Return to the Home Decorating & Design Forum
Information about Posting
You must be logged in to post a message. Once you are logged in, a posting window will appear at the bottom of the messages. If you are not a member, please register for an account.
Please review our Rules of Play before posting.
Posting is a two-step process. Once you have composed your message, you will be taken to the preview page. You will then have a chance to review your post, make changes and upload photos.
After posting your message, you may need to refresh the forum page in order to see it.
Before posting copyrighted material, please read about Copyright and Fair Use.
We have a strict no-advertising policy!
If you would like to practice posting or uploading photos, please visit our Test forum.
If you need assistance, please Contact Us and we will be happy to help.

Learn more about in-text links on this page here