Return to the Home Decorating Forum
|
Post a Follow-Up
---
| | | |
| --- | --- | --- |
| brightening a room without much natural light | | |
Posted by
linelle
(
My Page
) on
Sun, Apr 26, 09 at 16:26
Last night I was watching a Color Splash episode that I'd taped. The people had a large family room that didn't get a lot of natural light. David said, people think you have to use light paint in such a situation, but it's not true. I wanted to see what he came up with, but I accidentally erased the recording before getting the answer. >:(

I have a living room that doesn't get a lot of natural light. I can't see how going darker than something in the 70-75 LRV zone is going to make it any lighter than my current contractor's white. Of course, I could turn on all the lights, but I don't like lights on during the daytime if I can help it.

Can it be done with paint?
---
Follow-Up Postings:
| | | |
| --- | --- | --- |
| RE: brightening a room without much natural light | | |
I have a silver blue (SW Misty) in my master bedroom that doesn't get a lot of light and the LRV is 63%. It's a pretty color and I think the light will reflect off of it nicely. Also, using an eggshell finish will help with light reflection also. The ceiling is flat BM ceiling white. I think bright white walls can be harsh and cold. I think a little color is needed to give some definition and warmth to the walls.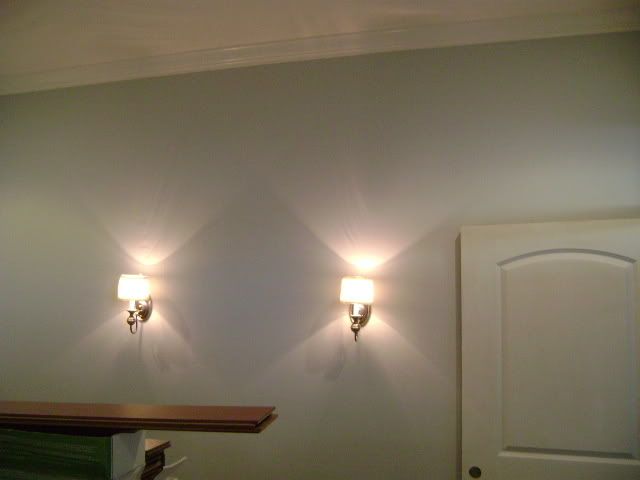 ---
| | | |
| --- | --- | --- |
| RE: brightening a room without much natural light | | |
I used a gray-blue in my dining room, which gets almost no natural light. For the kitchen, which is also a little dark, I'm using the same color at 50%.

I agree that the finish might have something to so with how the light bounces around the room. Flat isn't going to do much to send light, but eggshell/satin probably will.
Here is a link that might be useful: Jeannine's dining room
---
| | | |
| --- | --- | --- |
| RE: brightening a room without much natural light | | |
linelle I saw the episode. David used a medium blue in the room. It was quite beautiful.

His point was that color can energize a room and make it more inviting, whereas white walls can feel cold and unwelcoming. I think he was talking more about "vibe" than about actual light reflection. :)
---
| | | |
| --- | --- | --- |
| RE: brightening a room without much natural light | | |
Jeannine, I remember seeing your dining room on RMS. Very, very pretty.
---
| | | |
| --- | --- | --- |
| RE: brightening a room without much natural light | | |
Thanks for the replies. Brutuses and Jeannine, both of your gray-blues are lovely. And David used a blue? Hah, wouldn't you know, the one color totally out of the running for me.

Both of your rooms may not have much natural light, but they seem to be well lit artificially, and of course that changes everything. I'm thinking of a daytime situation (I'm retired, so I'm home a lot during the day) where I don't want to have all the lights on, or walk into a room and feel like it's too dreary unless the lights are on.
---
| | | |
| --- | --- | --- |
| RE: brightening a room without much natural light | | |
A room that does not have a lot of natural light, is used a lot in the daytime, and where you do not want to have all the lights on should be painted in a pale but warm color IMO. You can then use task lighting where necessary but it will still be comfortable to live in. Forget the trendy blues and use a warm neutral you like.
---
| | | |
| --- | --- | --- |
| RE: brightening a room without much natural light | | |
You can create sunshine by painting the room a shade of yellow, not a screaming hot yellow but a softer version. Also a semi-gloss would reflect light more than a flat paint.
---
| | | |
| --- | --- | --- |
| RE: brightening a room without much natural light | | |
I am very interested in this subject because I have a dining room with the same issue, and it is a passway through the center of the house.

Can someone tell me more about the LRV for a paint color - does it stand for the light reflecting value?

Linelle - have you explored other options? I understand that you can install a solar tube in a room even if there is another room above it.
---
| | | |
| --- | --- | --- |
| RE: brightening a room without much natural light | | |
| | | |
| --- | --- | --- |
| RE: brightening a room without much natural light | | |
I am so happy to see the message getting more repetition...white without light is dingy and depressing...yellow without light is anxious-making...pale neutrals without light are dirty stains.

At the risk of making you say, oh, for pity's sake, not those two rooms again!, I attach two rooms from my previous house, neither of which get very much light at all.
The first is all in pale neutrals with lots of lamps and reflective surfaces.
The second is in deep neutrals with pale furniture and lots of lamps and reflective surfaces...

I am a big advocate for lamplight and mirrors, polishing the glass on the framed pictures, and washing your windows frequently. It's really amazing how much sparkle and lightness you can add with clean glass and windows.
I have a lightning-fast method, which makes it so easy to keep glass clean...two micro-fiber cloths, one wrung out in warm water, and one dry...rub with the damp one, polish with the dry one, and spit-spot 0 clean as a whistle. If you need anything more, a spray bottle with a quarter cup of white vinegar, five or six drops of dish detergent, and a quart of water. Squirt a little on the damp cloth. And once a month, use the same method to clean your light bulbs.
---
| | | |
| --- | --- | --- |
| RE: brightening a room without much natural light | | |
hi bronwy

i love your second room. do you remember the paint color you used? looks like a green/gray?
---
| | | |
| --- | --- | --- |
| RE: brightening a room without much natural light | | |
B'smom, I love both of your light, bright, beautiful rooms. Love your style, and yes, your house looks immaculate.

Btw, I could talk at length (but won't hj this thread) about how your suggestions on my "mirror thread" helped me to better define what I want in my own space! Some other time I'll share details. Just wanted to mention it in case I had your attention now! Thanks!

Again, love your rooms... now come over & help me decorate mine some more (We can clean windows too!! Ha, ha!)
---
| | | |
| --- | --- | --- |
| RE: The paint color for Vavavoom... | | |
Thank you, vava..
Yes, it's a Martin Senour paint color called "Spiderweb," and it is a perfect warm gray with very little green in it, but also without that purple undertone than some of them have. You may be picking up green reflected from the trees outside when the picture was taken?
The link takes you to Materials World's Martin Senour paint charts, and the chart that has Spiderweb on it. I used it with Fuller-O'Brien "Bleached Ivory" trim and cabinets, and painted the ceiling with M-S's "Peach Tulle." To see that one, go to the link below, and from the numbers across the top, choose chart #2.
Here is a link that might be useful: Martin Senour colors
---
| | | |
| --- | --- | --- |
| RE: brightening a room without much natural light | | |
I'm grateful for all the responses. Of course, my head is spinning a bit because on one hand I understand the logic (and see the photographic proof) that light color can't brighten a dark room all on its own. On the other hand, it's hard to dismiss that emotional feeling that darker paint will make things darker.

Graywings, yes, I have considered adding a solar tube! I have one in my interior hall, at the angle junction of its two legs. It's like a strong overhead light is on during the day. I've had it for years and it still fools me that I left a light on somewhere. The reason I've held off putting one in the living room is the look on the ceiling, which is vaulted. I'm afraid it will look like a big, all-knowing eye. But I haven't ruled it out down the road.

Stinky, thank you so much for that link! I like how you deduct non-walls for a percentage. While it makes sense, there still seems to be a lot of subjective evaluation of the amount of light. The first example used (the one with the wooden bookshelves at the end of the room) was only given a 50% for light and I thought it was much more than that.

bronwynsmom, love the look of the living room in your photo. It looks great and I love the neutral palette.

One more thing to throw into the mix:

My too dark (without lights on) living room, flows into my gets-lots-of-light dining room (eastern exposure). No dividing wall between them and indeed, they share a long common wall. So, whatever I choose to warm up my living room will also find itself on a sunny wall.
---
| | | |
| --- | --- | --- |
| RE: brightening a room without much natural light | | |
browny, your rooms are gorgeous. Would you share photo's of your entire home with us? If you don't want to, I understand. Some people don't feel comfortable posting photo's on here.

Let me ask you about the yellow. Do you think BM's Rich Cream, which is a true cream, but comes across as a pale yellow, would be OK with little natural light? Here is a photo of my laundry room with RC with the shutters closed so the light is low. I think it looks pretty good, what do you think? If OP wants to try it, BM sells sample bottles of this color.
---
| | | |
| --- | --- | --- |
| RE: brightening a room without much natural light | | |
Brutuses, I did try BM Rich Cream at some point (one of my little 2-oz. jars). It's a little too yellow for me. Don't get me wrong, I definitely need a yellow factor in there, but with more tan or gold, or even green toning it down.

Decided to put SW Ivoire back in the running. Eeek.
---
| | | |
| --- | --- | --- |
| RE: brightening a room without much natural light | | |
linelle, you know the rich cream is a funny color. To look at it, it screams yellow, but when I put an actual yellow up against it, it was no longer yellow. LOL I haven't even started looking for curtains for the rooms with that color. Hope I don't run into too much grief because my yellow "appearing" walls aren't yellow at all. LOL

Have you looked at SW's antique white? I have a sample card of it and it looks pretty good and has a light reflective value of 74%.

You also have to keep in mind what furnishings you have in that room. Like someone else mentioned, having things for the color to reflect off of will make a difference. In my dark master with the silver/gray paint, I plan on a lot of glass, crystal, metal and mirrors.

Good luck. Picking out paint is worse than a root canal!!!
---
| | | |
| --- | --- | --- |
| RE: brightening a room without much natural light | | |
brownysmom, your room is clean and cool, light but warm and sophisticated and timeless in its beauty and depth of character. I love your rooms.
---
| | | |
| --- | --- | --- |
| RE: brightening a room without much natural light | | |
Brutuses, I have to say while on the subject of paint colors & their effects, that your house is a glowing example of what colors to use & how to use them!

I checked out a Martha Stewart book on color at the library recently & kept thinking as I turned the pages, about your house & your style. Martha's look is so light & clean. Not a pic in this book featured a dark, heavy-looking or over-accessorized space. I just kept thinking "Bru would do something like that!" Your style is just impeccable!
---
| | | |
| --- | --- | --- |
| RE: brightening a room without much natural light | | |
stinky, you're making me blush. Thanks for that lovely compliment. I'll have to check out the book you are referring to. Thanks again.
---
| | | |
| --- | --- | --- |
| RE: brightening a room without much natural light | | |
Just got home from having lunch at a friend's house. Setting is to die for: three acres in the rolling hills of West Sonoma Co., CA. Just to die for.

Anyway, he and his partner have a sweet little 1880s farmhouse done in a very relaxed Craftsman style inside. Lots of oak and a lot of light. Their living space is a soft muted gold, much like a lot of discussion in these parts. So I got a good look, up close, of muted gold in a whole room with good light. I think what I didn't like so much was the gold next to the warm wood. They didn't look great together at all, despite all the separate elements being fine in isolation (which they weren't). I realize I have plenty of warm gold going in my wood floor and wonder if putting it on my walls might create the same too-muchy.
---
| | | |
| --- | --- | --- |
| RE: brightening a room without much natural light | | |
Linelle, I think so. I had oak cabinets, oak floors and used a warm muted gold (Lion's Mane) and it was too much. It was all warm and the color was beautiful. I love all the colors, the floors, the cabinets and the walls but it needed contrast and a break to cool it off and I painted my walls Dry Sage, which it immediately loved and it soaked up some of the warm from the floors and cabinets, cooled the space just enough to make it not glare gold.
---
Post a Follow-Up
Please Note: Only registered members are able to post messages to this forum.
If you are a member, please log in.
If you aren't yet a member, join now!
---
Return to the Home Decorating Forum
Information about Posting
You must be logged in to post a message. Once you are logged in, a posting window will appear at the bottom of the messages. If you are not a member, please register for an account.
Please review our Rules of Play before posting.
Posting is a two-step process. Once you have composed your message, you will be taken to the preview page. You will then have a chance to review your post, make changes and upload photos.
After posting your message, you may need to refresh the forum page in order to see it.
Before posting copyrighted material, please read about Copyright and Fair Use.
We have a strict no-advertising policy!
If you would like to practice posting or uploading photos, please visit our Test forum.
If you need assistance, please Contact Us and we will be happy to help.

Learn more about in-text links on this page here