Return to the Home Decorating Forum
|
Post a Follow-Up
---
| | | |
| --- | --- | --- |
| Is a continental rod best? | | |
Posted by
auntjen
(
My Page
) on
Thu, Apr 12, 12 at 15:59
I recently bought new valances for my kitchen and breakfast area: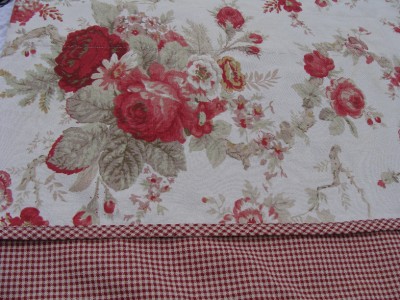 I absolutely love them, but they have a 3" rod pocket and I believe are meant to be shirred on a continental rod. I just have regular ol' rods now:


and I hesitate to replace them with continental rods, in case I ever want to revert back to my former valanaces. I'm just having a hard time deciding if using continental rods would make that much difference in how the new valances hang. They're not tremendously full, but have more of a tailored look. What would you do - replace the valances with what is probably the "proper" kind, or just use the ones that are there?
---
Follow-Up Postings:
| | | |
| --- | --- | --- |
| RE: Is a continental rod best? | | |
Use the ones that are there and if you don't like the look, try something else. But I think they will be fine. I love that fabric and have from the first time I laid eyes on it.
---
| | | |
| --- | --- | --- |
| RE: Is a continental rod best? | | |
I believe you can buy an insert that slips in there to fill out the space.
---
| | | |
| --- | --- | --- |
| RE: Is a continental rod best? | | |
I think the standard rod will work just fine. If your not happy you can always use this product to convert your current rod to a continental rod...
Here is a link that might be useful: Convert a rod
---
| | | |
| --- | --- | --- |
| RE: Is a continental rod best? | | |
I have a continental rod in a Waverly valance in my laundry room - really like the way the top stands up nice and tall. Glad to know you can use that conversion piece. Continental rods are pricier than regular.

Another thing - I found a great deal on some cotton panels at a thrift store and they only had a single slot at the top for a skinny rod - the kind where there is not fabric above the rod. I dropped down about two inches below that and sewed a straight seam to make a rod pocket which allowed a little bit of "stand-up" fabric when they were shirred on the rod.
---
| | | |
| --- | --- | --- |
| RE: Is a continental rod best? | | |
If the look was important, I'd probably cut some cardboard and hot glue it to the original rod to give the continental look.
---
| | | |
| --- | --- | --- |
| RE: Is a continental rod best? | | |
Thank you, thank you! I had no idea such a converter existed. I went ahead and ordered it - think I'll just get a tension-mount continental rod for the window over my sink, since a tension-mount cafe rod is what I'm using there now - and for less than $15 for the converter, if it doesn't work as expected no great loss.
---
| | | |
| --- | --- | --- |
| RE: Is a continental rod best? | | |
Can you sew a straight line? If so, just reduce the size of the rod pocket by sewing a parallel line between the two existing lines leaving the right sized rod pocket. Leave the existing bottom stitching until you decide you like the valance with a regular rod.
---
| | | |
| --- | --- | --- |
| RE: Is a continental rod best? | | |
I think the continental rod will look much better (or the converter).

tina
---
| | | |
| --- | --- | --- |
| RE: Is a continental rod best? | | |
| | | |
| --- | --- | --- |
| RE: Is a continental rod best? | | |
Just wanted to report back that the rod converters arrived and I installed last night. They were super easy to use - well, not much to them, really - just long pieces of plastic that you thread through the curtain pocket, then insert the standard rod behind the plastic, cut the plastic at the ends, and hang. The converters really did make a difference though - the valances hang better now, and I'm very pleased that I gave them a try. Thanks again, justgotabme!
---
Post a Follow-Up
Please Note: Only registered members are able to post messages to this forum.
If you are a member, please log in.
If you aren't yet a member, join now!
---
Return to the Home Decorating Forum
Information about Posting
You must be logged in to post a message. Once you are logged in, a posting window will appear at the bottom of the messages. If you are not a member, please register for an account.
Posting is a two-step process. Once you have composed your message, you will be taken to the preview page. You will then have a chance to review your post, make changes and upload photos.
After posting your message, you may need to refresh the forum page in order to see it.
Before posting copyrighted material, please read about Copyright and Fair Use.
We have a strict no-advertising policy!
If you would like to practice posting or uploading photos, please visit our Test forum.
If you need assistance, please Contact Us and we will be happy to help.

Learn more about in-text links on this page here