Return to the Home Decorating & Design Forum
|
Post a Follow-Up
---
| | | |
| --- | --- | --- |
| Does anyone have a black area rug? | | |
Posted by
downsouth
(
My Page
) on
Sat, Apr 19, 14 at 15:57
The more I look at area rugs, the more I am leaning towards a black and cream rug. I know black shows everything, but it seems to be the right color for everything I have bought so far. I'm also looking at darker gold rugs with grey, but those are very hard to find. I like abstract and contemporary rugs.

My budget is $500. The last rug I bought was at Home Depot. I really love it and it has been moved to the den. I can't find one there that I'm happy with. I did see a Linon grey and yellow rug that I loved at a furniture store, but it only comes in a 5x7. I need an 8x10 or 10x13.

Anyone have a site to recommend that isn't ridiculously expensive? Are you happy with your black rug, or any regrets on purchasing it?

Thanks, Dee
---
Follow-Up Postings:
| | | |
| --- | --- | --- |
| RE: Does anyone have a black area rug? | | |
I have a rug with a black background in our keeping room (fancy name for our smallish room off the kitchen-ha). I love it, but it is more trouble than our other rugs. We have two big, double-coated shedding dogs, so it is a constant battle keeping it looking its best. When it is newly vacuumed, it is lovely. Three minutes later when the pups wander in and lie down, well, not quite as nice. Here is a picture.
---
| | | |
| --- | --- | --- |
| RE: Does anyone have a black area rug? | | |
I have had but I don't care for them. It doesn't matter how often you clean, every week or every minute, it's black and it attracts everything but handsome men and money. Gave mine and the towels away that were for bathroom and that is not a highly traveled area.
---
| | | |
| --- | --- | --- |
| RE: Does anyone have a black area rug? | | |
Here is an example of a rug I like, but it's not the right colors.

My color scheme is grays/yellows (chosen from artwork), my drapes are gold with black fretwork, my sofa is cream I could exchange the artwork for something with more yellows/golds, and go with a gold rug, but I prefer not to do this.

I also have dogs...three little white and cream ones. Two of them are maltese mix and don't shed, and my pekingese doesn't shed much, so I'm not too worried about my little babies.

I wish I could post a picture of the rug I love so much, but I don't know how to post a private picture.

Dee
Here is a link that might be useful: http://www.walmart.com/ip/Linon-Rugs-Trio-Floral-Garnet-Orange-Contemporary-Rug/16908077
---
| | | |
| --- | --- | --- |
| RE: Does anyone have a black area rug? | | |
I'm not one of those who buys art to match the house. I wouldn't let your art dictate your color scheme because there will be a day you may want to replace the picture with something else.

I think the rug in the link will be fine. Below is a picture of my rug with a lot of black in it. It shows dust but not enough to vacuum it every day. As long as you have other colors with the black I wouldn't worry about it.

I bought mine from Joss & Main. Jossandmain.com. You have to register which takes 5 seconds, but they have flash sales daily. I think my rug was about $600, free S&H, and is wool. They sell a bunch of rugs. Wayfair.com is another good website.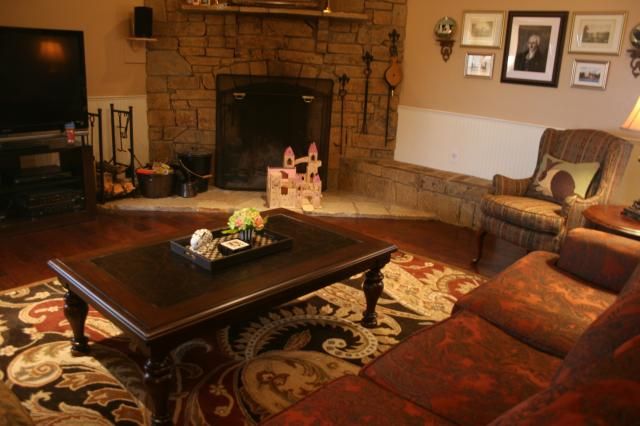 ---
| | | |
| --- | --- | --- |
| RE: Does anyone have a black area rug? | | |
I have some friends who have a round black rug in their foyer. The rug has technicolor solid circles around the outer edge, a couple of rows. It is impossible to have it looking clean for more than 30 seconds after vacuuming. Everything shows!

Agree w/Oakley about art work. If it's basically the same genre, i.e.: contemporary, anything will go.
---
| | | |
| --- | --- | --- |
| RE: Does anyone have a black area rug? | | |
I had a black rug a long time ago. It was a nightmare to keep clean, but it was primarily black, unlike the rug you posted. I don't think that would be too bad.

I also had a black floor in my hallway and stairs in my last house. Oy. that was fabulous, for about an hour after you cleaned it. :)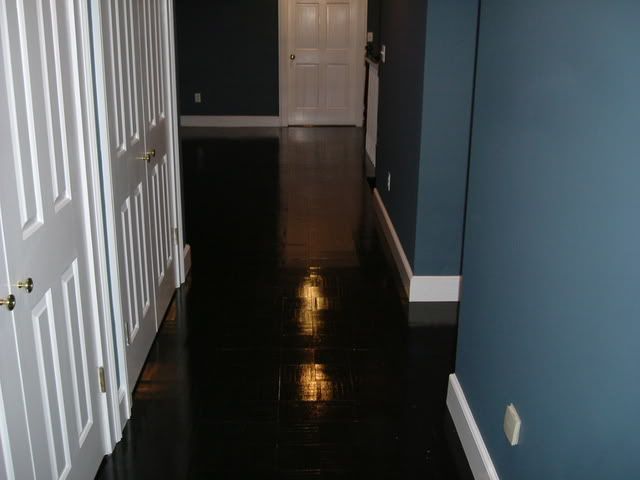 ---
| | | |
| --- | --- | --- |
| RE: Does anyone have a black area rug? | | |
I just bought a blackish rug for our family room from Crate and Barrel. Might be out of your price range though, but I highly recommend it. It's more charcoal than black and we love it! Anchors the room beautifully.
Here is a link that might be useful: Memphis Steel Rug
---
| | | |
| --- | --- | --- |
| RE: Does anyone have a black area rug? | | |
I have made a lot of changes to this room, including a new area rug, lamps, art, and wood floors but here is the primarily black rug I had until I got the wood floors and upsized. I still can't bring myself to get rid of it. It's taken up residence in my guest room. I always loved it and used to have an 8x10 version under my dining table. I had a blond colored dog but it wasn't an issue cause he didn't shed. I have had this rug for about 20 years now and they still make it...LOL
---
| | | |
| --- | --- | --- |
| RE: Does anyone have a black area rug? | | |
I love, and plan on buying for our new house, the Ikea Stockholm rug. Unfortunately the pic below is *not* my house.
---
Post a Follow-Up
Please Note: Only registered members are able to post messages to this forum.
If you are a member, please log in.
If you aren't yet a member, join now!
---
Return to the Home Decorating & Design Forum
Information about Posting
You must be logged in to post a message. Once you are logged in, a posting window will appear at the bottom of the messages. If you are not a member, please register for an account.
Please review our Rules of Play before posting.
Posting is a two-step process. Once you have composed your message, you will be taken to the preview page. You will then have a chance to review your post, make changes and upload photos.
After posting your message, you may need to refresh the forum page in order to see it.
Before posting copyrighted material, please read about Copyright and Fair Use.
We have a strict no-advertising policy!
If you would like to practice posting or uploading photos, please visit our Test forum.
If you need assistance, please Contact Us and we will be happy to help.

Learn more about in-text links on this page here