Return to the Home Decorating Forum
|
Post a Follow-Up
---
| | | |
| --- | --- | --- |
| painting wicker furniture | | |
Posted by
cyrus1
(
My Page
) on
Mon, Apr 2, 12 at 14:40
I have a vintage wicker chair that needs to be painted. Would it be best to use satin or semi-gloss for this project?
---
Follow-Up Postings:
| | | |
| --- | --- | --- |
| RE: painting wicker furniture | | |
I�ve redone my wicker furniture many times. One chair is over 100 years old, and still kickin�! I prefer to use a semi-gloss, or high gloss spray to get the look I want. I just made a new seat cushion for it and am in the process of making a back cushion, too.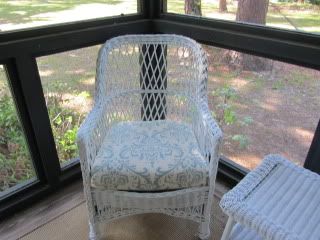 ---
| | | |
| --- | --- | --- |
| RE: painting wicker furniture | | |
Not to hijack - but I also have wicker that needs to be repainted --- what do you do to prep, Nanny?? Mine is not vintage, but it is about 10 years old and some of the painted is chipped. Thanks a lot.
---
| | | |
| --- | --- | --- |
| RE: painting wicker furniture | | |
I would like to also know what you have done if a piece has too much paint. I tried stripping it and it really didn't get hardly any off. I left it on and covered it with plastic wrap to keep it moist. I sure wish the person/s that had this beautiful old stuff had used a much more judicious hand with the paint !!

That would be the one caution...go lightly ! It ruins all the gorgeous detail when the paint is thick.

Nanny...I would appreciate any/all tips and would love to see your furniture up close :) c
---
| | | |
| --- | --- | --- |
| RE: painting wicker furniture | | |
I usually use a garden hose on my wicker to get the loose stuff off along with a brush that's not too stiff. Then DH takes the air hose to it blow all the loose stuff off of it. The cleaner the surface BEFORE you paint the better the paint sticks. Make sure your wicker has dried out from the cleaning completely before you try to paint.
Spray paint works best on wicker and a light hand is much better than a heavy one when applying paint. Much better to do several light coats than one heavy one.
BTW a old appliance box makes a good wind shield for spraying. It keeps the paint from blowing all over AND it keeps things like dirt and leaves from blowing onto your freshly sprayed paint.
---
| | | |
| --- | --- | --- |
| RE: painting wicker furniture | | |
Thank younanny2a, I love your chair, so cute. Good luck to everyone needing to paint some wicker.
---
| | | |
| --- | --- | --- |
| RE: painting wicker furniture | | |
I paint wicker chairs and use spray paint. The only complaint I have is that it takes nearly three cans per chair and that's spraying lightly and a couple coats. It can get expensive depending upon the brand. Love the finish though. My favorite color lately has been sage. Last Fall I bought three brand new white wicker chairs at Pat Catans on clearance, couldn't resist the price, and plan on painting at least one of them a nice warm brown or tan. Not dark brown.

Do you also use a protective coat of some kind afterwards? I don't and eventually the paint does crack and peel,which isn't a terrible look actually. Just curious if I'd have better luck with a final coat of something.
---
| | | |
| --- | --- | --- |
| RE: painting wicker furniture | | |
What a timely thread--- I am redoing my daughter's bedroom and her vintage (1930s) wicker desk/vanity has definitely seen better days. It is white at present, and I found a Laura Ashley pale pink paint that will make it look fresh and pretty, I hope! We bought the paint and the painter is going to spray it tomorrow. Will post pictures of how it turns out.
---
| | | |
| --- | --- | --- |
| RE: painting wicker furniture | | |
DH painted our vintage wicker set with exterior paint from Sherwin Williams, not sure of the gloss...it was what the guy at the paint store recommended. We blew debris off first, then sprayed down with a hose. Let dry and then we bought a relatively inexpensive paint sprayer. The paint has held up really well, even though it's been out on our covered porch all winter.
---
| | | |
| --- | --- | --- |
| RE: painting wicker furniture | | |
| | | |
| --- | --- | --- |
| RE: painting wicker furniture | | |
I think it works out best to repaint painted wicker the same color that it is. If there is any flaking or wear down the road, you won't be seeing a contrasting color peeking through.
---
Post a Follow-Up
Please Note: Only registered members are able to post messages to this forum.
If you are a member, please log in.
If you aren't yet a member, join now!
---
Return to the Home Decorating Forum
Information about Posting
You must be logged in to post a message. Once you are logged in, a posting window will appear at the bottom of the messages. If you are not a member, please register for an account.
Please review our Rules of Play before posting.
Posting is a two-step process. Once you have composed your message, you will be taken to the preview page. You will then have a chance to review your post, make changes and upload photos.
After posting your message, you may need to refresh the forum page in order to see it.
Before posting copyrighted material, please read about Copyright and Fair Use.
We have a strict no-advertising policy!
If you would like to practice posting or uploading photos, please visit our Test forum.
If you need assistance, please Contact Us and we will be happy to help.

Learn more about in-text links on this page here