Return to the Home Decorating & Design Forum
|
Post a Follow-Up
---
| | | |
| --- | --- | --- |
| Green for an exterior paint color | | |
Posted by
melle_sacto
(
My Page
) on
Tue, Apr 22, 14 at 13:31
We're trying to choose exterior paint colors and my SIL recommended the colors from this home in her neighborhood b/c I told her I really liked green (I pointed to a piece of celery as the example green). She said a lot of people liked the colors on this house.
I don't care for the colors, mainly because I like something with more yellow. But I'm wondering if these colors even work well on the house or not? I feel like they don't make the brick look very nice and they seem washed out compared to the grass. Our house is in a sunny place, and I don't want it to look washed out.
I like this palette a lot: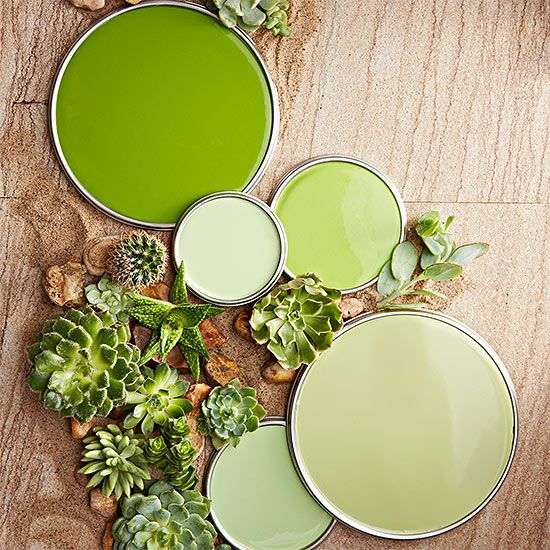 And a purple door:
With the orangey-tan accent:
And our home style is similar to this except a single garage door and only one front window: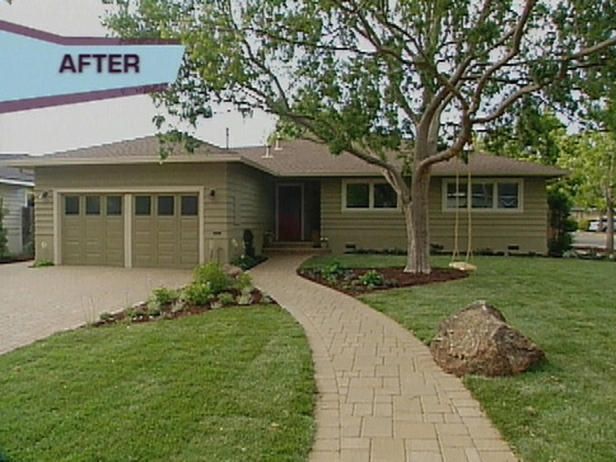 I've also looked at the "new" color pallets for 2014. Not seeing a lot of the shades I like. If I paint w/the yellowy-green, purple door, and caramely-orangey-tan accent is the house going to look dated really fast? Not that it matters I guess, it's the colors I will like LOL!
---
Follow-Up Postings:
| | | |
| --- | --- | --- |
| RE: Green for an exterior paint color | | |
I like it a lot! And the purple door is my favorite.
---
| | | |
| --- | --- | --- |
| RE: Green for an exterior paint color | | |
I have the same pink-y brick on my house. The advice I was given was to stay in the warmer oranges/reds because cool colors wouldn't work. :( I really like the greens also but I'm scared it will clash :/
---
| | | |
| --- | --- | --- |
| RE: Green for an exterior paint color | | |
I totally forgot that we have some brick on the house! The fireplace chimney. It's sort of a beige tan color, not pinkish. But I wasn't really factoring it in because it's on the side of the house, in the backyard, so not really something anyone looks at. But the greens I like will work with that brick :-)

Thanks for support of the green/purple combo!
---
| | | |
| --- | --- | --- |
| RE: Green for an exterior paint color | | |
I'm not crazy about the one in your SIL's neighborhood, but it looks more blue on my monitor than green. I think the green you have in mind is probably better as long as you're not thinking of the top green in your inspiration palette :)
I love the color of green on the house with the orangey-tan accents.
---
| | | |
| --- | --- | --- |
| RE: Green for an exterior paint color | | |
BM Nantucket Gray is a great house color, when painted on a house exterior it looks very different from the paint chip.
---
| | | |
| --- | --- | --- |
| RE: Green for an exterior paint color | | |
msrose -- thanks! -- no not the top green for the house exterior. I like it, but that's a pretty bold statement! I'm thinking something closer to the one below it, on the right, and a lighter one for some of the trim. Then the caramel orange for the "prettier" trim (ie window shutters).
---
| | | |
| --- | --- | --- |
| RE: Green for an exterior paint color | | |
chispa -- I'll look for BM Nantucket Gray; if it's a warm greenish-gray, it might be quite nice! I'll be trying BM paint samples from OSH, maybe tomorrow. Gotta make sure DH is on board with green and purple :-)
---
| | | |
| --- | --- | --- |
| RE: Green for an exterior paint color | | |
Bright colors in bright sunlight actually look even more bright. Browning or greying them down helps to keep them from looking so Jamican beach looking. Unless, the home IS on a beach in Jamaica! One of my favorite greens is SW Sawdust. It's a lot greener in person than the swatch looks.

Here it is in my office.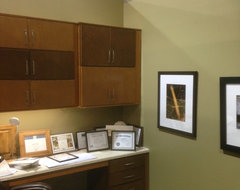 And another office and kitchen.
---
| | | |
| --- | --- | --- |
| RE: Green for an exterior paint color | | |
Live_wire_oak -- no, not a beach house :-( Definitely inland, in a "sea" of 1970s tract homes! I really like the photos your posted, my kind of colors. Thank you! I'll be purchasing samples to test on the exterior because it might not be painted again for a long time, so I need to make the right decision the first time.
---
| | | |
| --- | --- | --- |
| RE: Green for an exterior paint color | | |
Those really bright greens might work well on a cutie-pie house, but an ordinary tract house? That's when the neighbors go, oh no, what were they thinking? Although I love my house's colors, the neighbors are the ones that see it all day long.

That being said, I love the green in LWO's third photo. It's an intelligent, yet soft green, and looks great with white to creamy-white trim.
---
| | | |
| --- | --- | --- |
| RE: Green for an exterior paint color | | |
melle, check out Ben Moore Colonial Verdigris. It's a green green, and a beautiful one.

The BM Williamsburg Collection has gorgeous colors.
Here is a link that might be useful: BM Colonial Verdigris
---
| | | |
| --- | --- | --- |
| RE: Green for an exterior paint color | | |
Bright Colors gives more bright look to home. And your choice of colors is just perfect. I like it a lot.
---
| | | |
| --- | --- | --- |
| RE: Green for an exterior paint color | | |
We are painting ours SW Svelte Sage, Trim SW Muslin and accent SW Eclipse.

Probably a more muted green than you are going for but in some lights it is pretty bright. I have to decide on door color next. So hard to pick! I love the idea of a purple door but don't think DH will go for it.
---
| | | |
| --- | --- | --- |
| RE: Green for an exterior paint color | | |
I agree with Sherwin-Williams Sawdust or BM Dry Sage.
---
| | | |
| --- | --- | --- |
| RE: Green for an exterior paint color | | |
I prefer to use white or light blue as exterior paint because it will reflect sun rays and your home will be cool and you will save energy bills
---
| | | |
| --- | --- | --- |
| RE: Green for an exterior paint color | | |
melle sacto-

Our house, in cold and snowy NNY, is green Hardiplank with red windows and cream trim. Your home seems to be in a much warmer clime, and I think the colors you have chosen, those springy greens with a purple door, will look fun and happy, and what more could you ask for from a house color?

Good luck-

sandyponder

Here's a pic of our house in winter:
---
| | | |
| --- | --- | --- |
| RE: Green for an exterior paint color | | |
I think the lime green looks to Aruba with a purple door but the Sawdust with the purple door will look individualistic.
---
| | | |
| --- | --- | --- |
| RE: Green for an exterior paint color | | |
Thank you so much for the comments and pictures! I'll have to find that Sawdust color and try it.

I don't want white, too blindingly bright in summer. The brightest part would face us in the backyard, and although I understand it will help with keeping the house cool etc, I would have to look at it whenever I'm out back and I know it will be unpleasant.

Edit -- I'm actually looking at BM paints, how is "Baby Turtle" compared to "Sawdust"? I am trying to decide which colors to sample :-)
This post was edited by melle_sacto on Thu, Apr 24, 14 at 18:33
---
| | | |
| --- | --- | --- |
| How does this look? | | |
I ended up wasting a LOT of my time on the BM virtual painting tool and testing out many shades of green. I know it doesn't really show me exactly how things will look, but I think it gives a good idea.

Anyway, this is what I've come up with. My DH really wants dark and neutral, but I feel like it needs to be fun too. What do you guys think of this -- is it too crazy for a house like ours? I feel like it actually looks more stylish this way but it would definitely be different from the rest of the neighborhood.

Since the entry tends to feel dark, but DH wants a dark colored house, I thought this was a compromise that actually seems interesting. Plus then the purple door will stand out more! It's still greenish, but pretty neutral I think. Is the contrast too high between the house and the entry accent color, or does it work? We have a covered patio in the back that faces east, and I was thinking we could paint it in the light color as well.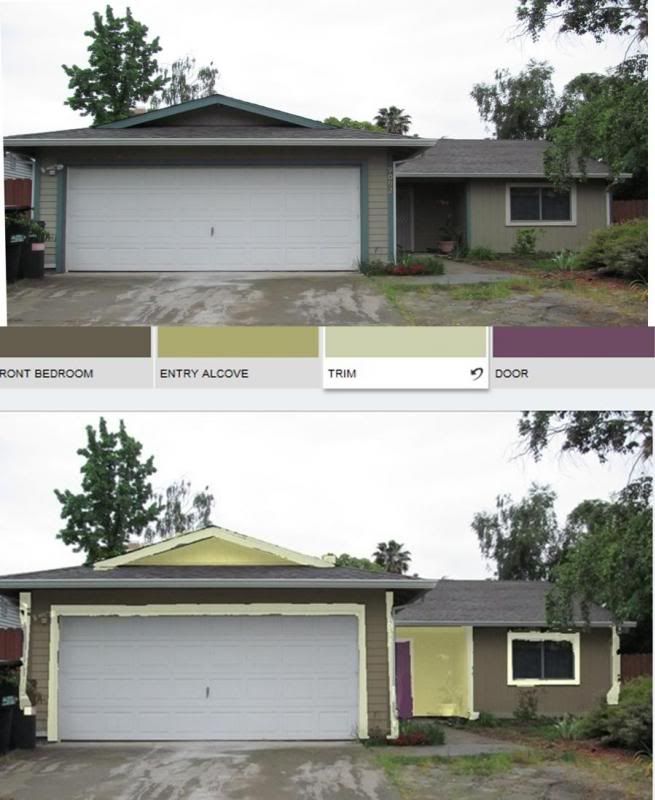 Oh, the colors are BM: Durango for the main siding, Agave for the entry alcove, Maidenhair Fern trim, and Eggplant door.
This post was edited by melle_sacto on Fri, Apr 25, 14 at 13:47
---
Post a Follow-Up
Please Note: Only registered members are able to post messages to this forum.
If you are a member, please log in.
If you aren't yet a member, join now!
---
Return to the Home Decorating & Design Forum
Information about Posting
You must be logged in to post a message. Once you are logged in, a posting window will appear at the bottom of the messages. If you are not a member, please register for an account.
Please review our Rules of Play before posting.
Posting is a two-step process. Once you have composed your message, you will be taken to the preview page. You will then have a chance to review your post, make changes and upload photos.
After posting your message, you may need to refresh the forum page in order to see it.
Before posting copyrighted material, please read about Copyright and Fair Use.
We have a strict no-advertising policy!
If you would like to practice posting or uploading photos, please visit our Test forum.
If you need assistance, please Contact Us and we will be happy to help.

Learn more about in-text links on this page here