Return to the Home Decorating & Design Forum
|
Post a Follow-Up
---
| | | |
| --- | --- | --- |
| Stumped on TV / media wall in open plan! Eyes Pls! (pics) | | |
Posted by
jterrilynn
(
My Page
) on
Sat, Apr 12, 14 at 12:58
I hoping someone can give me some inspiration here because I'm not getting a handle on this wall in the whole scheme of things. The TV /media wall is 14'. I have to float the sofas as the other end is the kitchen and dining room. One side is open to the pool area with sliders and the other side is the entry.
I'm thinking I need something roughly 7' or so long and around 30" tall give or take. The center must have open shelves for the center speaker and receiver. I would prefer the rest of the equipment be behind closed doors. I have been looking for things on CL that I could convert with no luck.
However, my other problem that I cannot get a handle on is what sort of color or finish the TV / media cabinet should be. The floor is warmish beige tile but will be partially covered with a rug, the ceiling is a lighter warm beige, sofas are a light warm beige creamy yellowish, the kitchen is vibrant orangey red (lyptus?), amazing gray walls, stone fireplace that jives somewhat with granite countertops that have taupy gray, charcoal, black/brown and a few warm golden and orangey colors. Dining chairs are dark taupe and I'm getting a round glass dining table with brass base. The dining light fixture is a warm 30" sea grass looking shade.
Should I try to bring some of the kitchen cabinet color to the TV wall? Should I do a dark taupe? A light warm beigy creamy yellow? Or something else I'm not thinking of? Maybe something black metal with some brass on it (there will be brass and some stream line bronze in fixtures?
I'm really stumped on the finish and possibilities and need your eyes.
PLEASE POST A VISUAL OF WHAT YOU WOULD DO!
This dining light but it's more vibrant in person.


Entry


Kitchen to dining room (brass thing is just propped up there not sure if its staying) and light fixture is not up yet.

Living room rug


These sofas, one a four seater and one a three seat. Both in Florance cream (that leather purse color).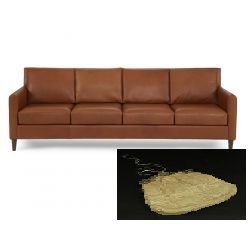 Patio wall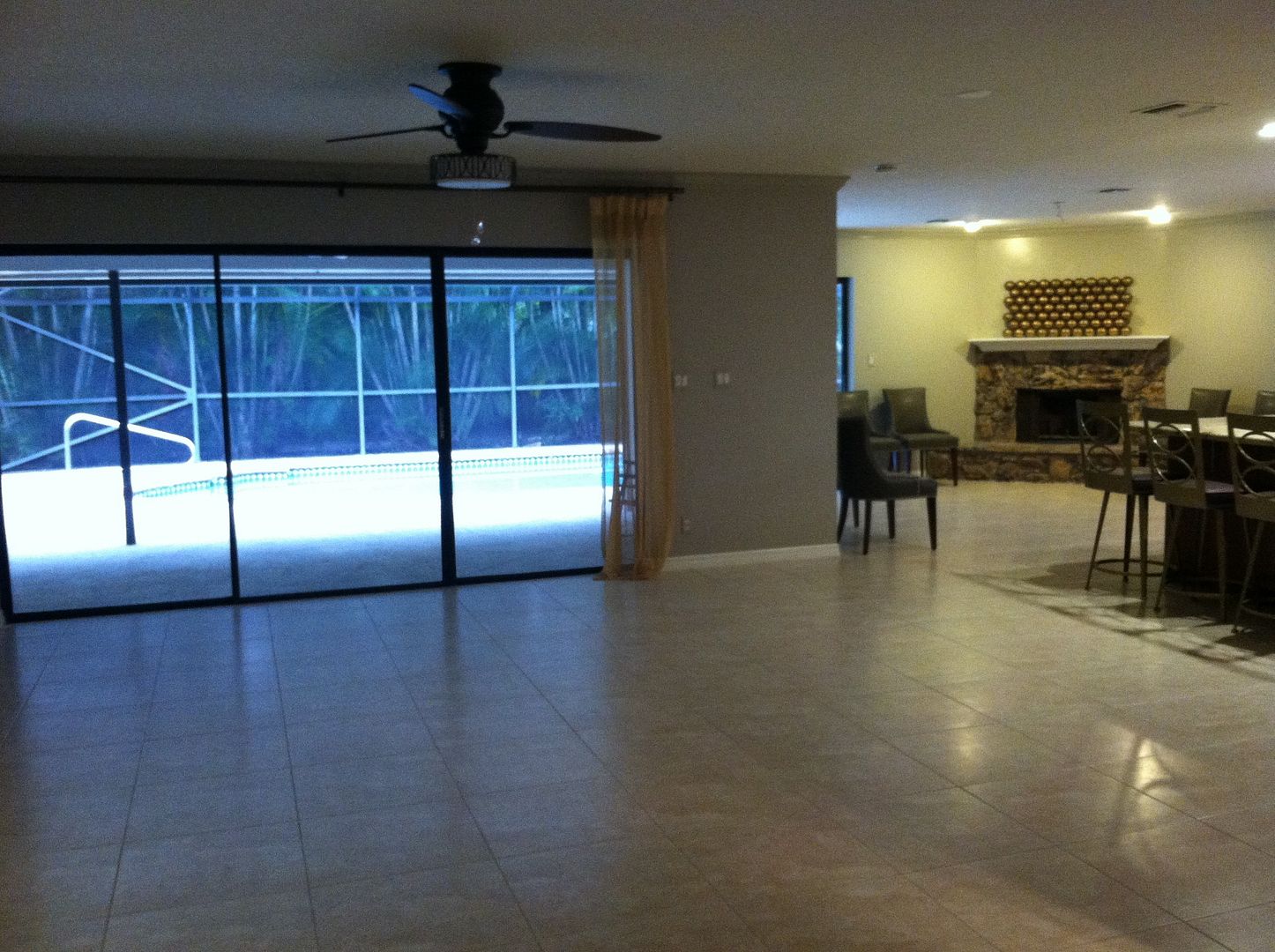 THIS Is the TV /Media wall.

PLEASE POST A VISUAL OF WHAT YOU WOULD DO TO TV ? MEDIA WALL!

This post was edited by jterrilynn on Sat, Apr 12, 14 at 13:09
---
Follow-Up Postings:
| | | |
| --- | --- | --- |
| RE: Stumped on TV / media wall in open plan! Eyes Pls! (pics) | | |
With open concept, I'm personally partial to familyroom cabinets having the same cabinet finish as the kitchen, perhaps with a slightly different style, or different trim, to change up the kitchen look. You need to look at entertainment cabinet designs and see what appeals to you. Floating shelves on either side of the TV might be an attractive option. Some of the major cabinet companies, like Kraftmaid, have brochures or websites showing their familyroom cabinets to give ideas on to how to integrate cabinets between the two rooms. For your situation, black trim would be lovely. By the way, I like all of the choices you have made so far. It's really a beautiful home.
---
| | | |
| --- | --- | --- |
| RE: Stumped on TV / media wall in open plan! Eyes Pls! (pics) | | |
Thanks Tex! I'll look at the examples on that site. I looked on Houzz and google and well …just about everywhere and can't seem to find anything. I think part of the problem is that I think I might need the kitchen color brought to TV wall somehow except I do not love that cabinet color. I do have two small orangey vintage wing chairs from my last house that I might be able to use on that wall but I'm not sure. In my last house I had lots of stuff on walls like art work and tapestries and I am trying to be a bit more restrained here in this open plan. I do like the idea of a few open wall shelves though. This is so hard!!!
---
| | | |
| --- | --- | --- |
| me again | | |
I like the idea of using the bottom of this Henredon china cabinet but I'd have to pretty much desecrate it (is that wrong?). Then I would have to redo the top and finish some wood shelves in a same stain. Do I have enough energy for that is the question. Of course I would have to see it in person as I cannot really tell the wood color or condition from the CL picture but they are only asking $500 and it's been up for a while. I like those brass bits on it. Am I way off?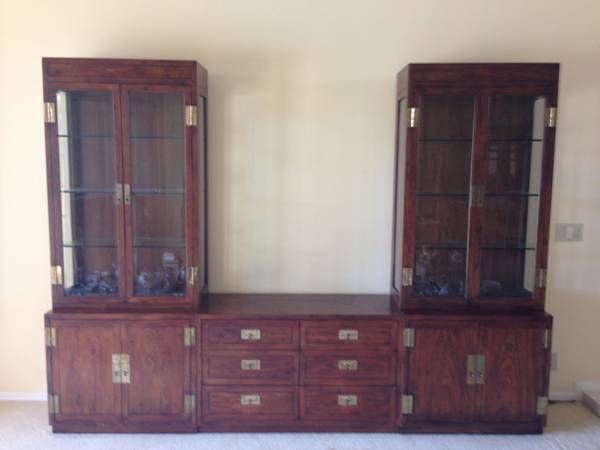 ---
| | | |
| --- | --- | --- |
| RE: Stumped on TV / media wall in open plan! Eyes Pls! (pics) | | |
NOPE! I'm not feeling the kitchen cabinet color in a media cabinet on that wall. I think I need to bring kitchen cabinet color over with accessories. What finish on media area though??? I'm stuck! I want something of decent quality and not that chocolate colored stuff. I'm thinking I'll have to paint something. Heeelllppp meee!
This post was edited by jterrilynn on Sun, Apr 13, 14 at 11:56
---
| | | |
| --- | --- | --- |
| RE: Stumped on TV / media wall in open plan! Eyes Pls! (pics) | | |
I'd opt for a light stain finish. By that I mean almost natural wood look. RH has quite a few and also in cream tones which would also look nice. I'm a fan of mixing up wood pieces rather than matching.
Here is a link that might be useful: RH media
---
| | | |
| --- | --- | --- |
| RE: Stumped on TV / media wall in open plan! Eyes Pls! (pics) | | |
Thanks for that yaya! You sent me on a natural stain google and I came up with this. It has some of the warm color but the dark glass has some of the vintage-ish vibe for the house. It would hold all my media components as well. I wonder if the remote for the receiver would work through dark glass doors? Then I wouldn't have to get my bu++ off the sofa once seated. The only thing I don't like are the chrome legs but I could do a brass wax paint over it. Is it too modern?

---
| | | |
| --- | --- | --- |
| RE: Stumped on TV / media wall in open plan! Eyes Pls! (pics) | | |
Roomandboard.com also have this one which I like, you can change the wood or the hardware and the legs.
Then the tv would be mounted above.
---
| | | |
| --- | --- | --- |
| RE: Stumped on TV / media wall in open plan! Eyes Pls! (pics) | | |
Lyban, I really like that console a lot .
---
| | | |
| --- | --- | --- |
| RE: Stumped on TV / media wall in open plan! Eyes Pls! (pics) | | |
Not really sure of the exact colour of your cabinets. Did notice that in one of you pictures there is a magnificent set of double doors in a walnut or mahogany finish. From the pictures it looks like that matches your kitchen cabinets. But maybe that is the lighting?

Anyhow...I love the colour of that door. What about matching that colour? You have a very large space with neutral paint, so to me, the deep colour will anchor the space more than a mid range stain.

Could it be that you could just go with the Henredon china cabinet as is? Or is it marked up? Otherwise, could you try staining it a bit darker - less rosewood? It is a great piece.

What I did is to add 2 pieces from IKEA. There is this one line in IKEA that is solid wood - Hemnes.

I bought this tv stand and love it:
http://www.ikea.com/ca/en/catalog/products/80250957/
It comes longer and in 3 finishes, one them being dark walnut - all solid.

You could flank it with something like this on either side.
http://www.ikea.com/ca/en/catalog/products/80250957/

Or if you painted the walls a deeper colour you could go with a lighter finish - I painted my room green and put my Hemnes tv table and cabinets in cream (which is basically a cloud white colour - like the Benjamin Moore trim paint),

I seems that you have a really big space so it can stand some colour, either on the walls or furniture.

Let us know what you decide!!! Sure it will be great.
---
| | | |
| --- | --- | --- |
| RE: Stumped on TV / media wall in open plan! Eyes Pls! (pics) | | |
I can see either of the light stained ones working beautifully with your gorgeous rug and sofa.
---
| | | |
| --- | --- | --- |
| RE: Stumped on TV / media wall in open plan! Eyes Pls! (pics) | | |
Beautiful home!

I think this sort of arrangement would work very well in your space. It's from Sarah's House, season 4. The console is actually made of kitchen cabinets on legs to make it look like a piece of furniture. It does not extend to either wall which gives it more of a furniture feel than a built-in feel.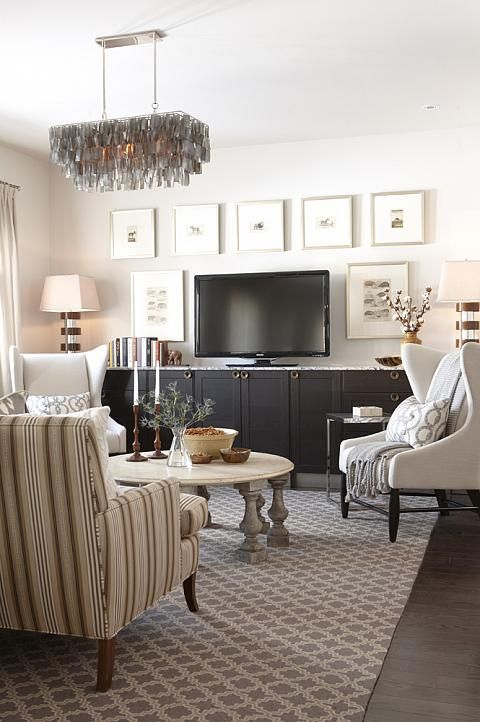 Close-up of cabinets. You can use whatever hardware you want and you can add metal corner plates to get the henredon look (which I love).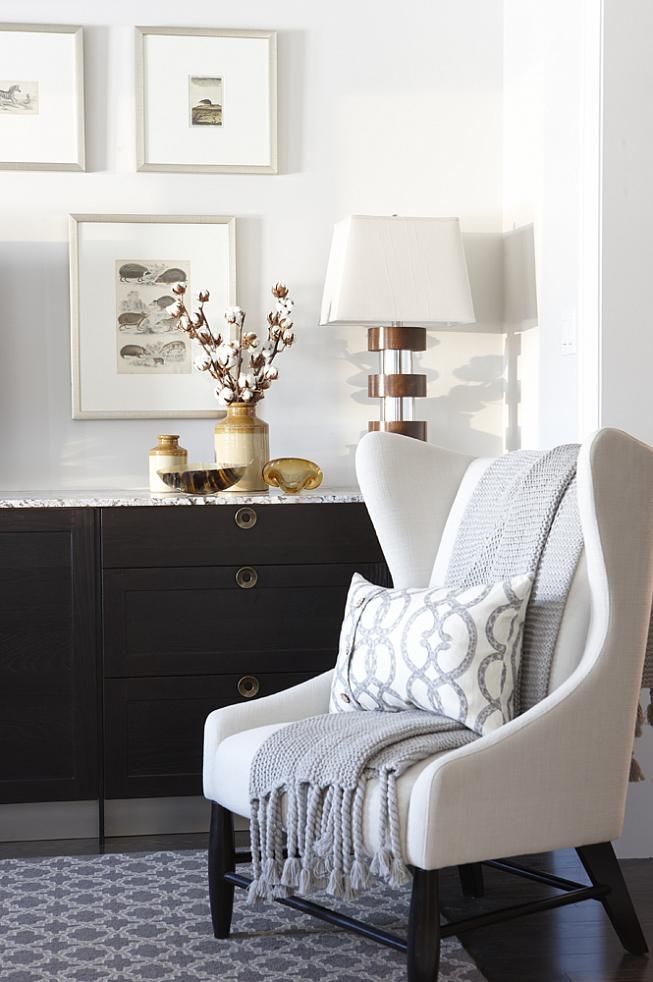 View from living room into kitchen. The cabinet finish does not need to match.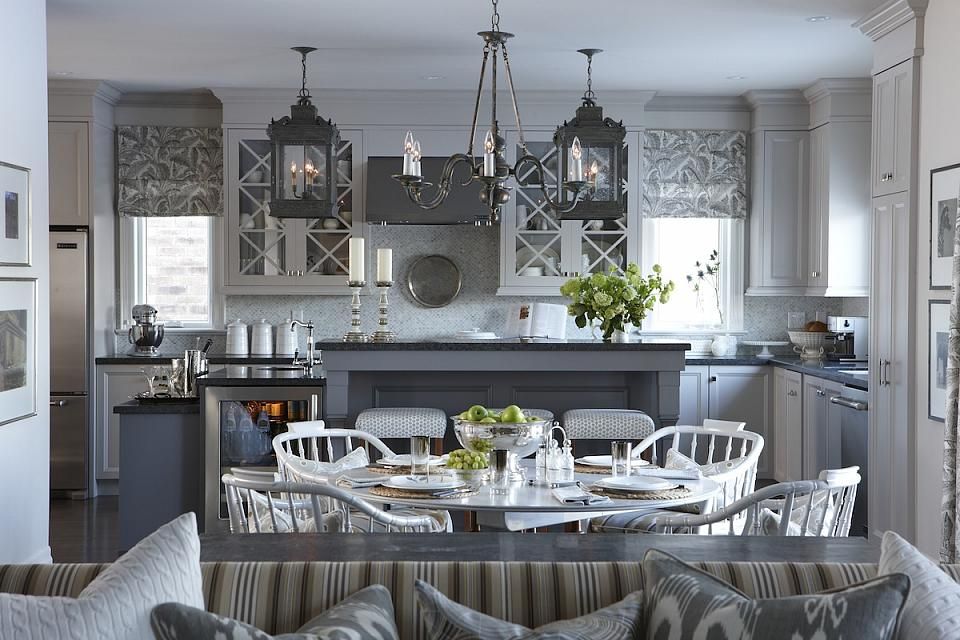 ---
| | | |
| --- | --- | --- |
| RE: Stumped on TV / media wall in open plan! Eyes Pls! (pics) | | |
Jterrilyn, I LOVE the house, it looks very liveable and the updates look good quality and appropriate for the house, so you are starting with a fabulous shell.

That hendredon piece would be marvelous I agree, the brass on it is wonderful. It would require some reworking but the end result would be great. You might be able to mount the two upper cabs from it in your dining room or somewhere else in your house. If not you could donate or sell them.

If you do something new and are set on wood I would not go with the darkest color of the kitchen cabs but the very lightest, almost orange. Your floor tile seems to have small dollops of the orangey color, and that would help lighten up the area overall. Barring orange, something in oak or maple that resembles the lighter tone In your kitchen cabs would work.

Have you considered something metal and glass? You could probably,find something in chrome or black aluminum or iron and glass that would all be open. And agree strongly with suggestin above to mount tv, not use stand. You should be able to fish the wires pretty easily on an interior wall.

And you didn't ask about this, but your fireplace is heavy and that brass piece is also very heavy. I like it (love brass) but would consider putting it elsewhere. Good luck with it all, i want to see your amazing pictures when it's all moved in.
---
| | | |
| --- | --- | --- |
| RE: Stumped on TV / media wall in open plan! Eyes Pls! (pics) | | |
Hi Radley,
The doors appear to be a mix of original stain and a newer gel coat. I had to paint the half bath and utility doors in the nearby area as they were so badly done. I kept three doors in the badly done wood at the end of the hall along with double doors (just like entry) going into the master bedroom. I will tackle the striping and re-staining down the road. I was told the kitchen cabinets were cherry but I swear they look like Lyptus. The crown molding appeared to be a sort of walnut stain (now painted wall color but in a gloss)..
Close-up of door stain on master doors. These are different to the attempt at gel coating on the other bedroom doors to hide a "mom stay out" carving and multiple dog scratches. I don't have a close-up of front door but these master doors are close.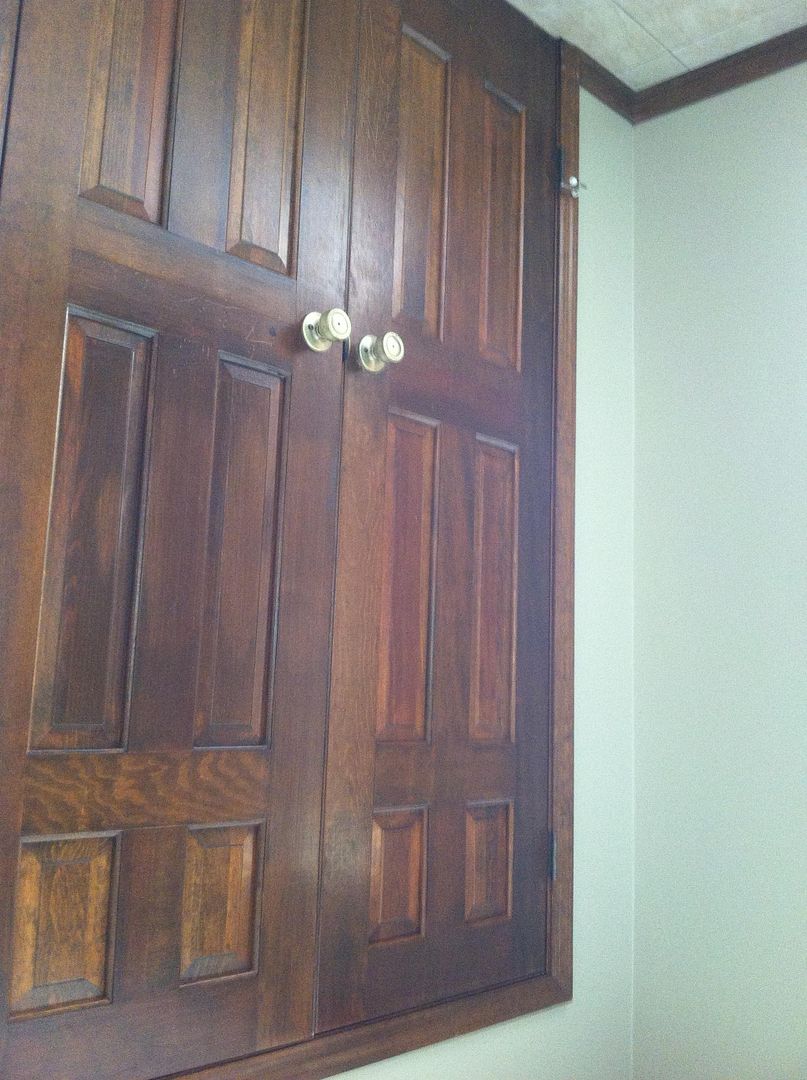 Thank you Kswl, the house has been a lot of work believe it or not to get it to this point. Lots of oddities here! Husband and I have worked our way to the end and have closed this guest bath slider in and added a door with a doggy door. It's not magazine worthy but will make my life easier. This week we also gutted the master and master bath and will be adding a closet. The fireplace was tweaked as well as it was originally an attention hog the minute you walked in. However, so was the kitchen so we tweaked that a bit and it doesn't scream as loud. There were no electric outlets beyond the wall cabinets between windows.
About that brass thing at fireplace…yes I think I agree and that's why I haven't hung it. After I finish the drywall in 2nd bath husband will hang to dining light and we will take it from there.
Also, in my mind I would love to find an old but nice black metal cabinet of some sort with brass on it to use as a media cabinet. There does not seem to be any such thing in my searches. In fact I can't find any of the ideas that are in my head. It just seems like that area needs some brass (a bit) to say it's part of a certain time.
An area I'm doing dual time in. And, some "before" pic's..
Geokid I like that idea and actually looked on Conestoga last night. They didn't have my configuration. It's looking like I need to find a vintage something with brass and tweak it.
I'm thinking that although I like the light wood it seems I might need more of an anchor...and brass!
This post was edited by jterrilynn on Mon, Apr 14, 14 at 12:29
---
| | | |
| --- | --- | --- |
| RE: Stumped on TV / media wall in open plan! Eyes Pls! (pics) | | |
I'm sorry you don't care for your cherry kitchen cabinets because in the photos they look pretty amazing. I happen to use traditional in my home with brass accents but somehow just can't picture brass in your current house. The entertainment cabinet with the black glass and chrome legs looks perfect to me. Your kitchen cabinets are contemporary and have chrome pulls with black already as a major component. Also, the familyroom sliders have black frames. You could also do Conestoga black entertainment cabinets with small amounts of the trim stained in cherry or use cherry as an accent color in accessories, such as picture frames with a little black and lots of white in the mats.
I'm wondering if there is room to put a little black crown molding at the top of the kitchen wall cabinets and perhaps as trim on the edge of the open shelf wall cabinets. I'd also put more black, stainless or chrome, with plants as accessories on the floating shelves and in the open shelves in the kitchen. The trim might also allow you to hide led tape light to light up the open cabinet. Also, up light the open shelves above the windows at night. (It's always fun to help someone else spend $$$, isn't it?)
I love the sofa you have posted and the familyroom rug looks perfect. You seem to have a great instincts so I would respect your own judgement.
---
| | | |
| --- | --- | --- |
| RE: Stumped on TV / media wall in open plan! Eyes Pls! (pics) | | |
Hey Tex, I really don't dislike my cabinets it's just that when everything is in one big room it makes it a bit harder for me. It's a funny thing about this particular color, most people who come in either hate it or love it. There is no In between . About the brass... I started experimenting with brass and even shiny brass in a contemporay eclectic way a few years ago so I already have a few bits and bobs. I think it's ok to mix as long as things are scattered about evenly. Down the road I might change all the cabinet hardware to a mixed stainless and brass look but haven't seen anything I like yet. I still haven't found a console. The good people here have given me some possibilities I like but have yet to find something that really speaks to me. I think it's one of those things where I will know it when I see it.
This post was edited by jterrilynn on Tue, Apr 15, 14 at 19:39
---
| | | |
| --- | --- | --- |
| RE: Stumped on TV / media wall in open plan! Eyes Pls! (pics) | | |
I think I like this! What do you think? It has a tic of brass that I want. I'm really having a hard time seeing warm wood on that wall though. Part of me likes it and the other part thinks I need to go dark.

Please see pictures of open plan at top of post.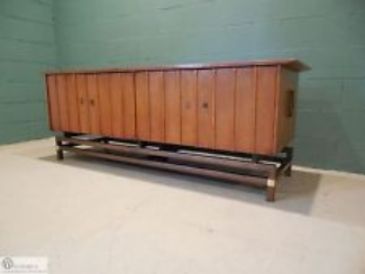 This post was edited by jterrilynn on Wed, Apr 16, 14 at 11:56
---
Post a Follow-Up
Please Note: Only registered members are able to post messages to this forum.
If you are a member, please log in.
If you aren't yet a member, join now!
---
Return to the Home Decorating & Design Forum
Information about Posting
You must be logged in to post a message. Once you are logged in, a posting window will appear at the bottom of the messages. If you are not a member, please register for an account.
Please review our Rules of Play before posting.
Posting is a two-step process. Once you have composed your message, you will be taken to the preview page. You will then have a chance to review your post, make changes and upload photos.
After posting your message, you may need to refresh the forum page in order to see it.
Before posting copyrighted material, please read about Copyright and Fair Use.
We have a strict no-advertising policy!
If you would like to practice posting or uploading photos, please visit our Test forum.
If you need assistance, please Contact Us and we will be happy to help.

Learn more about in-text links on this page here