Return to the Home Decorating Forum
|
Post a Follow-Up
---
| | | |
| --- | --- | --- |
| Are my sofas worth reupholstering? | | |
Posted by
hockeymom4
(
My Page
) on
Thu, Apr 30, 09 at 12:33
We have two sofas in our living room which we have owned for almost 20 years. They are an outdated color and looking a little worse for the wear. However we like the style, they fit well in the space we have and my DD18 doesn't want them to go because they are so comfortable (great for napping). They are from Norwalk and purchased for around 700-750 each new. Considering they have been used daily by a family with four kids, they have held up well. My one complaint is the foam wrapping the seat cushions has shifted over the years and I have to readjust it occasionally. The springs also squeak now which is annoying.

So are they worth reupholstering or should they be replaced? We don't have a large budget, maybe 1000 for each at the most. Also what do I look for in a reupholsterer? We live in a small midwest town.

I do have to say the flash on the photo makes the sofa appear much dirtier than in person. They are more worn than dirty but you can see why they need new upholstery!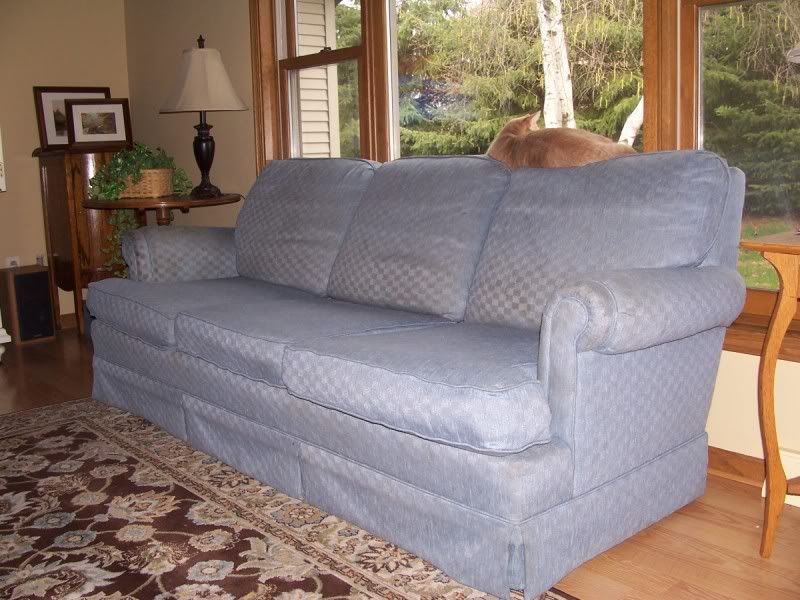 ---
Follow-Up Postings:
| | | |
| --- | --- | --- |
| RE: Are my sofas worth reupholstering? | | |
LOVE the cat! LOL! That is a very happy, cozy wee soul!

Well I think that those are very classic sofas -- well made -- as stated. So -- yes! I do think that re-upholstering them would be worth the investment!

As for finding one -- basically call around your area -- and do check on your local Craigs List too. Ask friends and neighbours too for recommendations! Also -- just to be sure -- check with Norwalk to see about their latest prices etc. for that style/type/size sofa. Always handy to have that information at hand too!

Jan at Rosemary Cottage (four cats rule the roost here! LOL)
---
| | | |
| --- | --- | --- |
| RE: Are my sofas worth reupholstering? | | |
Figure that each sofa will take 18-20 yards of fabric.
---
| | | |
| --- | --- | --- |
| RE: Are my sofas worth reupholstering? | | |
I have a good friend who is a professional upholsterer. He says that he is usually called by people who like the shape/style of their furniture but not the fabric -- it sounds like your situation is a good fit. I think he can do new foam/padding.

I believe I remember him telling me that it usually costs a minimum of about $800-$1000 to reupholster a sofa, and can be more depending on the fabric. You should definitely give a local upholstery shop a call and see if they can give you a very rough estimate over the phone.
---
| | | |
| --- | --- | --- |
| RE: Are my sofas worth reupholstering? | | |
Not to highjack this thread, but I have the same problem: A good quality sofa and chair that need reupholstering. However, ours are almost 40 years old and have been rid hard. I got them from my sister, who got them from her ex's grandmother. They've suffered from cats and dogs and cigarette burns and general wear and tear. The fabric is a beautiful tapestry that would be extremely expensive today, if possible to find at all, and it is extremely tough. Here's a closeup: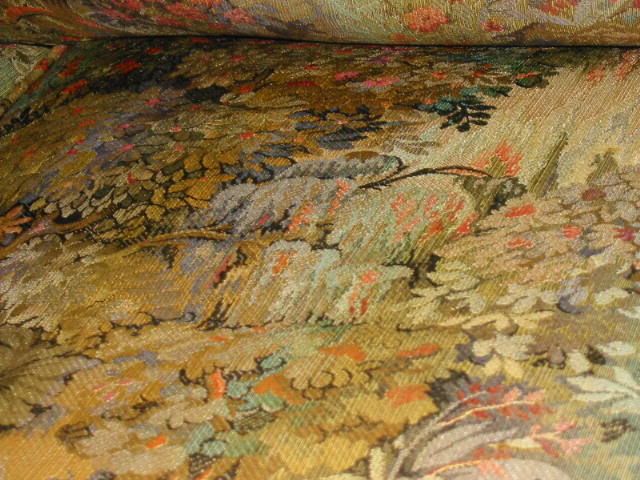 But it's very faded over most of each piece: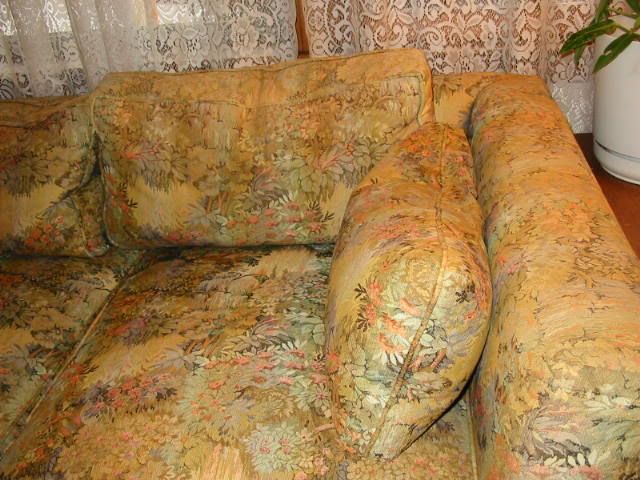 Also, speaking of cats, one of our current cats is a scratcher and has caused some damage. :(
But because this fabric is so gorgeous and unusual, I have hesitated to get rid of it. It's not something I would ever have chosen myself, but I've gotten very attached to it. How do you decide when something is too worn to live with anymore?
---
| | | |
| --- | --- | --- |
| RE: Are my sofas worth reupholstering? | | |
Thanks for the responses. Yes, our cat makes himself comfortable lots of places all over the house. I didn't have the heart to move him for the photo.

What about the squeaky springs? What causes the squeak and how do you get rid of it? Any ideas?
---
| | | |
| --- | --- | --- |
| RE: Are my sofas worth reupholstering? | | |
Not sure about the squeaky springs -- again -- your best bet is to call around and see what local upholsters say about the problem .... maybe they need "tightening" or even replacing?

Just for fun -- why don't you "google" the problem -- and see what folks say across the Web? Might be some more information available .....

Jan
---
| | | |
| --- | --- | --- |
| RE: Are my sofas worth reupholstering? | | |
You are probably looking at close to $1000 to redo a sofa. I paid $1100 to redo my Henredon last year . I had no spring work or repair work of any kind. I bought the fabric at a 50% off sale.
I'm not that familiar with Norwalk furniture from 20 years ago. The Norwalk furniture that is sold today is not worth reupholstering. I'd want to make sure that you have a frame that is worth putting that much money into.
Do you know if it is 8 way hand tied?
---
| | | |
| --- | --- | --- |
| RE: Are my sofas worth reupholstering? | | |
wow, Harriet, those cushions look like they've never been sat on and the shape of those pillows. A testament to their worth.

hockeymom, if the sofa is made of real wood and constructed well, then I definitely think it would be worth it to reupolster, being a well made sofa in that style is going for $3,000 new.
---
| | | |
| --- | --- | --- |
| RE: Are my sofas worth reupholstering? | | |
I think so. I had a similar situation. I had a 25 yr old Flexsteel set that was covered in sea-foam green and mauve flowers and a ruffled skirt bottom. It had a great frame and I still loved the simple lines and how it fit in the space. When I was looking everything was so big and I did not have allot of space. So I reupholstered it and removed skirt and added bun feet. It was not cheap but in the end I had allot more options in fabric and the cushions are better now than when they where bran new. The place did a fantastic job and when my FR furniture wears out I will do it again because they are really comfortable and well made and we live on them. I wish I had a before pic for you it would make you laugh.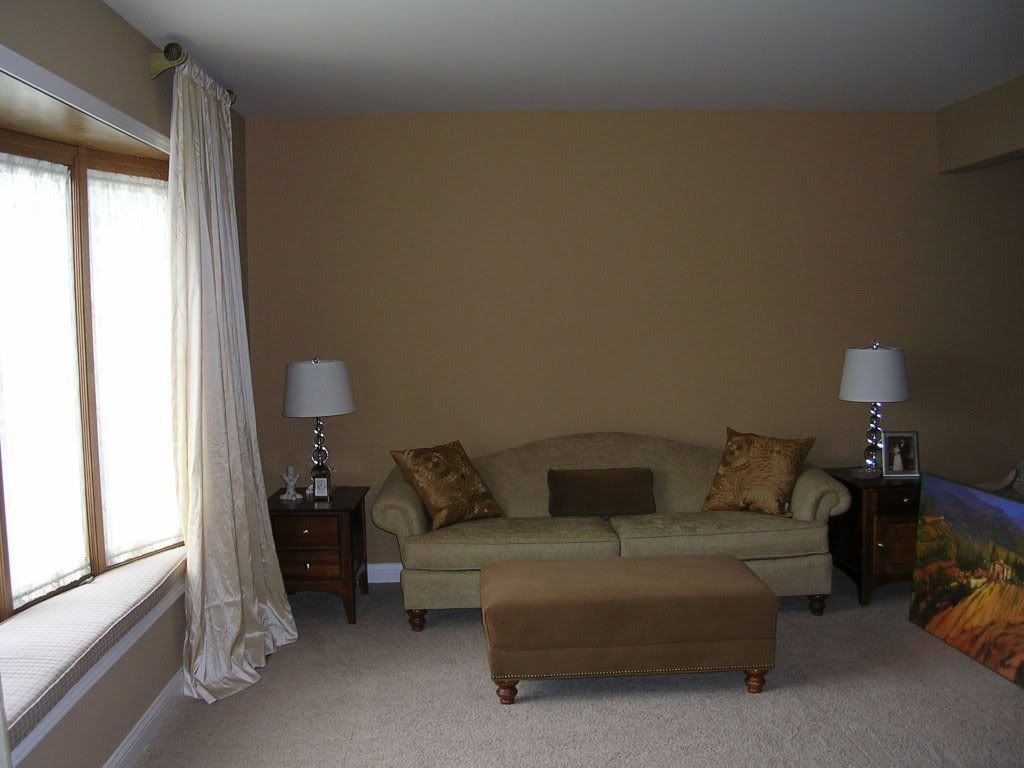 excuse mess we just painted and have not rehung pictures yet.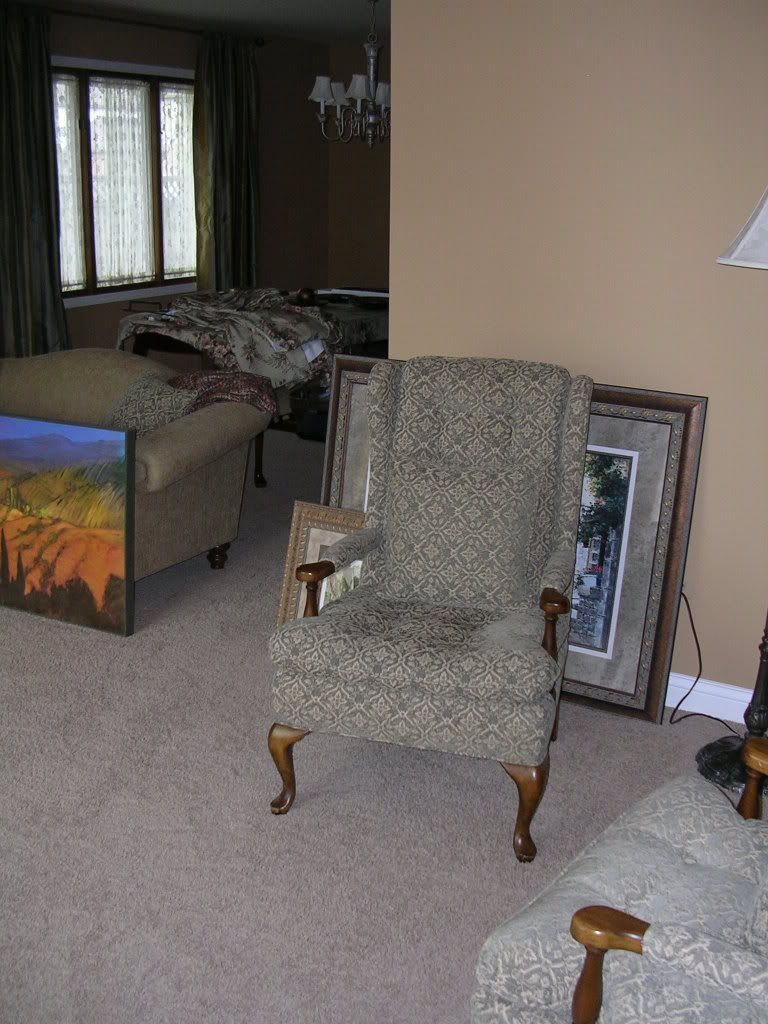 ---
| | | |
| --- | --- | --- |
| RE: Are my sofas worth reupholstering? | | |
Hockeymom, Norwalk guarantees the springs for the lifetime of the couch as long you are the original owner. See if there is still a dealer in your area and call them. (Many Norwalk dealers changed hands or closed last year during the company restructuring.)

I have that same Norwalk sofa (denim). Love it. And we will have it reupholstered when necessary.
---
| | | |
| --- | --- | --- |
| RE: Are my sofas worth reupholstering? | | |
Hey, newbie chiming in!

I definitely think it's worth it to reupholster it if it's in good structural shape and comfortable. When I was recovering five chairs and an ottoman for our new house, I found fabric at the local fabric stores that were on sale ($10-$20/yard as opposed to my upholsterer's $25-$40/yard). I'm pretty sure that you can recover those two sofas for under a grand each, just shop around (bring pictures and dimensions with you, or email those) and get estimates from different companies.
---
| | | |
| --- | --- | --- |
| RE: Are my sofas worth reupholstering? | | |
brutuses, the cushions are all feather-filled -- not foam. I don't know if there is ANY foam in this furniture. The fabric is almost like iron (until a determined cat gets her claws into it).

We thought the sofa was a goner after my 400-pound nephew slumped on it for a couple of hours, but that was 10 years ago, and we're still using it. It even makes a pretty comfortable bed if you take the back cushions off.
---
| | | |
| --- | --- | --- |
| RE: Are my sofas worth reupholstering? | | |
You all have made my day. Thank you for all your help!

Teacats, I will google the squeaky springs and see what can be found on the internet. Should have thought of that, but everyone here seems to know stuff I don't, so I thought I'd ask first.

Chloe, I don't know if they are 8-way hand tied, how would I check?

Marybeth, your set looks great. Mine are the same - smaller, traditional looking sofas, not oversized and puffy like many out there. We could not fit the large ones in our living room. I like the idea of no skirt and bun feet, but then all our dust bunnies would show.

Maddielee, the same furniture store where I bought these sofas is still open on the downtown square of our town. So, I will check with them on the warranty on the springs. Wouldn't that be great! Of course, how do they define the "life" of a sofa?

And thanks everyone for the estimates, it's good to know I could maybe get it done for $1000 each. I do know of one upholsterer in town or I could check other cities.
---
| | | |
| --- | --- | --- |
| RE: Are my sofas worth reupholstering? | | |
Absolutely yes, if your pieces were well built to begin with, reupholster. A reupholsterer I know told me to buy old and reupholster, because bang-for-the-buck old is usually a lot better built and will last. Your cushion foam can be completely replaced, as can all the other padding. The important part is the frame. This guy told me the old frames were done with wooden dowels, and plenty of bracing. He got called by a local furniture store to go get a sofa. A woman had vaulted one-handed over the back of it when a hot ember spit from her fireplace to her carpet. It snapped. He took it apart and found out it was nailed, and the corner gussets were *cardboard*! There wasn't one stick of bracing in the whole 6' length.

You should also know that when you get a sofa or chair reupholstered, there's quite a lot they can do to change it. Skirt/no skirt. Make the arms fatter or skinnier. Add back support, and so on. Tell him exactly what you do and don't like about the stuffing -- too soft? Too firm? You'll get it back like brand new.

Incidentally, there are charts out there telling you how much fabric you need. JoAnns and Calico Corners should have them, and you may find one online if you snoop around. You can save a ton of money if you find a bargain on your fabric on ebay, or see Fabric Guru.
---
| | | |
| --- | --- | --- |
| RE: Are my sofas worth reupholstering? | | |
Definitely have them recovered. Both the man who recovered my chair recently and the man who came to retie one of my couch springs after we moved a few years back said to ALWAYS try to recover instead of buying new. The new frames just aren't made like they used to be. I'm sure my good friend wishes she had recovered. She bought a new livingroom set recently and within two weeks part of the couch was sitting on the floor because the leg had split -- and this is in a no pets, no kids (all grown) house!
---
| | | |
| --- | --- | --- |
| RE: Are my sofas worth reupholstering? | | |
I'm a strong believer in reupholstering if the furniture is good quality & you like the lines. Our LR furniture is on its third set of fabric. And usually, the furniture you have is better quality than what is generally available nowadays.

You could do a search of this site for my3dogs. She buys a lot of her upholstery & drapery fabrics online & finds not only beautiful but also inexpensive fabrics. The postings include her sources, such as Fabric Guru, which oceanna mentioned.
---
| | | |
| --- | --- | --- |
| RE: Are my sofas worth reupholstering? | | |
You can buy new cheaper, but never will you get as good a quality as others have mentioned. An upholsterer will make about 50% off the fabrics if you purchase from him. You can expect to pay around $1000 for labor alone. Personally, it's a keeper and I'd have it reupholstered.
---
| | | |
| --- | --- | --- |
| RE: Are my sofas worth reupholstering? | | |
Finding furniture that you like, fits your room, AND is comfortable, is more than half the battle - I would definitely have it reupholstered. (this coming from someone who just bought a new set - the old set had too many drawbacks, and DH hated it - and it was exhausting finding something. Managed to also buy a corner chair and ottoman that I don't like and doesn't fit in the room....sigh....)
---
| | | |
| --- | --- | --- |
| RE: Are my sofas worth reupholstering? | | |
hockey
Totally agree worth getting it reupholstered - If it is a hardwood frame & 8 Way hand tied - The reupholsterer will retie the springs or tightened - will make new cushions (see samples in store to decide what you would like) -
You can either choose fabric from the place & you will receieve an overall discount or you can find your own -
When you contact your furniture place you can ask who they use - and ask friends - a good antique dealer will also know.

Here's a link to a great discount fabric place - get samples before you decide
Here is a link that might be useful: fabricguru
---
| | | |
| --- | --- | --- |
| RE: Are my sofas worth reupholstering? | | |
harriet, if you reupholster that sofa you should have some throw pillows made out of the best of the fabric - the unfaded parts. It would make a nice homage to the original sofa.
---
| | | |
| --- | --- | --- |
| RE: Are my sofas worth reupholstering? | | |
My vote would be to reupholster. You like the sofas and they are comfortable. How long would it take you to find new sofas that you like as much that are comfortable?

Even if it costs a bit more than $1000 to redo them, you will be hard pressed to find similar quality sofas for that price today.

About 20 years ago, I had a chair that was my grandparents recovered. It was at least 60 years old then. It needs to be recovered again, thanks to some cats who find the front of the arms to be the best possible scratching post, but it is still the most comfortable piece of furniture I own.
---
| | | |
| --- | --- | --- |
| RE: Are my sofas worth reupholstering? | | |
Hockeymom.
the only way to know whether it is 8 way hand tied is to turn it over and pull off the cover and look.
There was a lot of discussion over on the furniture board about the Norwalk sofa. They said that what was being built today was not 8 way hand tied. The people over there thought that they used sinnuous springs (a flat s shaped spring) and not solid wood, but engineered wood.
Yours are 20 years old so they more than likely are totally different than what is being built today.
---
Post a Follow-Up
Please Note: Only registered members are able to post messages to this forum.
If you are a member, please log in.
If you aren't yet a member, join now!
---
Return to the Home Decorating Forum
Information about Posting
You must be logged in to post a message. Once you are logged in, a posting window will appear at the bottom of the messages. If you are not a member, please register for an account.
Please review our Rules of Play before posting.
Posting is a two-step process. Once you have composed your message, you will be taken to the preview page. You will then have a chance to review your post, make changes and upload photos.
After posting your message, you may need to refresh the forum page in order to see it.
Before posting copyrighted material, please read about Copyright and Fair Use.
We have a strict no-advertising policy!
If you would like to practice posting or uploading photos, please visit our Test forum.
If you need assistance, please Contact Us and we will be happy to help.

Learn more about in-text links on this page here