Return to the Home Decorating & Design Forum
|
Post a Follow-Up
---
| | | |
| --- | --- | --- |
| Pine table | | |
Posted by
dorry2
(
My Page
) on
Tue, Apr 23, 13 at 12:27
I am contemplating purchasing a pine table for a second home. I have never had any kind of pine table, but this home is more casual and I like the informal, cottagey feel of pine. Should I be seriously concerned since pine is a soft wood. We always use placemats and trivets at home. How soft is pine and how easy is it to dent or leave an impression?

I like the distresed look and this table is slightly distressed with antiqued-distressed legs, so maybe a few dings will only increase the distressed look??
---
Follow-Up Postings:
| | | |
| --- | --- | --- |
| RE: Pine table | | |
I have a round pine table in my kitchen that has been in my family for over 50 years. My parents had it made for their kitchen when I was just a little child, and I inherited it from them. All the dings, scratches and marks from my generation were sanded down when I got my hands on it. Then my children's scratches, homework indentations, actual words and numbers were added to it's luster as the years went by. I sanded it down again, and now the grandchidren's marks are beginning to show.

I love this table and wouldn't trade it for anything - each "layer" I've sanded away tells a wonderful story! As long as you don't mind the dings and scratches that a family will contribute to the top with everyday use, and can appreciate it for what it is - you should enjoy it, too!
---
| | | |
| --- | --- | --- |
| RE: Pine table | | |
I thought I was the only one with a table like that! Our pine dining table, a heavy custom piece, is finished with Briwax. Every now and then we re-wax it. In between, bits of our lives show up on its surface -- homework, doodles, rings from glasses. I've come to love the genuine nature of this table and can't imagine a pristine, perfect table.
---
| | | |
| --- | --- | --- |
| RE: Pine table | | |
I think, for family dining in a casual setting, it's nice to have a table you needn't worry over.
---
| | | |
| --- | --- | --- |
| RE: Pine table | | |
Thanks, everyone. This house has a large dining room, but I am trying to keep it casual and different than my primary residence which is more formal. The pine is very warm and I love the honey stain. The nice contrast of the distressed linen color (on the verticals)with the warm honey stained table is very attractive.
---
| | | |
| --- | --- | --- |
| RE: Pine table | | |
Hi Dorry - we have a distressed pine table in our second home and it is wonderful. We don't baby it a bit. It is made from reclaimed wood. My mother who lives in England part of the year has a lot of pine furniture that is a little softer and requires a gentler touch, but it is not finished the way our table is finished, nor is it a distressed look. Here is our pine table - quite informal!
---
| | | |
| --- | --- | --- |
| RE: Pine table | | |
We have a pine table made by an Amish firm, in our dining room. For several years I kept the top covered with pads and table cloths. Then I decided that the natural wood surface needed to be seen and used, and now just have place mats. It is much more beautiful uncovered!

The table gets a lot of use, not just for dining. I do use trivets and cork boards and coasters to prevent the worst marks, but it has collected various dings, mostly from our cats' claws. What has worked really well for me is to rub a tiny amount of olive oil into the scratches. A really tiny amount, just a drop, as the oil spreads by itself. Any marks will turn naturally darker, either matching the finish or becoming slighter darker, like very fine veins. You would have to look very closely to notice anything.

We love the look!
---
| | | |
| --- | --- | --- |
| RE: Pine table | | |
You might want to look at scrubbed pine for a more beachy look, dorry. It is lighter and less country looking than a honey colored finish.

This one was made from reclaimed wood:

This is a better example of the lighter color :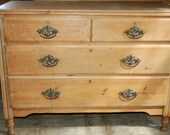 ---
| | | |
| --- | --- | --- |
| RE: Pine table | | |
I have a pristine, mission-style oak dining table. I would trade it for a long pine table in a heartbeat. I hate that I worry about every scratch and, although I love having a separate dining room, I would like it to be furnished more casually. I just can't justify replacing the table and chairs when we have so many other projects to finance.

So go for it!
Diane
---
| | | |
| --- | --- | --- |
| RE: Pine table | | |
I have an antique, heavy distressed dark pine table in our DR. I love it. We bought unfinished chairs so we could match the stain ourselves, but they are not pine. You won't have to worry about pine being too soft for a table. I never use table cloths and sometimes don't use place mats. I think the look of the dark distressed juxtaposed with my fine china is a lovely but casual look. I only worry about hot or damp pieces damaging the finish. Never worry about scratches, I just darken them with iodine.
---
| | | |
| --- | --- | --- |
| RE: Pine table | | |
There is nothing like an old heart pine farm table. Don't worry about it being too soft. IMO it looks better if you lose the placemats and let it be natural.
---
Post a Follow-Up
Please Note: Only registered members are able to post messages to this forum.
If you are a member, please log in.
If you aren't yet a member, join now!
---
Return to the Home Decorating & Design Forum
Information about Posting
You must be logged in to post a message. Once you are logged in, a posting window will appear at the bottom of the messages. If you are not a member, please register for an account.
Please review our Rules of Play before posting.
Posting is a two-step process. Once you have composed your message, you will be taken to the preview page. You will then have a chance to review your post, make changes and upload photos.
After posting your message, you may need to refresh the forum page in order to see it.
Before posting copyrighted material, please read about Copyright and Fair Use.
We have a strict no-advertising policy!
If you would like to practice posting or uploading photos, please visit our Test forum.
If you need assistance, please Contact Us and we will be happy to help.

Learn more about in-text links on this page here